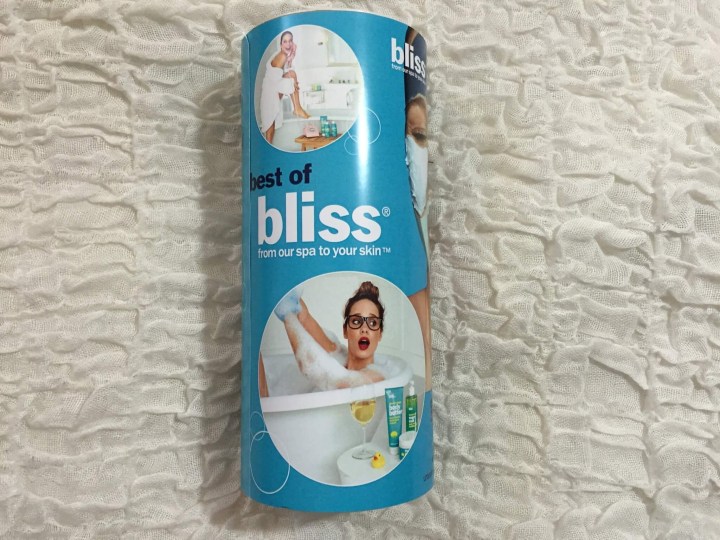 Topbox is one of Canada's oldest beauty subscription boxes and has an interesting customisation option. At the end of the month you are able to make your wishlist requests for the following month's box. There's the standard Topbox (4-5 samples) or you can choose a Privé box. Privé boxes are either a brand-specific collaboration (such as Benefit Cosmetics) or an upgrade to a more deluxe line. Some Privé boxes will only contain one or two items — they're very clear when this is the case. Your wishlist doesn't guarantee you a Privé box if you ask for one.
This month I requested the Best of Bliss Privé box on my wishlist, and lo and behold, I lucked out and got one!
It was shipped in the tube — I can't remember if I'd asked for an organza bag this month.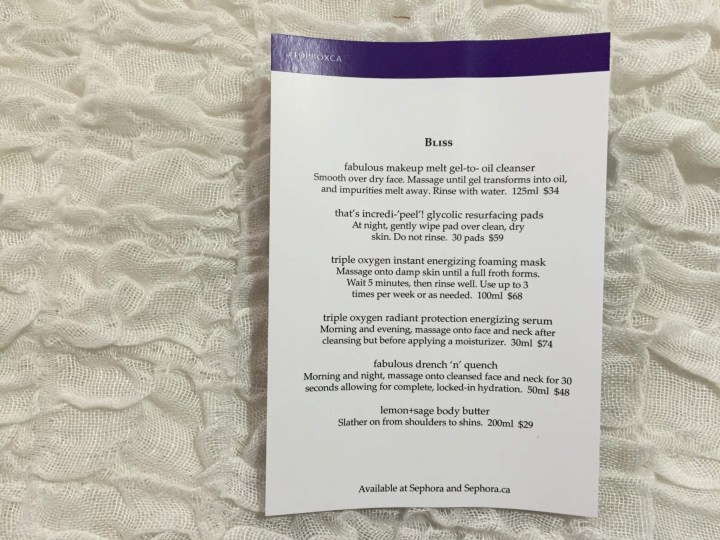 The product card — as of June 2016 they have switched to digital cards, so going forward our contents will be emailed to us.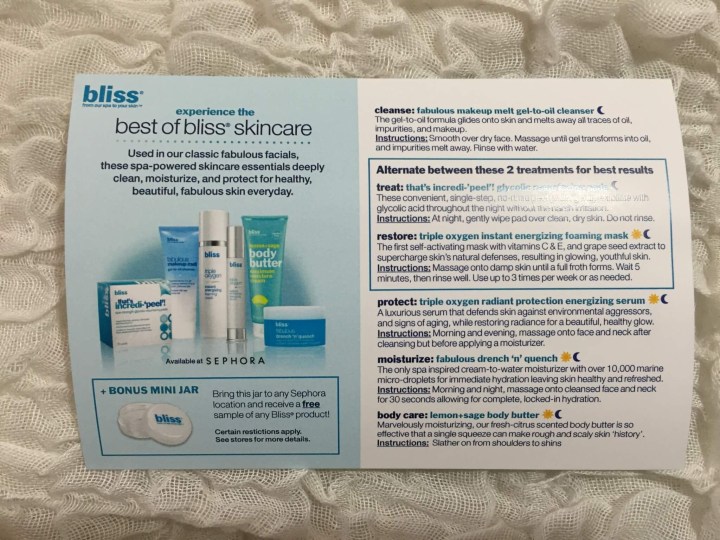 We were also given another Bliss-branded product card which had a suggest regimen on how to use our samples.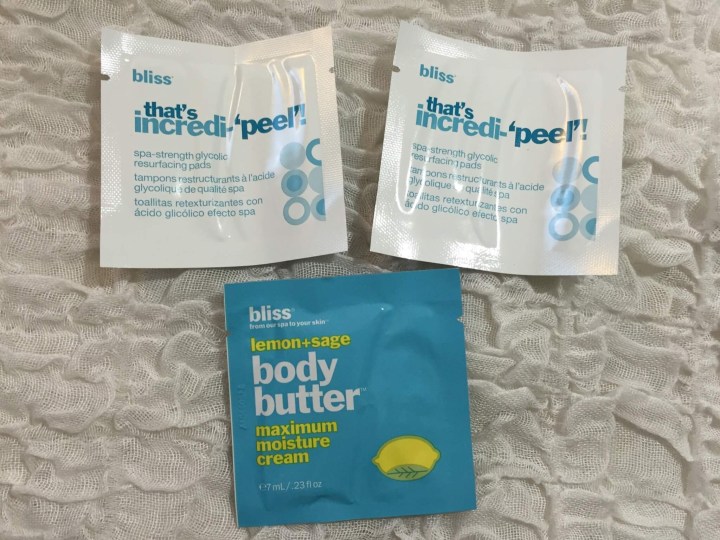 That's Incredi-peel Glycolic Resurfacing Pads x2 These are meant to help eliminate the appearance of wrinkles and dark spots.
Lemon+Sage Body Butter I've only ever tried the Naked body butter so I'm excited to try this. My elbows and knees get so dry year-round… there is no escape!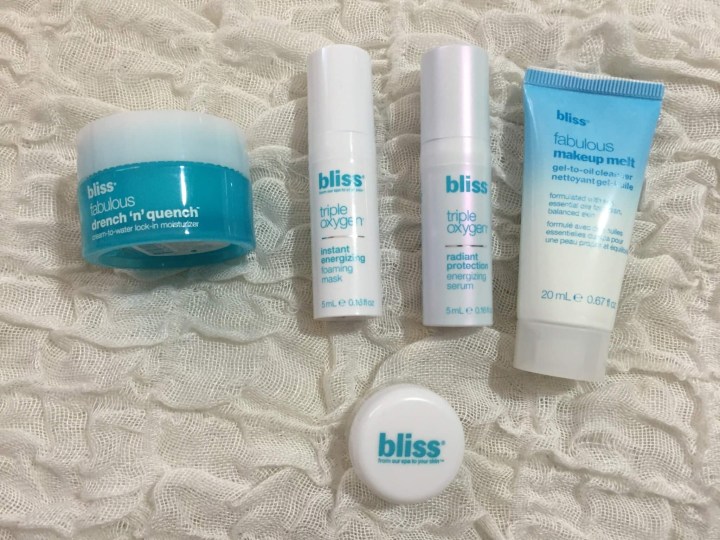 Drench 'n' Quench Moisturiser This is a really generous sample of their face cream, which has a light weightless (not greasy!) finish.
Triple Oxygen Instant Energizing Foaming Mask This is really cool! It foams up on your skin and you are meant to leave it on for 5 minutes. The foam absorbs, which tickles, and disappears before you rinse clean.
Triple Oxygen Radiant Protection Energizing Serum Use this after cleansing but before your moisturiser for an extra boost. This was light and smelled amazing.
Fabulous Makeup Melt Gel-to-Oil Cleanser I didn't like this very much — the gel turns to an oil, but it clouded my vision and was a bit annoying until I rinsed my eyes a dozen times.
Bonus sample: We were given a Bliss-branded sample jar to take in to our local Sephora for an extra sample of a Bliss product! I think I'm going to get more of that serum; I really liked it.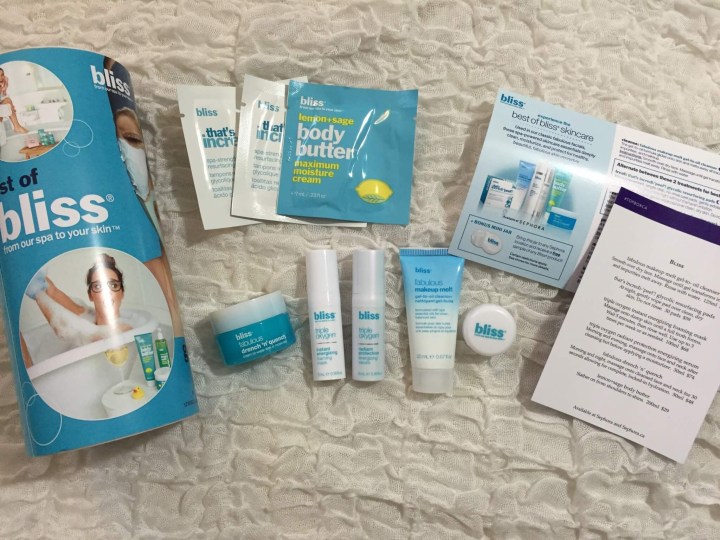 I had forgotten how much fun the special boxes can be, even if they are more central than the monthly box. Still, I was excited to try a new line of skincare and found a few products I would definitely love to try again! The samples were generous and will last a few uses — enough to get an idea of how they work.
What did you get in your Topbox this month?
Visit Topbox to subscribe or find out more!
The Subscription
:
Topbox
The Description
: Get 4 generous helpings of premium delight each and every month! This is a *Canadian* subscription box and they do not ship to the US.
The Price
: $12.00 per month