ToGoSpa Society is a monthly replenishment and surprise subscription by ToGoSpa.  With ToGoSpa Society you'll get either 6 ($25), 15 ($40), or 30 pairs ($64) of Eyes by ToGoSpa plus The Benefit, a monthly surprise from ToGoSpa or their selected brand. The Benefit is always valued at $20-$50 and is a high quality spa item.
First look in my box.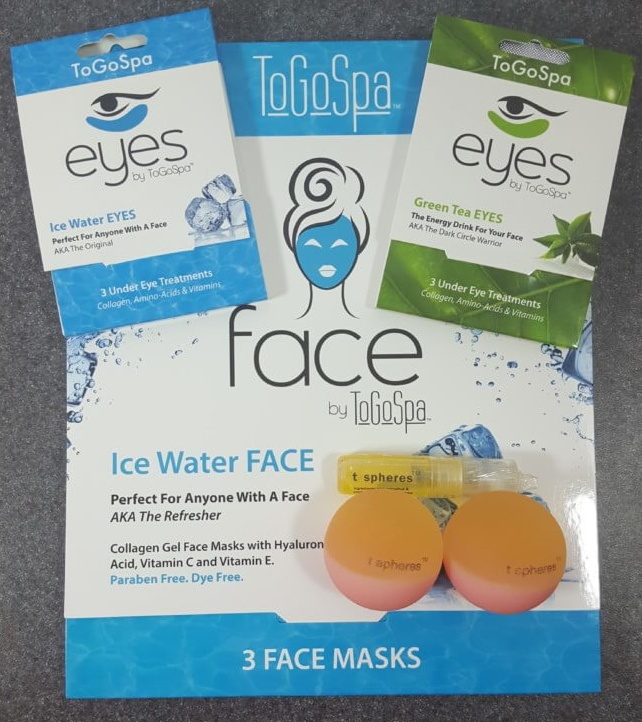 You can upgrade your box to add on a Face by ToGoSpa as well!  ToGoSpa EYES and FACE are innovative, collagen-infused under-eye and full face mask treatments – and the newest "must do" for anyone in need of a quick, portable, spa-like pick-me-up for their tired, puffy, overworked or over-stressed eyes and skin. This has been me for most of this year so far. I feel like it is one thing after another and I'm always tired looking.
ToGoSpa has a smaller Mini Box, which is great for those of us that don't have a chance to use our EYES every day.  This is everything in the June Combo Box, which includes 2 packs of EYES and 1 pack of FACE ($50), plus the benefit.
The Benefit this month is the TSpheres Peppermint & Pink Grapefruit Infused Massage Balls ($35).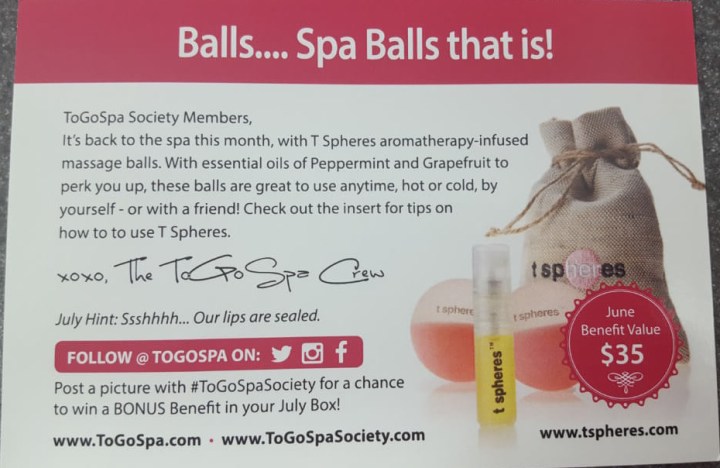 The information card details the Benefit item including its benefits and suggestions for use.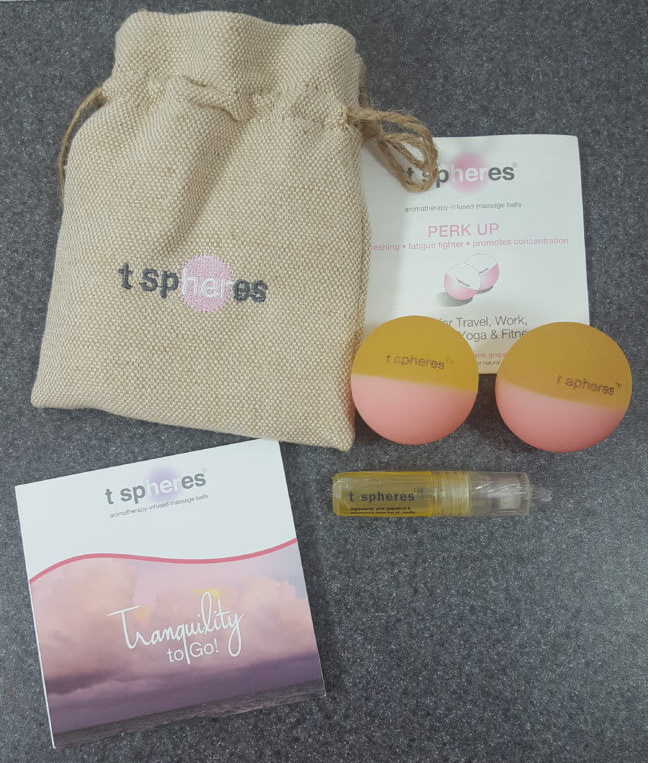 I can't wait to give these a try. They smell great! They came with a pamphlet with instructions and some extra oils to add to the essential oil infused massage balls.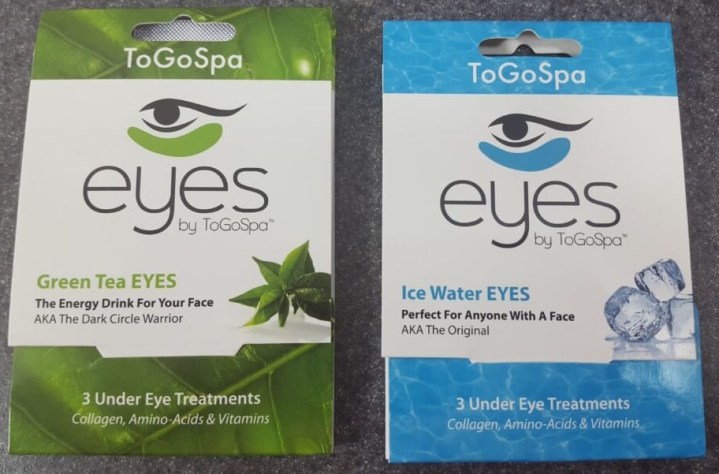 I received 2 different types of Eyes by ToGoSpa: one pack each of Green Tea and Ice Water.
These are super hydrating and are activated by your body temp! EYES are collagen gel pads with Hyaluronic Acid, Vitamins C & E, and nutrients. Each different type has a different composition to provide different benefits. Green Tea works on the dark circles under your eyes and Ice Water is the Original and perfect for everyone.  I love the Green Tea EYES and grab those whenever I have them first.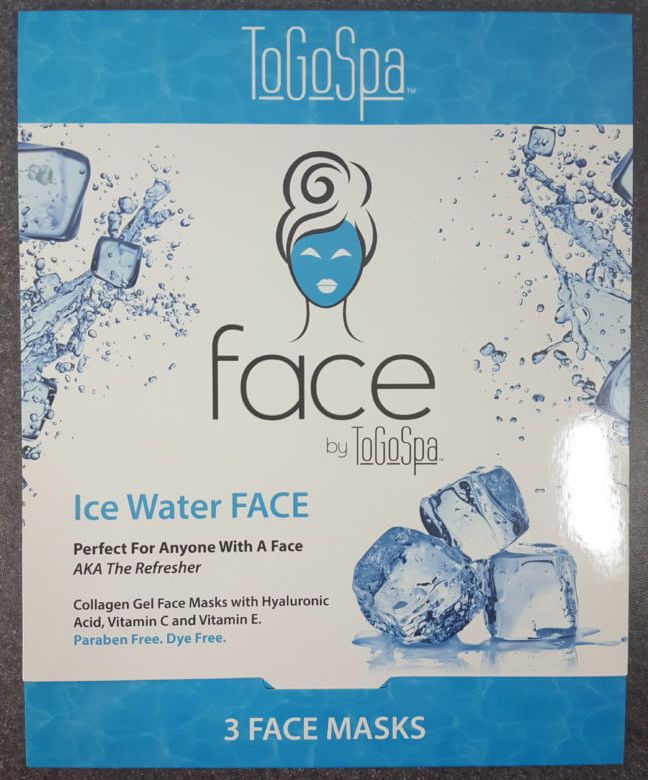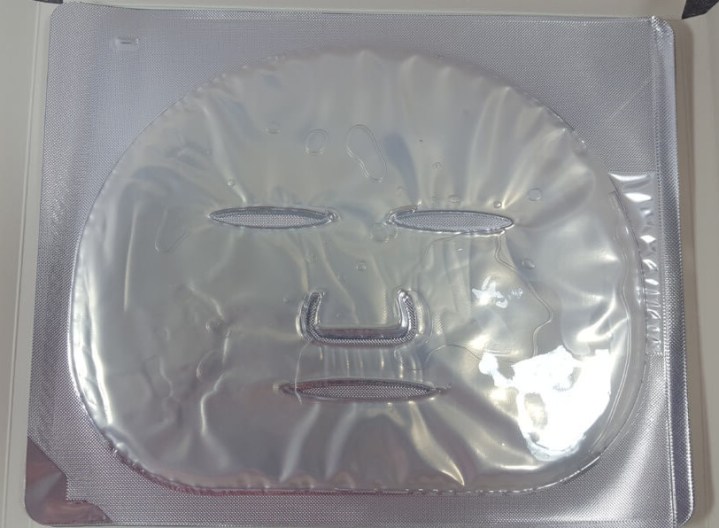 The FACE product I received this month is ICE Water, which is the original face mask and perfect for everyone as a refresher.
I love using my eyes and will slip them on when watching the tv. The face takes a little more planning as I need to be able to lay back and relax and with two little ones it is not always easy to find the time but I definitely need it and when I do find time it is so relaxing.
Have you tried ToGoSpa? They're perfect for summer! Save 15% with coupon code hello15.
Visit ToGoSpa Society to find out more or to subscribe!
The Subscription
:
ToGoSpa Society
The Description
: The ToGoSpa Society membership offers huge discounts on Eyes and Face by ToGoSpa and in addition each month members receive The Benefit! The Benefit is a FULL size product we love and want to share free with our members.
The Price
: Mini: $25 for 6 EYES plus the benefit, Standard: $27.50 for 12 pair of EYES + The Benefit, Combo: $50 for 6 pair of EYES + 3 Face + The Benefit, High Society: $99 for 24 Eyes, 6 Face, and The Benefit