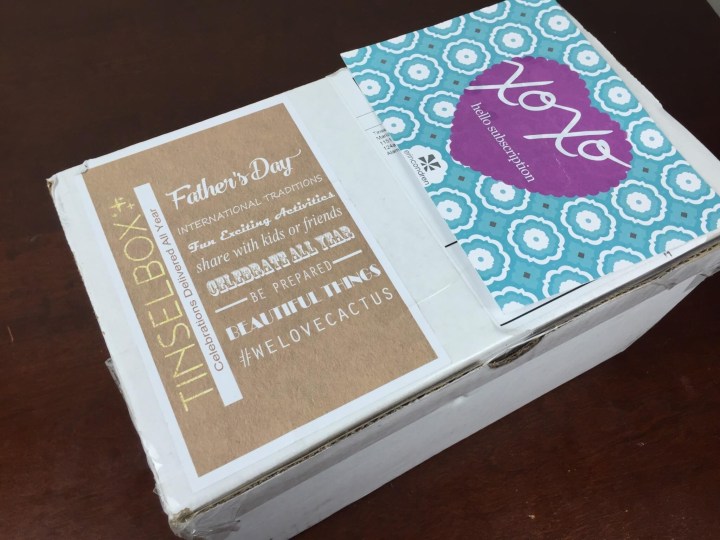 TINSELBOX is a monthly subscription delivering unique and often handcrafted ornaments and decorations for various holidays throughout the year.  The box selections are designed to be secular in nature to make them a welcome addition to any seasonal decor. They offer two sizes of box – Box of Spontaneous Joy ($19.99 +$3.99 shipping) and XL Box of Cheerful Curations ($39.99 + $4.99 shipping). This is the XL Box of Cheerful Curations!
This box ALWAYS ships in plenty of time to prepare for the holiday. FYI – this box is going on hiatus to revamp – the next box will be Halloween. I can't wait!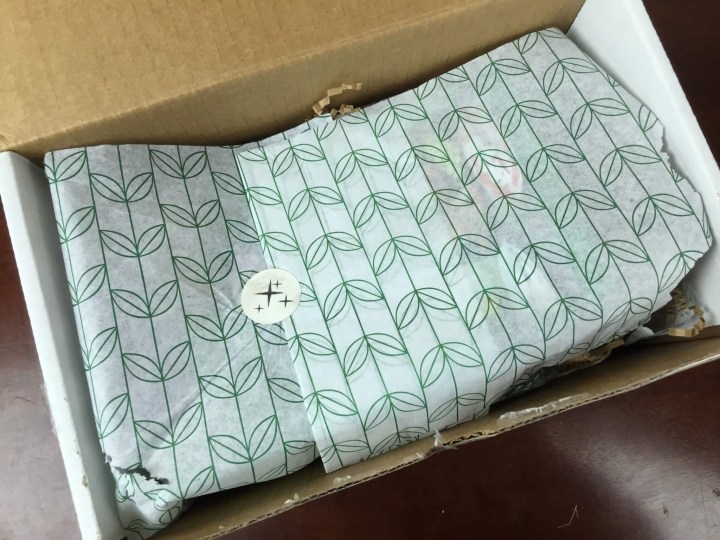 This box is so cute! I love the Leaves tissue paper.  Past boxes have been delicate gift boxes packed inside a sturdy mailing box and cushioned with squiggles.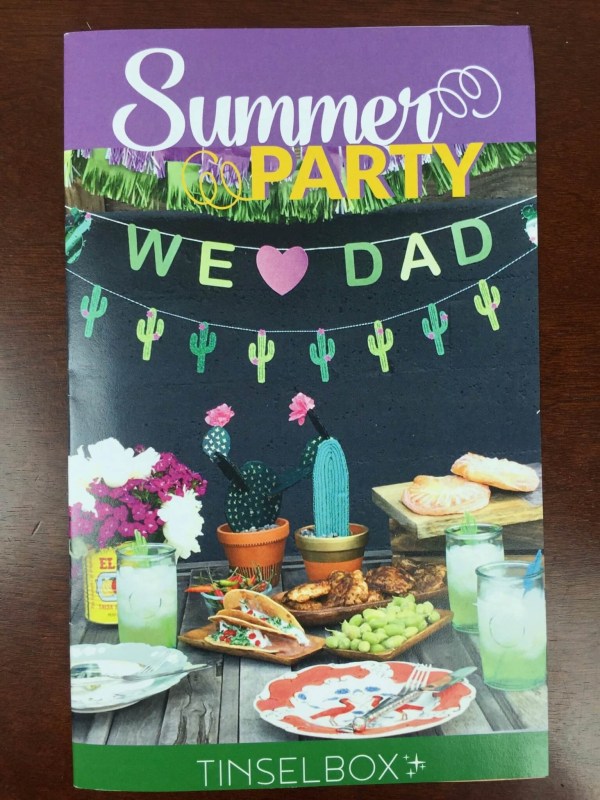 The theme for May is Summer Party.  I love the combo Summer Party/We Love Dad theme, which made it easy to use everything even if you weren't throwing a party for dad.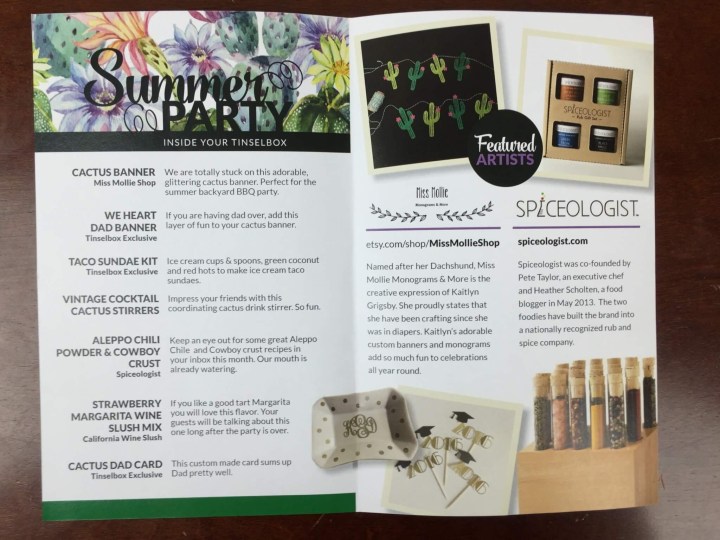 The information list has a bit of detail about each item in the box. A featured artist is also presented in this edition, and this month, it's Miss Mollie and Spiceologist.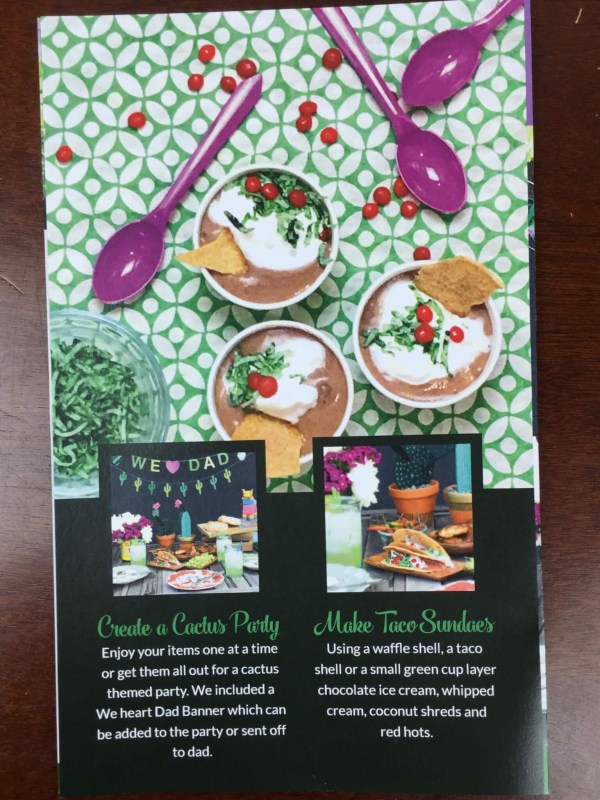 In addition to the information card you also get some information about the theme each month.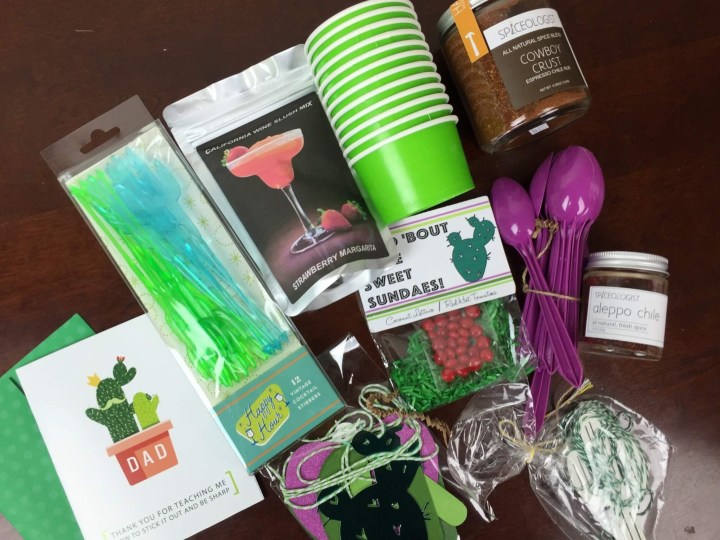 Everything in the box!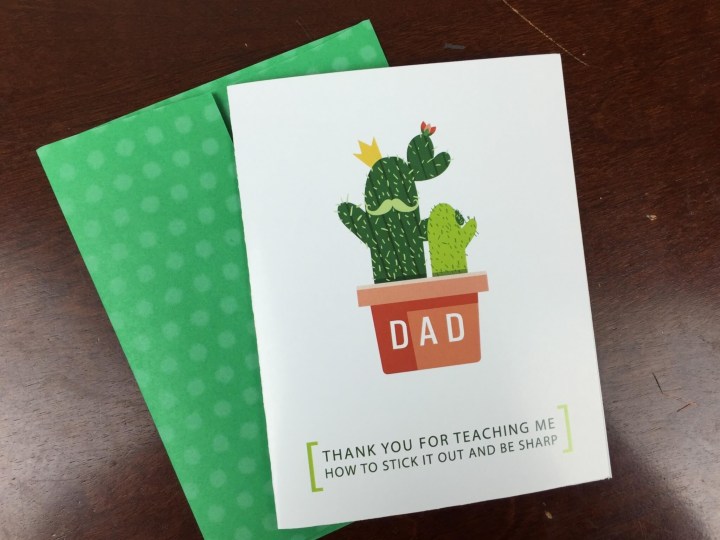 TinselBox Exclusive Cactus Dad Card: A cute and funny yet thankful card for dad – high quality too!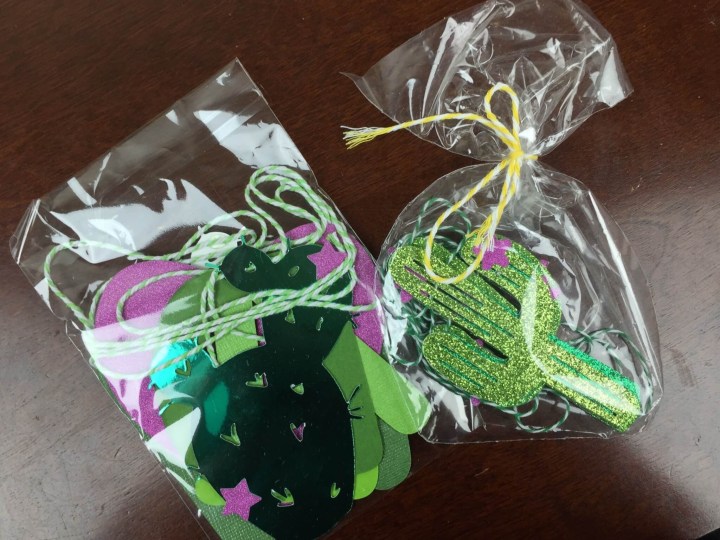 TinselBox Exclusive We Heart Dad Banner
Miss Mollie Shop Cactus Banner ($9)
See this cute party decor below!
TinselBox Exclusive Taco Sundae Kit: This is a fun idea! It came with cups, spoons, coconut "lettuce" and red hot candy "tomatoes." We are on vacation for Father's Day but we'll totally have a faux taco party!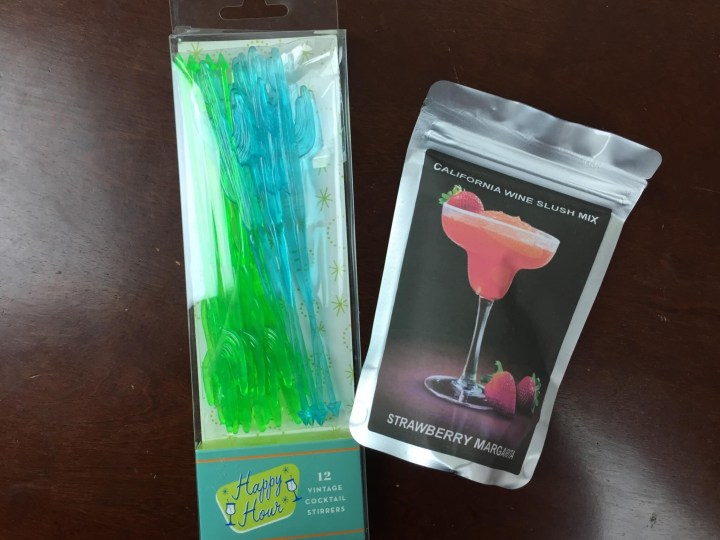 Vintage Cocktail Cactus Stirrers ($7) These are cute and perfect for dad, who is wild about a good drink stirrer!
California Wine Slush Strawberry Margarita Wine Slush Mix ($8.95 full size) Yum yum, adult fun while the kids enjoy sundaes! The ingredients are sugar, tea, spices, and natural flavors!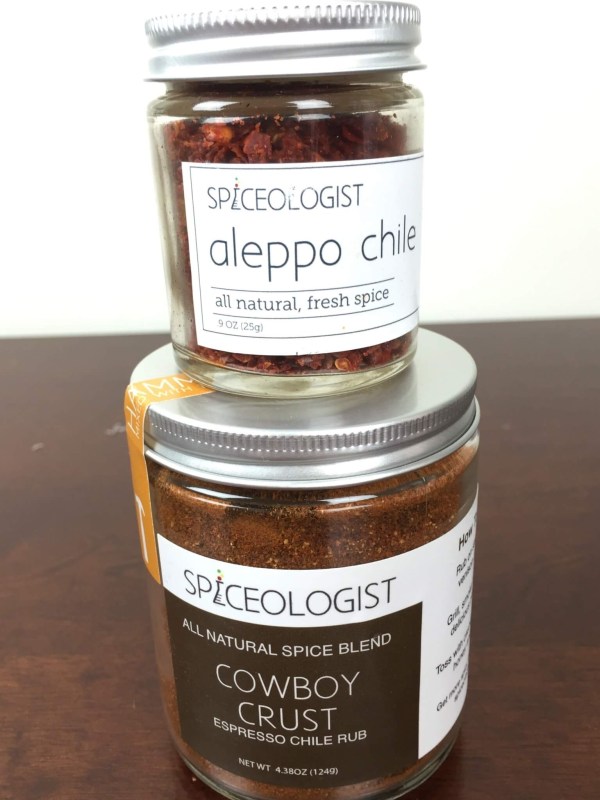 Spiceologist Aleppo Chili Powder  ($14.75)
Spiceologist Cowboy Crust ($9.56)
My husband was thrilled with these spices! There were more than ample amounts of each fresh high quality spice, and he's already talking about crusting up some steaks for the grill!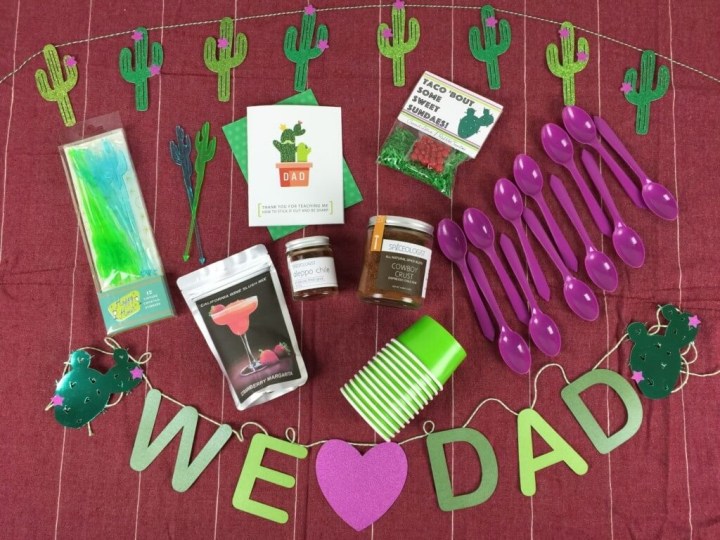 Isn't this cute – Tom took the photo! We do love Dad!
I'm bummed that this box is leaving us for now, but I'm really looking forward to how they revamp. I have my fingers crossed that they're coming back!
Visit TINSELBOX to find out more!
The Subscription
:
TINSELBOX
The Description
: Fun and unique holiday décor and activities each month. Could be sweet banners, fun games, stylized food items and more. For each month, our customers will receive a perfect something to celebrate the holiday or season. Many of our items are international, handmade for Tinselbox or fun! Most boxes are great for sharing with friends and family.
The Price
: $23.98 per month