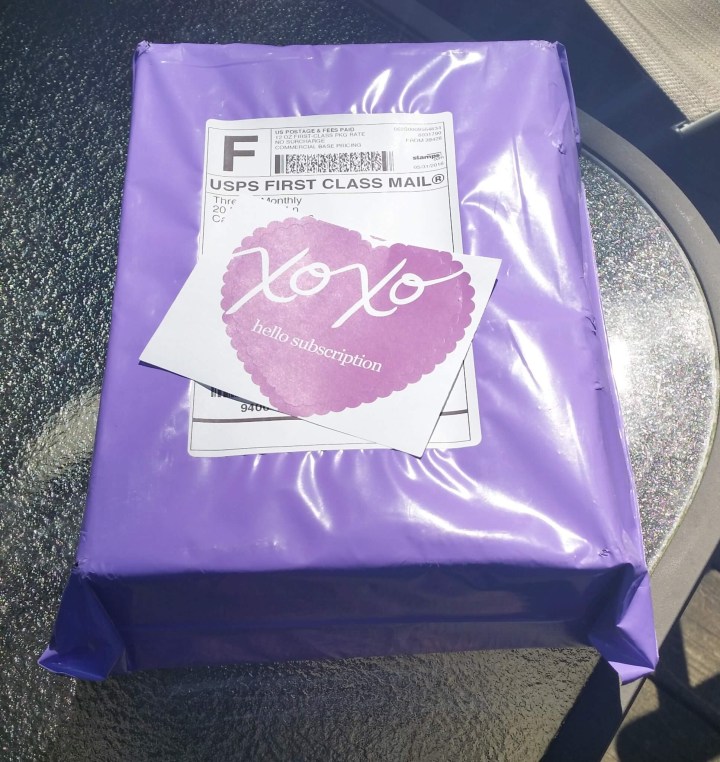 Threads Monthly is a subscription box for "women who love clothing and accessories."  Each month promises one t-shirt, one or two pieces of jewelry, and a themed accessory, all for $20 a month.  I reviewed this box with the help of my budding fashionista daughters, aged 14 and 11.  The box is aimed at women, but my girls wear adult clothes and the items in the package were perfect for tweens, teens, and grownups too! Just like the last few Threads Monthly boxes, my girls really enjoyed everything included!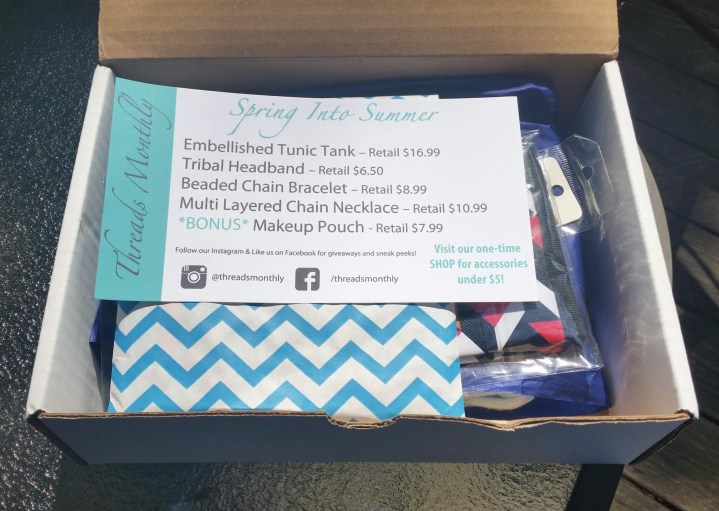 Bright colors, a chevron bag, and the theme "Spring Into Summer."  Yes!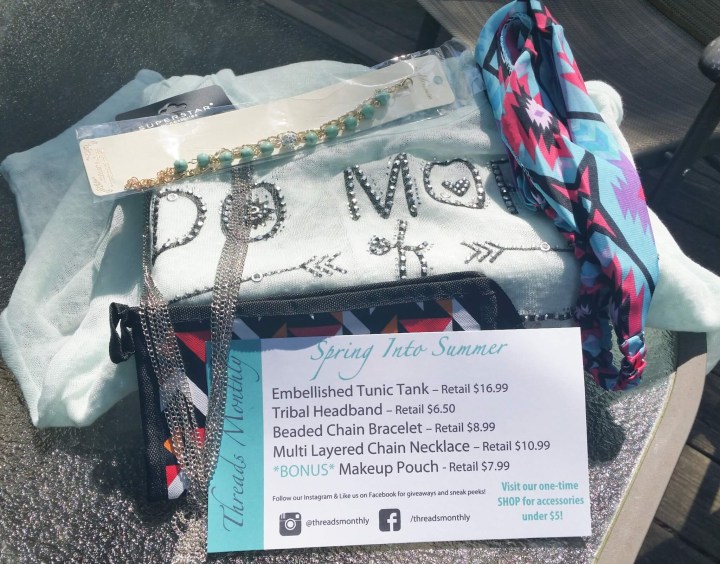 Everything in the box.  Lots of bright colors and a nice turquoise/mint green theme running through.  The jewelry, as it has before, was in the chevron bag.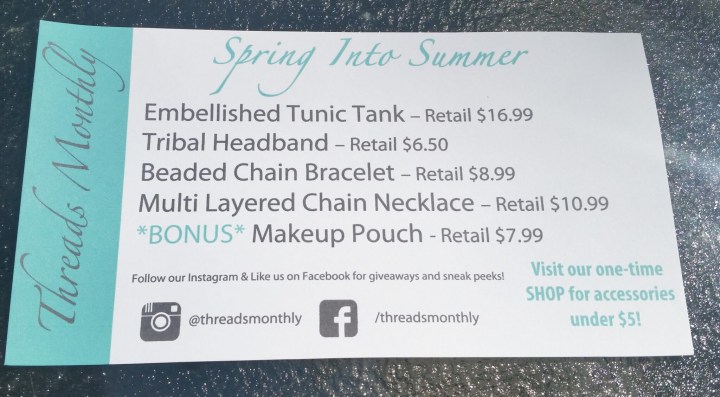 The enclosed card lists the items as well as their suggested retail prices.  This weather this spring has been crummy – I think we're all about ready to "spring into summer"!  Let's do it.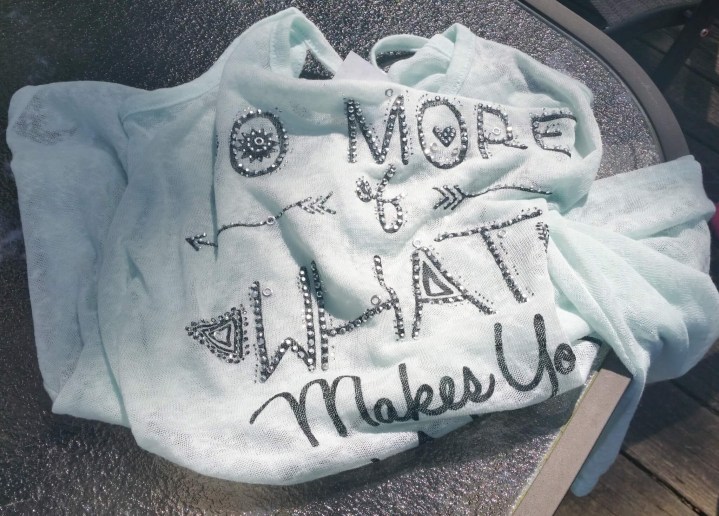 The Shirt:  This month's shirt is an "embellished tunic tank."  It's mint-green (not totally apparent in the late afternoon sunlight), with cute straps and a sparkly design that says "Do More of What Makes You Happy."  It's also a very thin, see-through material – super cute for summer, but not appropriate to wear everywhere!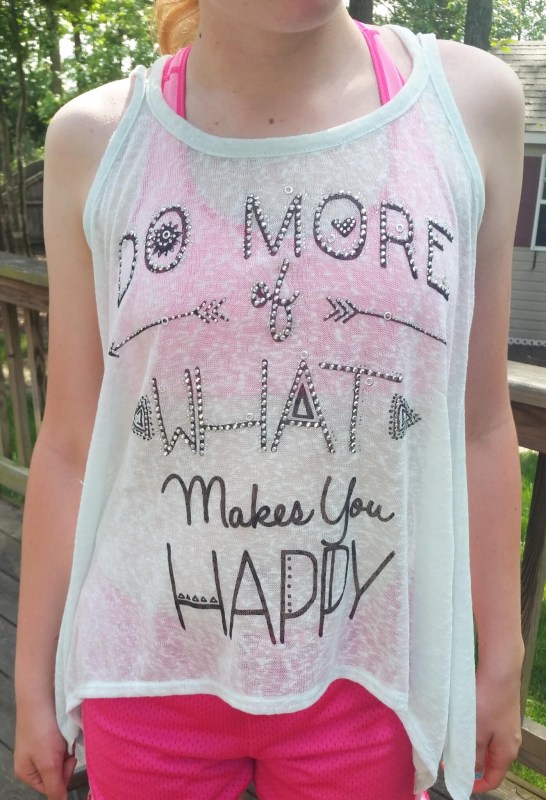 Here is my younger daughter modeling the shirt.  She loved the message and the color – although maybe something other than a hot-pink sports bra would be a better undergarment.  Anyway, it's totally cute on her.  I'm glad I share the box with the girls, because it definitely is too young for me.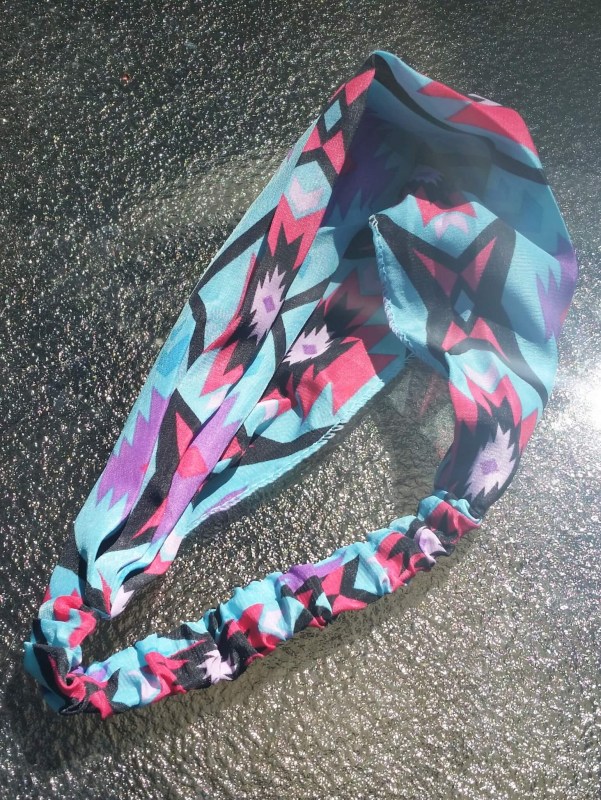 Accessory:  The accessory this month is a tribal print headband.  The colors (turquoise, purple, hot pink) are really pretty and summery, plus tribal print is so trendy.
Here is my daughter modelling the headband.  We love headbands like this, because you can scrunch up the fabric and make a thinner band or spread it out, as she did above, to make a more-retro thicker headband.  Both girls loved this item.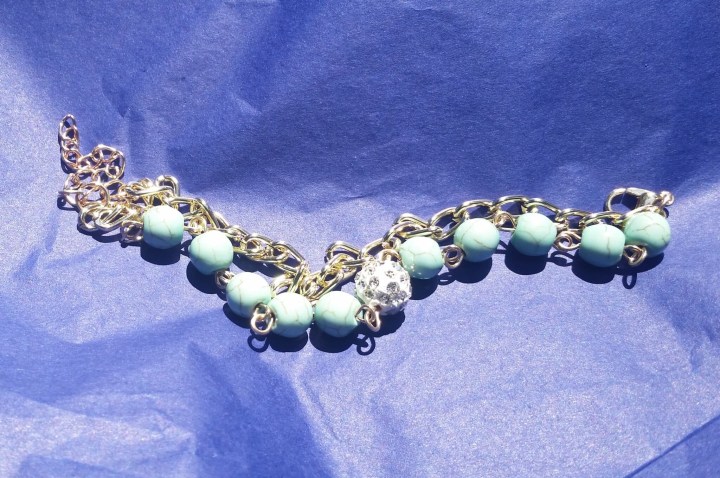 Jewelry #1:  Beaded Chain Bracelet.  This is a really pretty double-loop bracelet.  One loop is golden chain link, the other is mostly mint green bead with one always-popular disco ball bead in the center.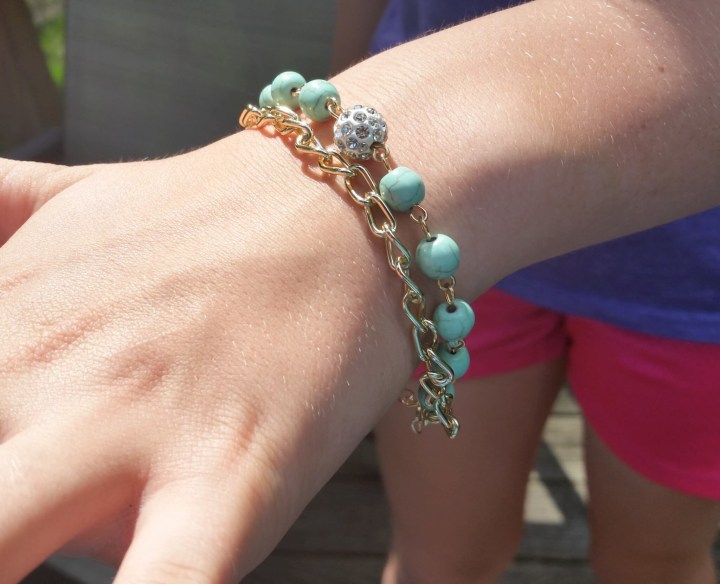 The bracelet in action.  We all really liked this bracelet.  My younger daughter, especially, is a big fan of mint green – a good color for spring and summer.  Also, the bracelet has plenty of extra links at the clasp, so you can make it as large or as small as you'd like.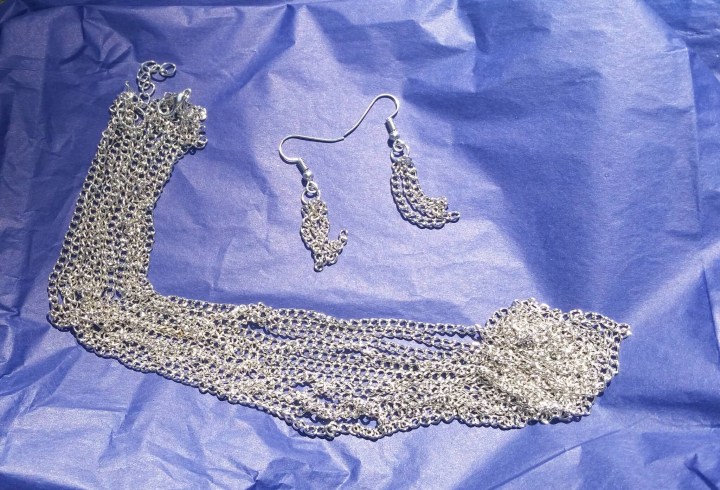 Jewelry #2: Multilayered Chain Necklace.  And look – not just a necklace, but matching earrings.  Surprise!  This necklace is also really pretty – the chains are thin, but not super delicate.  You can twist the strands or lay them more flat.  
Here is the necklace being worn by my daughter.  I think it will look even prettier with something other than a t-shirt – but it still looks good like this.  
Even more than the necklace, we all liked the earrings.  We all love dangly earrings and these are simple, but still look elegant.  (Unless you wear them with a t-shirt, like my daughter is here!)
As I've said before, it's hard to find jewelry to make everyone happy, but Threads Monthly does a good job with different styles and varied pieces to find something for everyone.  Another nice thing is the "level" of the jewelry.  What I mean is that the bracelet would look perfect whether you wear it with a summer dress or with shorts and a tank top, while the necklace and earrings are a little fancier, but not at all fussy.  I think this also speaks to Threads Monthly's attempt to send jewelry anyone can use and enjoy.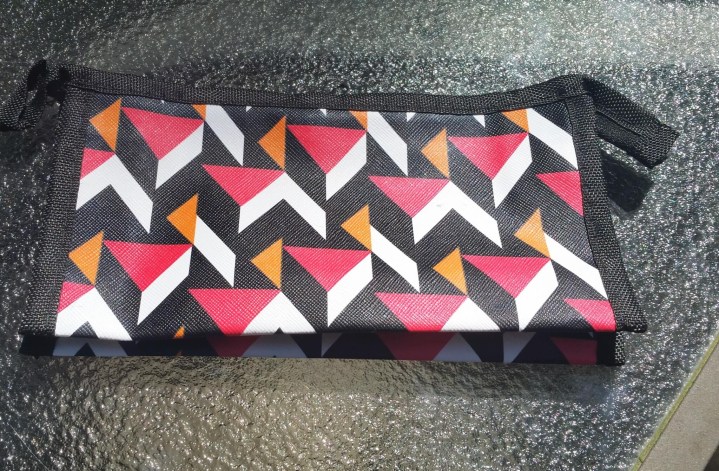 Bonus:  If the surprise earrings weren't enough of a bonus, Threads Monthly also included this makeup bag as a listed bonus.  With a teen girl in the family, we can never have too many makeup bags.  This one is a nice compact size, plus it has the tribal-print theme and bright summery colors.  Totally spot on for this box!
Threads Monthly came through again with another great box.  The contents are trendy, timely, and cute, and there is something for everyone in the box.  We have a blast every month opening our Threads Monthly box, trying on the shirt and jewelry, and divvying up the goodies based on our individual tastes.  This subscription box is appropriate for teens and grownups, as well as older tweens who wear grownup sizes (subscriptions are from adult S to adult XL, subject to inventory availability).  Bottom line – Threads Monthly is a totally fun subscription box that we love to get!
What did you think about Threads Monthly? Save 20% with coupon code HELLO.
Visit Threads to subscribe or find out more!
The Subscription
:
Threads
The Description
: Included in every month's subscription is one T-shirt, one or two pieces of fantastic jewelry, and one "Monthly Themed" accessory.
The Price
: $20.00 per month