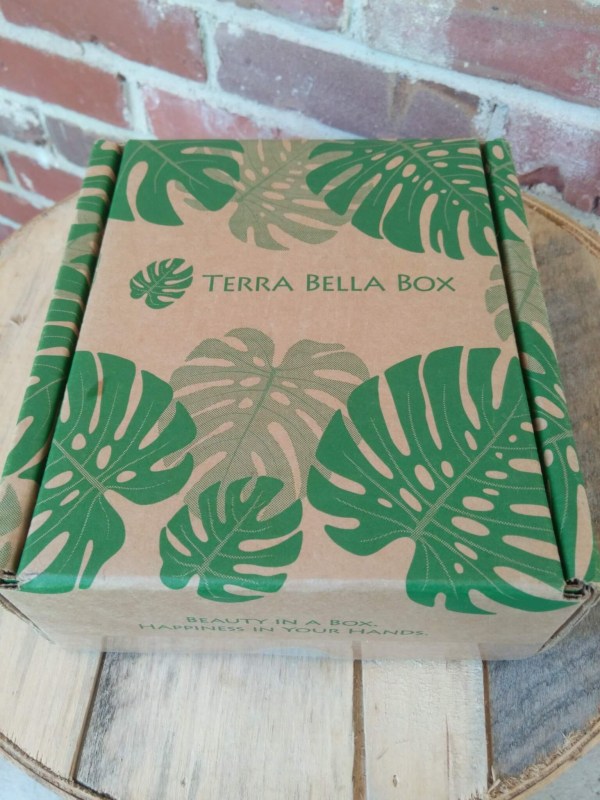 Terra Bella is a a monthly subscription box of products for your bath and beauty routine.  Each box has 3-4 products and free shipping in the U.S..  (This month's box actually had 5 products!!)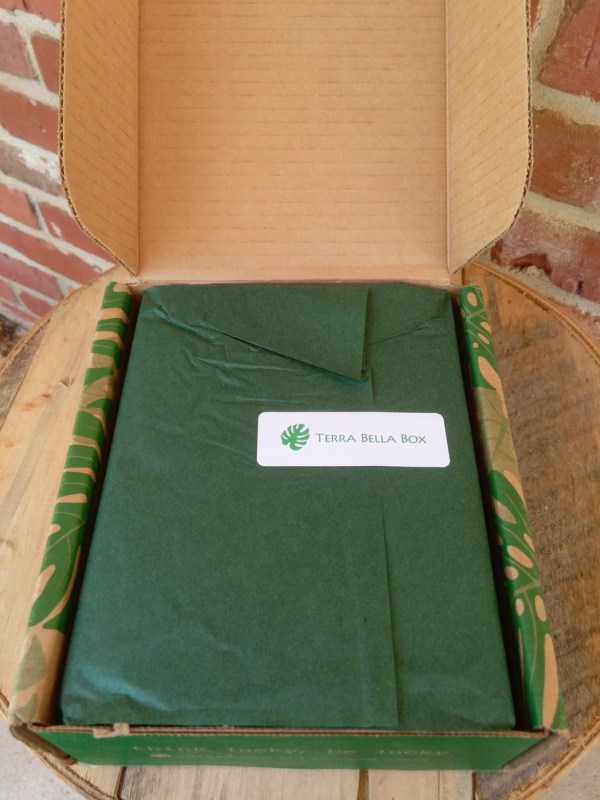 The products are handmade, animal cruelty free, and made in small batches by small businesses from ethically sourced ingredients.  Products can include cleansers, moisturizers, masks, exfoliators, hand and nail products, hair products, bath products and such.  Terra Bella was created by Kate Gray.  Her goal is to fill your cabinets with every beauty product that you might need.  And with that in mind each month is filled with a wide variation of useful products.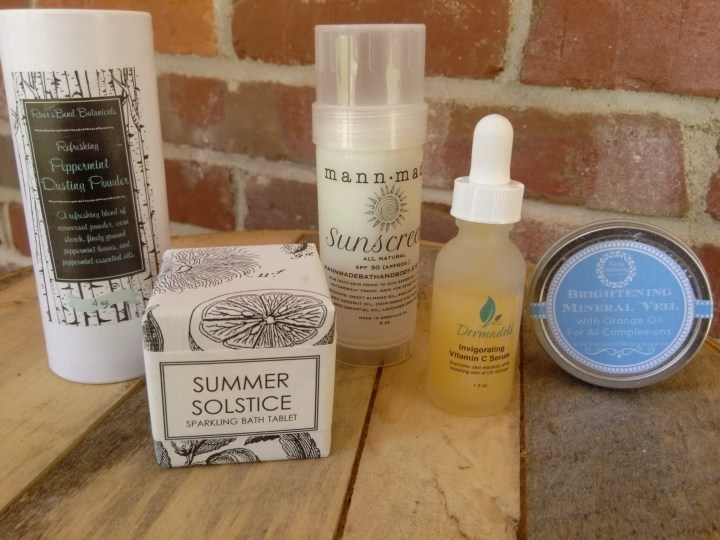 All of this was in the box.  The products just kept coming out of the box.  (I nearly missed one under the paper crinkles.)  And, they are all full size.  The Terra Bella Box is $32.95 a month, auto renewing.  The Make Up Edit box (which is at least 3 make up only products) is $29.95.  You can switch between Terra Bella or the Make Up Edit each month.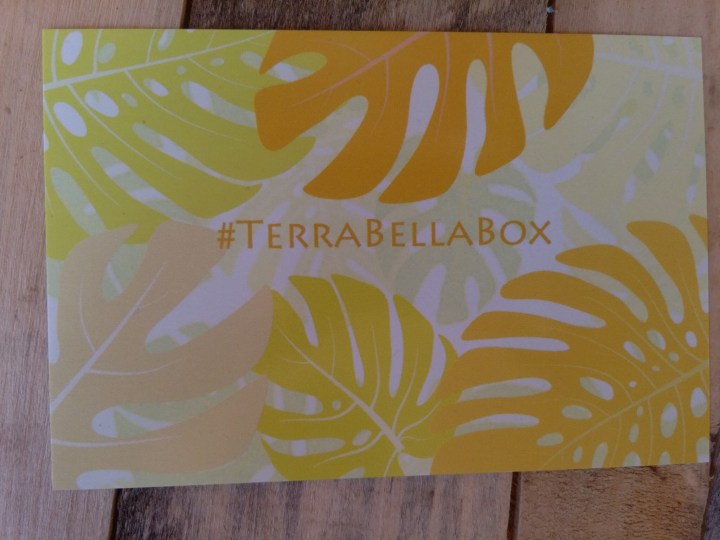 This card with #Terrabellabox welcomed us to the box.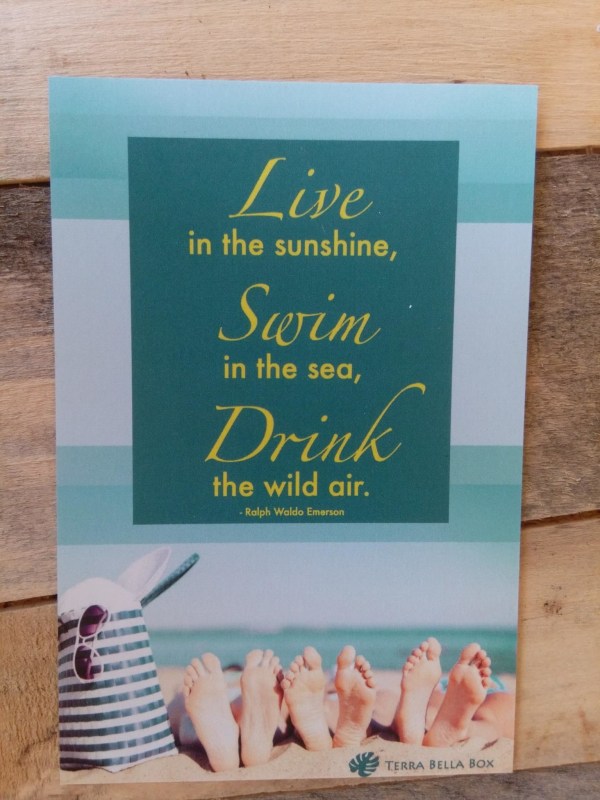 This quote from Ralph Waldo Emerson was on the back of the card and made me want to go to the beach.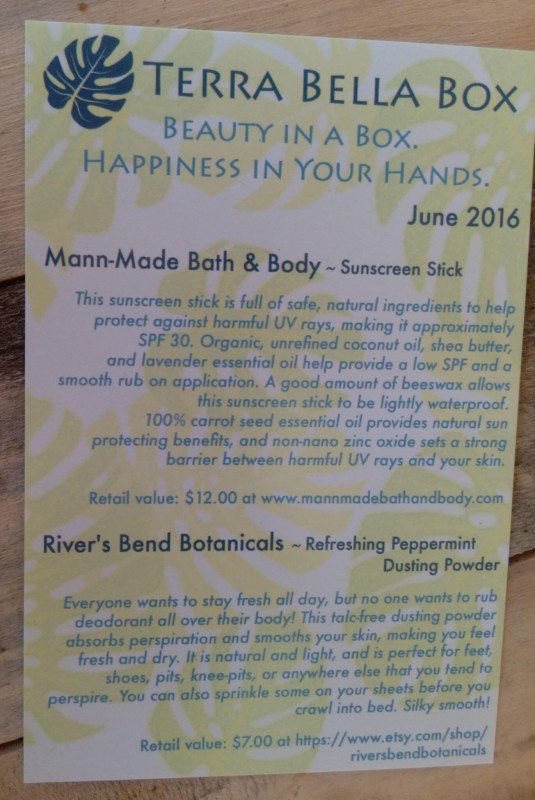 The product information card gives you a good description of each product, the website of the company and a retail price.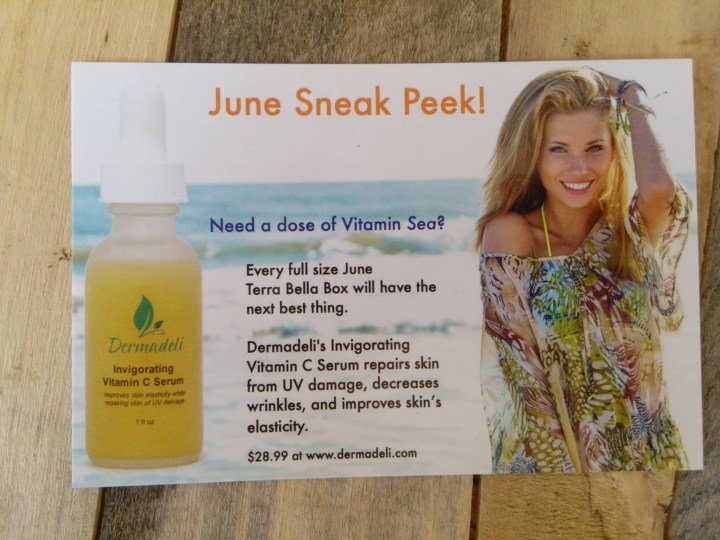 This is the front of a card about the Dermadeli Vitamin C Serum in the box.
This handwritten note from Kate (the founder of Terra Bella) was on the back of a product card. The website says that each box will now have 3-4 products & free shipping in the U.S.  They are also offer The Makeup Edit box for natural and cruelty free makeup.  And, you can switch between the two boxes each month.  It also looks like they no longer offer the lite box.
This card from Dermadeli offers a 25% off coupon code (exclusively for Terra Bella subscribers) for your next Dermadeli order.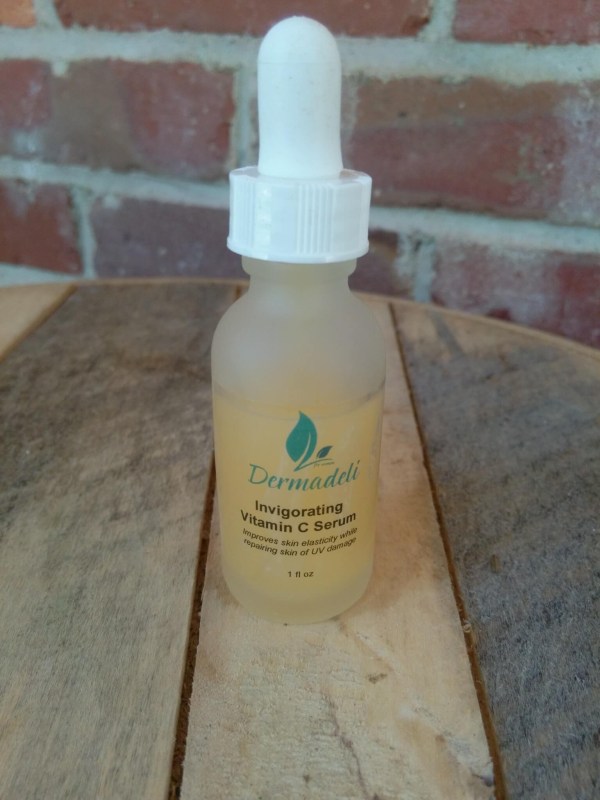 Dermadeli Vitamin C Serum ($28.99). The product card says, "Improves skin's elasticity while repairing skin of UV damage.  The antioxidant and repair qualities of this serum not only include repairing skin from sun damage, but also decreasing wrinkles, and restoring a youthful quality to your skin.  This serum is made with a 15% Vitamin C concentrate and is always made fresh when you order, so you can be sure it is the highest quality serum of its kind."  I immediately smeared some of this on my forehead.  I have these lines that look like wide rule notebook paper running across my forehead.  (I may worry too much.)  I'll let you know if it works.  But, in the meantime it feels really good.  You keep the serum in the fridge once you open it, so it is cool and refreshing when you put it on.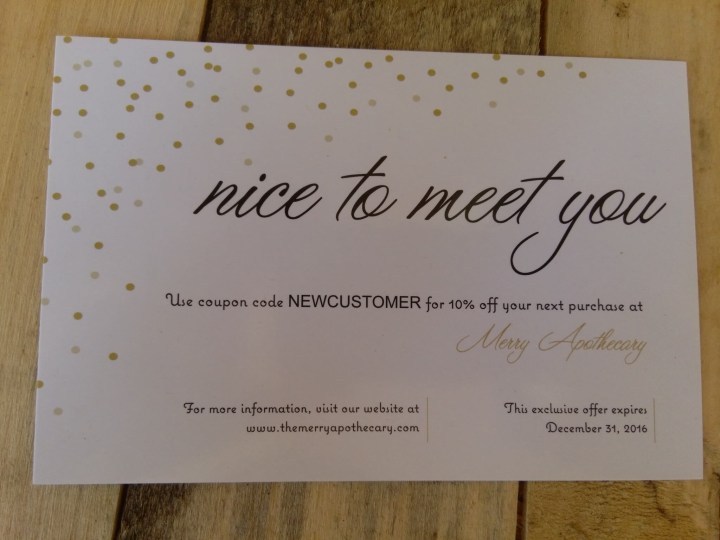 This card from the Merry Apothecary was in the box and offers a new customer coupon code for 10% off your next purchase.
Merry Apothecary Brightening Mineral Veil ($7.00).  "Brightening Mineral Veil is an all-natural, vegan version of a finishing powder.  It can be used alone or with your regular makeup routine.  Apply with a brush lightly over the skin to brighten and even out your complexion."  Their website lists the ingredients as arrow root powder, ginger powder, and orange essential oil.  I love it when I can say all the ingredients in a product.  And, this stuff is wonderful.  I don't where much make-up, but I don't like 'shiny face', so I do like a little powder.  This is perfect, it's just right to dust away the shine but not be heavy and at the very reasonable price of just $7.00, I might order it again.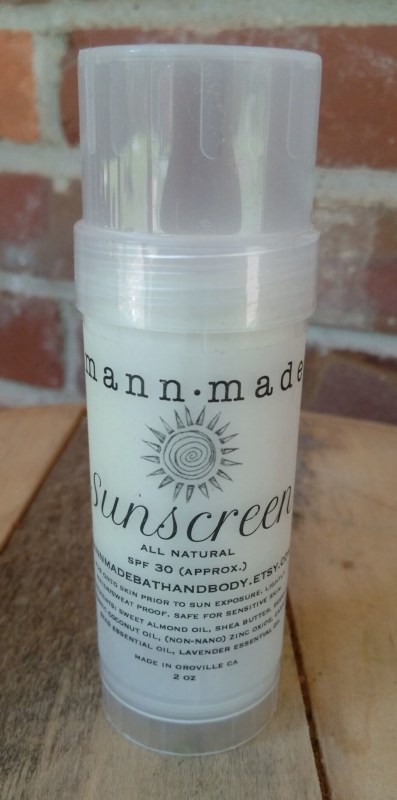 Mann-Made Bath & Body Sunscreen ($12).  "This sunscreen stick is full of save, natural ingredients to help protect against harmful UV rays, making it approximately SPF 30.  Organic, unrefined coconut oil, shea butter, and lavender essential oil will help provide a low SPF and a smooth rub on application.  A good amount of beeswax allows this sunscreen stick to be lightly waterproof.  100% carrot seed essential oil provides natural sun protecting benefits, and non-nano zinc oxide sets a strong barrier between harmful UV rays and your skin."  I'm looking forward to trying this, I hate it when traditional sunscreen gets in your eyes.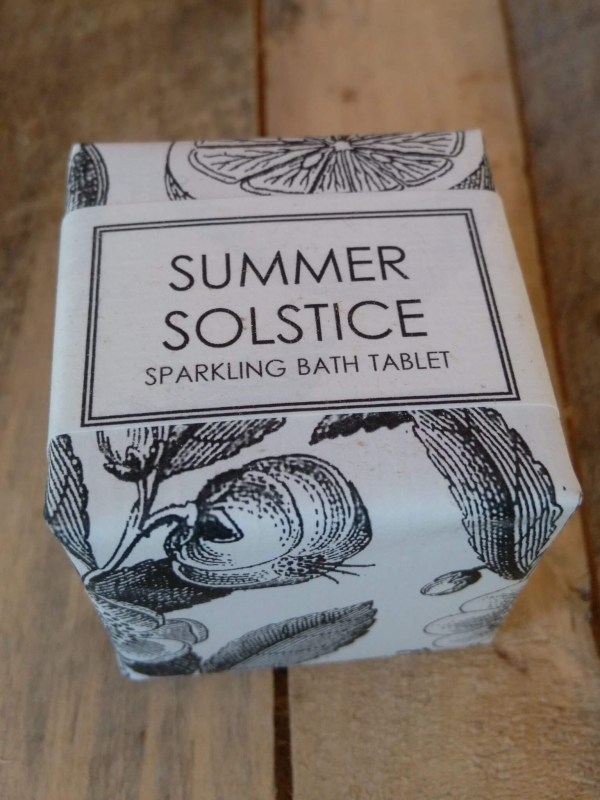 Formulary 55 Sparkling Bath Tablet in Summer Solstice  ($6).  "What is better than soaking in a luxurious tub of pure aromatherapy bliss?  These bath fizzies are made with only non-GMO cornstarch, and ground dead sea salts mixed with an essential oil fragrance blend.  When placed in a full tub of water, the tablet fizzes and distributes the fragrance and skin soothing oils throughout the water.  One tablet per bath is recommended, although you can break each one up."  I haven't tried this one yet, but it is going in my "I need to soak in a hot bath and read a book" stash.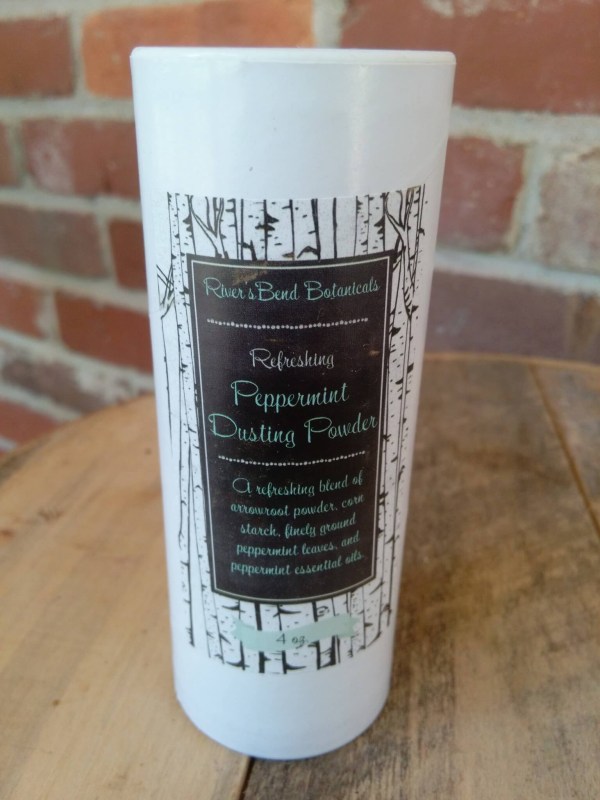 River's Bend Botanicals Refreshing Peppermint Dusting Powder ($7).  "Everyone wants to stay fresh all day, but no one wants to rub deodorant all over their body!  This talc-free dusting powder absorbs perspiration and smooths your skin, making you feel fresh and dry.  It is natural and light, and is perfect for feet, shoes, pits, knee-pits, or anywhere else that you tend to perspire.  You can also sprinkle some on your sheets before you crawl into bed.  Silky smooth!"  I needed this product.  You know the thigh gap that everyone wants?  I don't have one.  As a matter of fact I might have a slight thigh over-lap.  So, a good dusting powder is a necessity to keep my thighs from catching fire when wearing dresses and skirts in the heat of the south.  Yeah, you know you need it too……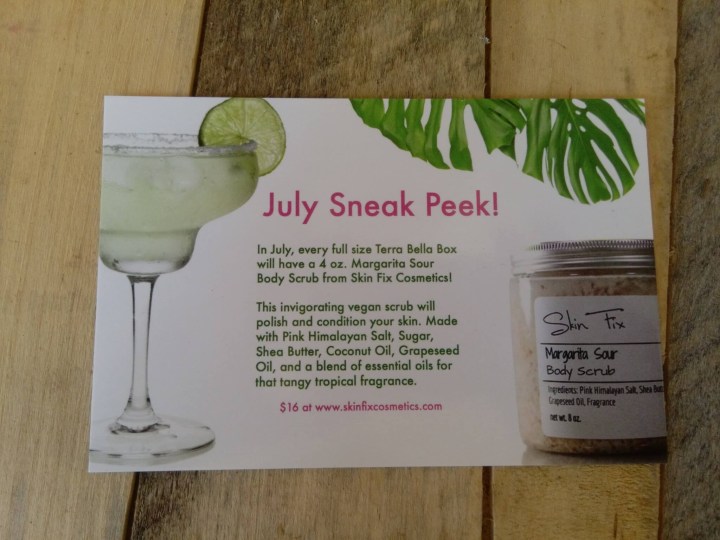 This sneak peek for the July card was in the box to tantalize you.  It promises a full size Margarita Sour Body Scrub from Skin Fix Cosmetics.
The June edition of Terra Bella box was a delightful medley of products that you can feel good about buying and using.  I am especially enjoying the Dermadeli Vitamin C Serum (here's hoping it helps the notebook paper forehead) and the Brightening Mineral Veil (no more shiny face).
Did you order this box?  Which product was your favorite in this month's Terra Bella box?
Visit Terra Bella Box to subscribe or find out more! Get an extra bonus item in your first box. Use coupon code HELLOEXTRA. Valid on full box, not the lite box.
The Subscription
:
Terra Bella Box
The Description
: Terra Bella Box is a different kind of beauty box. We find products that are created in small batches by small businesses, are always cruelty free, and are made with the finest natural ingredients. Good for your body, good for the earth, good for local economies. Get the full size box $37.95, or the Lite box for 17.95.
The Price
: $32.95 per month