Taste Trunk is a monthly subscription box of gourmet treasures. You can pick one of 4 themes – sweet, BBQ, gourmet, and healthy chef! You can, in addition to the subscription, choose gift boxes that do not have a subscription. It's also worth checking out the site to see what seasonal trunks are available!
How pretty!  This month's box comes all wrapped up in a bow.  So much care is taken to protect the contents of this box.  My actual Taste Trunk was shipped inside of another box, and then you have the paper squiggles and kraft paper underneath.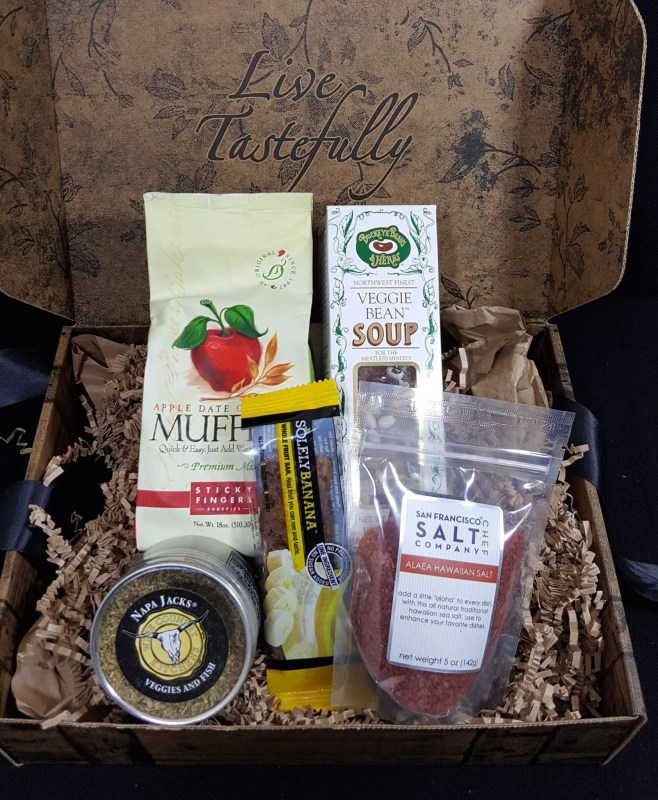 Everything in this month's Healthy Chef Box!
Buckeye Bean & Herbs Veggie Bean Soup ($7.99):  This is an easy-to-make homemade soup featuring a blend of several beans including but not limited to black eyed peas, split peas, navy beans, pinto beans, black beans, and kidney beans.  That's just what I can see – the ingredients have these simply listed as beans.  There are also lentils, barley, and a spice packet inside!  Incorporate a few items from your pantry to complete the soup (recipe on the back of the box), and you've got a meal with enough protein to satisfy everyone.  I've found this soup on several sites for around $5 per box.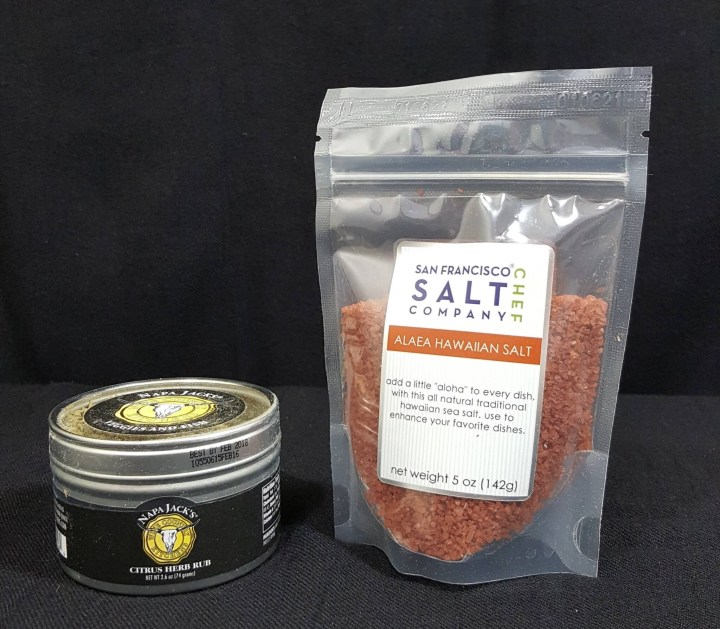 Napa Jack's Citrus Herb Rub ($5.99):  The lid of the tin notes that this rub is great on veggies and fish.  The rub contains a proprietary blend of spices, garlic, chili pepper, onion, orange peel, parsley, and paprika.  I tend to like citrus and pork together and think this rub would be good on grilled pork chops too.  Can't wait to test my theory.
San Francisco Salt Company Alaea Hawaiian Salt ($5.99):  The traditional salt of the Hawaiian islands, this salt is harvested from Pacific waters using traditional methods of solar evaporation.  The salt is infused with Hawaiian volcanic clay called "alae", which gives it an extraordinary red color. The alae clay also adds nutritional value by providing a source of digestible dietary iron and other trace minerals.  This has a stronger flavor, so less can be used.  Also, Alaea Hawaiian salt contains less sodium.  So, you can use this more often and in smaller amounts.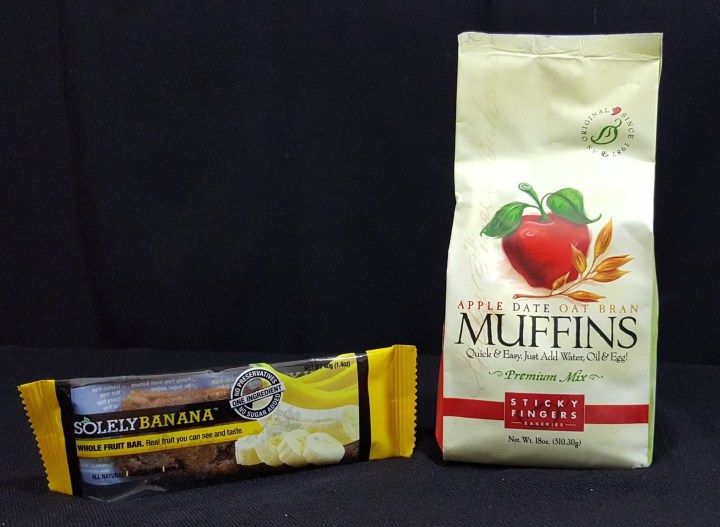 Solely Banana Whole Fruit Bar ($?):  This is a single-ingredient bar; its only ingredient is banana.  There are no preservatives or added sugar in this bar.  Feel good about snacking.
Sticky Fingers Bakeries Apple Date Oat Bran Muffins ($7.99):  Sticky Fingers Bakeries' entire line of quick and easy premium mixes is handcrafted from all-natural ingredients and are packed with fruit, veggies, spices, and herbs.  They are free of artificial flavors, colors, or preservatives.  This mix contains dehydrated apples and dates – delish!
This month's Taste Trunk has all the makings for a great father's day box for my dad.  He has been craving bean soup and fighting an urge to bake.  Plus, he's a griller and the rub has a flavor combination that I know he will want to try out.  Maybe I'll be a good daughter and bake the muffins for him as part of his Fathers' Day breakfast.
I'd love to hear your thoughts on this box or one of the other Taste Trunk themes (Gourmet, Sweet, or BBQ), so leave a comment below. Save $10 on anything in the Taste Trunk store with coupon code hellosubscription
Visit Taste Trunk to subscribe or find out more!
The Subscription
:
Taste Trunk
The Description
: Taste Trunk offers 4 different monthly trunks: Gourmet, Sweet, Health, and BBQ. Each trunk has 5-10 products. Every box is all-natural.
The Price
: $36.00 per month