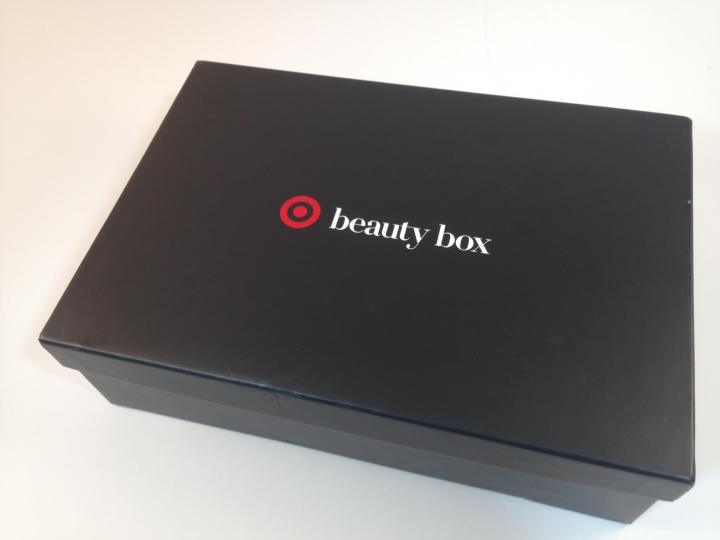 Target Beauty Box for Men is a one-time online purchase that comes out about twice a year. This one was for June and was $5 plus tax with free shipping. This box is no longer available but you can shop for all the items in the box on the Target Beauty Box page!

This item was shipped in a sturdy box with blue tissue paper.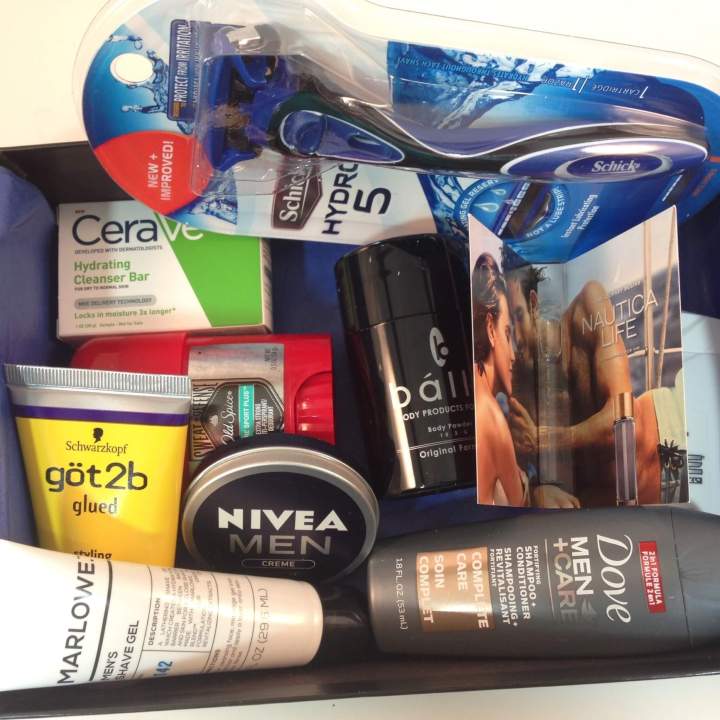 Everything in the box! There were 10 items this month and it came at the perfect time since my husband is just about to go on a trip so he can take some of these items with him.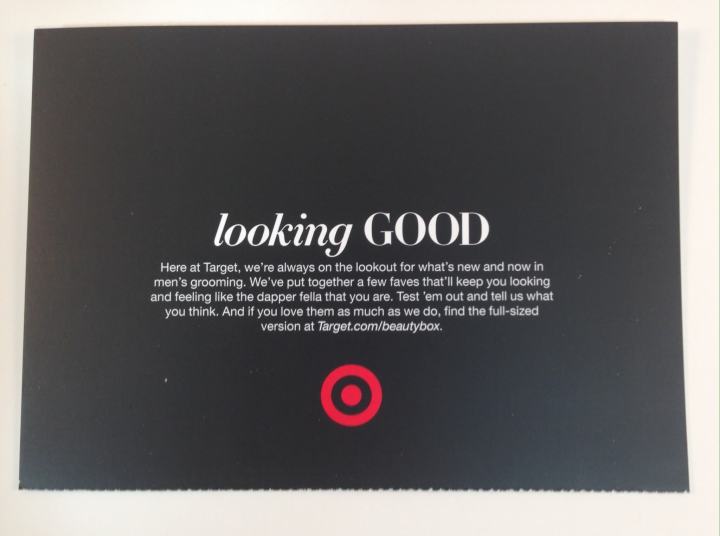 The theme for the June Box is "looking good" and the products are aimed at helping dudes feel dapper.
I love product information cards so I don't have to guess what everything is or what it is for. There was a coupon for $3 off of a personal care purchase of $15 or more at Target or Target.com.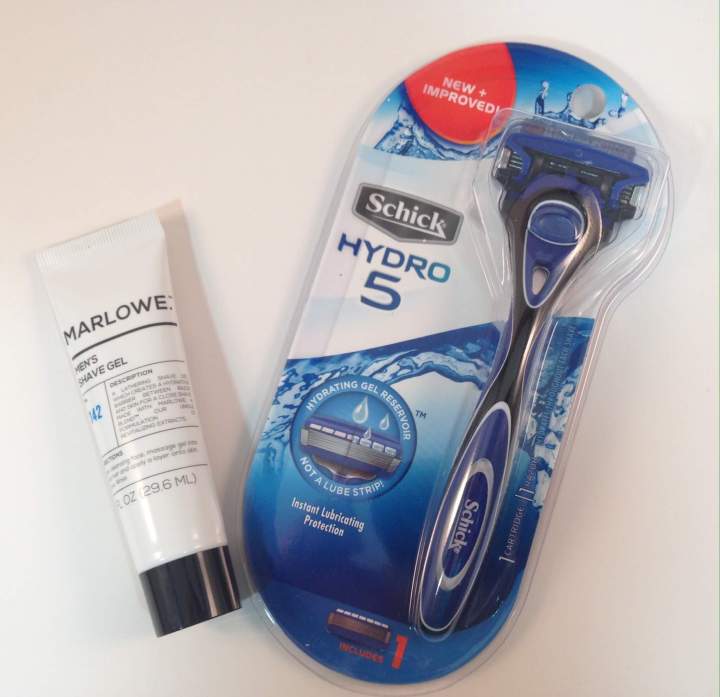 Marlowe No. 142 Men's Shave Gel ($1.33) This lathering gel made with aloe and coconut oil has a clean scent and is paraben and phthalate-free. Not tested on animals.
Schick Hydro 5 Men's Razor ($7) Includes handle and 1 cartridge. This razor has a hydrating gel reservoir and skin guards plus 5 blades for a close shave. Came with a coupon for $2 off a refill.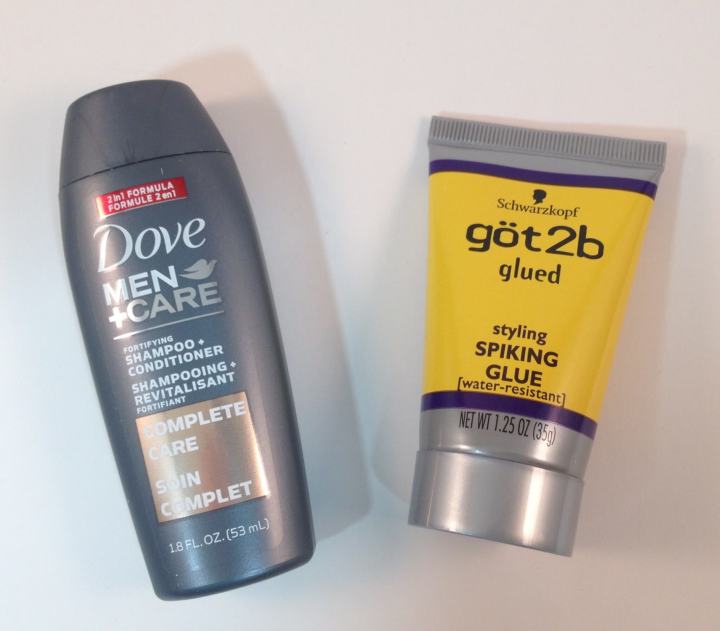 Dove Men + Care Complete Care 2-in-1 Shampoo & Conditioner (42 cents) Hubby already uses a 2-in-1 formula but this is easier to pack for travel. Designed for dry hair and scalp and smells good in a manly sort of way.
göt2b Glued Spiking Gel (87 cents) For hair that you don't want to move; this is even water-resistant! Where was this in high school when my bangs needed to go straight up in the air? Don't know if hubby will use it but it smells good and I just might try it on my fine hair. Or give it to my preschool students for crazy hair day.
bálla Body Powder (or Remington Beard Boss Beard Oil) ($6) This product is supposed to keep the guys dry down there and has a talc base and a great smelling oak/musk scent. Some boxes received a beard oil instead of this powder.
Old Spice Sweat Defense Extra Strong Antiperspirant/Deodorant ($1.06) Keeps you dry for 24 hours, "even if you lit yourself on fire and stood in the blast radius of a nuclear bomb, this stuff would not stop working". Wow, that is extra strong! Smells good too.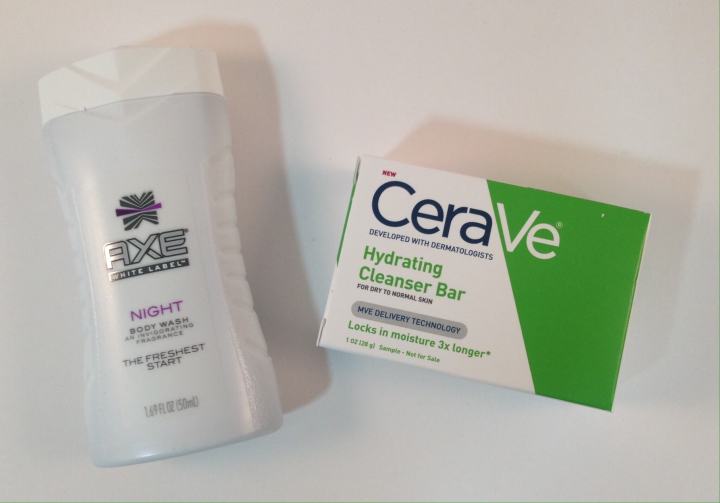 Axe White Label Night Body Wash (42 cents) According to Axe this scent "blends a cool rush of grapefruit, lavender, cedarwood and praline notes". It is also purple. Just sayin'.
CeraVe Hydrating Cleanser Bar ($1.01) Good for dry to normal skin and delivers hydration for 24 hours. Use for facial or body cleansing, irritated hands, itchy skin, or psoriasis prone skin.
Nivea Men Creme (78 cents) Convenient travel sized tin for hydrating hands, body, or face. Has an aftershave-like scent. Non-greasy and fast absorbing.
Nautica Life Cologne (82 cents) I made my husband put this on and then couldn't stop smelling him so he asked me to get a bottle stat. The scent is clean and fresh and smells like ginger and lime.
My Target Beauty Box for Men had a value of around $20. Not bad for a $5 box! The products mostly had an aftershave type of smell and most of the items will be used (the others, like a certain purple body wash, will find a good home). If you think this box would be a good fit for the man in your life next time grab one or two before they disappear!
Did you grab a Target Beauty Box for Men this month? What did you think?
The Subscription
:
Target Beauty Box
The Description
: Try your favorite beauty products with the Target beauty box. Receive 5 sample size beauty products each quarter.  Try them, tote them, take them with you – we're sure you'll love them as much as we do. This box is available sporadically.
The Price
: $7.00 per box