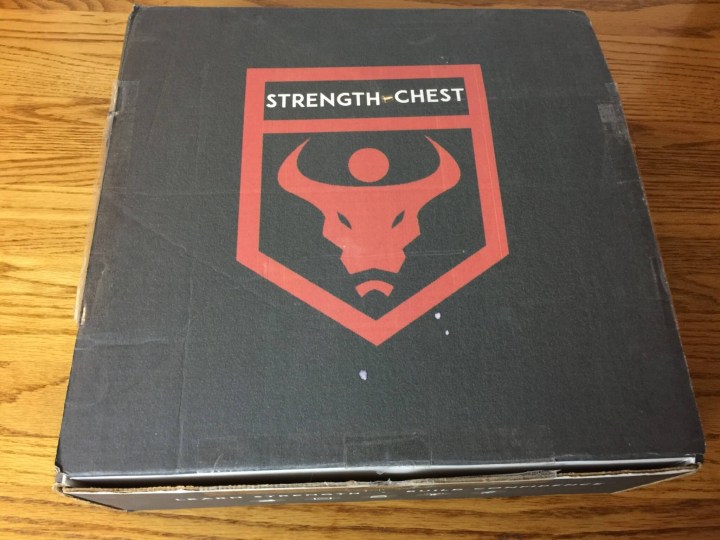 Strength Chest is a bimonthly subscription service that brings you essential items for a strong and healthy lifestyle.  Not only do you get supplements, gear and apparel, as a member you are assigned a coach who will help you with a customized diet and will assist in setting fitness goals.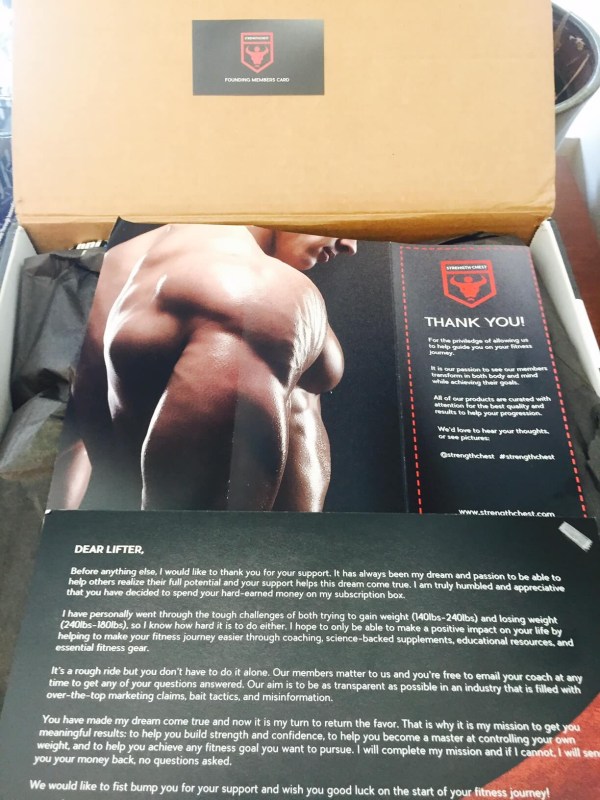 You can tell right away that the box is designed for those serious about their fitness goals.  The picture, salutation, and sheer size of the box mean business.  The contents are packed with some black tissue and there are some greeting materials, but there is not much in the way of fluff.
Lots of items that will keep you going and help to keep you fit.  There is a mix of bulk supplies, small samples, and reusable gear.  When you join up your box ships immediately – no need to wait to get fit.

Everything about this box is no nonsense.
A Note from the founder, someone who has accomplished major body composition transformations, both mass gain and weight loss, through hard work and dedication.   StrengthChest is focused on attaining meaningful results, not just sending you stuff in the mail.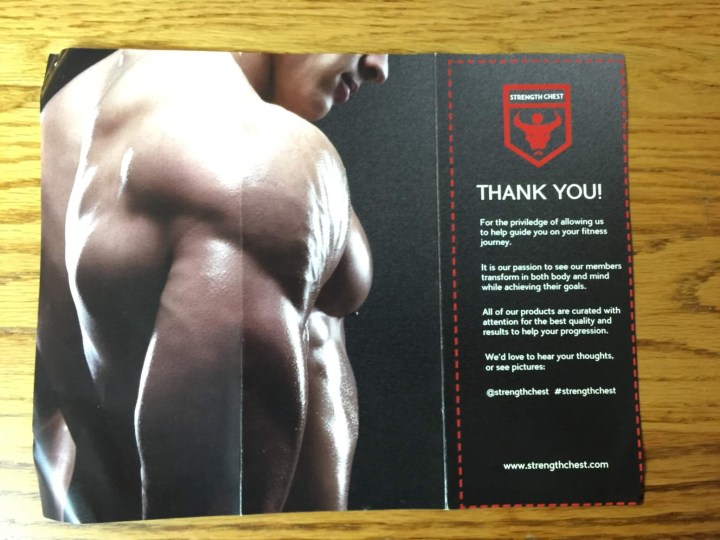 There's also a short thank you note included.
The supplement listing describes the purpose of the products provided, as well as directions for use.  There is also information on pairing up with your personal strength coach.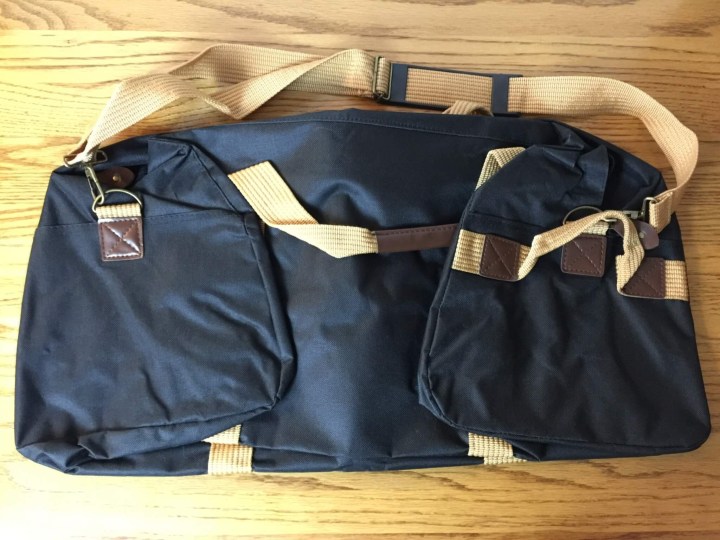 Fitness Duffel Bag.  This is great to have.  Especially with all of the stuff that came in this box! This bag is stylish, high quality, and well constructed and perfect to hold all your gear.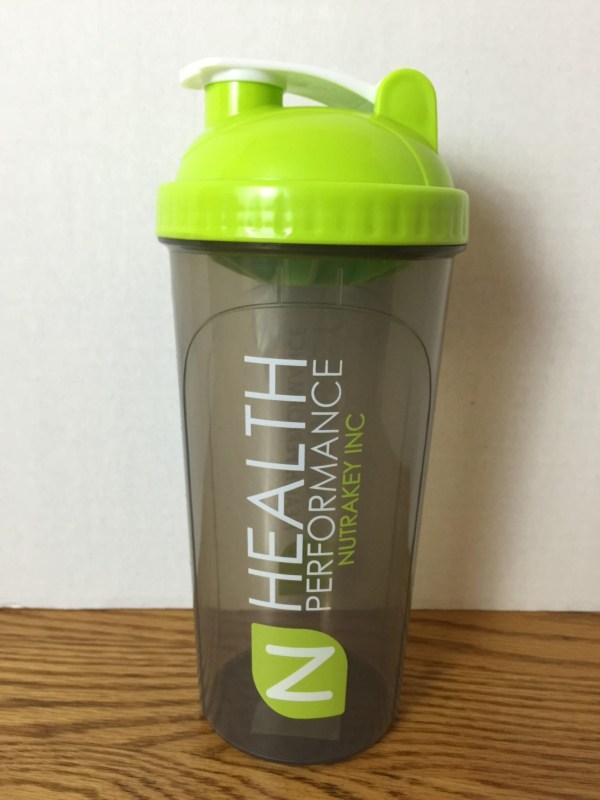 You also get a shaker bottle.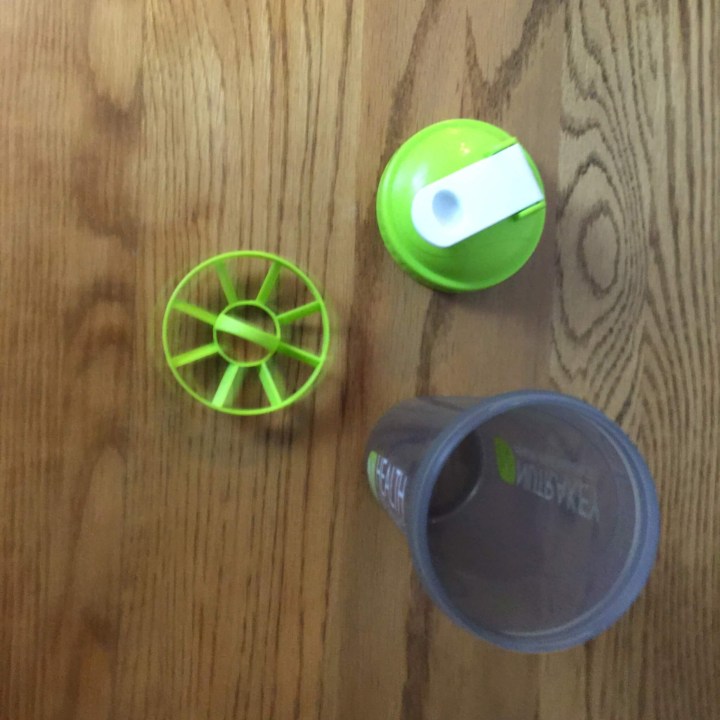 Nutrakey Shaker Cup ($4.99).  This is an essential for either gainers or dieters, since either regimen will call for a plethora of powdered protein or supplement drinks.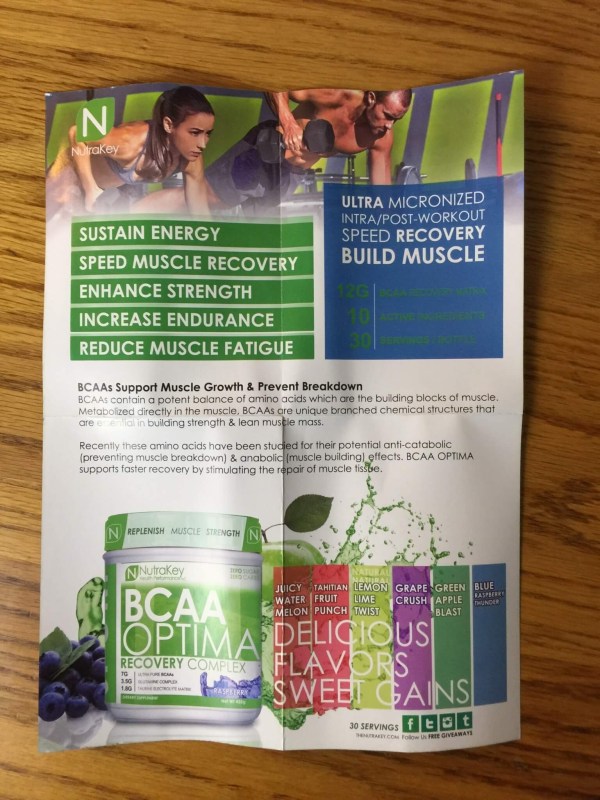 Nutrakey included some promo material with their shaker.  Most shakers go for around $8.00 – $10.00.
Here's what's at the back of the sheet.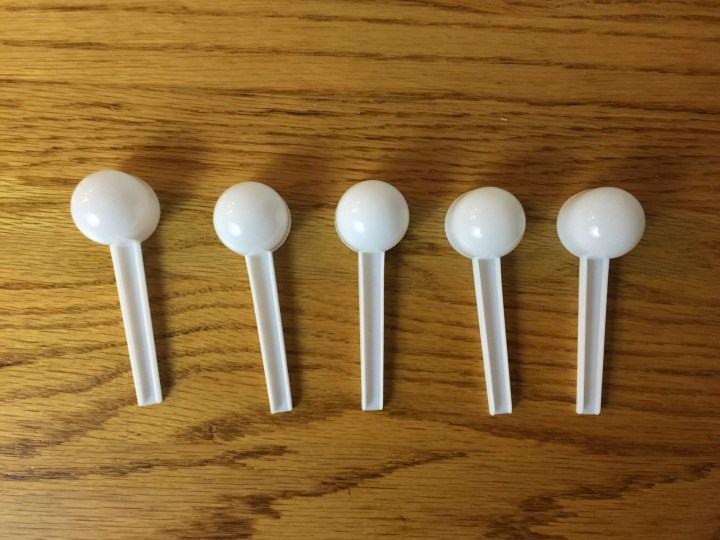 Scoopers.  I'm probably missing something here.  Don't most things that need a scoop come with one? My coach will probably clue me in to this one.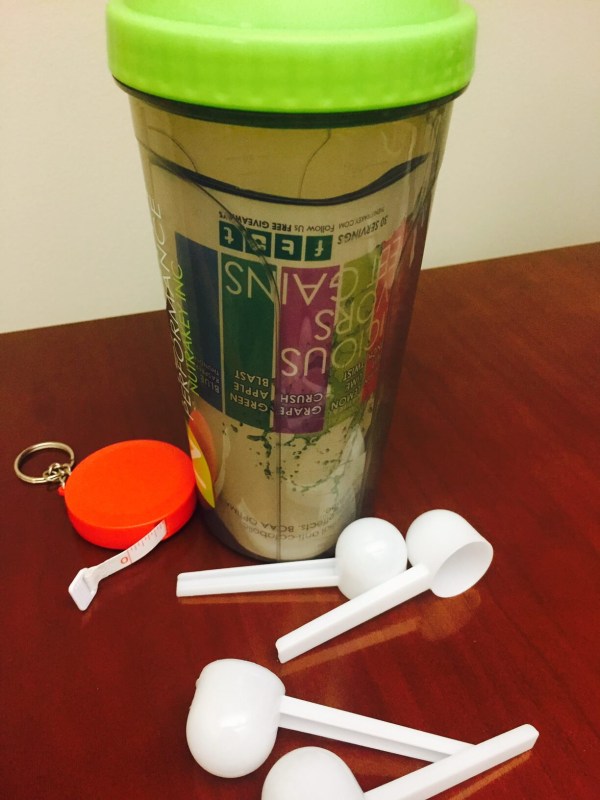 There's also a tape measure keychain included, which is great to check my measurements in a jiffy.  Tracking progress is part of any fitness regimen.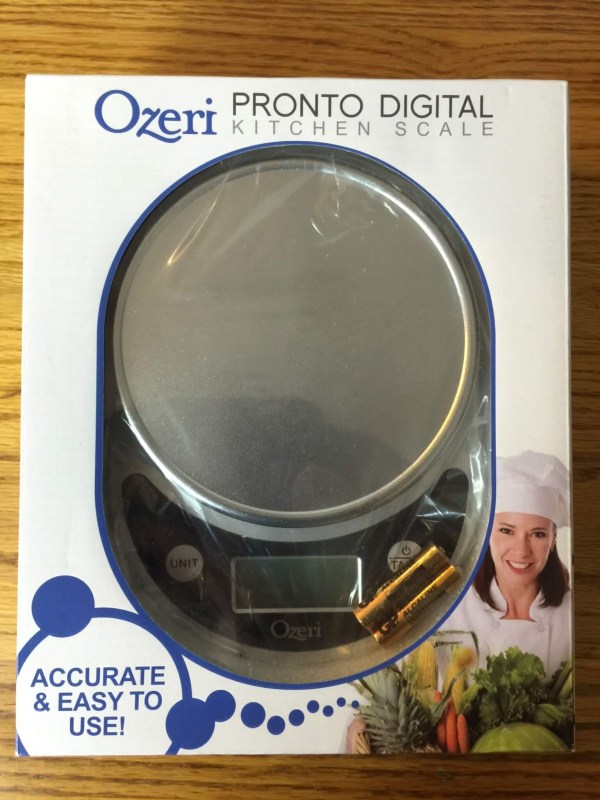 Ozeri Pronto Digital Kitchen Scale ($13.96).  A food scale is a great help when dieting.  You can keep track of just how much you are consuming.  This scale is wonderful and easy to use.  And we can honestly say that we've never seen a scale in a subscription box before.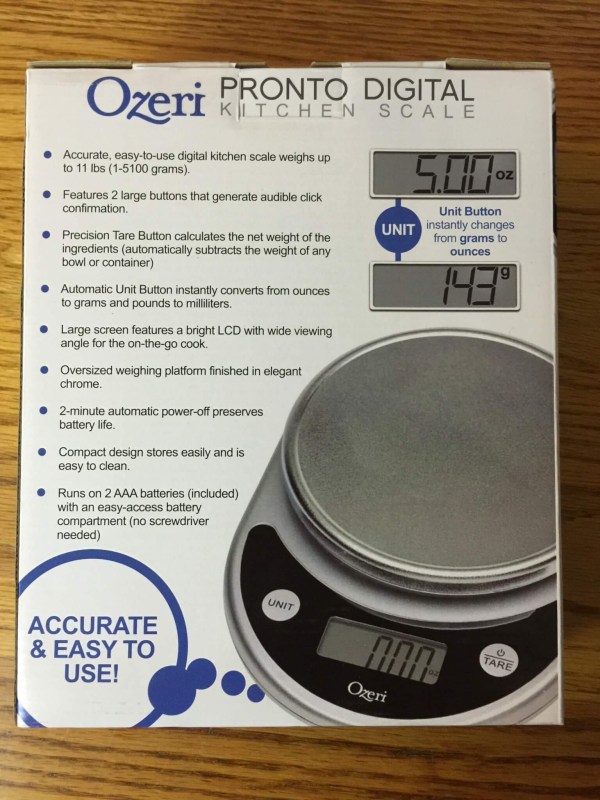 The couple times I've had major success on a sustained diet was due to being rigorous about portioning food intake.  Using a scale is the best way to avoid portion creep.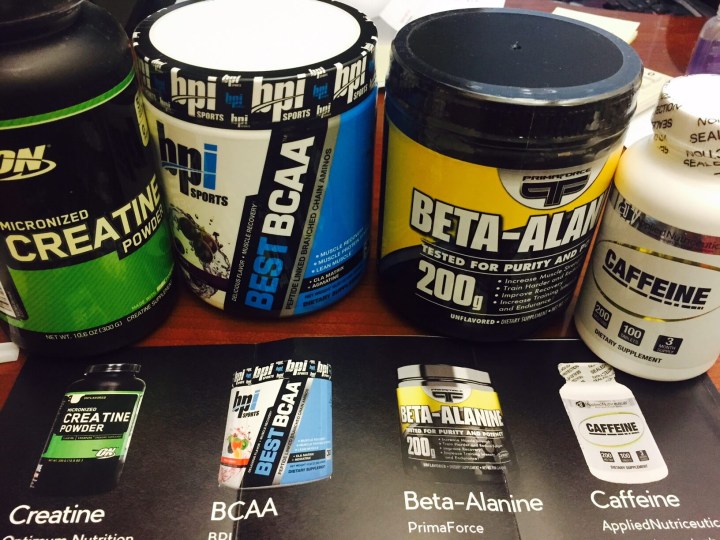 Optimum Nutrition Micronized Creatine Powder ($8.98):  Creatine is produced naturally in the body, and taken as a supplement can increase the power and density of muscle, great for improving strength and performance.  This flavorless, micronized version dissolves easily in water and remains doesn't precipitate or leave a gritty residue.
BPI Sports Best BCAA ($32.99):  Branched chain amino acids aid in muscle recovery and the creation of lean muscle.  Recommended as a pre-workout supplement.
PrimaForce Beta-Alanine ($18.49): Beta-alanine helps build endurance and improve cardiovascular performance.  Unflavored and purity tested.
Applied Nutriceuticals Caffeine Tablets ($8.61):  Caffeine gives you the get up and go needed to have an intense workout session.  The efficient pill form allows you to take as a pre-workout supplement or metabolism booster without having to consume a large beverage or deal with food-based caffeine.
This quartet of supplements covers strength, recovery, energy and endurance. This will definitely be helpful to me.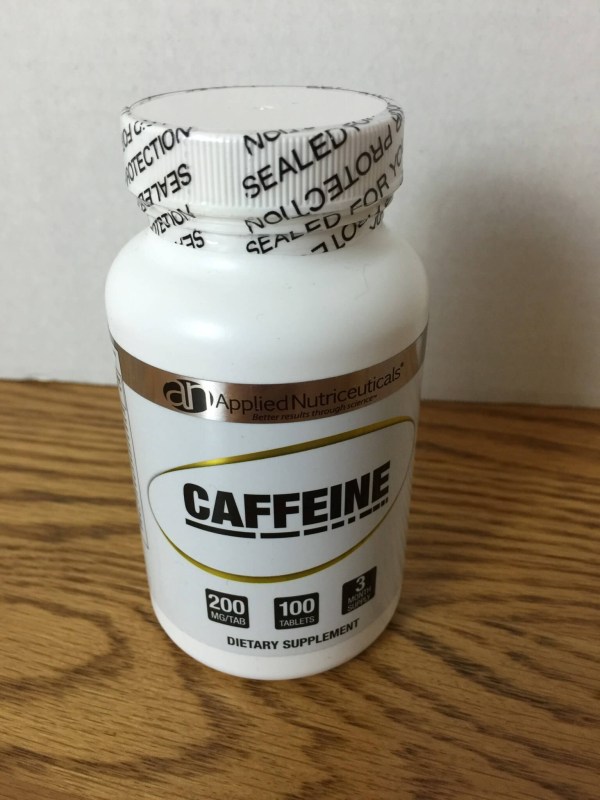 At 200mg of caffeine per tablet, this'll get you energized before your workout!  I was impressed by the quantity provided of the supplements, as each came in a full size container.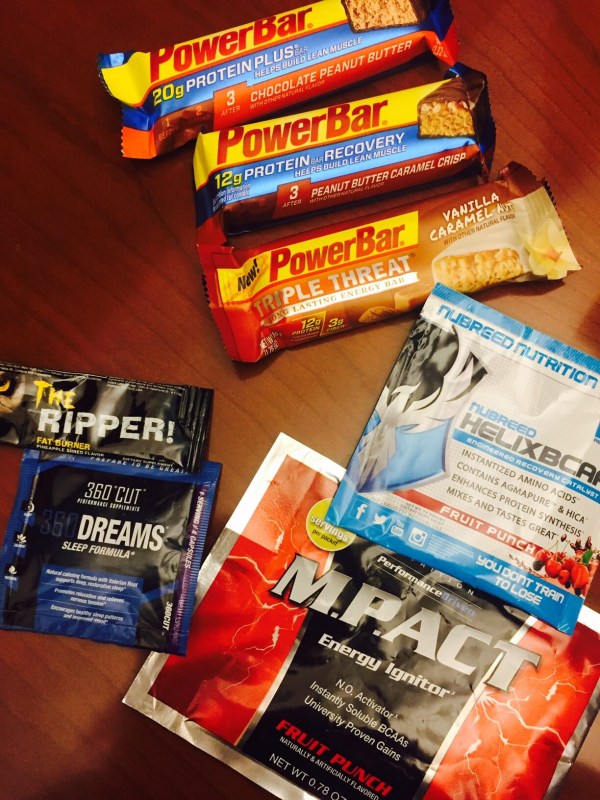 There were also several sample size packs of supplements and some Powerbars.
Power Bar Chocolate Peanut Butter ($2.39):  The "Protein Plus" bar is loaded with 20 grams of whey, soy, and casein protein to build muscle and aid recovery.  Powerbars are nutritionally sound and taste pretty good, though they definitely still have that protein bar texture.
Power Bar Triple Threat Energy Bar ($1.79):  Triple Threat bars are more candy bar like version of Powerbar with 12 grams of protein, fiber, and lots of energy.  Very tasty, this is a nice pre-workout treat that at least has more protein than a candy bar.
Power Bar Peanut Butter Caramel Crisp ($1.79):  The Protein Recovery bars have 12 grams of protein and 30 grams of carbs to aid recovery.
Cobra Labs The Ripper! Fat Burner Pineapple Shred Drink ($1.33):  Beta-alanine, chromium picolinate, and fcaffeine from various sources helps amp up your metabolism and support fat burning throughout the day.
360Cut 360 Dreams Sleep Formula Capsules ($1.10):  A valerian root and GABA blend to help calm you down for a restful sleep after chomping caffeine and stimulants all day.
Nubreed Helix BCAA Fruit Punch ($0.20):  A branched chain amino acid drink mix.  Supports recovery and limits catabolism.
Dymatize Nutrition M.P.Act Fruit Punch ($4.49):  This product combines caffeine with BCAAs and creatine for energy, strength, vascularity, and recovery support in one product.
These Power Bars are delicious.  The company has really diversified its offerings, creating a pre, during, and recovery phased system like so many companies have.  These varieties are energy and recovery focused, so they have a very candy bar like taste.
Strength Chest has a lot of great items.  I loved that they provided an ample supply of everyday supplements and also some samples to try.  Most workout focused boxes tend to throw a ton of samples in a box, ignoring the fact that any serious regimen requires consistent use and large volumes — I felt like the curators understood this and met my needs with a full two month supply of essentials.  The gym gear was a nice touch, too.  I look forward to seeing what Strength Chest has in store for future boxes.
Visit StrengthChest to subscribe or find out more!
The Subscription
:
StrengthChest
The Description
: StrengthChest is a bi-monthly fitness subscription box that helps fitness beginners learn the fundamentals of dieting, strength training, & recovery to achieve their personal goals. Get personal coaching along with the best supplements, gear and apparel every two months. Lose fat and gain muscle or your money back. 100% Satisfaction Guaranteed.
The Price
: $199.00 every other month