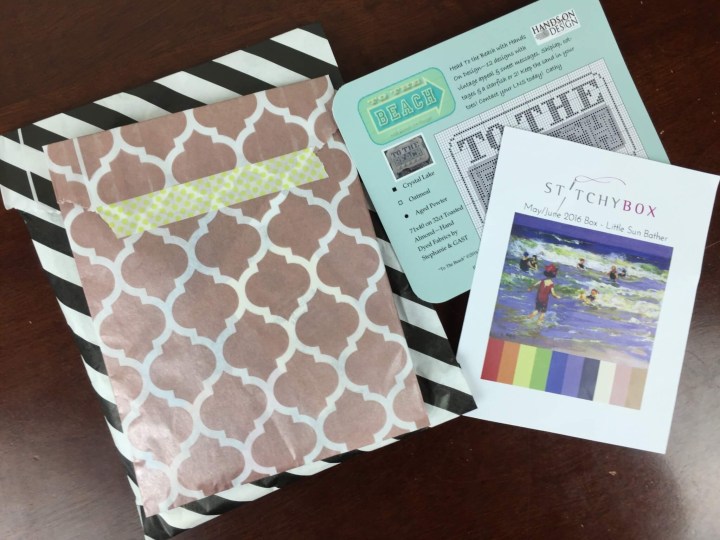 StitchyBox is a bi-monthly subscription box for counted thread embroiderers and cross-stitchers! There are two options – the Big Picture Box and the Detail-Oriented Box. With both styles you'll receive a variety of threads, from staples like DMC to specialty threads you may not have met yet, and embellishments, stitching accessories and other goodies! They also have a "Just the Threads" subscription for anyone who is a fiber fiend! This subscription no longer comes in an actual box and ships in a little mailer, which I prefer!
With the Big Picture Box choose
2 Fat 16ths (one 14-16 count Aida, one 28-32 count linen OR evenweave – your choice) OR
1 Fat 8th (Aida, linen or evenweave).
With the Detail-Oriented Box pick
2 Fat 16ths (one 32-36 count linen, one 40 count linen) OR
Select 1 Fat 8th (either 32-36 count linen or 40 count linen)
They also now offer add-on subscriptions (also available stand-alone): Buttoned Up (40 hand-dyed buttons from Hillcreek Designs, selected to match the color palette of each StitchyBox shipment) and Stitch It Up (XS charts). AND a 3-kit limited edition series from Hands On Design!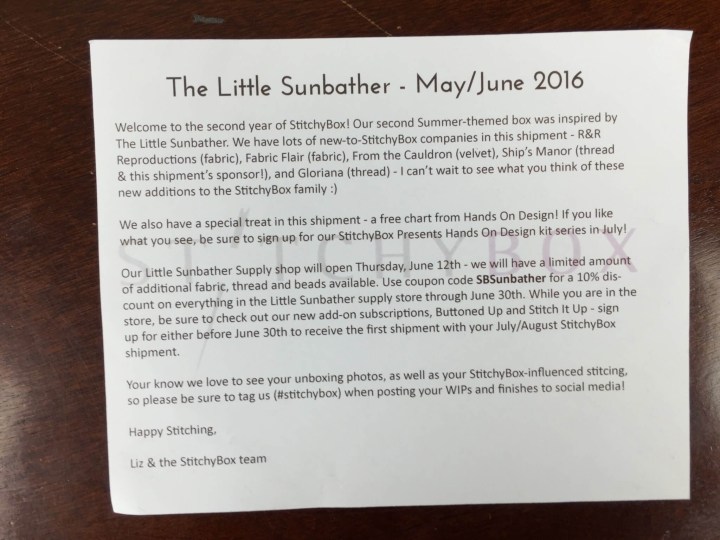 The information card gives a bit of details about each item, plus info about the supply shop (you can buy more of what you love, but usually only for a limited time – supplies are sometimes hand-dyed just for this box).
This month the inspiration was The Little Sunbather (shown above in first picture). This month there were lots of new brands, which I was excited about!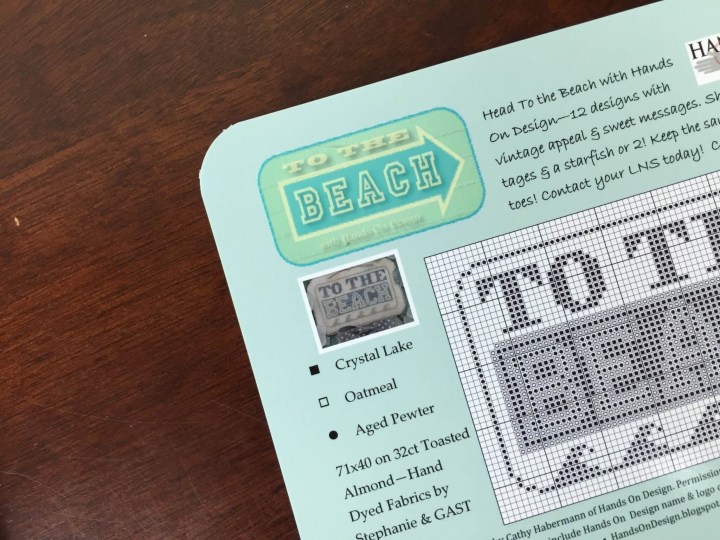 Hands On Designs To The Beach Cross-stitch Pattern: There was a GREAT bonus item this month – a chart!

Here it is using items from this box!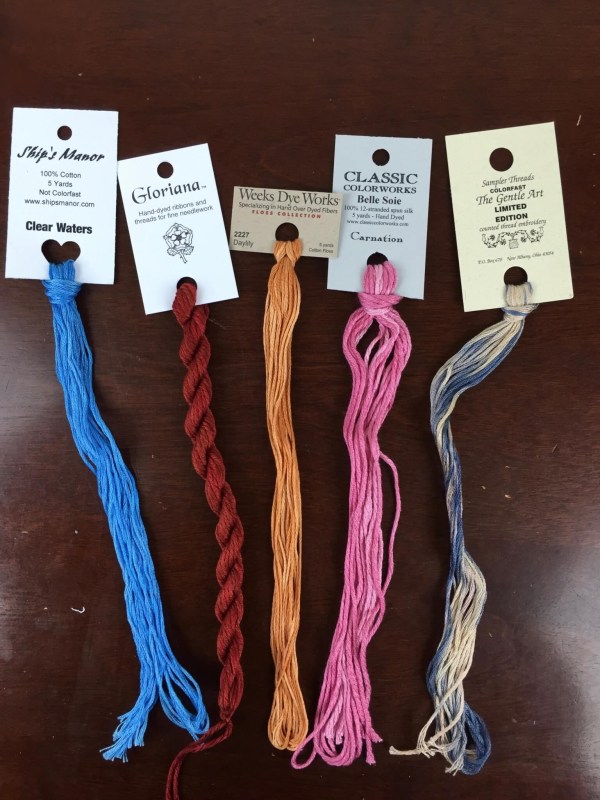 Ship's Manor Clear Waters Cotton Floss ($2) Love this bright, piercing blue! This is a new brand for this subscription and everything is hand-dyed (not colorfast).
Gloriana Hand-Dyed Pomegranate Silk Floss ($7.75) This is a bit darker to me in person – but a nice brick red with subtle color variations. And silllllk!
Week Dye Works Daylily Cotton Floss ($2.3) This one got me wondering if there were any flowers to stitch in my charts
Classic Colorworks Belle Soie Carnation Silk Floss ($7.29) A great bubblegum pink silk – sure to go fast with my girly charts.
The Gentle Art Limited Edition Surf & Sand Floss ($2.40) This exclusive colorway really captures the bottom edge of the inspiration piece! I'm not sure what to use it on – I think it would be fun for lettering!
From the Cauldron Hand-dyed Velvet Fat 16th Newt's Eye Fabric ($5) Absolutely gorgeous dye job and velvet. Feels so good!
Picture This Plus 28 Count Lugana Chime Fabric ($6.17)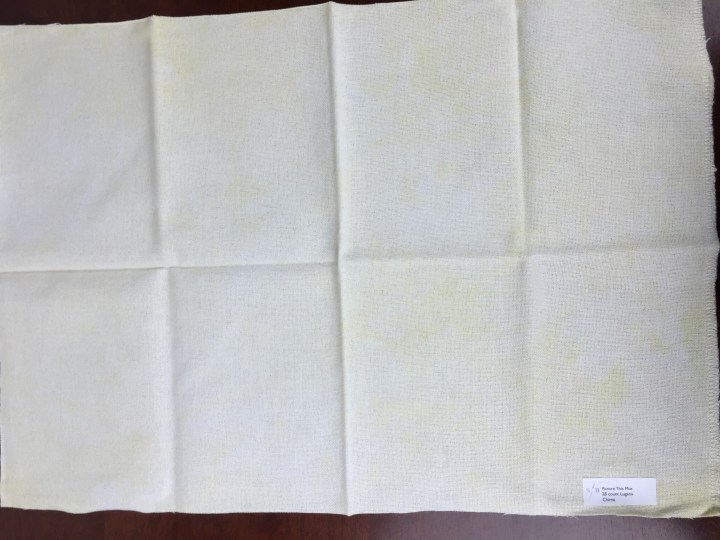 This color was absolutely impossible to take a picture of. It's a sunny happy lemon color. I believe I have decided to use it on an autumn sampler (to keep it from being drab).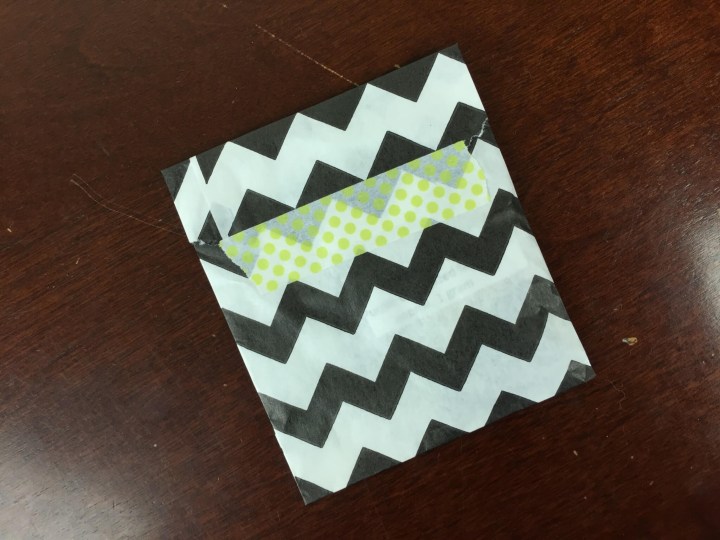 Whoops, missed one!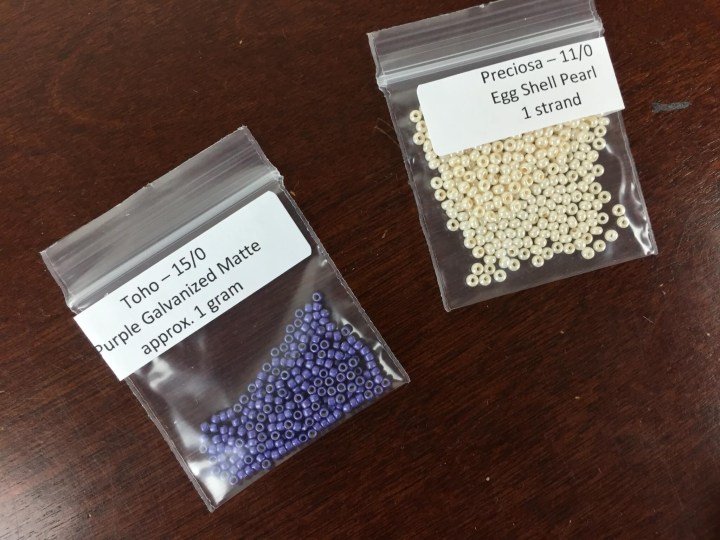 Toho – 15/0 Purple Galvanized Matte (50¢)
Preciosa – 11/0 Egg Shell Pearl (50¢)
I love that the included beads matched The Gentle Arts floss!
It's a bit difficult to estimate the value of this subscription, but I think it comes in at just around the monthly cost. I think it's an excellent sampling subscription because you can actually use everything in a project, not just sample it, but it gives you some nice exposure to different colors and artisans.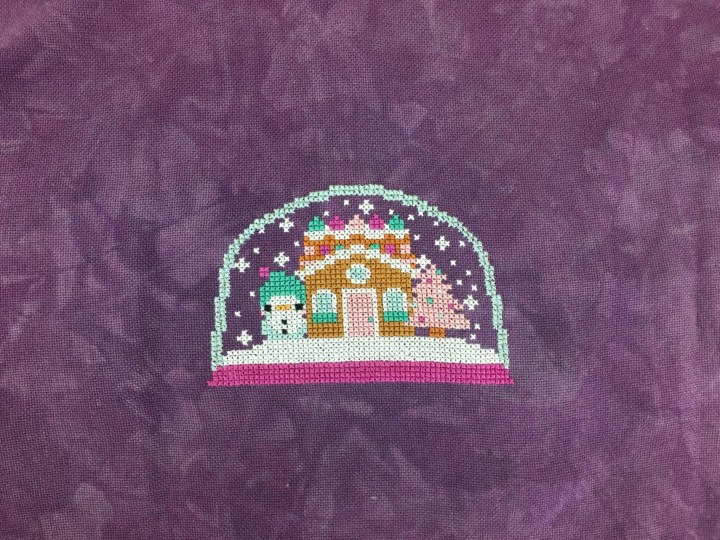 Oh, and I have a finish! This is the Frosted Pumpkin Stitchery's Cozy Gingerbread Snowglobe on French Lilac 28 Count Lugana (Picture This Plus) from the December 15 Stitchy Box! I also used the Sullivan's metallic silver thread from that box – I added one strand to the outside of the snowglobe in blue. I will probably add a few beads to it before I *really* call it finished! I know I promised a few months ago to do a review of my stitching lamp and I still haven't had time to do it. I would like to hear from anyone with a Needlework System 4 – I'm thinking about getting one!
Visit StitchyBox to subscribe or find out more! Save 10% off your first month. Use coupon code SUBK2.
The Subscription
:
StitchyBox
The Description
: Each themed box contains two cuts of stitching fabric along with a variety of threads and embellishments to get your creative juices flowing.
The Price
: $36.50 per month