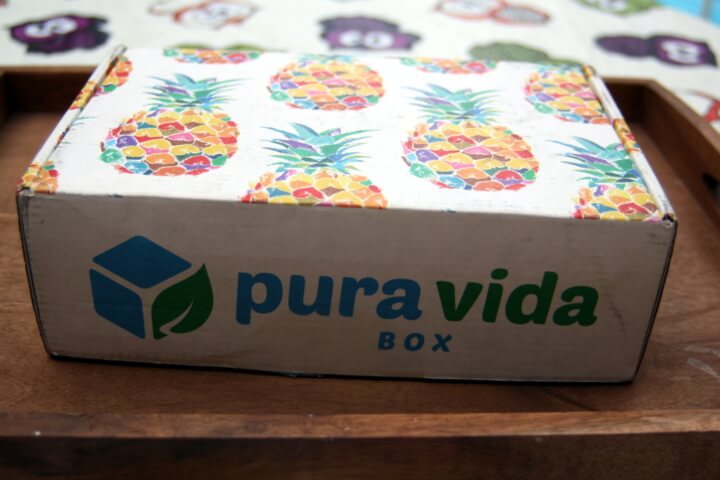 Pura Vida Box is a Costa Rican inspired monthly box for the Mind, Body and Soul. Each month, you'll receive between 6 and 8 item. It will include natural, organic, handmade, artisan-crafted bath and body essentials, healthy snacks and Costa Rican Coffee. Boxes are $46.95 per month with free shipping to the US. It comes in a cute pineapple box!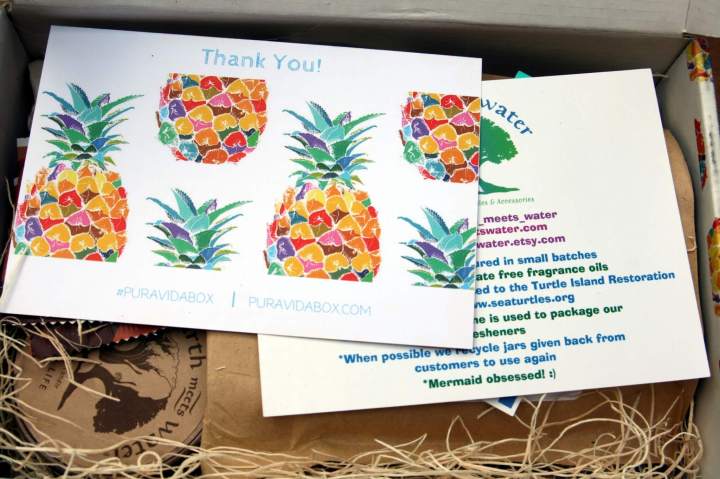 Inside the box, we get a thank you card with the cute pineapple design and a card from one the artisan.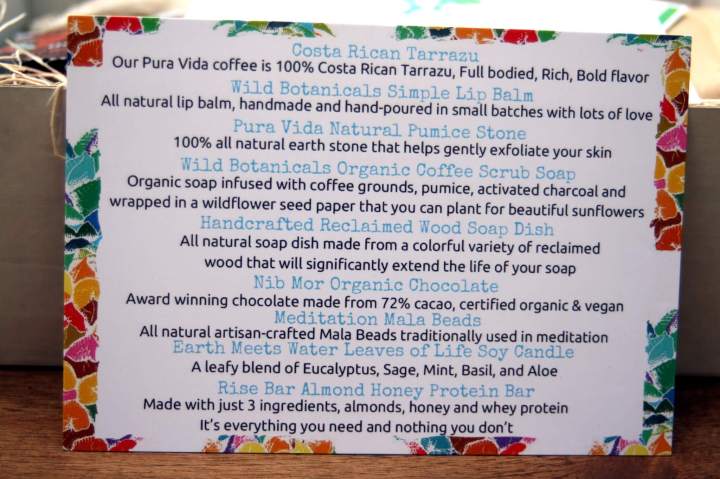 The info card is quite nice although I would say it's a bit confusing. I usually read whatever is in black first, so I would have like if the colour used for the items and the descriptions were reversed. So in this box, we should have 9 items.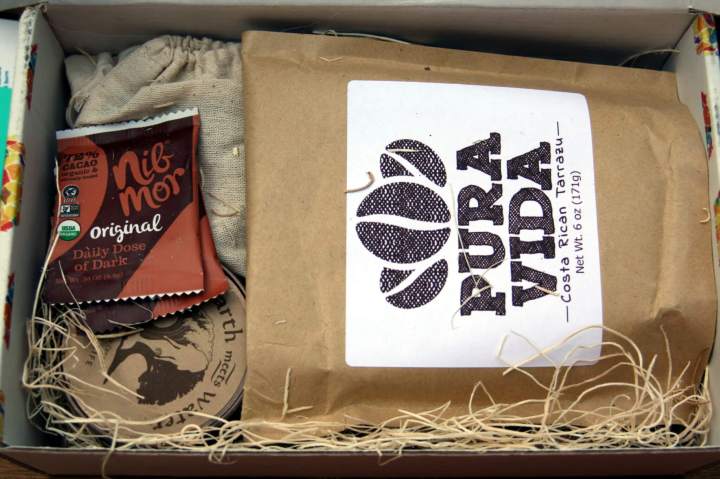 Under the notecards, the coffee!!! And chocolate. But mostly, the coffee! I love coffee!
The coffee is 100% Costa Rican Tarrazu, full bodied, rich and with bold flavor. It tastes like a dark roast and is not overly bitter. I really like it. And the smell is amazing. I would have like to have some form of advice of how to best prepare it (espresso, drip, french press), but it's a good coffee nonetheless.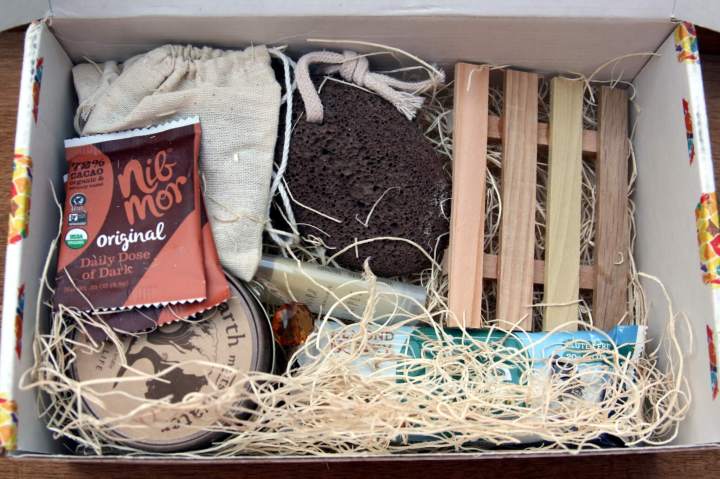 Lots of stuff in this little box! The packing was pretty tight, so nothing moved too much in transit.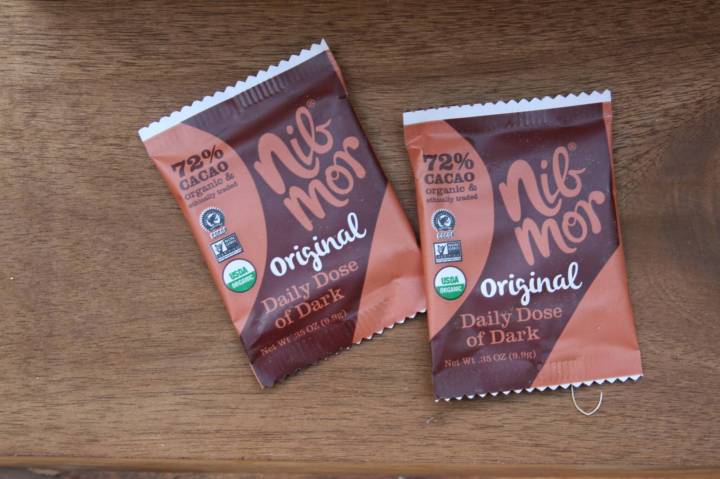 Two individual sized Nib Mor Organic Chocolate ($1.38) Made from 72% cacao, it is certified organic and vegan. Two things : first, the temperature over here has been pretty crazy in the last couple of days so the chocolate has melted. Second, I am not a big chocolate fan. I enjoy hot or cold milk chocolate, but that's about it. So I've put the chocolate in the fridge and they disappeared in the evening. The culprit told me they were really good and I should buy more. So that's a win!
Rise Bar Almond Honey Protein Bar ($1.69) Made with just 3 ingredients : ground almonds, honey and whey protein. I had it before and it's so delicious! They are manufactured in a gluten-free, soy-free and peanut-free facility. Our house is a peanut-free zone, so these bar are very nice to have around. Even if it's made with honey, it's not too sweet. I also like the fact that it's made with ground almonds. The bar was pretty dense, but I could eat that all day long. Keep them coming, it's seriously delicious.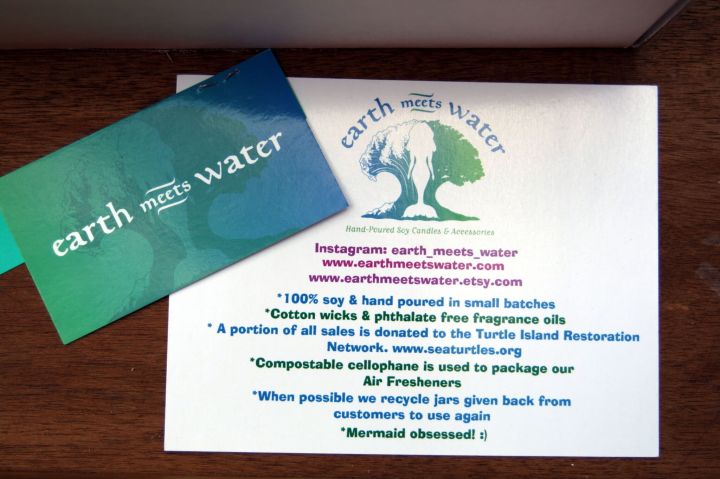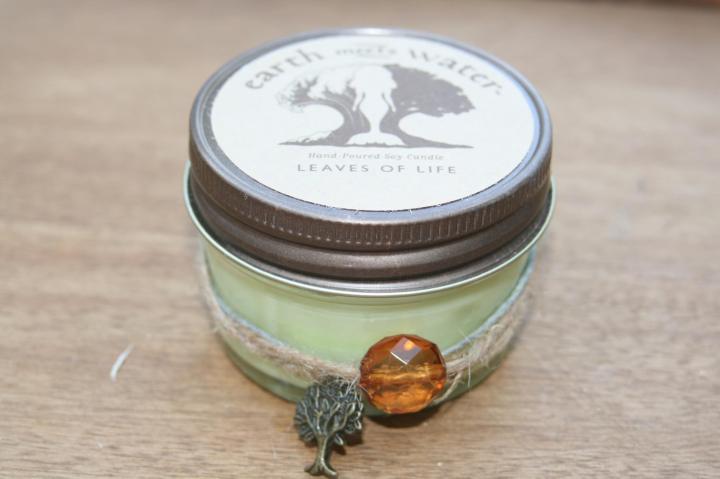 Earth Meets Water Leaves of Life Soy Candle ($6) A leafy blend of Eucalyptus, Sage, Mint, Basil and Aloe. It smells so good! The Eucalyptus is stronger than the other scents, but not overwhelmingly so. It's smell fresh. I really like the tree charm, it goes with the logo, but I wonder if the yellow bead has some meaning. I like that the jar can be recycled and that each sales contribute to the Turtle Island Restoration Network. They work to protect endangered marine species and to save critical ecosystems, among other things.
Wild Botanicals Simple Lip Balm  ($3.50) made with organic jojoba oil, beeswax wax, organic shea butter, grapeseed oil, meadowfoam oil and raspberry seed oil, it's a very nice lip balm. It doesn't smell like anything and the balm stayed on my lips, not on the side of my glass. I don't usually wear lip balm in the summer, so I'll keep it for the winter.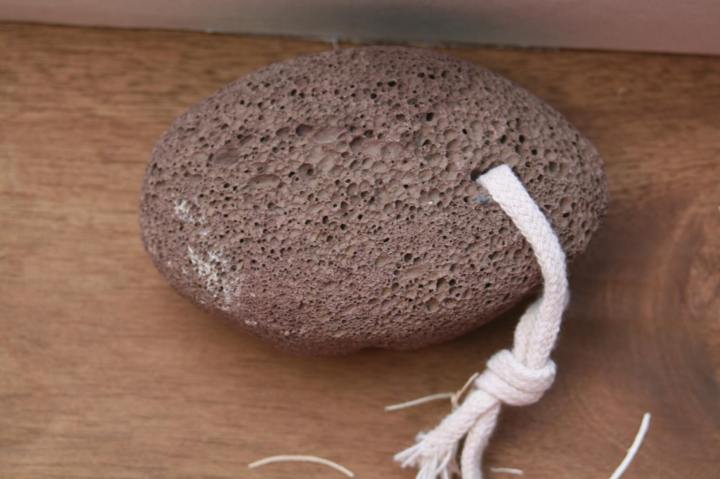 Pura Vida Natural Pumice Stone. I love pumice stone, they're great for feet and I lost mine recently, so I'm glad to have a new one.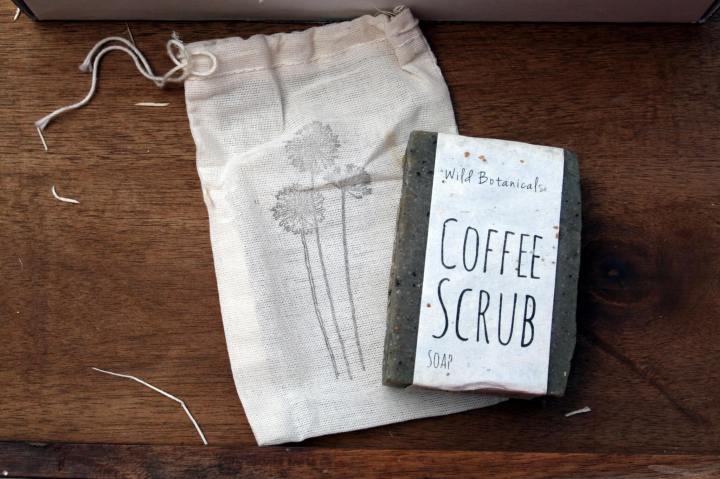 Wild Botanicals Organic Coffee Scrub Soap ($8) Infused with coffee grounds, pumice and activated charcoal. There's also cayenne pepper in it. Surprisingly, it has a strong scent, but I don't recognize the coffee essential oil in it. I feel it smells more like patchouli than coffee, but it's not on the list of ingredients. I don't know if I like the scent or not, I'm just really confused by it. It is wrapped in a wildflower seed paper. On the notecard, it says it's sunflower seeds, but the seeds seem to small to be sunflowers. I love that I can just throw the paper in my backyard to get flowers though!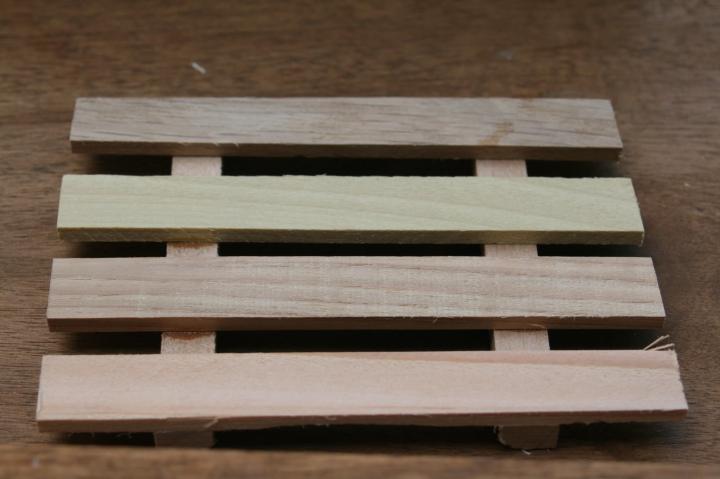 Handcrafted Reclaimed Wood Soap Dish ($2) I love it! Very nice, not too big, it fits perfectly on my bathtub.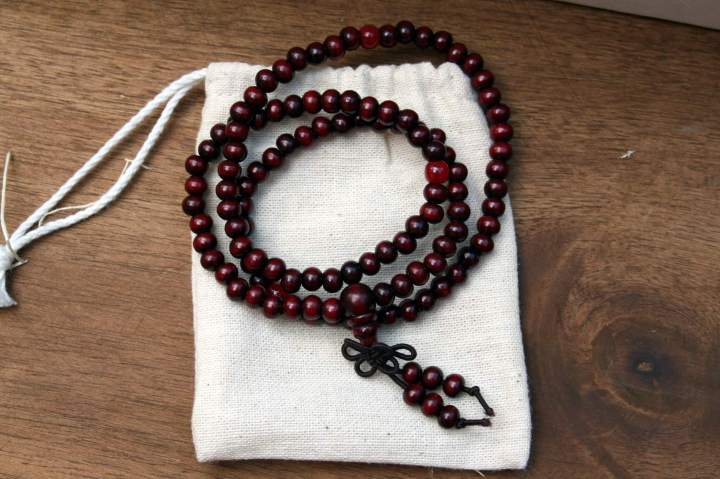 Meditation Mala Beads. Strung on an elastic cord, the beads are easy to count with one hand. Very light, the wood is of a rich dark red colour with three of them translucent. I've never used Mala Beads in meditation, so now that I have one, I'll look into it to add to my routine.
Overall, I really liked this box. It really is one for the mind, the body and the soul, with coffee! It was surprising to see coffee in the same box as meditation mala beads, but it somehow makes sense with everything else. The reclaimed wood, the pumice stone and the coffee scrub soap made me want to treat myself to a day at the spa!
What do you think of Pura Vida? Get 10% off for life with coupon code PURAVIDA!
Visit Pura Vida Box to subscribe or find out more!
The Subscription
:
Pura Vida Box
The Description
: A Costa Rican inspired monthly box of Mind, Body & Soul. Every month you'll discover 6-8 natural, organic, handmade, artisan-crafted bath and body essentials, healthy snacks, delicious Costa Rica coffee & more!
The Price
: $46.95 per month