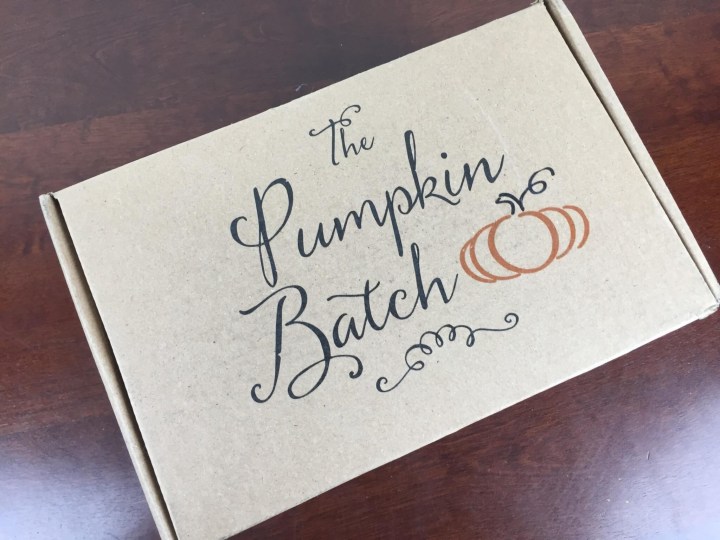 The Pumpkin Batch is a monthly subscription box for pumpkin lovers – every month you'll receive 4-6 products for pumpkin and pumpkin spice lovers – all year round! Products are sourced from small businesses all across the US!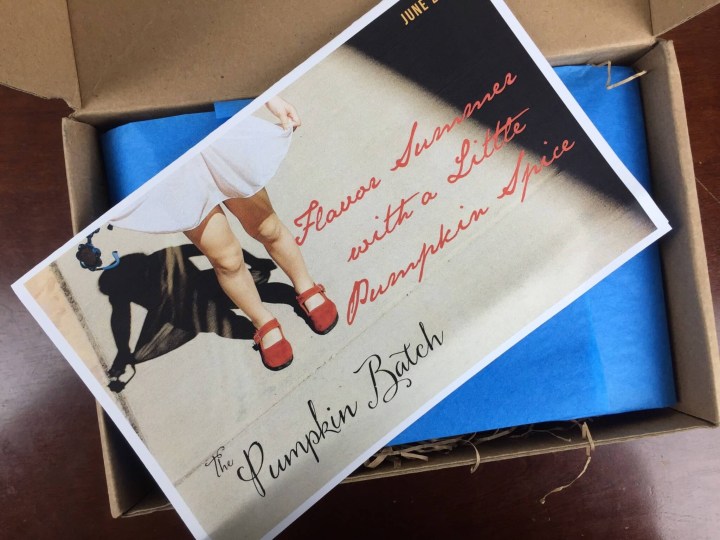 The theme for June is Flavor Summer with a Little Pumpkin Spice!
The information card has complete details on each item, including the value, the maker, and the ingredients or other necessary information. There's a coupon on the back for the shop – save $5 with code CDM5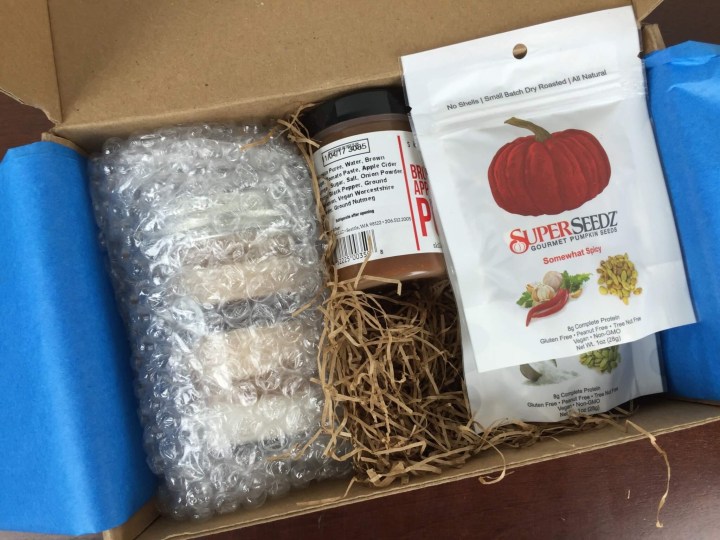 The items, especially the breakables, are secured well inside the box.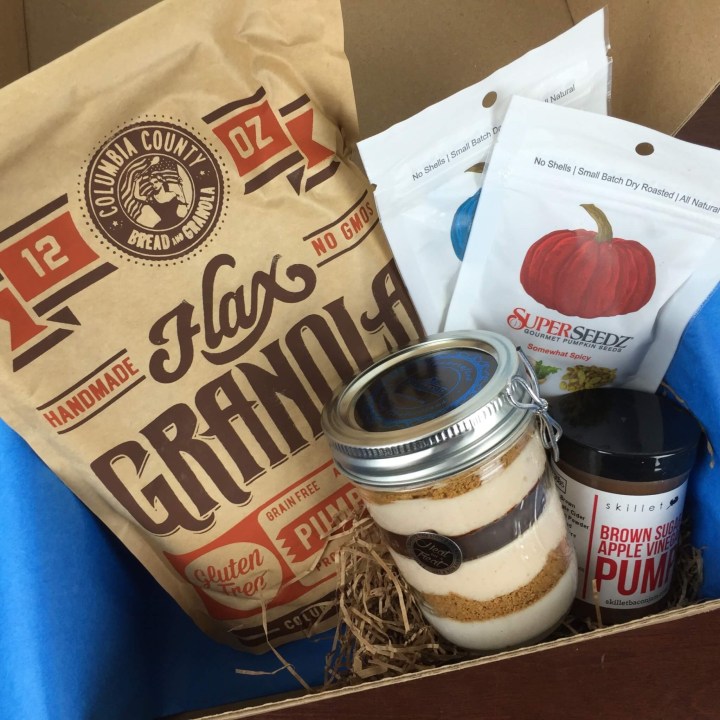 Everything in the June box! I was excited to see it was all food, because pumpkin.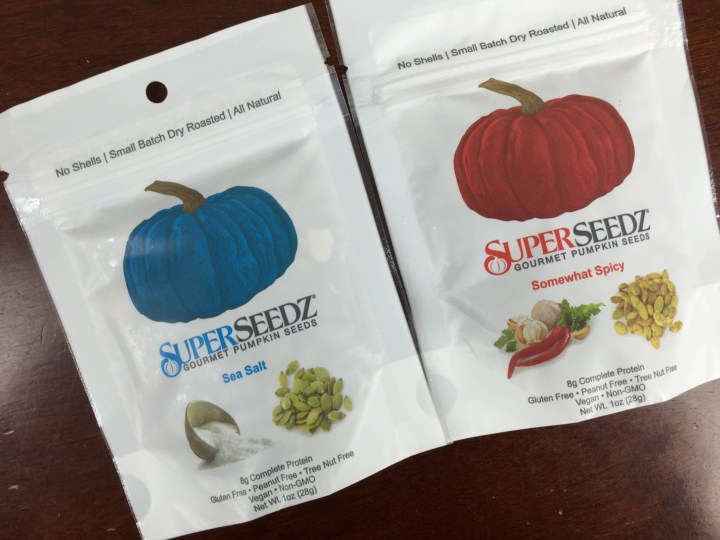 Super Seedz Gourmet Pumpkin Seeds Sea Salt ($2)
Super Seedz Gourmet Pumpkin Seeds Somewhat Spicy ($2)
I've tried the SuperSeedz mixes before and I love them (my favorite place to put them is as a topper on full fat large curd cottage cheese!). The sea salt ones are just pure salted pepitas, and the somewhat spicy, well, they're somewhat spicy! Both are vegan, non-GMO, and gluten-free!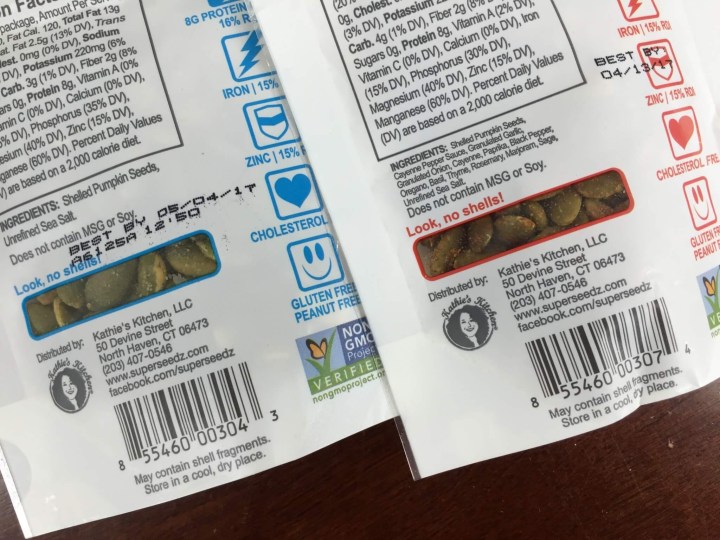 The best buy date is far off and I love how the package invites you to see that this is a shell-free product. With lots of iron & zinc!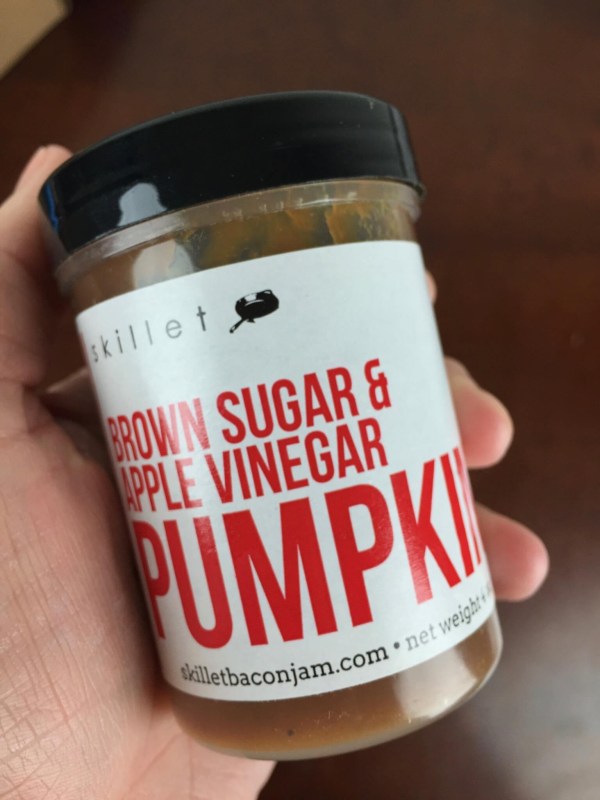 Skillet Brown Sugar & Apple Vinegar Pumpkin Ketchup ($5) Oh man. I had no idea what to expect with this little goodie! It's like a ketchup, but pumpkiny! It's essentially a smooth chutney.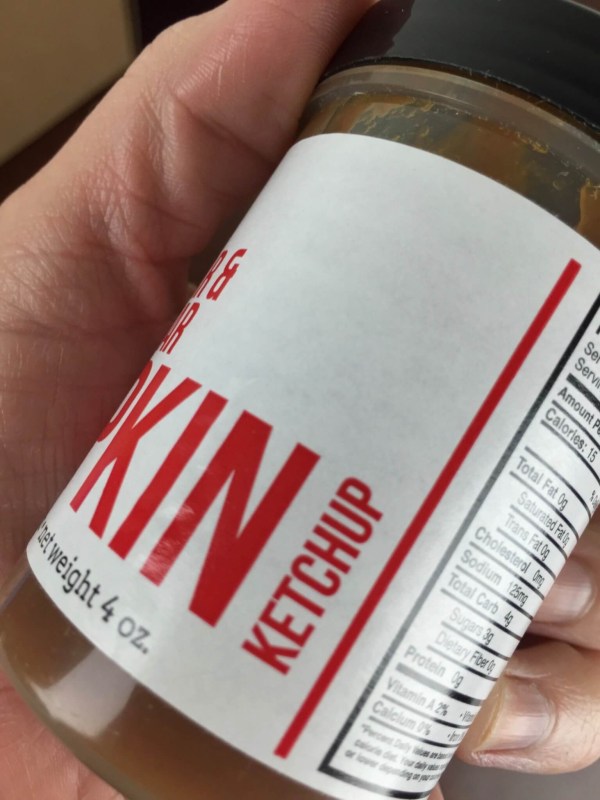 The flavor is really amazing and it includes lots of pumpkiny spices like nutmeg and cinnamon.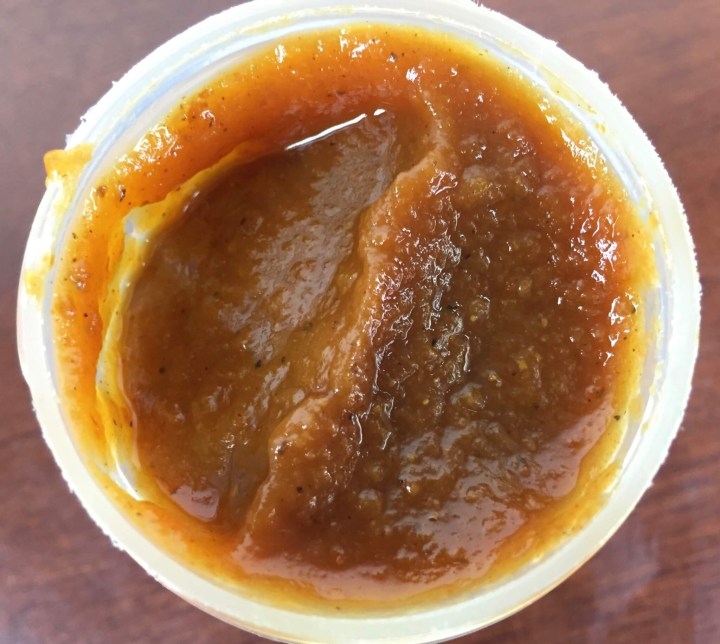 After a few tastings of this deliciousness I capped it off and saved it to take with me on a Five Guys adventure. I have a hot date with some fries and this ketchup! I can't wait to try their other varieties – they also make thai coconut and chipotle!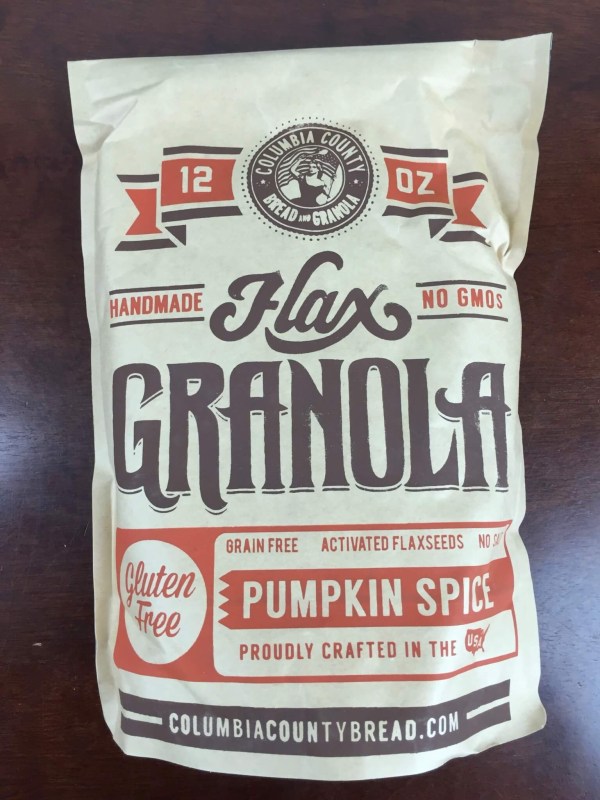 Columbia County Bread Company Pumpkin Spice Flax-Granola ($12) This paleo-friendly flax granola is sunflower seed based (and pumpkin spice flavored!) which totally made me squeal. I love it!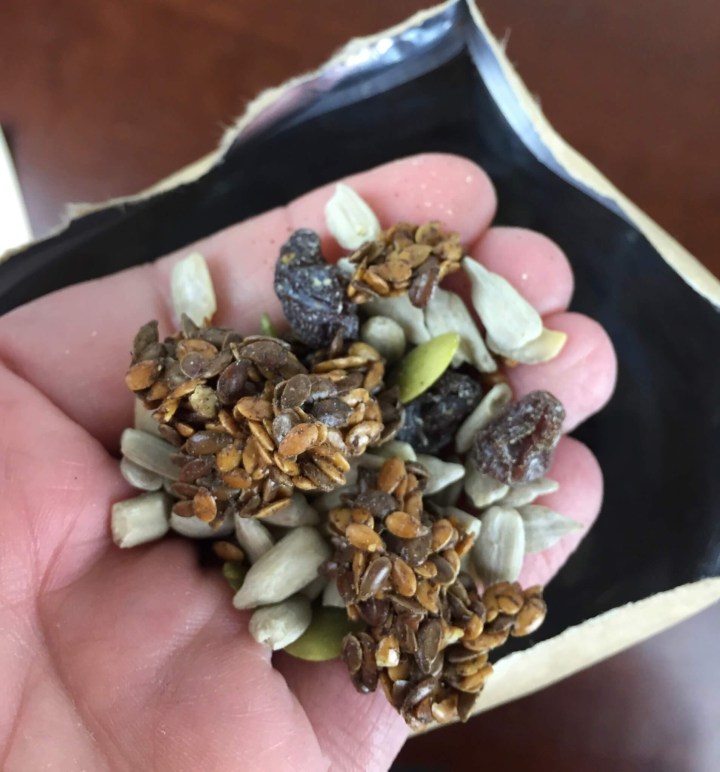 It's low sugar and uses locally processed Pennsylvania molasses, raw pumpkin seeds, raw sunflower seeds and organic raisins. It's absolutely delicious. Like the SuperSeedz my fave place for a goodie like this is on my cottage cheese!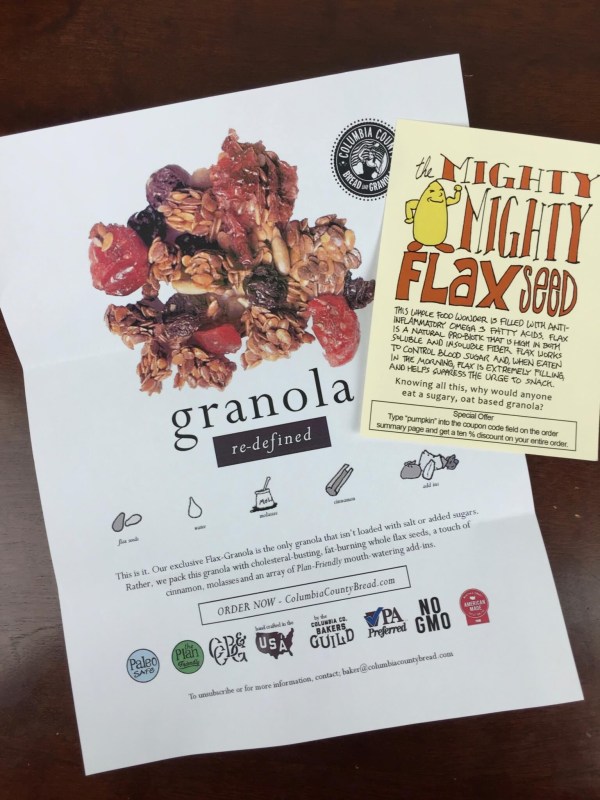 The box came with a couple inserts about the granola.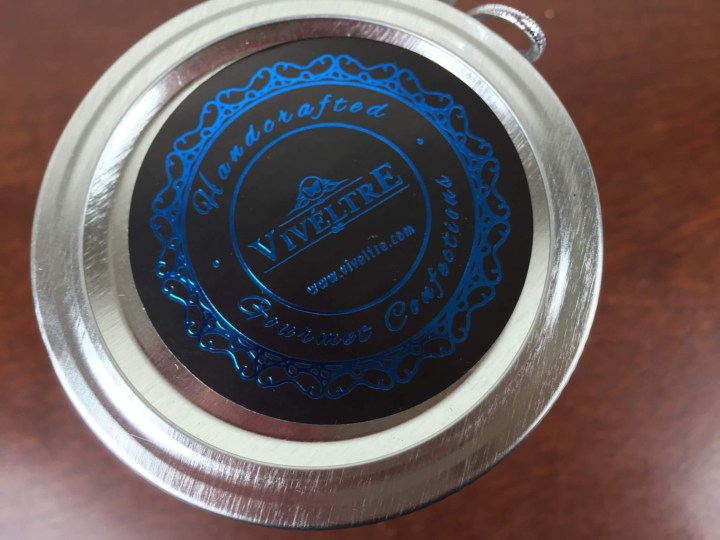 Viveltre Pumpkin Spice S'more In A Jar ($12) When I saw a JAR in this box I about died – subscription box goodies in jars are always the best.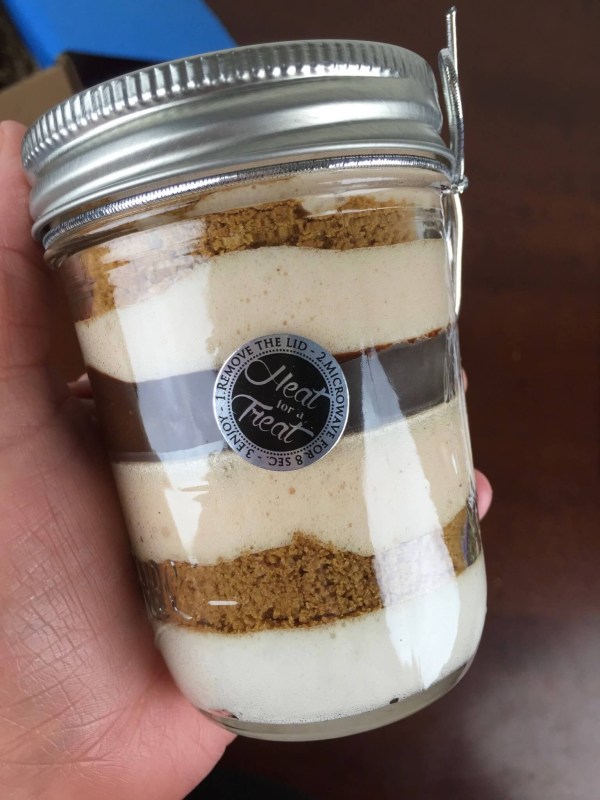 This one is really unusual, sandwiching pumpkin marshamllows between chocolate cream and graham crackers. I loved that the best buy was 10-14 days or that you could freeze it for later. Can you make it last that long?
I could not!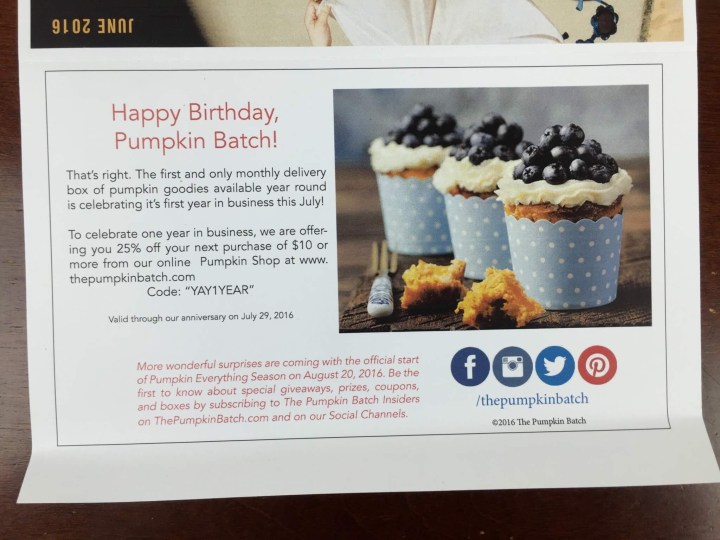 Once again, I love it when this box focuses on food! There was about $33 worth of goodies in this month's Pumpkin Batch and they were all delicious! The box also came with a code for 25% off a $10 purchase in the shop – YAY1YEAR.
What did you think of this month's Pumpkin Batch?
Visit The Pumpkin Batch to subscribe or find out more!
The Subscription
:
The Pumpkin Batch
The Description
: The Pumpkin Batch offers high quality, hard to find pumpkin products year round to pumpkin lovers. Each subscription box is full of delicious flavors and sweet aromas of pumpkin and pumpkin spice. Each month receive  4 – 6+ pumpkin or pumpkin spice inspired products curated from small businesses across America.
The Price
: $24.99 per month + $5.50 shipping