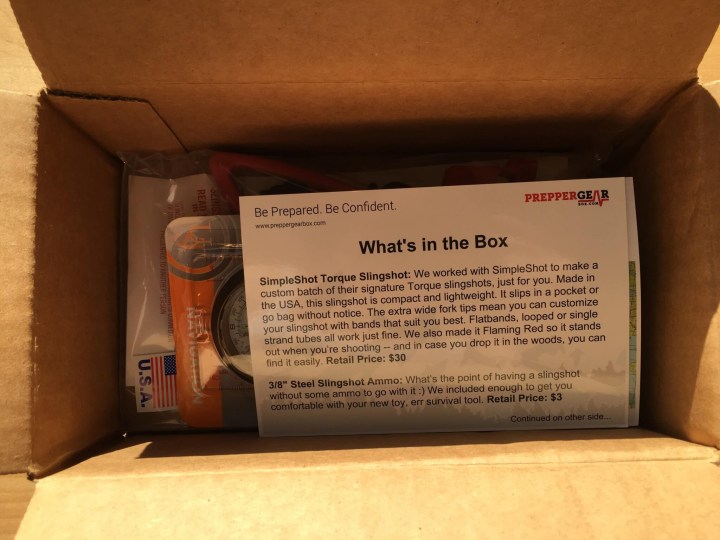 Prepper Gear Box is a subscription box that delivers, on average, 2-3 items of practical survival gear plus an information card to help you learn and practice new survival-related skills each month. Prepper Gear Box wants its subscribers to be prepared for any situation or emergency that may arise. As such, it's an ideal subscription for outdoor enthusiasts, hunters, hikers, campers, backpackers and survivalists. As a company, they try not to waste money on fancy packaging so that your money goes as far as it can into what matters most: gear and information.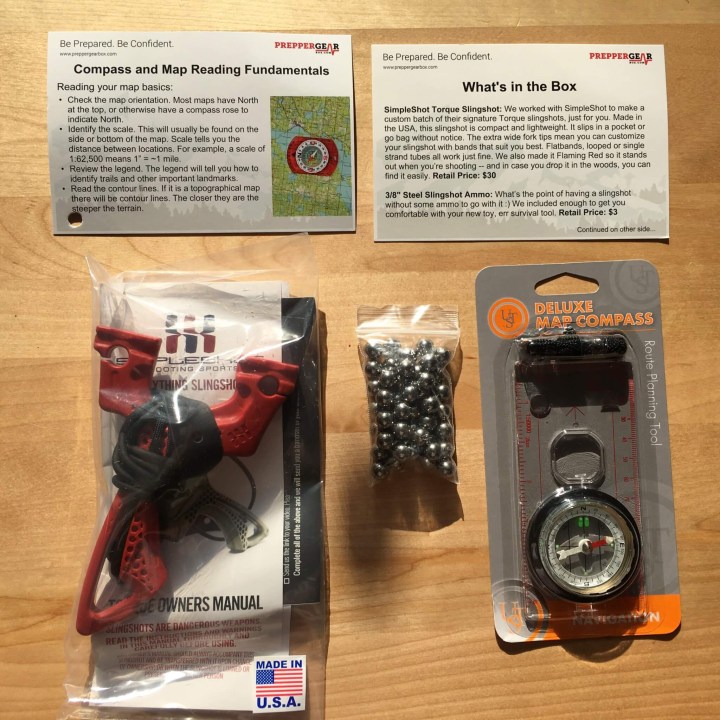 This month's box contained a slingshot, ammo, a compass and information on how to use a map and compass.
I love how the curators include notes as to the importance of each item in the box and why the item was included in this month's shipment.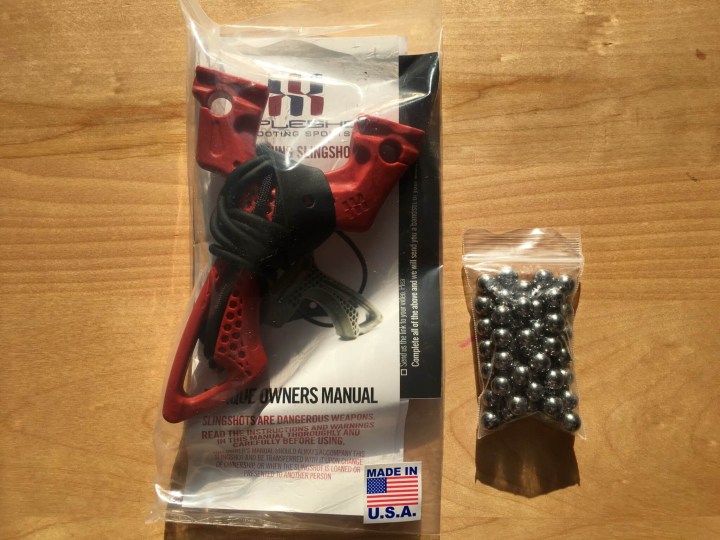 This SimpleShot Torque Slingshot ($29.95) was custom-made for Prepper Gear Box! It's small and lightweight–a great addition to an emergency pack! It's compatible with flatbands as well as looped or single stranded tubes. The color was selected to help it stand out if accidentally dropped in the woods.
3/8″ Steel Slingshot Ammo ($19.98 for 350; about $3) is the perfect size to use with the enclosed slingshot. Prepper Gear sent enough to get its members comfortable using their new survival tool. I look forward to playing with this in a few years, once my daughter is older. Right now, though, discarded ammo lying around our back yard just presents too much of a choking hazard to justify. Once the kids are older though, there are always a few cottontails hanging around in the undeveloped part of our yard that would provide nice targets.
This UST Deluxe Map Compass ($6.87) has illuminated markings and a built-in magnifier. Neat! Unfortunately, though, there doesn't appear to be any way to adjust for declination with this compass.
While these tips on using a map and compass are helpful, they're pretty basic. Instead, I wish they had focused on one topic and gone more in depth.
This month's Prepper Gear Box included helpful tips and a couple pieces of cool gear at a value that's significantly higher than the cost of the box. I can't wait to see what they send out next month!
What do you think of this month's Prepper Gear Box? Save 10% on your first box with coupon code CRATE10
Visit Prepper Gear Box to subscribe or find out more!
The Subscription
:
Prepper Gear Box
The Description
: A new monthly subscription box service for those who like survival gear and
education.Every
Prepper Gear Box contains 2-3 (or one very cool) carefully selected, high quality survival gear and preparedness items. Plus each box will have helpful tips, instructions and challenges to grow your survival skills and confidence in any situation.
The Price
: $25.00 per month