OatBox is a Canadian subscription box, delivering to both Canada and the US (ships free!), that sends you two big bags of hand-blended granola every month! Made in Montreal by chefs, they send two different mixes each month. Their plans are customisable as well — if you have allergies, you can elect to replace a mix with another, have two of the same mix, and so on. You can easily skip or cancel right from your account — no need to wait on customer service to get back to you.
Your first box contains the reusable mason jar, so subsequent boxes are smaller by comparison.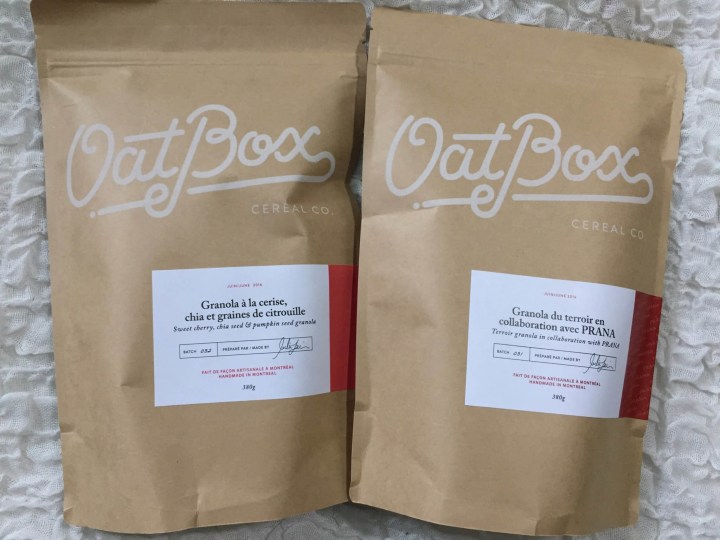 Sweet Cherry, Chia Seed, & Pumpkin Seed (380 grams) Thisis a great blend of cherries, pumpkin seeds, and chia. The cherries are freeze dried, which I've never had before, but they are sweet and tart and really add a burst of flavour to the mix. This blend is sweetened with honey and is really delicious.
Terroir Granola (a collaboration with PRANA) (380 grams) PRANA produces flax and chia seeds, both whole and ground, and I'm a fan of their products. However, this blend has buckwheat in it, and I'm allergic to it so I didn't try this. Boo! I passed it on to my coworker as she's a big fan of granola and oatmeal.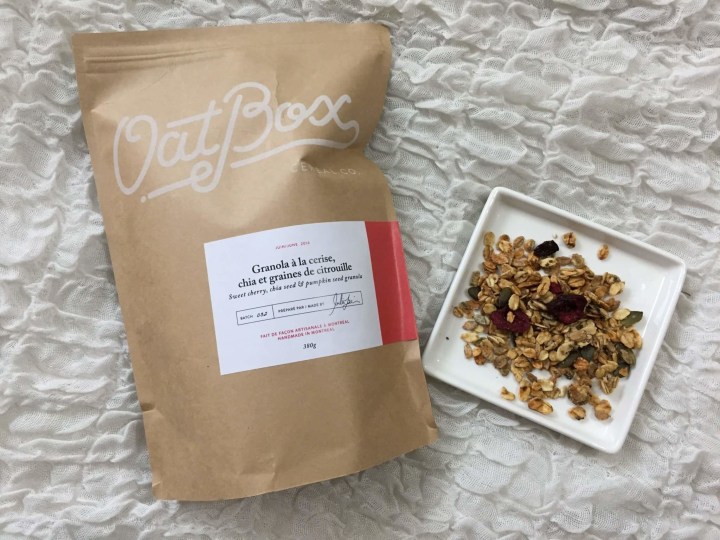 I did take a glamour shot of the package I opened, which was the cherry blend.
Oatbox always includes a recipe or two, which is great. I like the idea of doing a smoothie bowl with cherry yoghurt to coordinate with the cherry granola!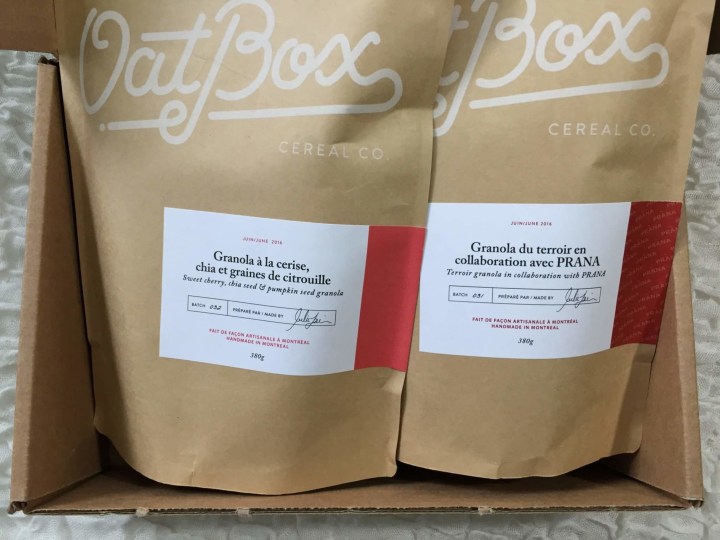 I wasn't able to enjoy both blends in June's box, but I really liked the cherry one. I have consistently found the granolas to be high quality, tasty, and full of good ingredients — no fillers or added sugars! I love making my own homemade yoghurt parfaits instead of heading into Starbucks, which is saving me time and money!
Have you tried OatBox? Save $5 on your first box! Use this link to get the deal.
Visit Oat Box to subscribe or find out more!
The Subscription
:
Oat Box
The Description
: Oatbox breakfast cereals are made in Montreal from natural, healthy ingredients and inspired by entrepreneurs, foodies, artists, early birds and busy people.
The Price
: $20.00 per month