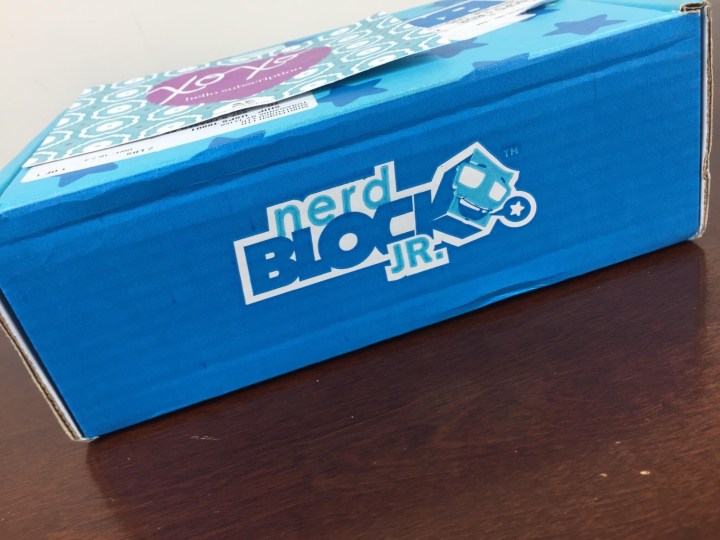 Nerd Block Jr is a subscription box for boys or girls ages 6-11 (you pick the box – boy or girl) that is a monthly surprise of fun little toys for kids. They're part of the Nerd Block Family – check any of them out here.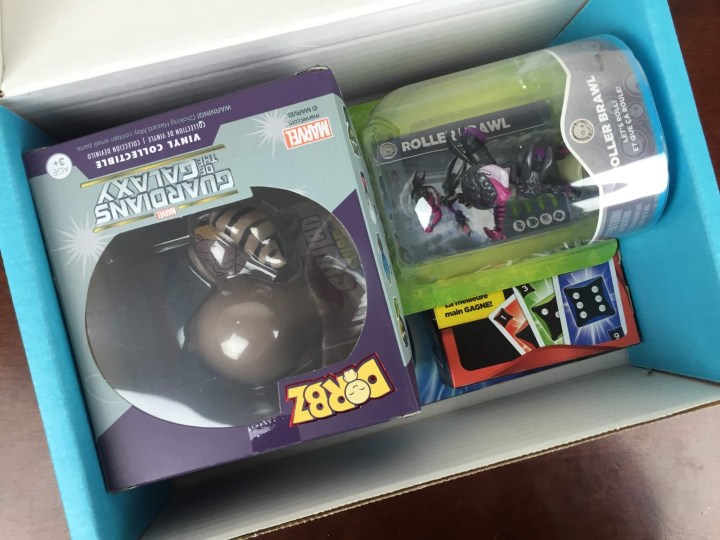 It already looks nerdy from here.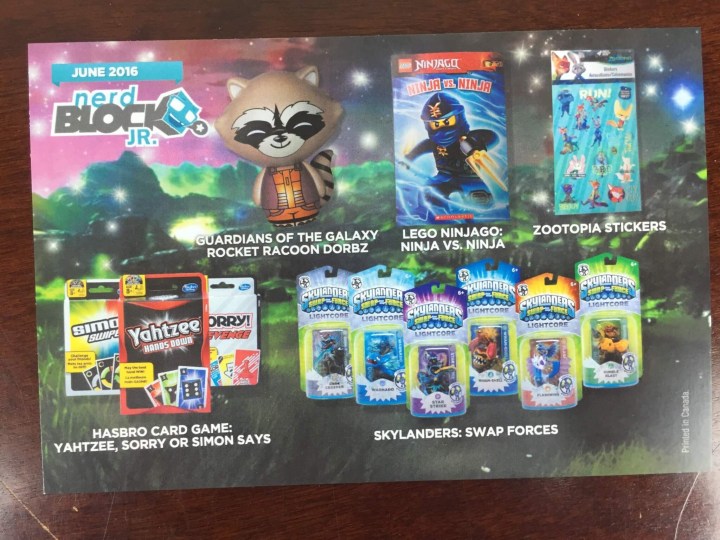 The information card includes the list of the items inside the box.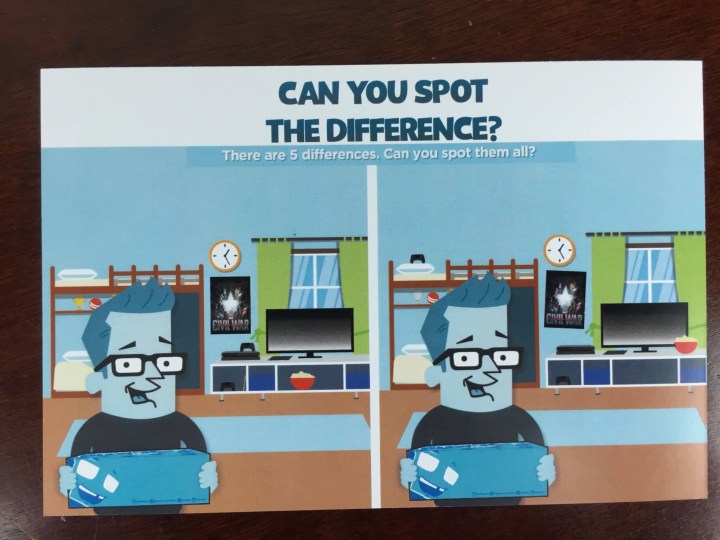 There's also a mini puzzle included at the back of the card.
Everything in the June 2016 box!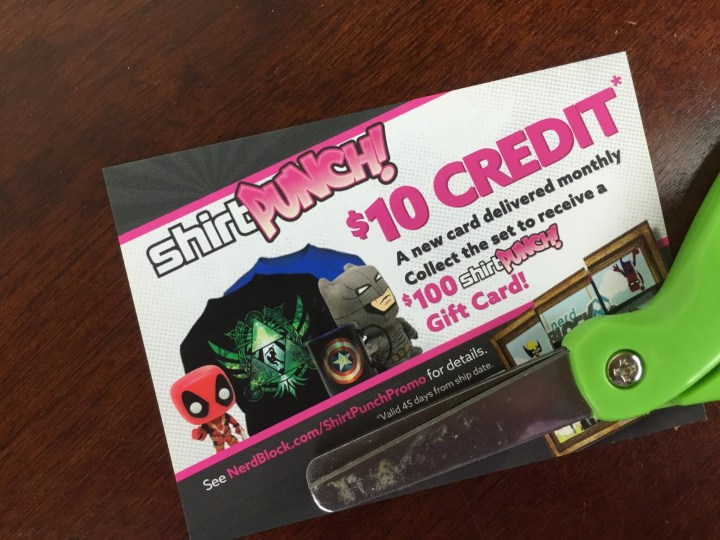 For at least the next 8 months Nerd Block is providing $10 credits to ShirtPunch, which sells anime and fandom shirts plus vinyl toys, collectibles, and other geek goodies! The shirts are as low as $10 (shipping starts at $4), which is an awesome deal.

After you use your code SAVE YOUR CARD – you have to try to collect all 9 pieces to get a completed puzzle and get a $100 card. I'm betting there will be only a few linchpin puzzle pieces (I have 4 now and they all have the same back).
Not quite as exciting as getting an actual shirt, especially for kids, but once you explain that they can pick out their own shirt (as long as you're ok with shelling out a few extra dollars) I think they'll be cool with it. Takes about 15 days to arrive.
Skylanders Swap Force Roller Brawl ($4.99) Let's Roll! This figure is for the augmented reality Skylanders game that is SO popular with little boys!
Disney Zootopia Stickers ($2.24) There are 2 sheets, each has one front and one back just like these. A perfect tie-in to the hot new kids movie Zootopia from Disney!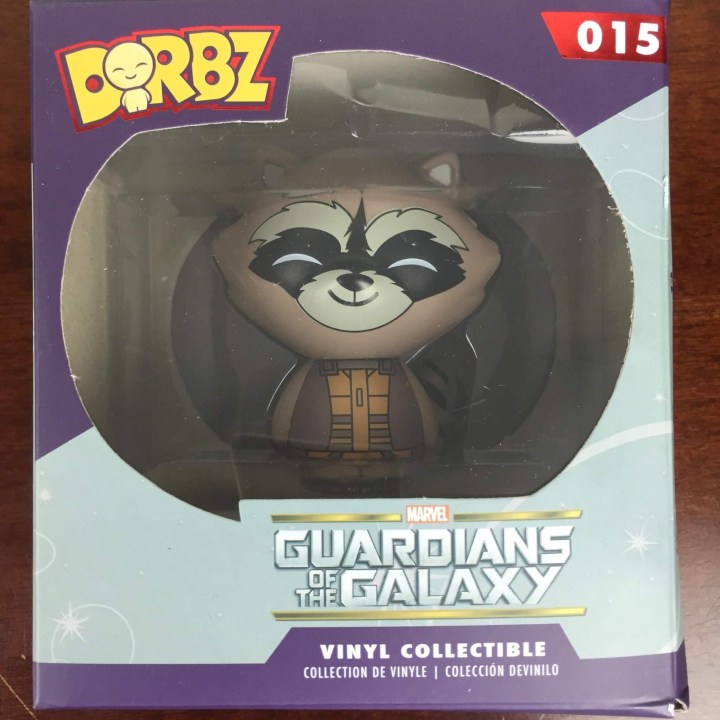 Funko Guardians of the Galaxy Rocket Raccoon Dorbz ($7.36) We already have this little guy (and he has a prime spot in the kids' collection) so we put him in the give to a friend pile.
Here's some pics from when we opened ours!
Front. So adorable!
They really made Rocket (who is kind of a nasty being) into a really cute character!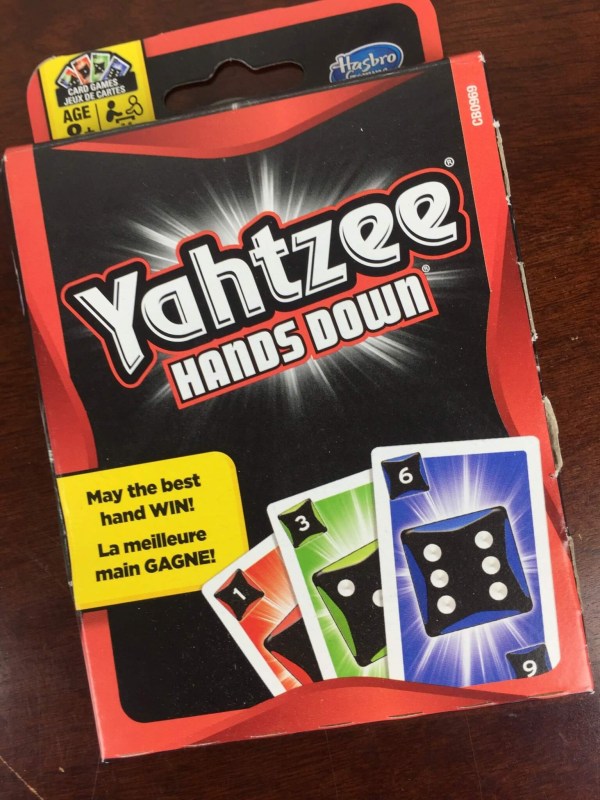 Hasbro Yahtzee Card Game ($4.99) "All you have to do is collect dice cards to make classic combinations: 3 of a kind, 4 of a kind, small straight, large straight, full house and Yahtzee!" This sounds a little bit complicated for my current crowd (7, 5, and of course the baby) but I think we could modify it for 3 of a kind and 4 of a kind!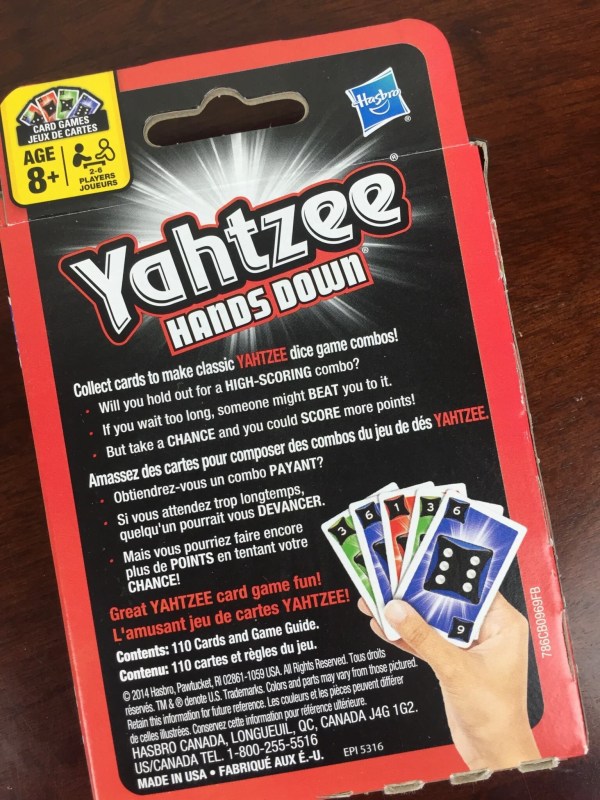 Card games in general I think are a great item for summer and force family togetherness. YAY!

Lego Ninjago Ninja VS Ninja ($3.99) My kids were SO excited by this! I caught my daughter reading it to my son, and it was super cute – they love watching this show on Netflix!
Only one can remain!
The value of the items in this month's box was about $24 – not fantastic, but more than the price of the box, which is only $13.99 plus shipping. That's really not too shabby and everything was pretty fun for the kids!
What did you think of this month's Nerd Block Jr: Boys? Save 15% on your first month with coupon code HelloSub16.
Visit Nerd Block to subscribe or find out more about this subscription and all the Nerd Block Family boxes!
The Subscription
:
Nerd Block Jr: Boys
The Description
: A monthly mystery package delivered right to your door filled with nerdy apparel, toys, and collectibles!  Geared for boys ages 6-11.
The Price
: $19.99 per month