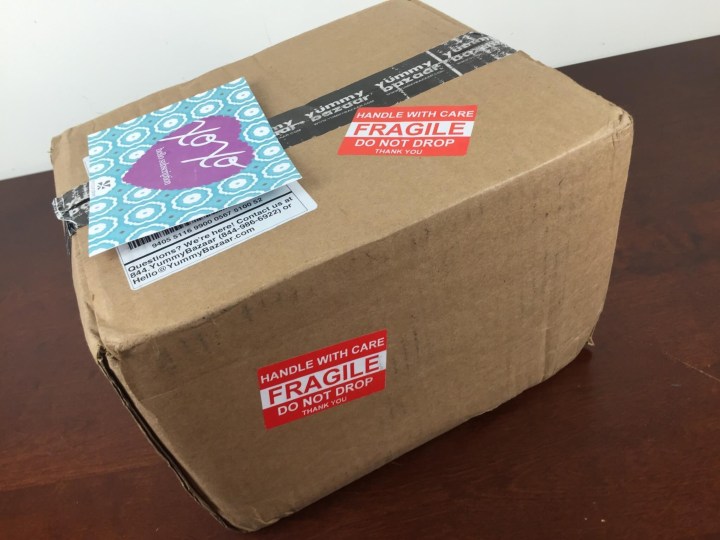 This month's Yummy Bazaar was from Russia, with love.  Yummy Bazaar delivers gourmet food items to your door monthly.  The items for the Destination Food Club are carefully selected from a different single country every month.  With the Full Experience you'll get 6-8 full sized gourmet items from your destination for $35.95.  There is also a Sampler subscription that sends 6-8 sample sizes from various countries for $9.95.  We received the Full Experience box.
This month's featured destination was Russia!  As always, the box was packed in a smartly utilitarian, corrugated, brown paper, and tape combo.  It is a very clever packing scheme — recyclable and cool looking.  They dropped the postcards in favor of a folded-paper booklet, but they still provide a beautiful visual of the destination country.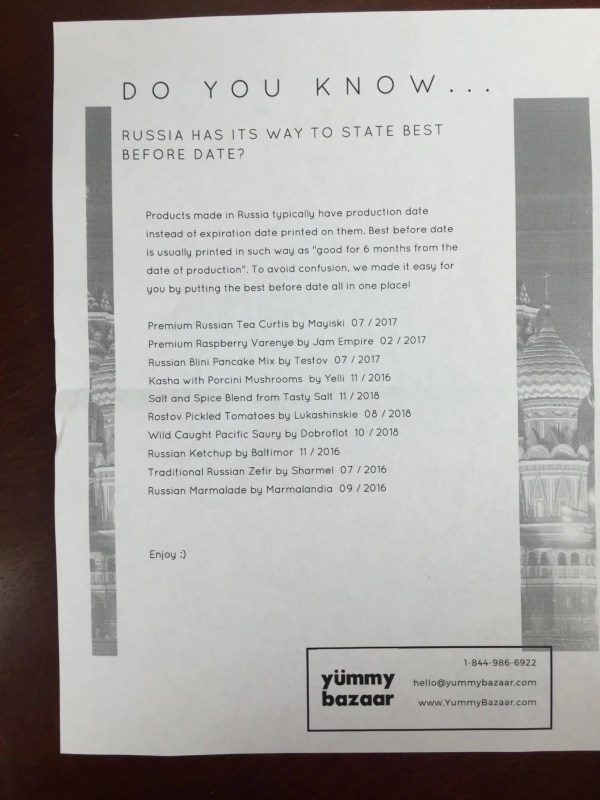 The booklet has handy info on the items in the box, plus some extra country-specific notes.  The Russian pamphlet translated the production date based stock tracking method used in Russia to the familiar "best by date" methodology.
Three Russian recipes were recreated so they can be made using primarily items from the box.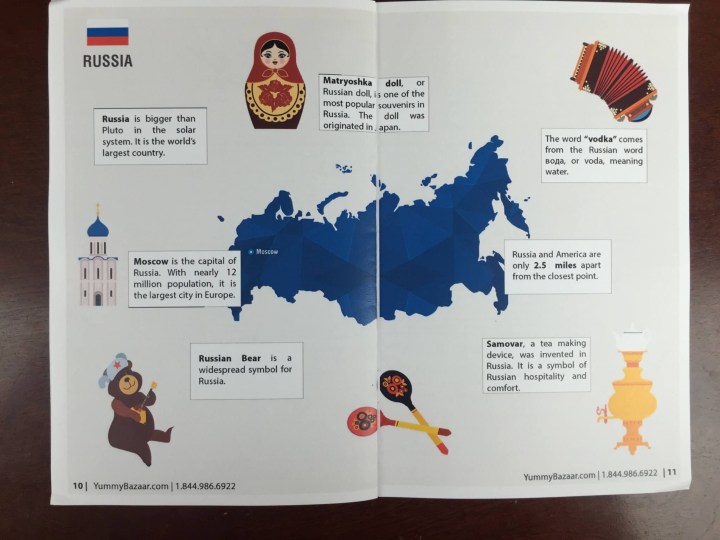 This page shares some iconic Russian cultural items and interesting facts.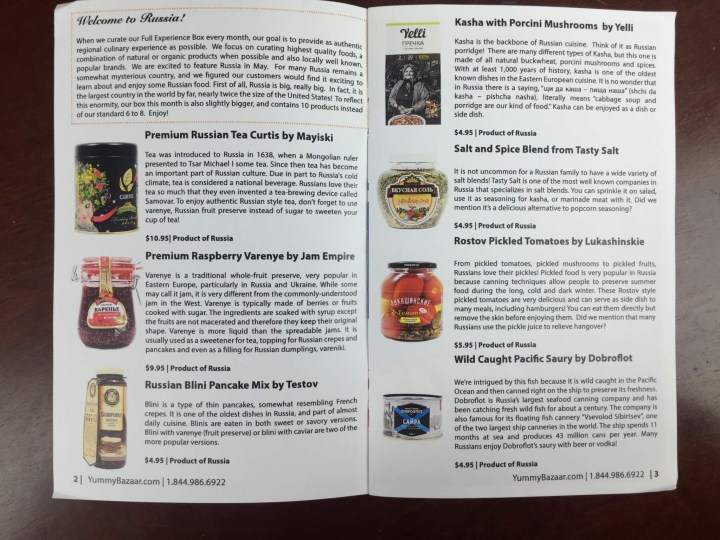 The product description pages give a brief description of each item, along with several suggested uses, the retail price, and the origin.  Everything in this box was made in Russia– and I thought this box actually went further than normal in presenting foods that have long been central parts of the culture's cuisine.
Everything was packed snugly to avoid any damage during shipping — it's all nestled together well, and the corrugated interior lid prevents shifting in transit.
Everything in our box arrived in superb condition.  I can't recall ever having real issues with anything we've received.  The jars were wrapped and surrounded by the oddly decorative corrugated cardboard.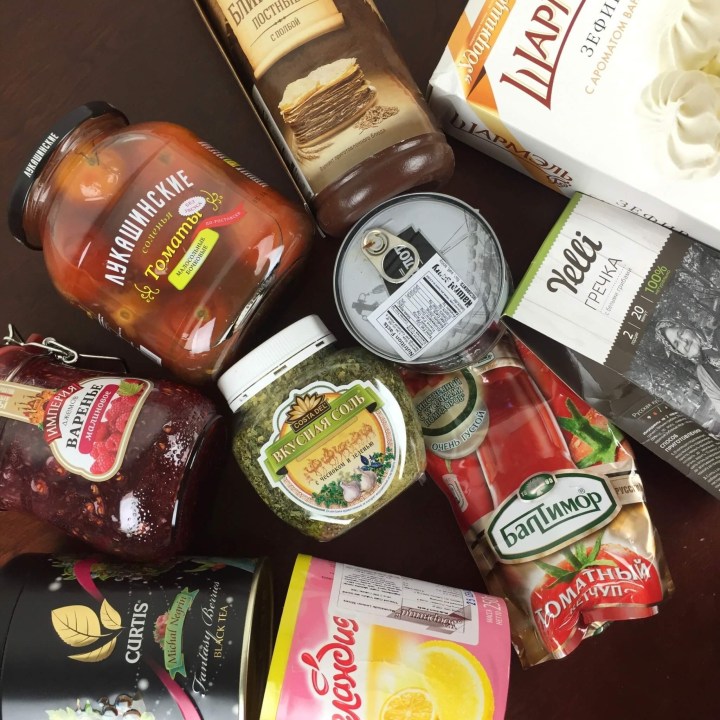 All the goodies in our May Yummy Bazaar Full Experience Box.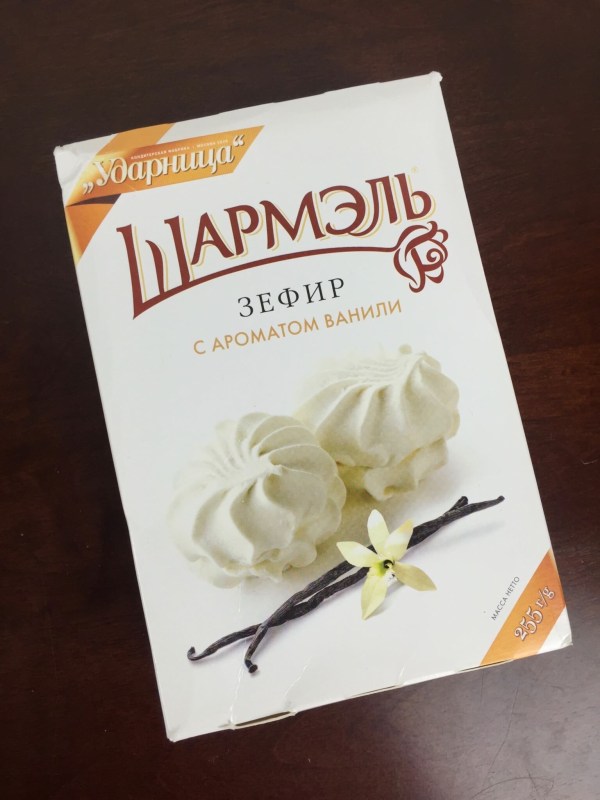 Sharmel Traditional Russian Zefir:  At first glance these looked like meringues, but the texture was more like a meringue/marshmallow cross – slightly spongy but with the holes you would expect in a meringue!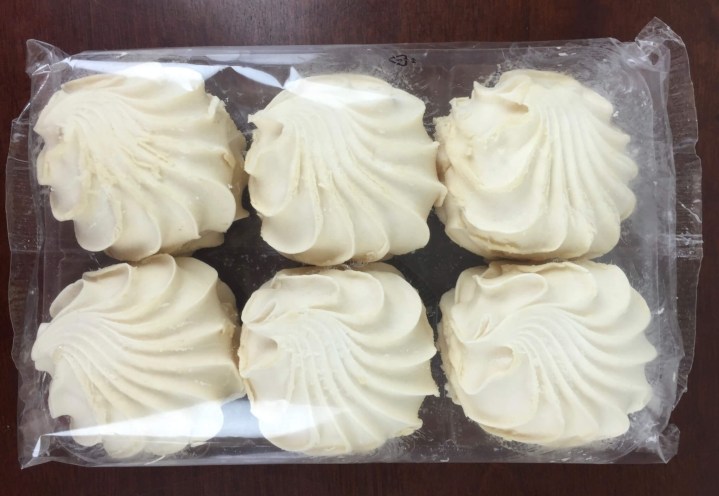 They were sweet but not altogether vanilla – upon inspection we discovered the source of a mild tartness – apples!  The snappy fruit flavor added a great dimension.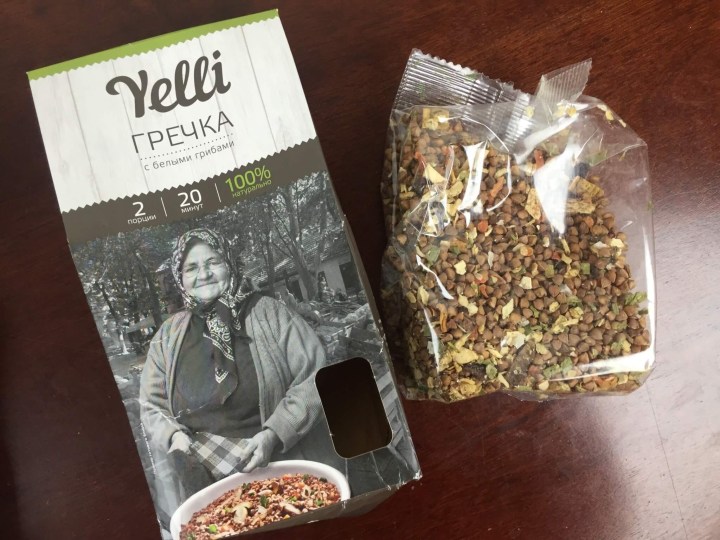 Yelli Kasha With Porcini Mushrooms ($4.95):  Kasha is hulled and roasted buckwheat groats, and they are commonly prepared as a simple porridge in Russian cuisine.  This pack can be simply prepared on the stovetop with water, and it comes preseasoned with dried herbs, vegetables, and slabs of dried porcini.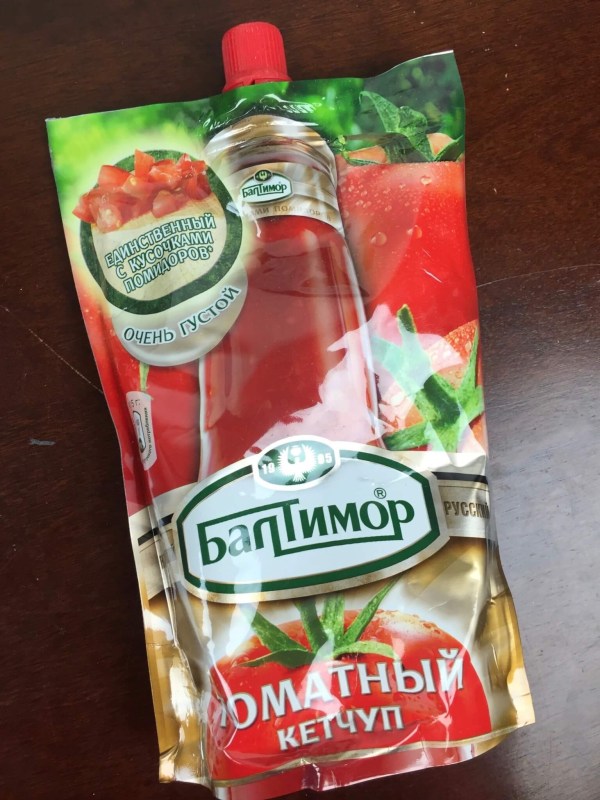 Baltimore Russian Ketchup:  Ketchup is universal!  Made much like it is in the West, primarily with tomato puree, vinegar, salt, and corn syrup, this version comes in a larger version of the fruit pouches my toddler loves so much (I bet they had one of these up on the ISS!).
Salt and Spice Blend by Tasty Salt ($4.95):  This all-purpose seasoning has a bit of an unusual combination of basil, coriander, and celery, along with garlic and turmeric.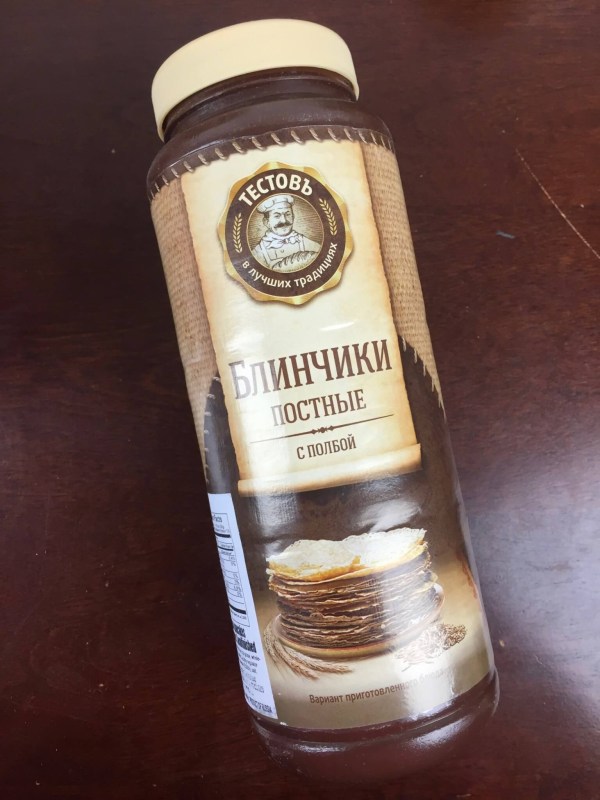 Testov Russian Blini Pancake Mix ($4.95):  This mix blends together spelt (or "spelled," according to the label) flour, salt, and leavening.  Make perfect blinis to serve with your jam and a dollop of sour cream!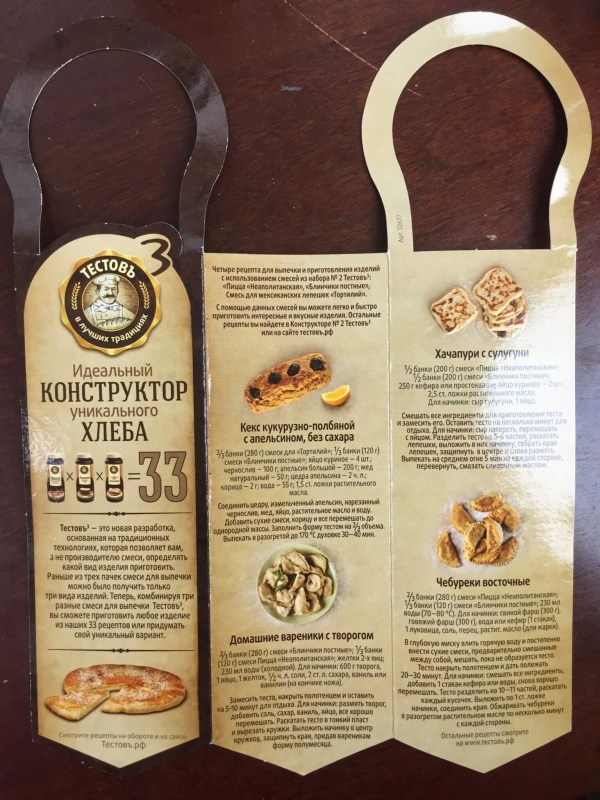 The label shows the versatility of the mix, as it can be used to make pizza crust, potstickers, hand pies, and even naan.
Lukashinskie Rostov Pickled Tomatoes ($5.95):  Beautifully round and plump tomatoes pickled with a blend of herbs.  With the majority of the country subject to long and cruel winters, pickled veggies are a traditional way for Russians to have access to non-root produce year round.  Seeing this jar made me realize how seldom I see pickled tomatoes — in the States, bumper crops usually lead to gorging on the tomatoes fresh, or making tomato-intensive dishes like pasta sauce or salsa.  It's a reminder that most of the world does not take food security for granted.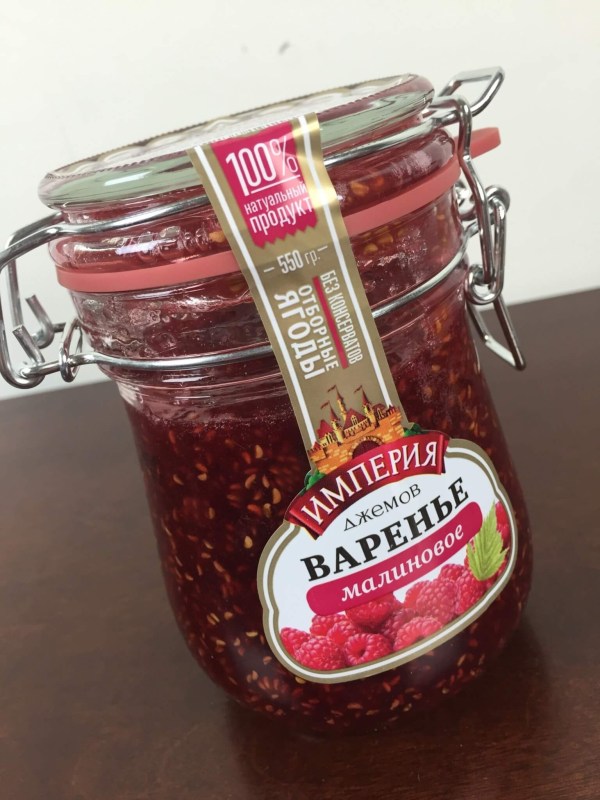 Jam Empire Premium Raspberry Varenye ($9.95) Jam in Russia is just not jammy, which we didn't know until we got this box. Rather it's more of a loose sauce for putting atop pancakes or in tea. Who knew?!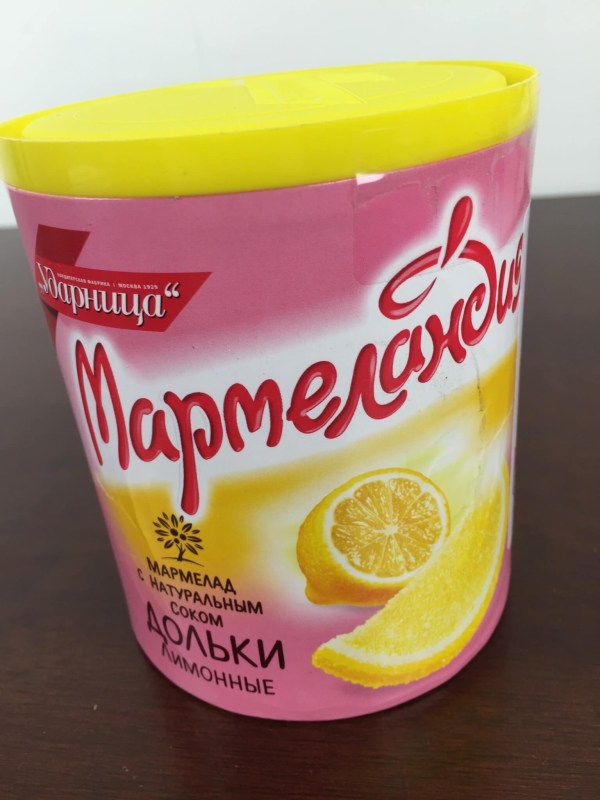 Marmalandia Russian Marmalade ($4.95) :  This sounds like a another jam, but it's actually jelly candy lemon slices!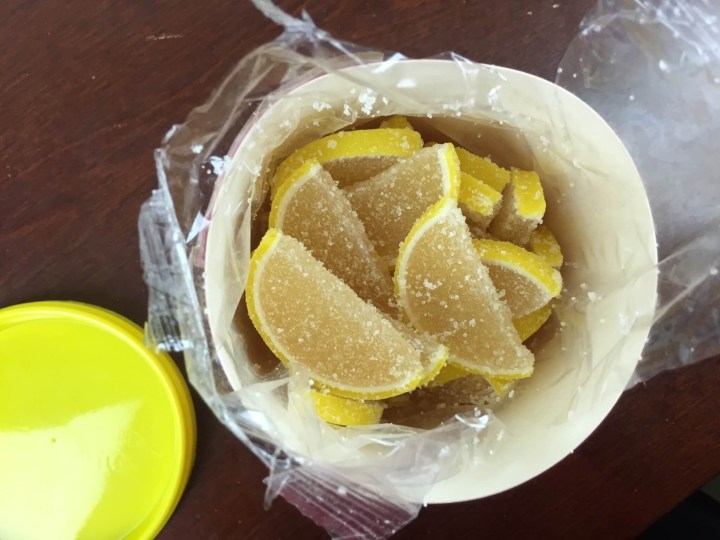 The slices are very pretty and have a lovely faux rind and pith on them.  They are tart and sweet, with a soft, gelatinous, but not chewy texture.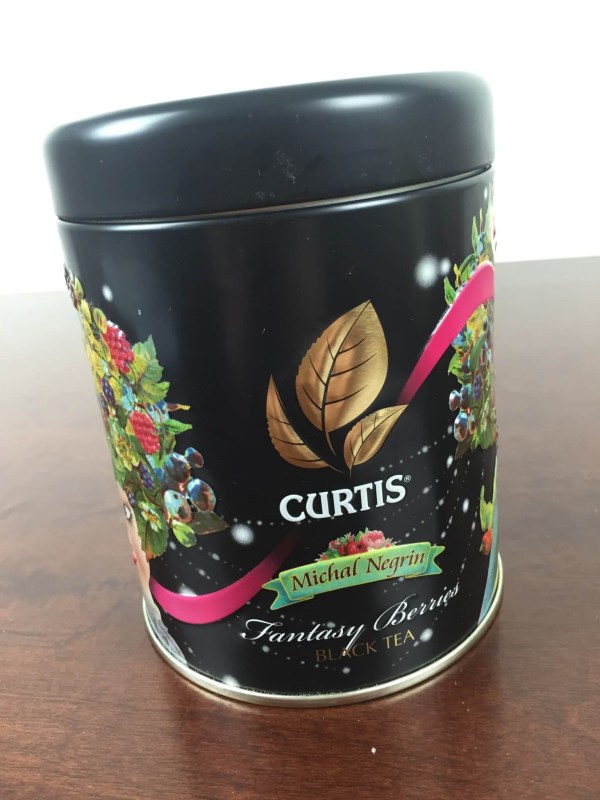 Mayiski Premium Russian Tea Curtis ($10.95):  this lovely tin contains black tea flavored with "Fantasy Berries."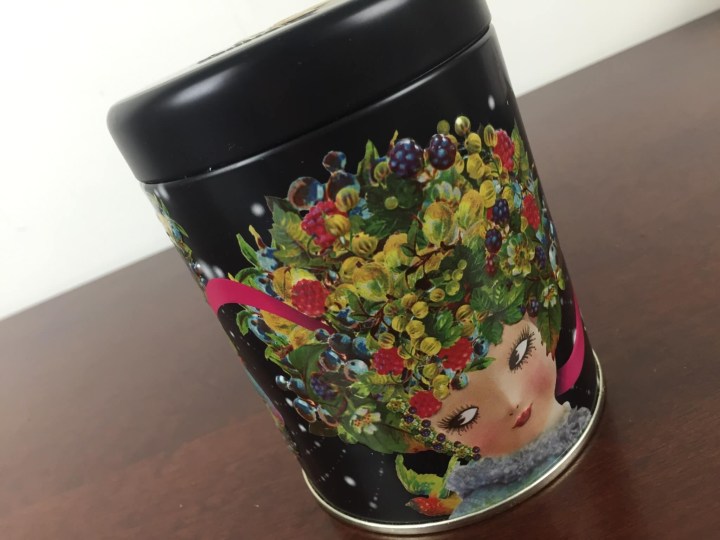 We thought the tin was really beautiful and the kind of container you hang on to long after the original contents are gone.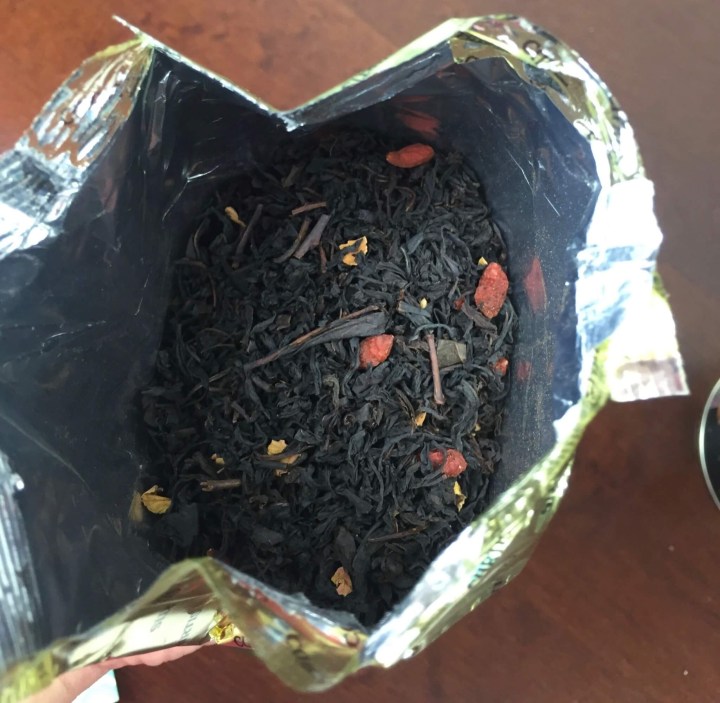 The tea itself is a lovely dark black loose leaf tea mixed with dried berries.  The scent is just delightful and smells strongly of black currant.
Dobroflot Wild Caught Pacific Saury ($4.95):  Saury is an oily, pungent, and dense fish that resembles mackerel, though it is not closely related.  Canned fish is often eaten as an accompaniment to vodka.
We included a shot of the label because we enjoyed the idea of having "spicy" as an ingredient.  This is a recurring category of YB item — much of the world has a particular variety of preserved fish that they like to eat when drinking or use to prepare classic dishes, and it is interesting to see the unique qualities of each species.
Yummy Bazaar is a fantastic way to get a sense of a country's cuisine.  They do a great job of selecting items that are of cultural significance, or are just so popular among the population that they have to be included.  I love that most of the items come in big pantry packs, so I get a lot of tries of every product.  Since everything is available in their store, You can always go back for more of your favorites, too.  It's always a fun journey learning about cultures through their food!  Also FYI – you can also skip or cancel at any time – and they will accommodate most special diets if you need. They have a $9.95 per month Mini Sampler box too!
The total value was about $63.45, based on YB per item retail pricing, which is a really fantastic value. Have you tried Yümmy Bazaar? What did you think of this month's box?
Visit Yümmy Bazaar to subscribe or find out more!
The Subscription
:
Yummy Bazaar
The Description
: Discover some of the most authentic and delicious foods from around the world, delivered to your doorstep. Each month receive 6-8 full size products from a delicious country (each month is different!)
The Price
: $35.95 per month