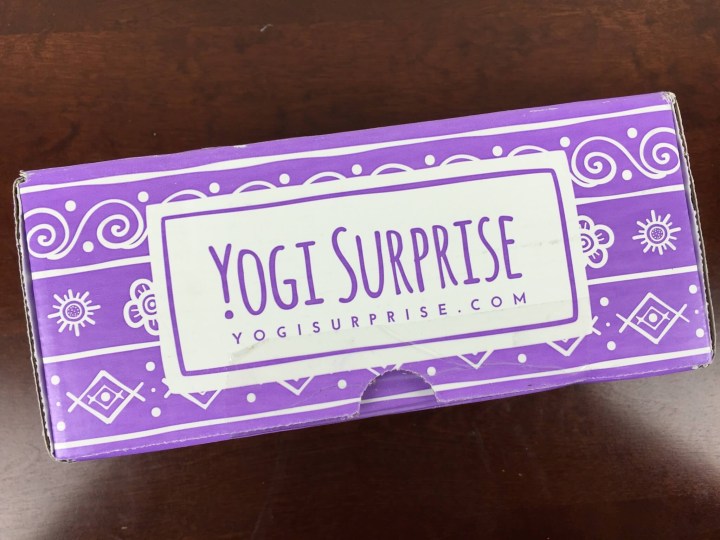 Yogi Surprise is a subscription box for a healthy centered lifestyle. Each monthly box contains 6-8 products picked by experienced yogis to complement your yoga practice and your life!
Love the fun art on the box and the purple!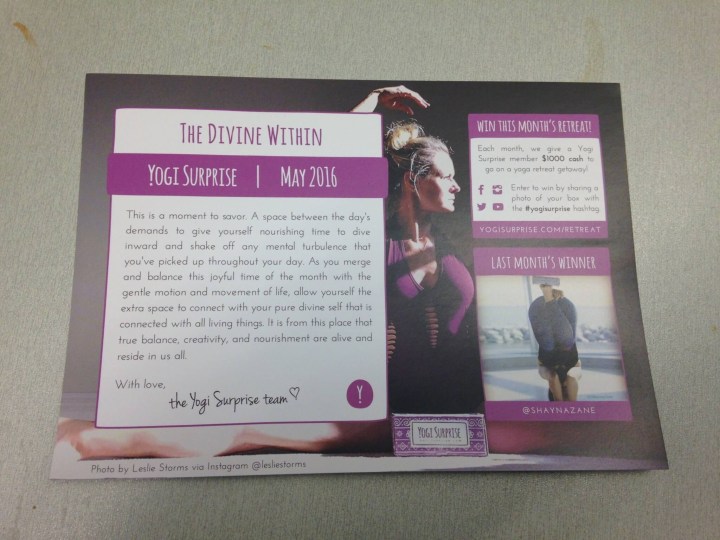 The May 2016 theme is "The Divine Within."  This month is focused on connection to The Divine Within.  It's important to take a moment and to go inward and connect with that great energy that binds all things.  The items this month were curated with that intention.
The information card gives details on each item and how they might be used!
All the items in the May 2016 Yogi Surprise box.
Energy Muse Chakra Healing Stones ($20):  These 7 Chakra Healing Stones can be used to help cleanse and align your 7 chakras.  I use crystals all the time, but I don't have a crystal for all of my chakras, especially all together in a portable satchel. Love these little guys.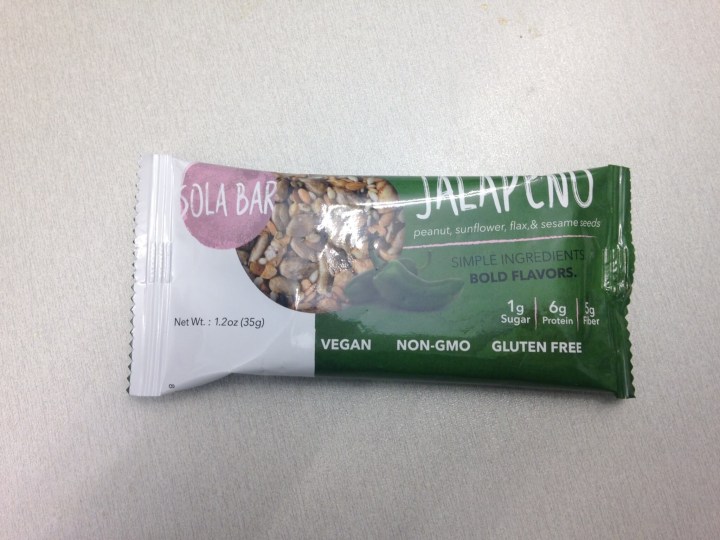 Sola Bar Wholesome Savory Meal Bar Jalapeno ($3): This Vegan, Non-GMO and Gluten-Free bar is made with Jalapeno, peanut, sunflower, flx & sesame seeds.  Snack on it or have it as a meal.  Am looking forward to trying this.
Ancient Grains 'Made In Nature' Cuban Mojo($5):  This Certified Organic, Non-GMO fusion of organic grains, legumes, fruits, vegetables and spices can be paired with drilled fruit skewers and plantains.  My mouth is watering.  Can't wait to try this.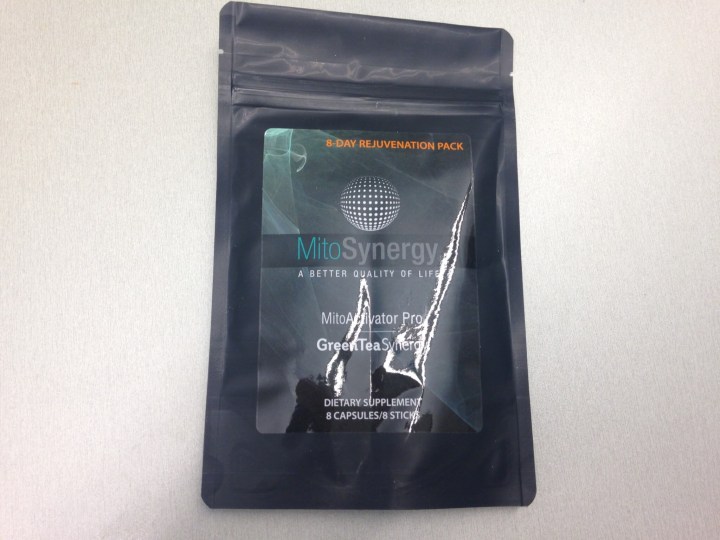 MitoSynergy 8-Day Rejuvenation Pack: ($35)   This is a proprietary blend of nutrients taken as an 8 day supplement to impact human cell energy producers.  It includes Cunermuspir (CopperVitamin B3 Chelate), Green Tea and Hawaiian Noni.  Sounds interesting.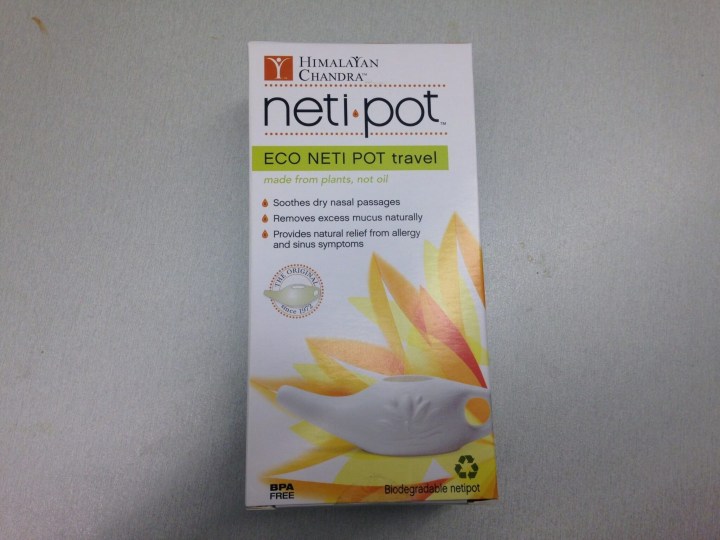 Himalayan Institute Eco Travel Neti Pot: ($14)  I've been wanting a Neti Pot for a long time now.  When I lived in India, we would cleanse our nostrils every morning as one of our Kriyas.  We used our hands.  In the morning, I still use my hands.  This should be a great item and I'm really excited to have this.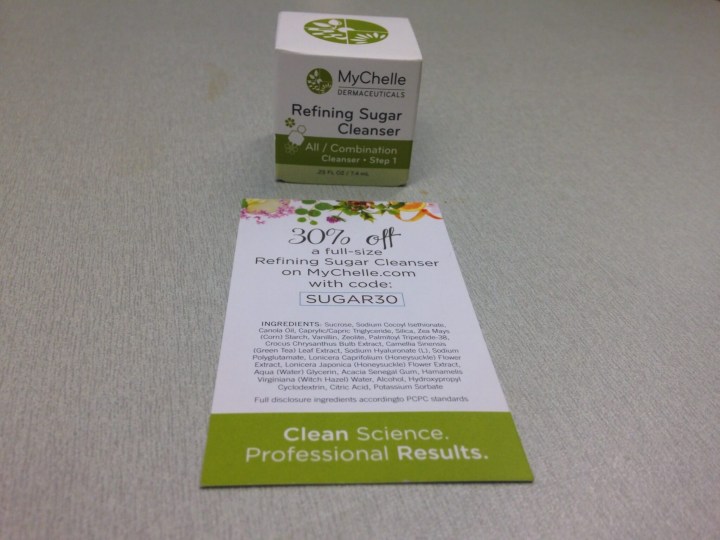 MyChelle Refining Sugar Cleanser:  ($7) This gentle exfoliant removes makeup while refining and smoothing the skin using natural crystals from cane sugar, anti-aging peptides and Crocus Chrysanthus Extract.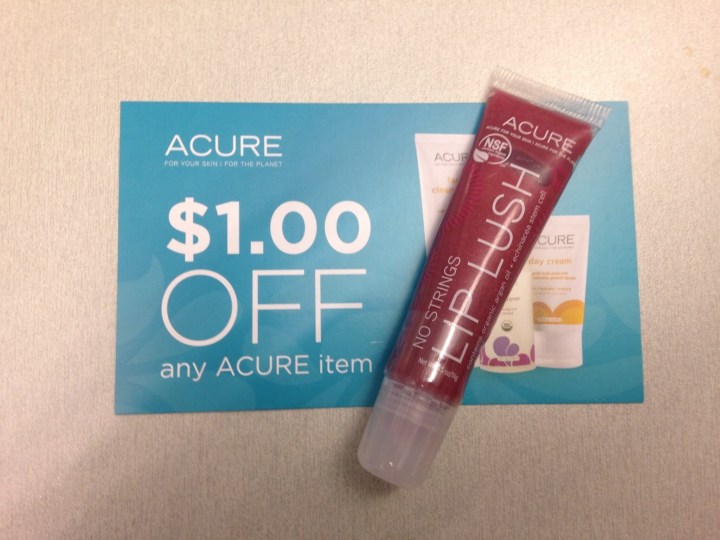 Acure Organics Lip Lush (No Strings):  ($6)  This gloss is made with Organic Argon Oil, Echinacea, an Edelweiss Stem Cells.  I've been meaning to get an organic daily gloss.  This one is pretty cool and tastes good.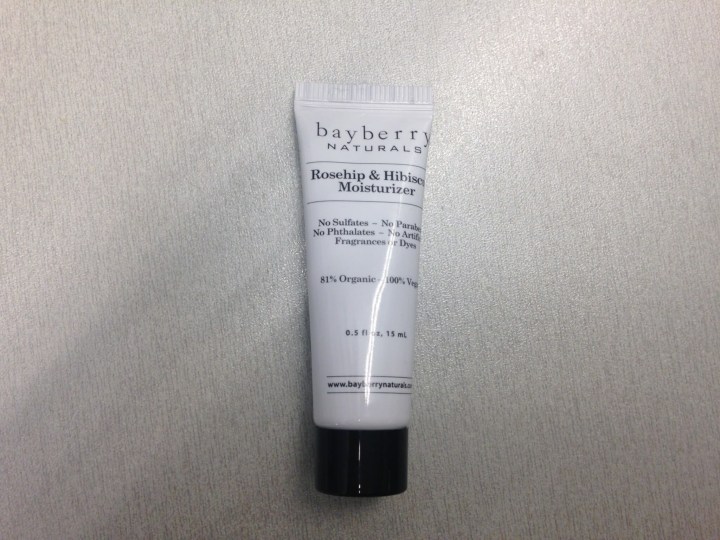 Bayberry Naturals Rosehip & Hibiscus Moisturizer (Sample): ($2) This 'ultimate facial lotion' is suitable for all skin types, 86% Organic, free of sulfates, parabens, phthalates, artificial fragrances and dyes and is not tested on animals.  It is made from Rosehip oil, which is rich in omega-3 and omega-6 fatty acids and also Hibiscus extract, which is rich in antioxidants.  Also included are  vitamins E, B3, Pro-Vitamin A, and Pro-Vitamin B5, providing both protection against free radicals as well as natural anti-inflammatory properties. Further, it in has DMAE and MSM are known to help naturally improve skin tone and repair damage.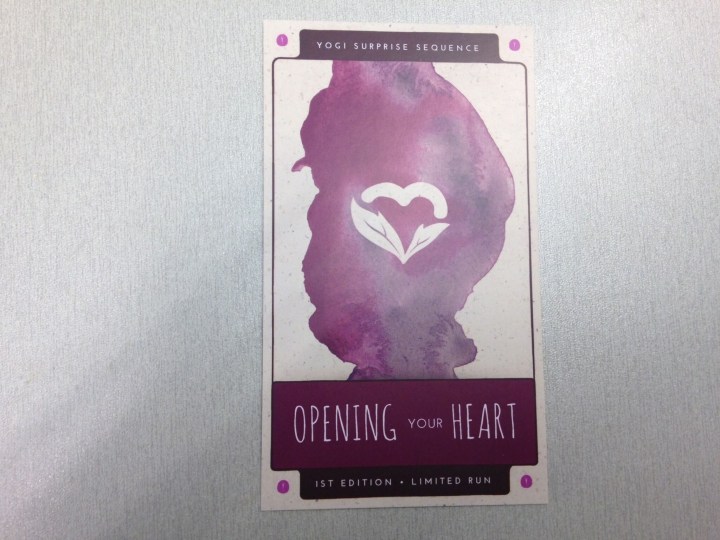 Yogi Surprise Sequence Card:  This is the heart opening yoga sequence.
This is another eclectic box with very cool items.  Not sure if all of the selections fit well with the theme, but I really like each item for what it is.  They are all quality items.   The value for this month's box is $92.
Are you a Yogi Surprise subscriber? What did you think of the box?
Visit Yogi Surprise to subscribe or find out more! Take 15% off your membership for life! Use coupon code  HELLOYOGI.
The Subscription
:
Yogi Surprise
The Description
: Receive a box full of Yoga inspired goodies. Yogi Surprise is the perfect complement to your healthy lifestyle. Each box is packed with love and positive intention, e, ranging from handcrafted yoga accessories to decadent superfood treats.
The Price
: $44.95 per month