From the lovely folks at Eat.Feed.Love comes the May Taste Club Sample Box, full of new flavors and supporting good causes. The folks at Eat. Feed. Love offer a variety of food boxes via the Taste Club. This is the Sample Box, which delivers a variety of artisan samples to your door for $22/month – and you can save 50% on the first box of any Taste Club subscription with code HelloSubscription!
As always, the Eat.Feed.Love. box comes packed with a variety of sample products, all well protected for transit.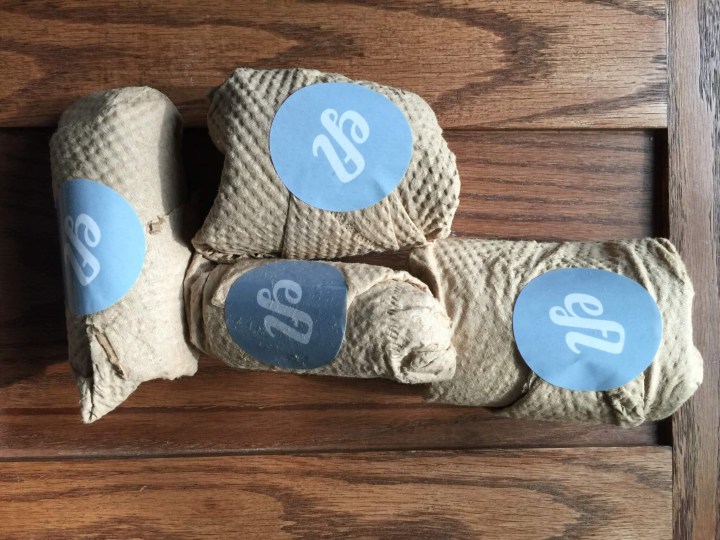 Since this is a sample box of artisan products, Eat.Feed.Love. includes some great recipe cards to get you started sampling with some great ideas for using the various things you've received that month.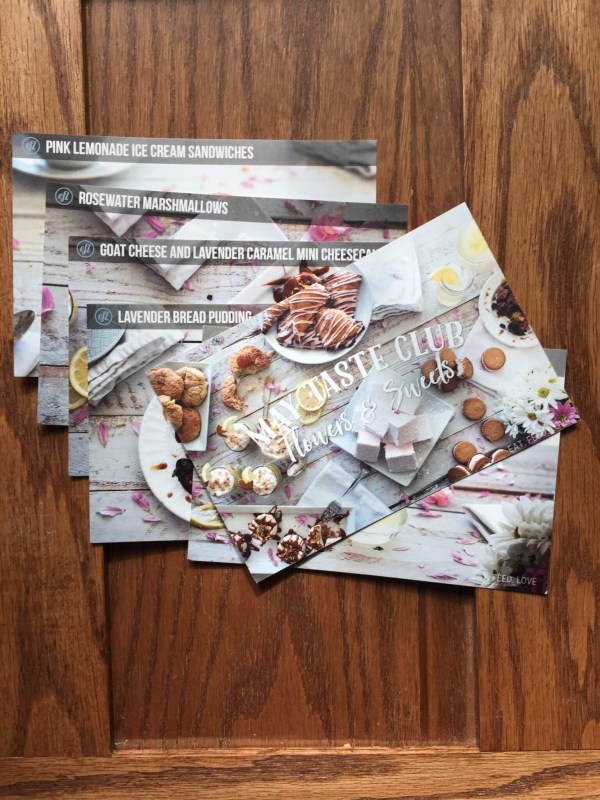 And the good folks at Eat.Feed.Love. are also about giving back. For the May box, they partnered with City Harvest, a group in New York that works with restaurants and grocers to collect excess food and distribute it to over 500 community programs across the city.
May features quite a bounty of "floral" inspired products: Salem Baking Co. Moravian Meyer Lemon Cookies, Flying Bird Botanicals Vanilla Rose Ceylon Tea, Nielsen-Massey Rose Water, Sonoma Syrup Co. Lavender Infused Simple Syrup, Spoonable Brooklyn's Saucy Caramel Flowery Lavender, and Christina Maser Pantry's Nectarine Jame (with fresh Rosemary and Lemon).
So, I know what you want to know… how does this stuff taste!?!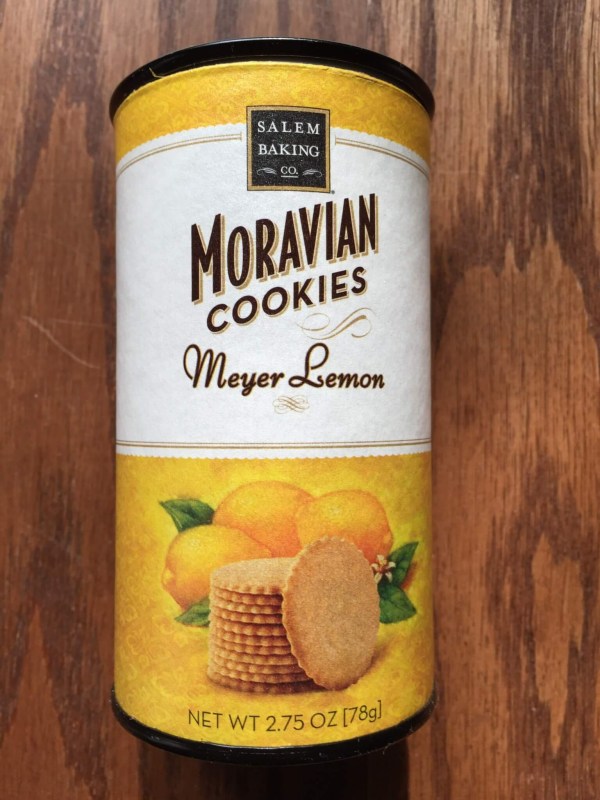 Salem Baking Co. Moravian Meyer Lemon Cookies ($4.99). This is one product that it just so happens, we already had in our pantry! That's a good thing, because you can't have too many of these. They are light, thin and crispy cookies with an incredible tangy and fresh lemon flavor. They are great to snack on by themselves, and they go perfectly with tea. The only thing that will annoy you is how small the tin is, because frankly, you will probably crunch through it in one sitting. Not that I would know.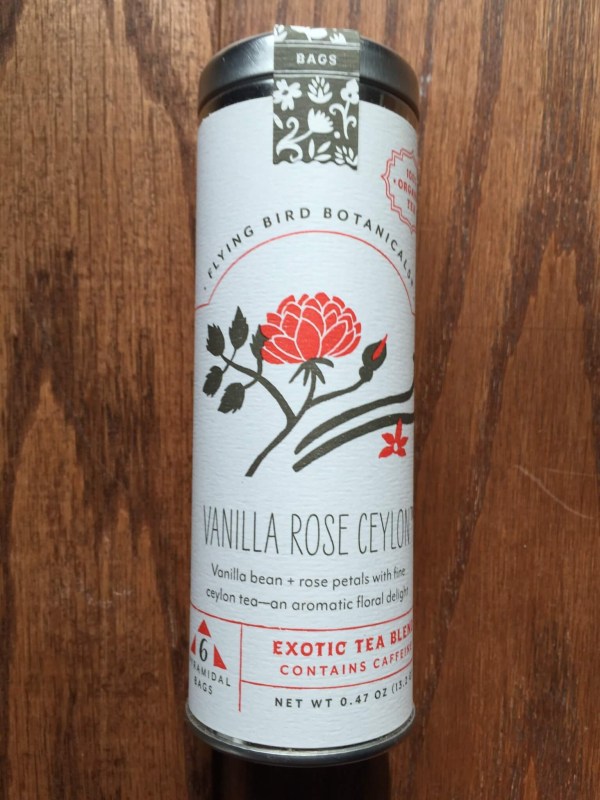 Flying Bird Botanicals Vanilla Rose Ceylon Tea ($3.92). I'm not sure anything with vanilla can be bad–but this tea is really great. It's a very smooth tea, with a very mild tea flavor and fairly strong vanilla after-taste. The first hit of flavor is the tea, a mild ceylon, very mellow. The finish, however, is lingering and dominated by the vanilla which, if you're a vanilla fan like me, leaves you in a happy place, ready for some more.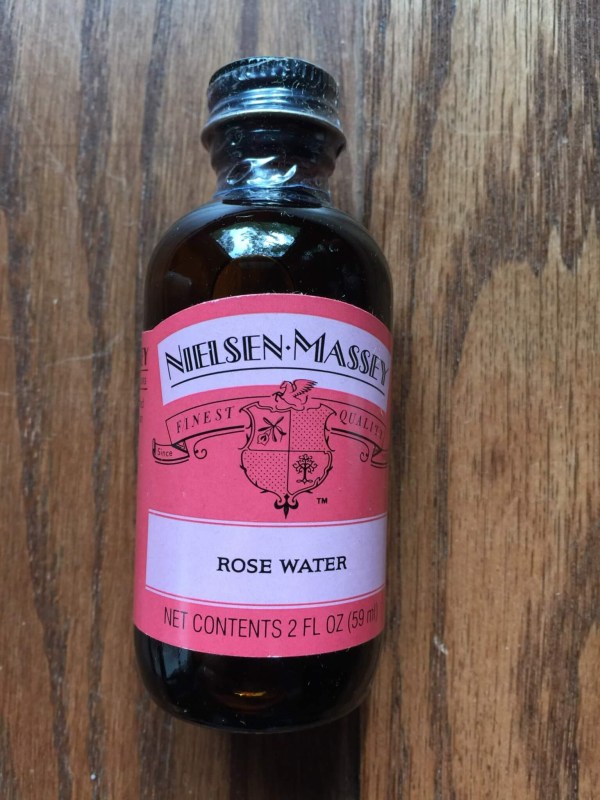 Nielsen-Massey Rose Water ($8.48). I have to admit, until the Great British Baking Show, I had no idea you could bake so much with rose flavored anything. You can use it with cakes and tarts. You can use it with ice cream or yogurts. You can use it with lamb! I won't use it with anything, because it's so floral I can't stand it. All those times I sat and wondered what rose water meringues would taste like, well, bad, apparently. Or not to my liking, at least. This does appear to be a high-quality rose water and if you like floral flavors, I'm pretty confident you would like this. So, not for me, but it may be for you.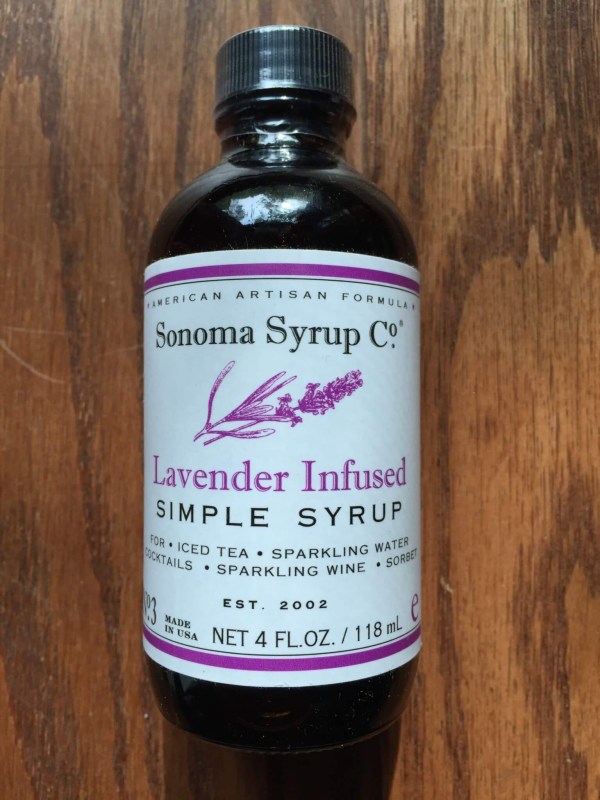 Sonoma Syrup Co. Lavender Infused Simple Syrup ($3.63). This is not the first time a box has made me a liar. I've never been a fan of lavender (see my rose water, anti-floral screed above) and yet, I really, really liked this. The lavender is slightly floral, but also slightly minty, and the sugar of the simple syrup makes it rather enjoyable. I did not make lavender cheesecake with it, but I did add it to some teas I was tasting, and it did a great job of adding some complexity with the lavender and sweetness. I think it would be nice to try in some recipes as well, but even as just a sweetener, this was a win.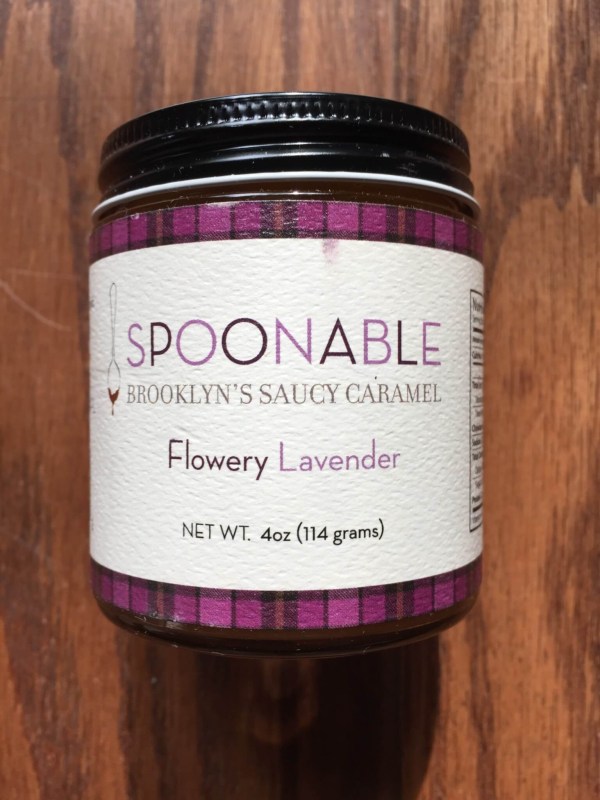 Spoonable Brooklyn's Saucy Caramel Flowery Lavender [Note – No link because Google indicates their site may be hacked]. If you want an easy way to down that whole tin of Moravian cookies, here's a hint: spread this stuff on them. It makes them what I like to call, inhaleable. And here's another lavender product I like. The lavender here definitely takes a back-seat to the amazing, drool inducing caramel. Oh, it's still there, and you get a hit of it after the sweet butteriness of the caramel fades, but the star here is that delicious, golden, buttery caramel. This is my personal favorite of the whole box.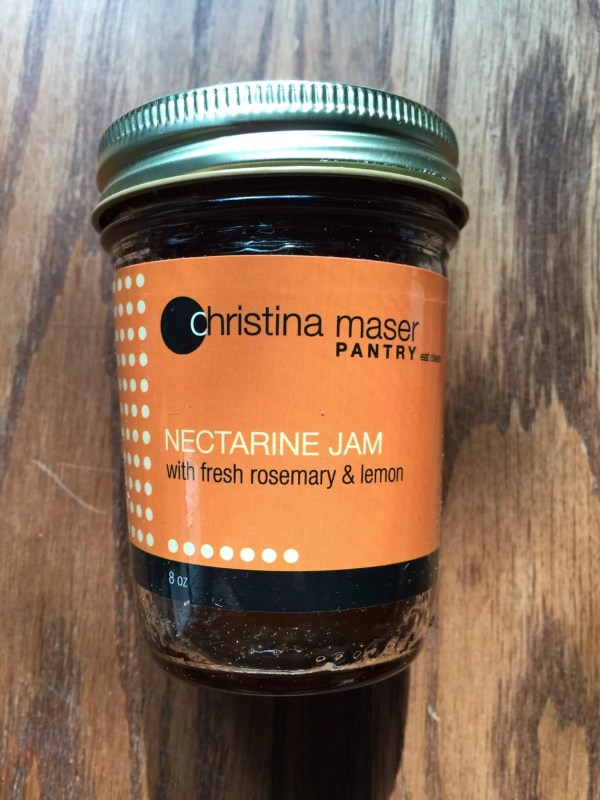 Christina Maser Pantry's Nectarine Jam ($7). Equally delicious on those Moravian cookies is this Nectarine Jam, which is also rocking on biscuits, scones or toast. We go through a lot of nectarine's in this house (they are my wife's favorite fruit) so the excitement level for this one was quite high–and it delivers. It's a great jam, not cloyingly sweet, and well balanced with the rosemary and the lemon. I don't mind saying that my wife makes a mean scone, and this stuff goes with them perfectly. Another great taste from Eat.Food.Love.
Overall, this was a great sampling of different flavors–and a fantastic way to try things that I'd probably never try on my own. It's great that you can get exposure to flavors (like lavender, for me) that you may think  you don't like, but encountered in a new way, you can expand your palette. I really love the sample box for that reason alone–I don't have to like everything in it, but love it or hate it, you get to try high-quality, artisan products that just may show you a new way to use a flavor that you never thought of before. Well worth a monthly subscription for this one.
What item in the Taste Club Sample Box was most interesting to you this month? If you'd like to subscribe, use coupon HelloSubscription to save 50% on your first month of any Taste Club subscription!
Visit Taste Club: Sample Box to subscribe or find out more!
The Subscription
:
Taste Club: Sample Box
The Description
: Discover amazing new flavors with this box full of Sample size artisan products. Perfect for those looking to discover new foods.
The Price
: $22.00 per month