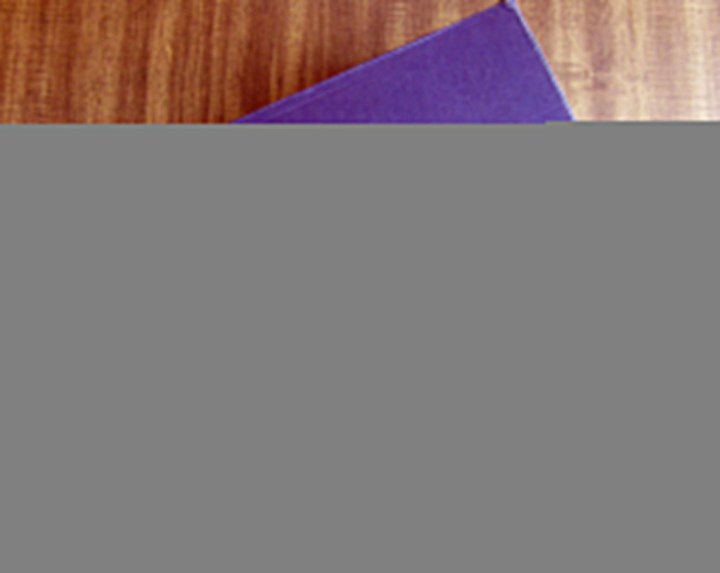 RawBox is a monthly subscription box intent on delivering only the healthiest snacks and cleanest lifestyle products.  The snacks are all raw and plant-based, free of gluten, wheat, dairy, soy, and many other common food sensitivity triggers.
The first peek show a couple interesting items!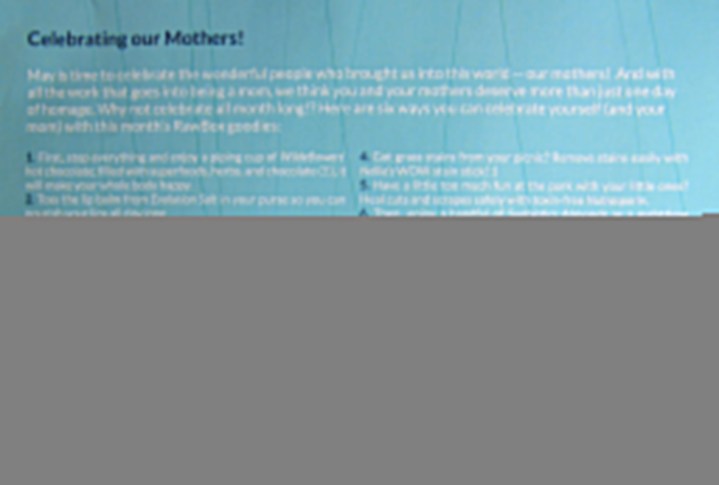 I love it! The May theme is "Celebrating our Mothers!" Grass stains is a part of my life with a 7 year old boy.
The box includes a giant double-sided information card with recipes, tips, complete information on each product, and a nice letter from the curators.
The May Raw Box looks awesome! I like the mix of items this month.
My family loves That's It Fruit Bars which show up periodically in the Raw Box. This month we received the Apple + Mango That's It Bar and the Apple + Pineapple That's It Bar (1.2 oz, $1.66 each, $3.32 total) which are great summer flavors. It's gluten-free, kosher, vegan, and raw making it a wonderful snack for people with special dietary needs. The amazing thing about the bars is that all it contains is the two ingredients shown on the bar. That's it! I keep them around for my sister who is gluten-free because the bar has a nice sweetness to it and is filling.
T, age 17, could not wait to eat the Bearded Brothers Bodacious Vanilla Blueberry Energy Bar (2 oz, $2.99). He said it had more of a vanilla than a blueberry taste. Bearded Brothers is an awesome brand that offers raw, vegan, gluten-free and soy-free treats. It's hard to find a variety of energy bars that are soy-free for T. A 100% raw enthusiast may want to stay away from this particular bar because the bar is made with organic dried blueberries which are not raw.
The SunBiotics Cheesy Almonds (1.5 oz,$3.69) have a cheesy flavor because of the nutritional yeast. It's a crunchy treat full of probiotics, around 8 million per bag! My husband did not think it tasted much like cheese. We do eat cheese which makes a difference to how the snack taste to us. It's a great way for a new vegan to capture that cheese taste in a snack or a different twist to a healthy snack.
The 3rd Rock Nutrasporin Ointment (1.0 oz, $13.95) is an example of one of the reasons I love subscription boxes. It exposes me to new brands that I want to try. It has chelated silver oxide and can be used on cuts, scrapes, burns and stings. It is waiting next to the band-aids ready to be used.
Mmm Mmm! I could smell the chocolate as soon as I opened the Wildeflowers Longevity Divine Tonic (3.2 oz, $22.00).  The pouch contains 6-9 servings of hot chocolate goodness. I need some relaxation and mental clarity in my life!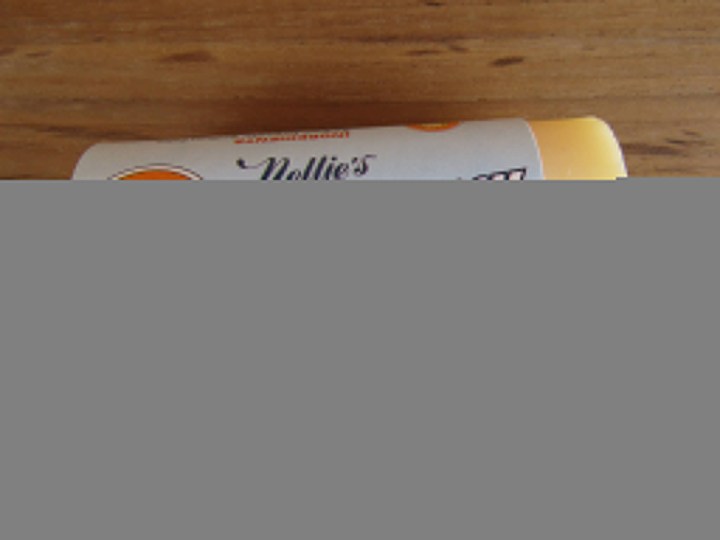 There's something exciting about receiving laundry products in subscription boxes! The Nellie's Wow Stick Stain Remover (2.7 oz, $11.50) is an easy to use stain remover with an appealing scent. Wet the stick, rub gently to remove the stain, agitate the stain under water, and launder. It contains sweet orange peel oil and lemongrass oil which gives it a pleasant clean scent. I already tried it with success on a grass stain.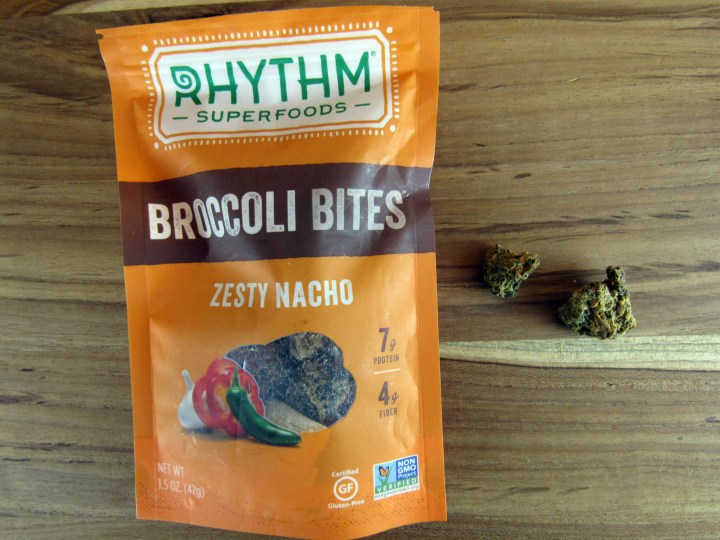 The Rhythm Superfoods Zesty Nacho Broccoli Bites (1.5 oz, $3.32) is certified gluten-free, vegan, and non-gmo verified. No one in my family liked it. I am not sure if it is the seasoning or the texture due to the dehydrated broccoli. The good thing is my family does love broccoli in its natural form. The Zesty Nacho Broccoli Bites is a great snack for those that like or are accustom to dehydrated foods.
The Evolution Himalayan Salt in a Reusable Shaker (5 oz, $3.59) is the cleanest salt and is found in the foothills of the Himalayan Mountains. It is packaged in a reusable glass shaker.  I noticed that I need less salt when using Himalayan Salt. Anyone else have the same experience?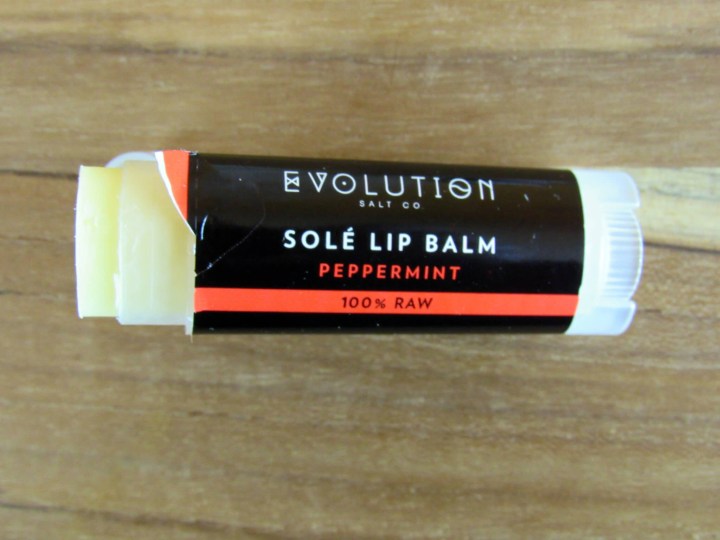 This is not just another lip balm. The Evolution Solé Lip Balm ( 2 oz, $5.65) is 100% raw with a great peppermint scent. This is the first time that I have seen Himalayan Salt Solé Solution listed as a lip balm ingredient. It does not sting although I think I can taste a little salt from it. The formula feels creamy and has the health benefits of Himalayan Salt in it.
I love the items in the May RawBox. My family looks forward to the snacks. I am always curious about the lifestyle items. RawBox fits into our lifestyle perfectly and I am impressed that Raw Box comes up with new to me brands along with a few favorites every month. I am most excited about the stain remover this month. The box comes in at $70.00 which is amazing especially because the items in the box are specialty items. RawBox is an easy way to check out a more natural lifestyle or enhance it.
What do you think of the May RawBox? Share below and let us know!
Visit RawBox to subscribe or find out more! Save 15% on your first subscription! Use coupon code WELCOME15OFF.
The Subscription
:
RawBox
The Description
: RawBox is the first subscription box that may be safely enjoyed by Raw Foodists, Vegans, Vegetarians, Celiacs, Paleoists, Athletes, Dieters, and more. Each box has only raw, plant-based snacks and lifestyle products from the healthiest brands on the planet. 10-12 products; a total value of $60 or more. Totally raw, plant-based, gluten-free, wheat-free, soy-free, dairy-free, GMO-free, MSG-free, sulfite free, and more. All lifestyle products are free from parabens, polypropylene and polyethylene glycols, sodium lauryl and laureth sulfates.
The Price
: $39.95 per month