Little Lace Box is a fun and unique bimonthly subscription box for women.  Every box is curated around a unique theme and contains beauty, lifestyle, and home products that you will love! It's one of my favorite boxes because it's so themed – it's like getting an experience in a box. I feel challenged to live up to the expectations of my LLB boxes, if that makes any sense. They recently started up Serendipity by LLB, meant to come in the interstitial months, which is now available for $10 bimonthly.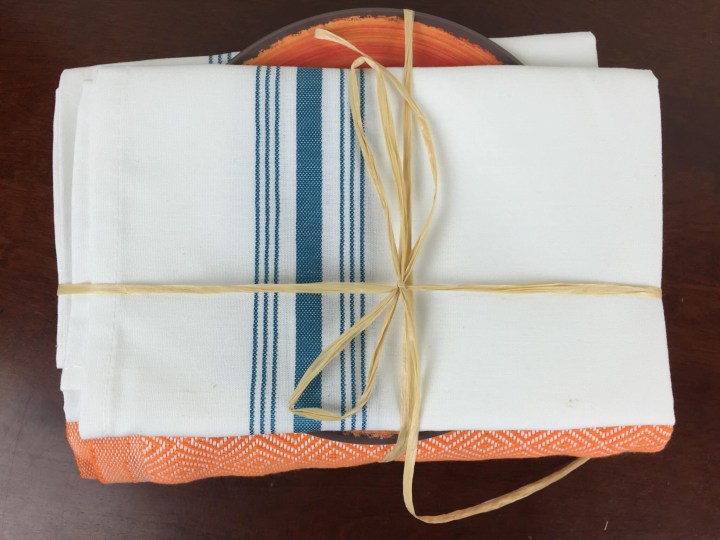 Little Lace Box is having a great deal on their subscriptions with free gifts included on 3- and 6-box plans – see the bottom of this post for details!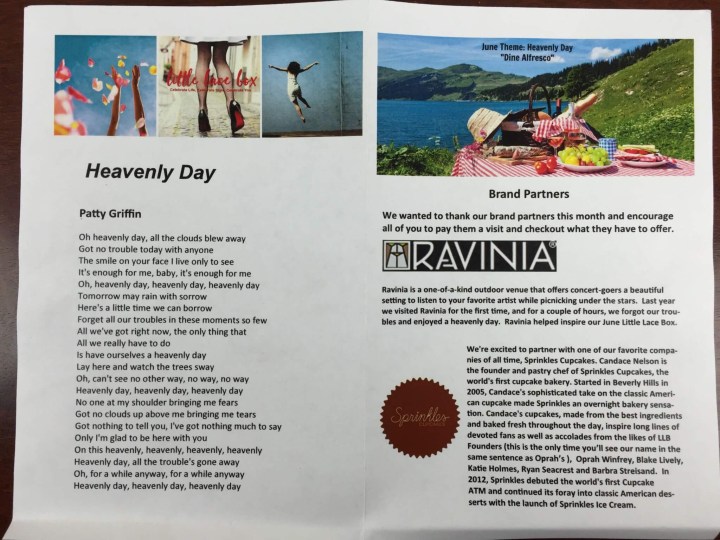 The theme for the June box was Heavenly Day!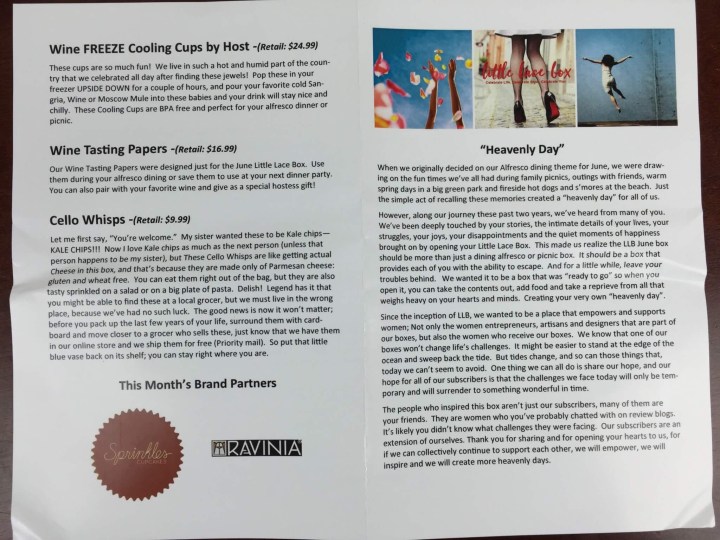 The theme was inspired by the Patty Griffin song. Patty sings,
"No one at my should bringing me fears
Got no clouds up above bringing me tears
On this Heavenly..heavenly day, all the troubles gone away
for a while anyway, for a while anyway"
I guess a Heavenly Day means something different to each of us. To me, it means, a picnic in the park, going barefoot, feeling warm, staring at beautiful clear skies lit by stars, eating homemade ice cream and enjoying good music, good friends and family.  So for all of our subscribers, we know life takes a certain arc, and nothing we do at LLB will chance it, but we want our June Little Lace Box to help you have a heavenly day. A day when "all the clouds blew away" and you can "Lay here and watch the trees sway…for a while anyway, for a while anyway."
 The booklet gives the details on all of the items. This month was also dedicated to subscribers struggling with health problems and other issues. The information card noted that a few of the items were coordinated to create the perfect alfresco event.
Everything in the June box!
Two Melamine Snack Plates (Amber, Fireball or Jade) ($16.99) These seven inch plates are perfect for an outdoors event because they look just like fancy pottery but aren't breakable. They're very pretty and coordinate with the tablecloth! I feel like they'd look great when plating some food pictures this summer and I'm all about elevating a meal with a good plate.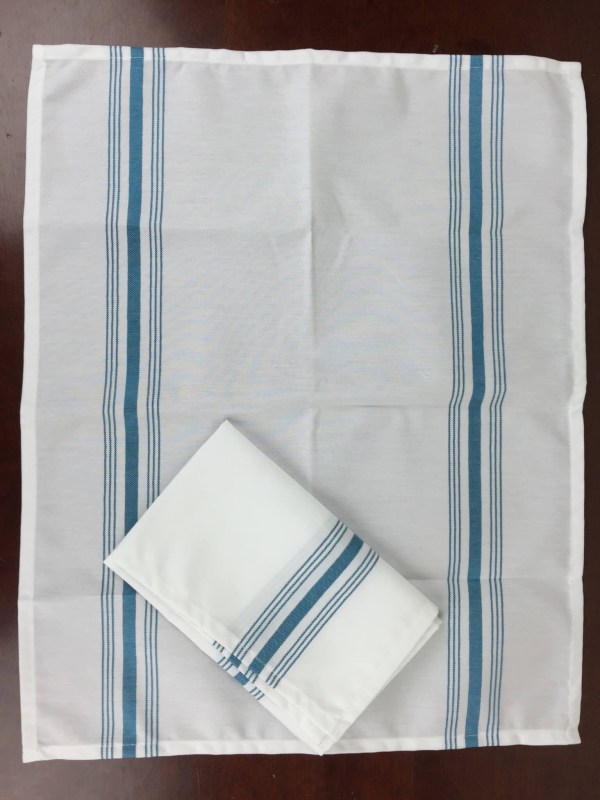 Two 100% Cotton Striped Restaurant Quality Napkins (Belize Blue, Gold or Cherry Red) ($6.99) I love these classic napkins! I'm a fabric napkin kind of person and the blue stripe just says fancy French thing to me. I think it keeps things crisp (and has the added benefit of drawing your eye to the stripe instead of any stains that I get on the napkin!).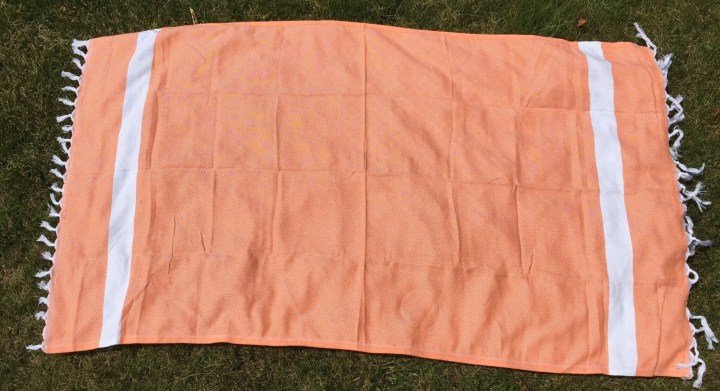 Beach/Picnic Blanket – 100% Turkish Cotton  (various colors) ($24.99) Too big to photograph inside, it's great for sitting on, putting out on the table, or even just stealing for a bath towel (they're my favorite). I love how it coordinates with the plates and the bright orange is really gorgeous and totally summer. I can get behind this shade of orange. Or on top! You can see another plate/blanket color combo here in the June LLB spoilers post.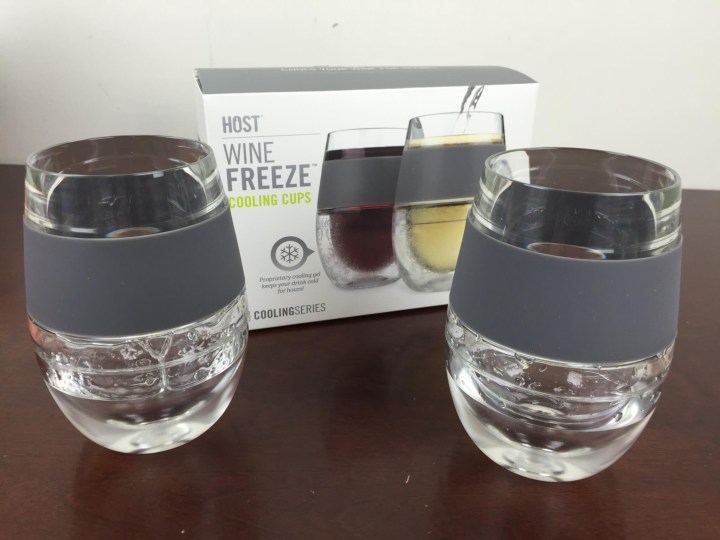 Freeze Wine Cooling Glasses by Host ($20.20) These are really neat – there's a gel inside the double-walled stemless glass that freezes [put them in upside down], and obviously keeps your wine chilly! I actually tend to drink wine pretty slowly and like it rather cool, so I'm excited about this! All told between LLB and Serendipity I've received 3 sets of stemless glasses in the past 2 years, which is great, because I love them.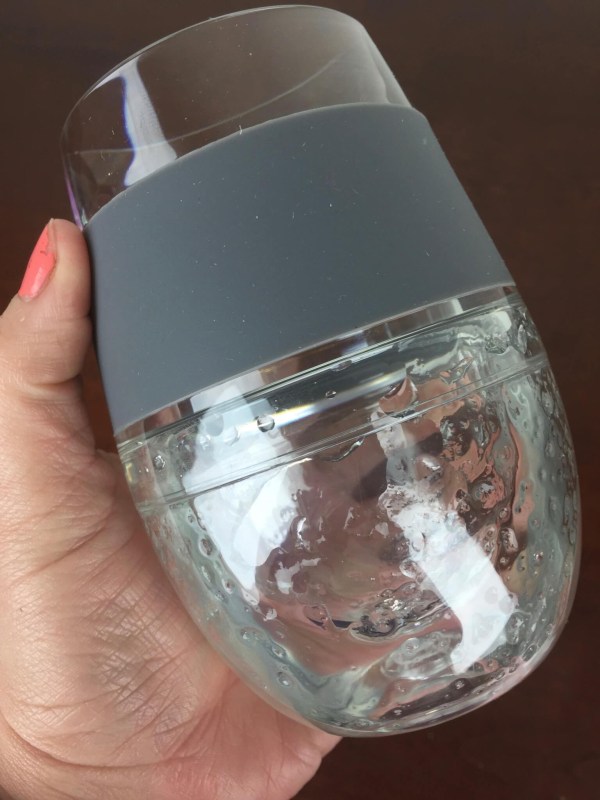 I love these most because I can't break them!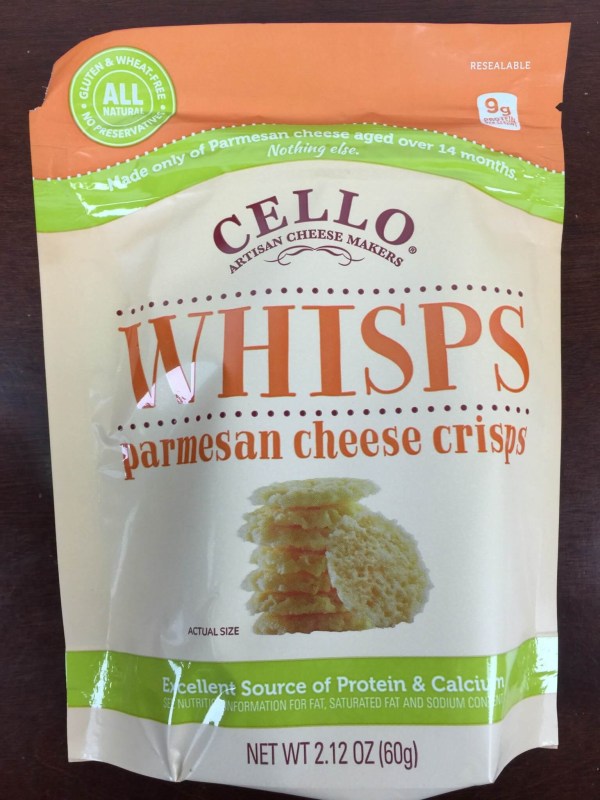 Cello Whisps Parmesan Crisps ($9.34) Oh geez I've nearly eaten 2/3 of a $10 bag of chips! But They. Are. So. Good. Really! Salty, crispy, crunchy, cheesy, absolutely divine.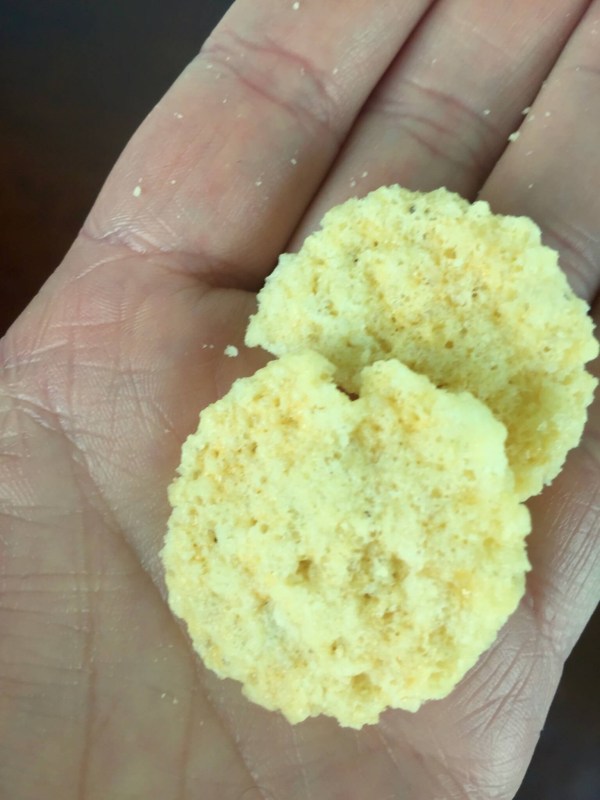 Some lip service was paid in the information card to putting them on soup/pasta/salad or whatever, but they won't last that long. They are for direct delivery to my tastebuds!
Wine Flight / Tasting Papers ($16.99) What, I'm supposed to remember what I'm tasting? Oh right, I am, I do review a wine box or two! These are great and handy for jotting down tasting notes so you'll remember which was your fave. At first wrapping up this review I was going to leave the value of this bonus item out – but they're on pretty textured paper and there's a whole pad of them. I think that's what you'd pay for a stationery item.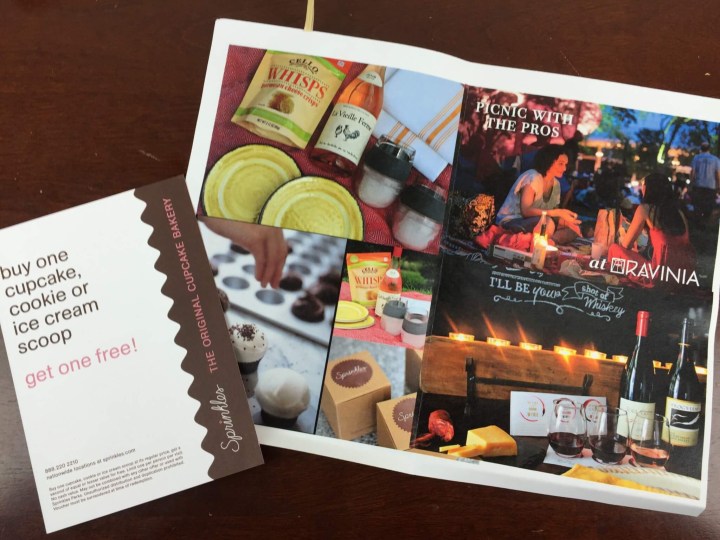 There was a BOGO coupon for Sprinkles and a card for Ravinia, the oldest outdoor music festival in the US (it's in Chicago). These extras weren't useful to me – I live in the middle of nowhere.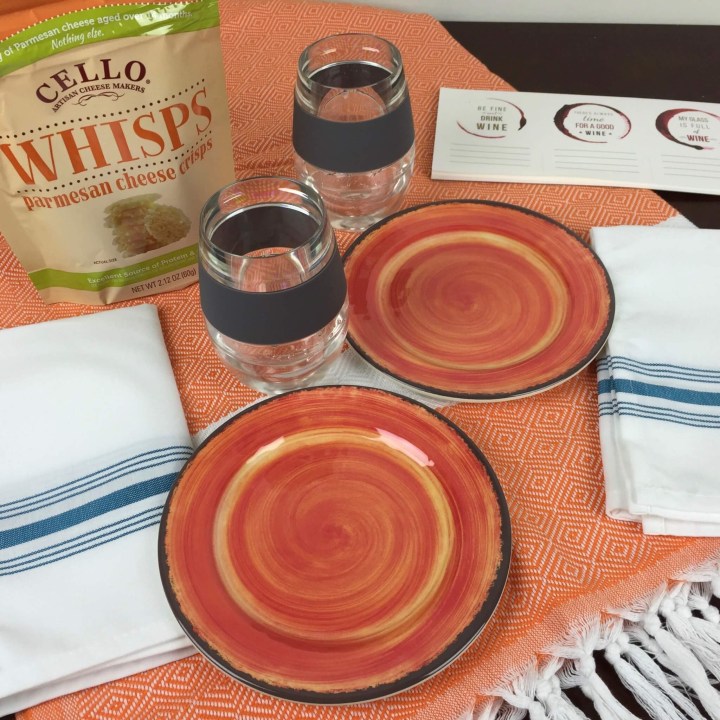 What do you think about Little Lace Box this month? The total value was about $95. It really didn't look like much when I opened it and there was no wow gimme gimme item in this box but it was thoughtfully curated and super useful to me and the prices weren't really inflated (and also the fact that they match the colors just makes it that much nicer!) so I was very pleased at how this one turned out.
Don't forget to use these coupons if you'd like to subscribe!
SIX BOX SUBSCRIPTION
For the purchase of an annual subscription, subscribers will start their subscription by receiving the June Little Lace Box (Heavenly Day), and either a Nantucket Picnic Tote (RV $59.99) or a Rustic Farmhouse Acacia Wood & Slate Lazy Susan (RV $51.99). Subscribers please choose at checkout.
PLUS: Save $20 on an annual subscription (6 boxes). Use coupon code  HELLO20.
THREE BOX SUBSCRIPTION
For the purchase of a six-month subscription, subscribers will start their subscription by receiving the June Little Lace Box (Heavenly Day), and a set of two FREEZE Wine Glasses by Host (RV $24.99) or a $25 gift Certificate to our online store. Subscribers please choose at checkout.
PLUS: Save $15 on an 6 month subscription (3 boxes). Use coupon code  HELLO15.
ONE BOX: Just want to try one box? Take $10 off your first box. Use coupon code  HELLO10.
Visit Little Lace Box to find out more or to subscribe!
The Subscription: Little Lace Box
The Description: Get hand-curated, nearly impossible-to-find designer products directly to your doorstep every month. Your monthly box will be brimming with high-end, brand name beauty, lifestyle, and home products to treat yourself to and dazzle your friends during your next night out.
The Price: $59.99 for a single box, $149.97 for 3 boxes, $269.95 for 6 boxes