LaRitzy is a cruelty-free and vegan beauty product box.  Subscriptions are $24.99/month to receive 4-5 full and luxury size items each month, with discounts for prepayment of multiple months.  They also offer a LaMini box with 2-3 full size items a month for $14.99.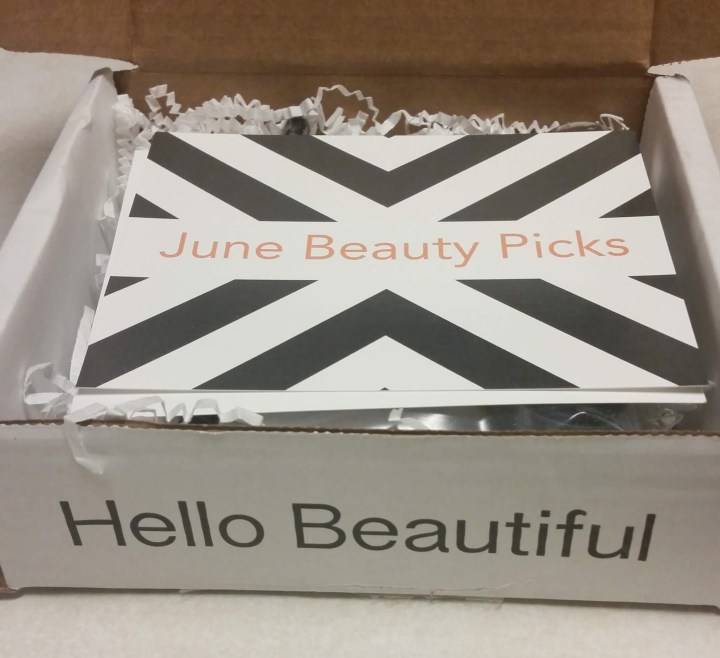 I reviewed this box with the help of my teenage daughter.  We both loved the black-and-white box scheme of the packaging, plus hey, who wouldn't like a box that greets you with "Hello Beautiful"!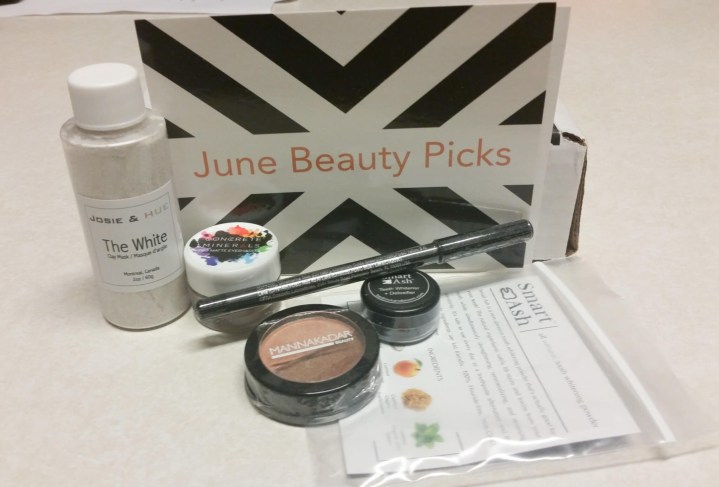 Here's a peek at everything in the June box.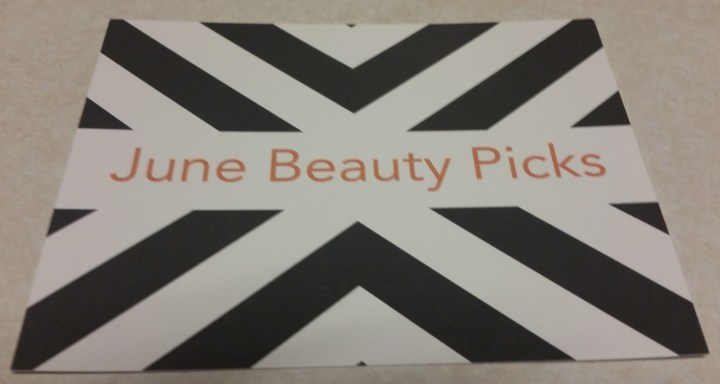 The box includes a helpful card that explains the theme – "June means sunshine, hot summer nights, and summer getaways!"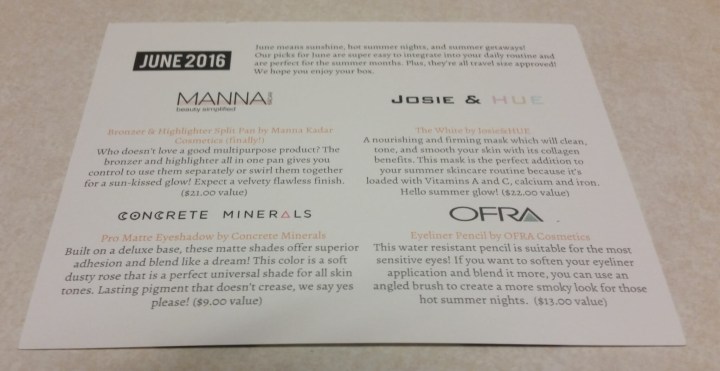 The flipside of the card provides a listing of (most of) the items in the box, including the retail prices as well as use instructions and benefits of each product.  Additionally, the card provided the helpful (summer travel) detail that each of the products is travel-friendly!  There was a second card in the box that provided a discount code to purchase more of one of the products (Josie & Hue).  Enough about the paper work – let's check out the goodies!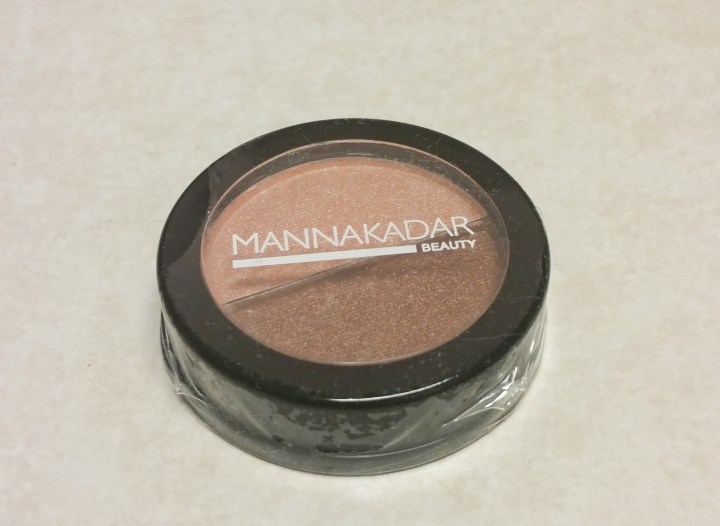 Manna Kadar Highlighter/Bronzer split pan ($21 value) – This is a real nice product, and as the card says, who doesn't love a good multipurpose product?  Summer is the best time for bronzer and this combo is super pretty.
Here is my daughter, testing out both of the hues.  Just the right amount of "sparkle" within a summery glow.  Usually when my daughter and I review these boxes together, we have a very polite discussion when we split the goodies.  Not so here – she laid claim to this bronzer/highlighter before I could even take a picture!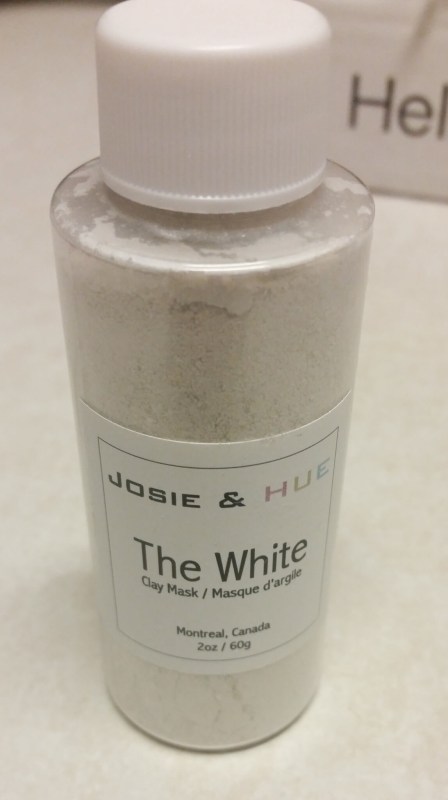 Josie & Hue White clay mask ($22 value) –  Oooh, a clay mask.  Both my daughter and I were excited about this, and LaRitzy gave us a nice sized product so we can make good use of this item.  The clay mask is supposed to clean, tone, and smooth our skin.  The instructions on the bottle are very simple and easy to follow.  We look forward to trying this out.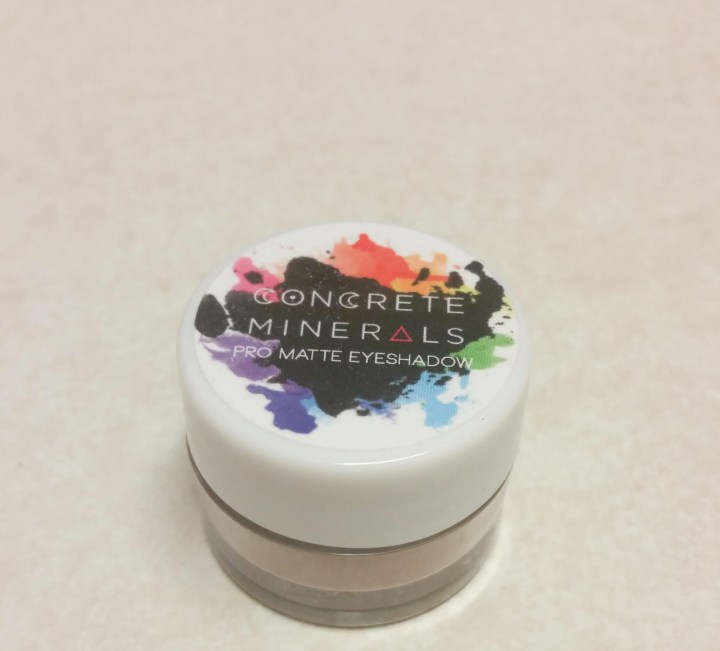 Concrete Minerals pro matte eyeshadow ($9 value) – Neither my daughter or I have had much experience with mineral-type cosmetics, so this was a new product for us to try.  I'm glad we did – this product is super easy to apply and blend with other shades.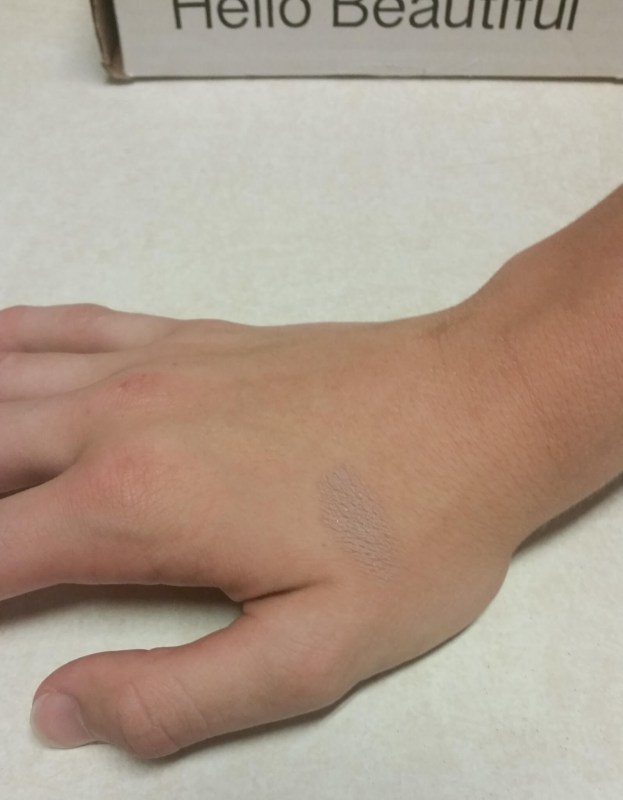 This may not be as easy to see on my daughter, as she's sporting her usual summer tan, but the eyeshadow is a really pretty dusty rose color – perfect as a base with other shades or even pretty by itself.  As the card said, this product is long lasting and doesn't crease.  Super pretty and it works well too.  We both loved this product!  

Ofra eyeliner pencil  ($13 value) – This is a nice eyeliner pencil, good for sensitive eyes (as the card says) and also for making great smoky eye looks.  Who doesn't need another great eyeliner pencil?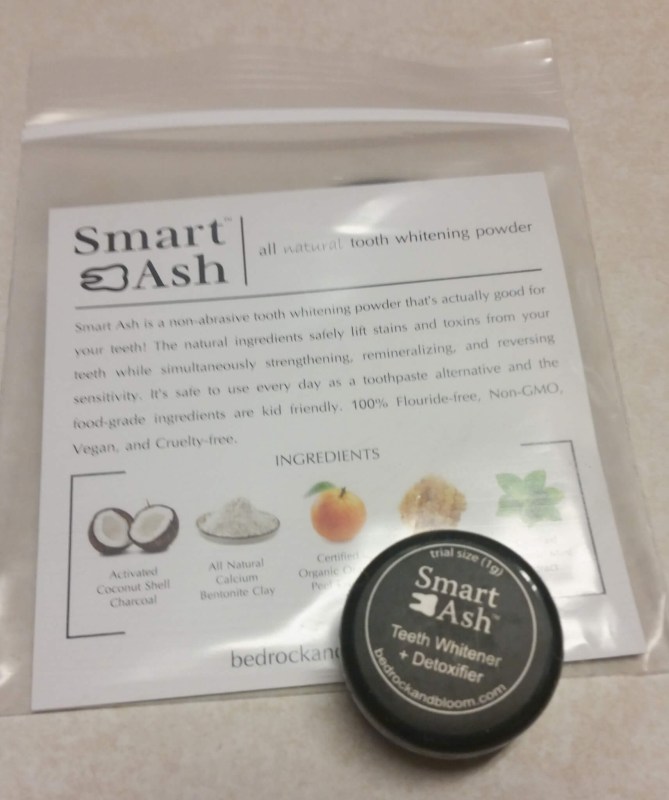 Smart Ash tooth whitening powder (link to full size; trial/travel size included in box) –  Although not listed on the card, LaRitzy included one more product in our June box…an all-natural tooth whitening powder.  Usually, when something like this shows up in a box my daughter and I share, she is usually quite happy to pass that item to me.  However, this time, I was hoping that it would slide under the radar.  Nope.  I told her it was a natural tooth-whitening powder and she quickly spoke up – "I hear those work really well.  Is it ok for me to try it?"
My daughter and I enjoyed our first LaRitzy box.  She liked the products for what they were — the bronzer/highlighter was pretty and she'd heard that the tooth-whitening powder worked well.  I liked that they were organic/vegan/cruelty-free…and for those reasons, basically kid-friendly.  I do wonder, sometimes, about what my kids are putting on their faces; I had no concerns about any item in this box.  Not just that, but all the products in this box were things I wanted to use too!
Visit LaRitzy to subscribe or find out more!
The Subscription
:
LaRitzy
The Description
: Pampering just got a lot easier! Receive 4-5 vegan products every month – everything from luxurious skincare to exceptional beauty products.
The Price
: $24.99 per month