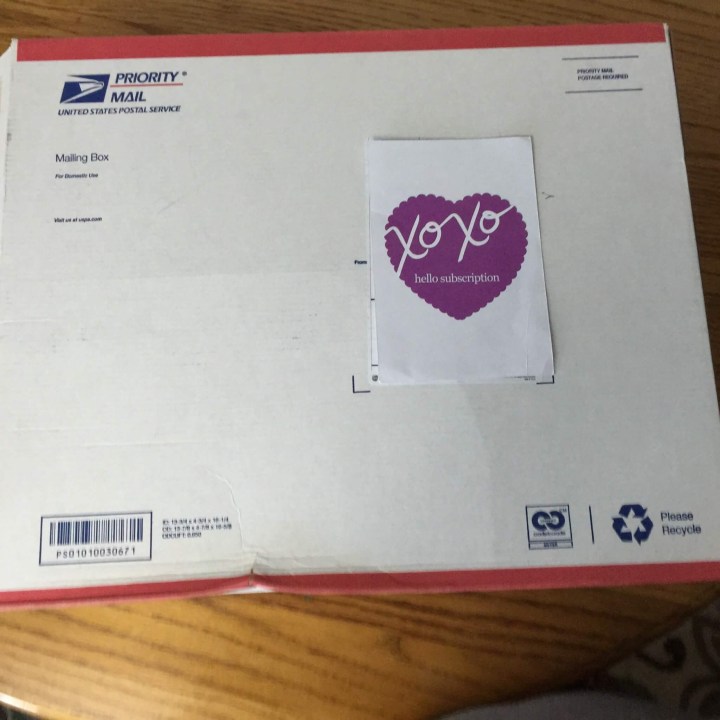 L.V. Kiki is a high quality fashion accessory subscription box featuring 4-6 accessories for $19 a month with free shipping. The website boasts shoppable collections from head to toe with affordable prices. This months box was bigger than normal and not in the signature L.V.  Kiki box.
I look forward to this box because I love to accessorize but don't ever go out of my comfort zone.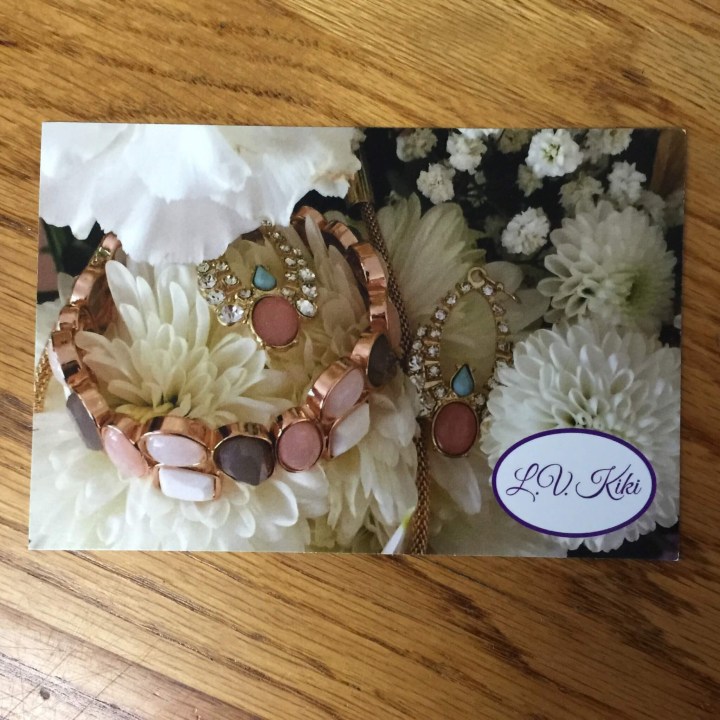 Information card does not give details about the contents of the box just how to stay connected via social media.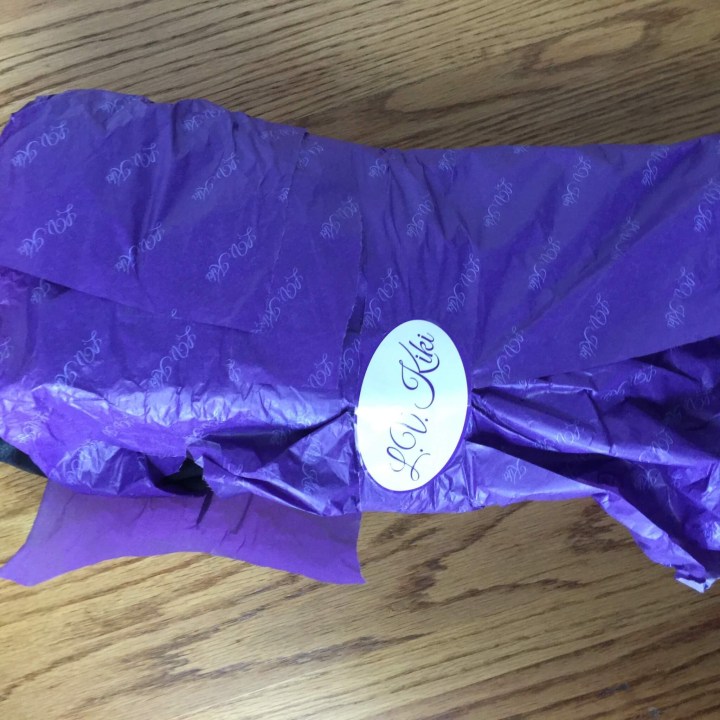 I love how this box arrives wrapped in tissue paper then in individual bags, feels like getting presents each time. The bags are sheer enough to allow me to see what is in the package but still keeps me guessing on other items. I also like that I can reuse the bags for other things or to keep my accessories organized.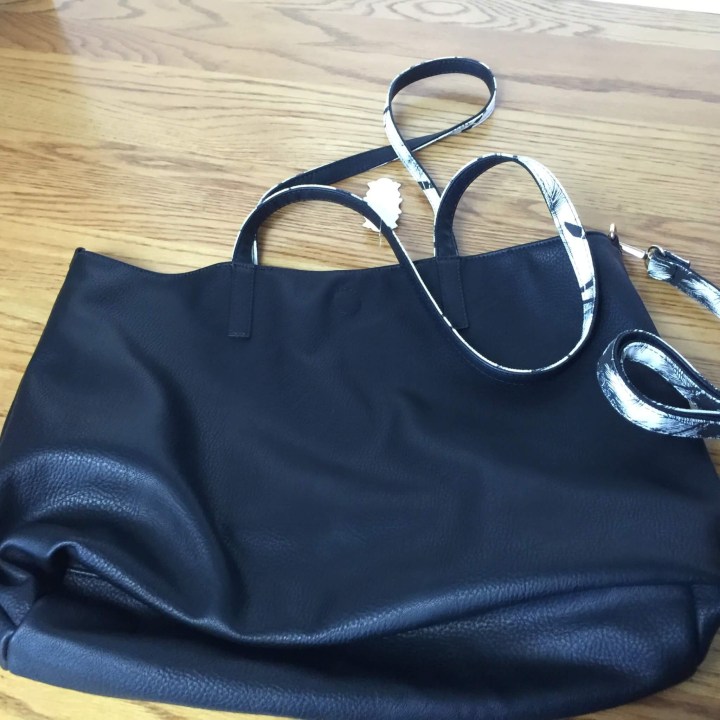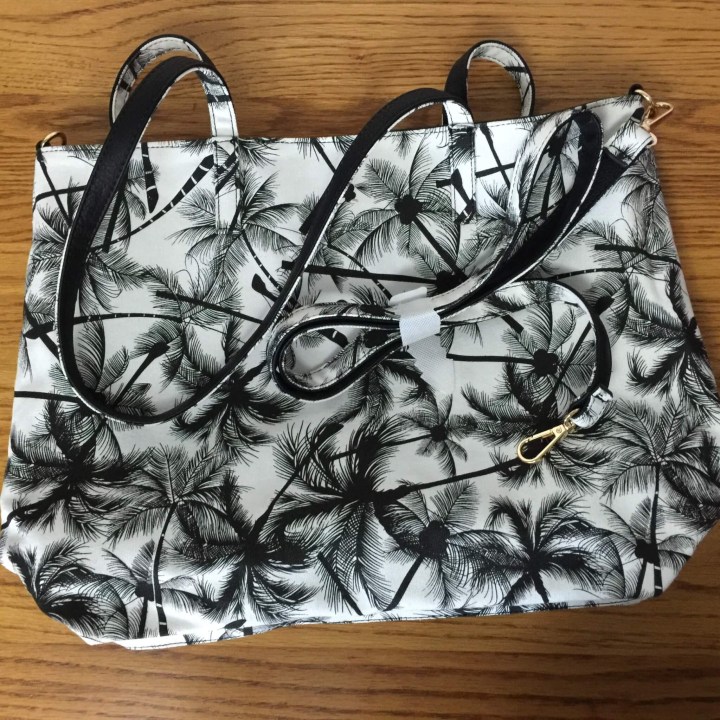 The adorable large reversible tote bag is great for traveling or if you are like me carrying all my stuff  plus my family's things as well. I love that the black side has a  basic leather look that will look great with everything and the fun monochromatic palm trees adds a little funk. I do wish there were a pocket on either side for the small stuff but that's alright because I can adjust the strap length. Having a removable long strap is also great to help complete any style.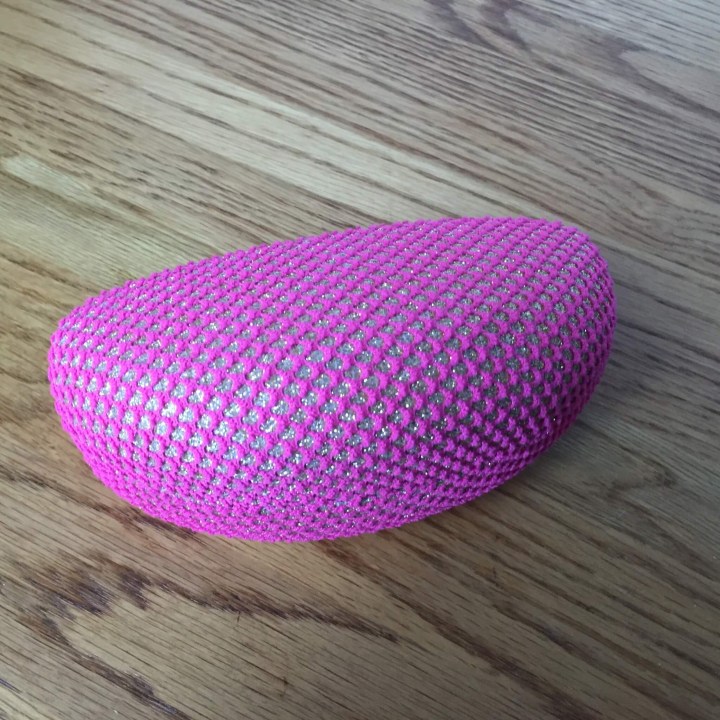 Pink and gold hard case glasses holder is giant, which is great because all my glasses will fit no matter what brand.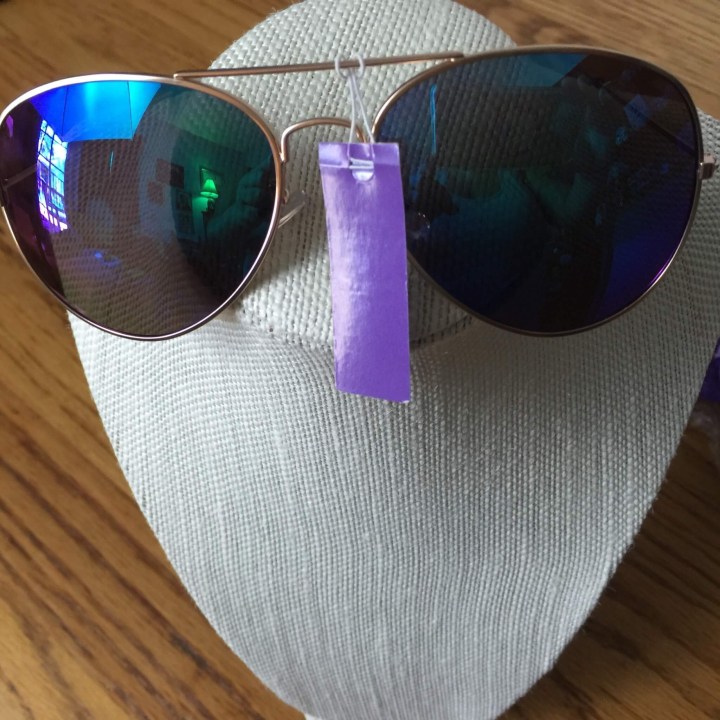 Aviator sunglasses are super trendy and these ones are no different. I love the look of these sunglasses but they shape was not made for my face. I like that these glasses are simple and will not take away from other style choices but still look great.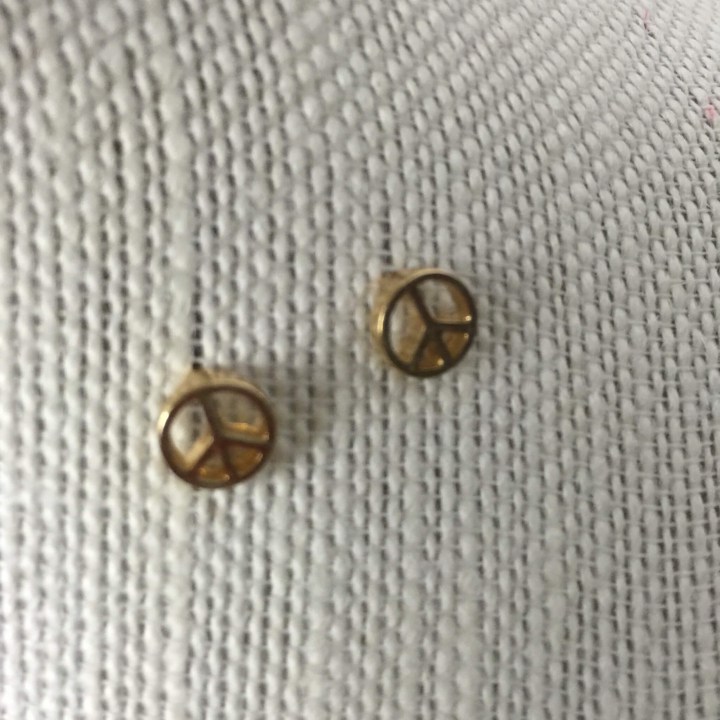 Peace sign earrings give way to the relaxed feel of summer. I tend to stick with wild earrings but like the simplicity in the flat gold is spectacular. These earrings make me smile just thinking about them.
Gold balls on posts are classic and always in style. Not really my cup of tea but they will compliment the other earrings when I wear them together.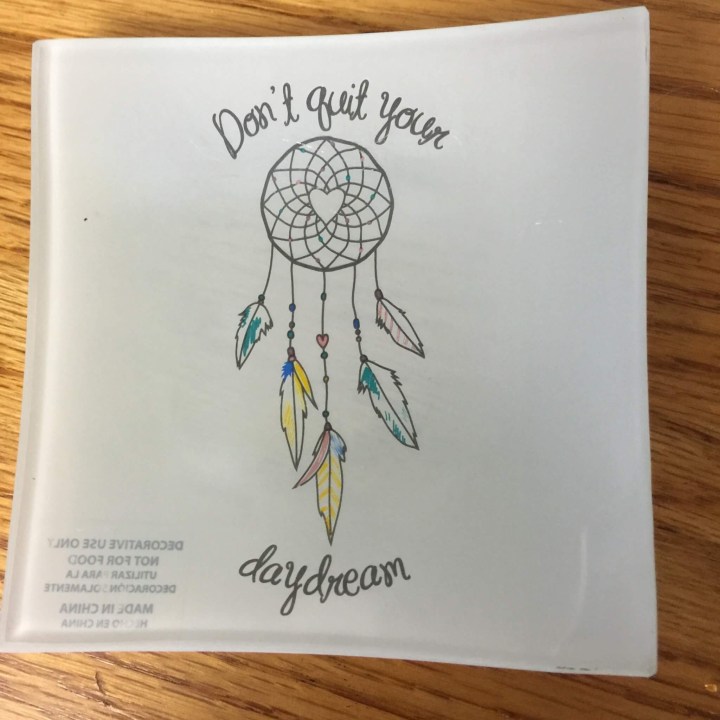 "Don't Quit Your daydream" quoted ring holder. I am in love with this piece for so many reasons. First my oldest niece loves dream catchers and this reminds me of her. Second it will look way better on the bathroom sink at night with my rings than the Rubbermaid container. I also really like the quote, I think it's something nice to remind yourself of everyday and I'm all about positive affirmations.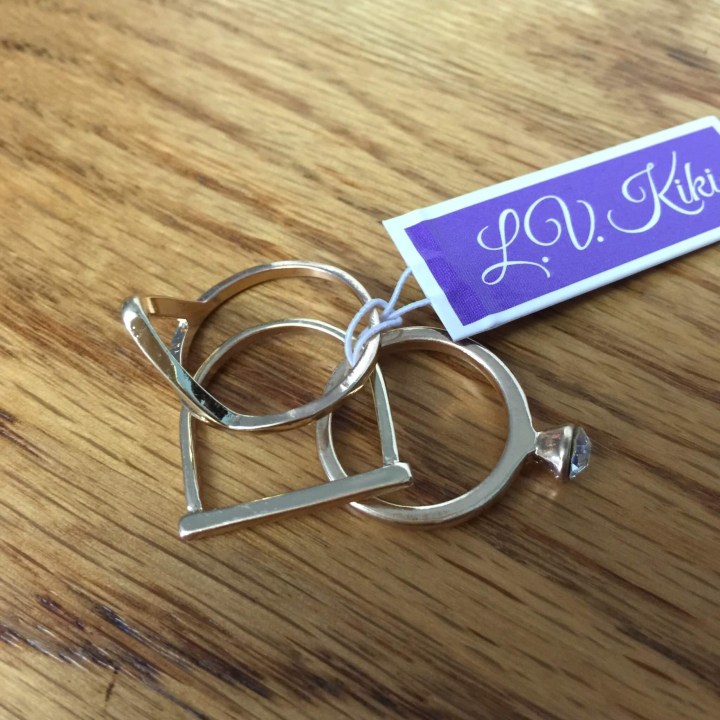 The ring trio in a straight line, triangle and solitaire cubic zirconia are very unique. My only complaint is that the cubic zirconia ring is just a tad smaller than the other two. I do like the versatility of this trio and that there are many looks that can be achieved by stacking them this way or that.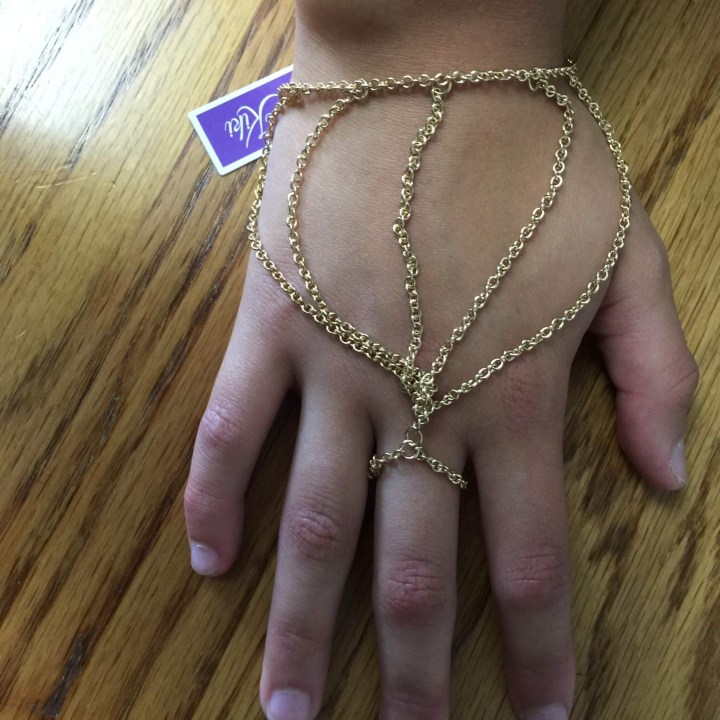 Funky gold chain bracelet/ring. I'm not going to lie this took me a few minutes to figure out but once I did I saw just how neat it is. It's kind of a two person job to get it on and settled just so but it was worth it. My daughter immediately fell in love with this one and has claimed it as her own.
The snake skin printed headband is so soft that I'm not sure it will stay in my hair. I have not used it yet but that is my fear and I'm afraid I might lose it.
L.V. Kiki just gets better each month. I'm so happy with all the products I've received and have found a way to make each accessory fit my style and even the pieces I'm not madly in love with have made a debut. The value in this box exceeds my expectations and the styles that are represented are fun, flirty and fantastic.
What do you think of L.V.Kiki?
Visit L.V.Kiki to subscribe or find out more! Save 20% on your first month! Use coupon code HELLOTAKE20.
The Subscription
:
L.V.Kiki
The Description
: L.V.Kiki fills your accessory box with the most exciting fashion trends and delivers them straight to your door every month! Each carefully curated box includes 4-6 high-quality surprise seasonal accessories to ensure that you look fashionable from head-to-toe. You will receive a combination of the latest jewelry, shoes, scarves, gloves, hats, legwear, belts, and hair accessories.
The Price
: $19.00 per month