Scentbird For Men is a monthy cologne and eau de parfum subscription.  Each month, you get a thirty day supply of your chosen cologne, plus a new sprayer.  When you join you fill out a profile – including three of your favorite designer fragrances – then you make a wishlist of colognes you'd like to try.  Your first month includes a case to hold your current cologne sprayer.  You can add extra cases to an existing subscription for $12.95.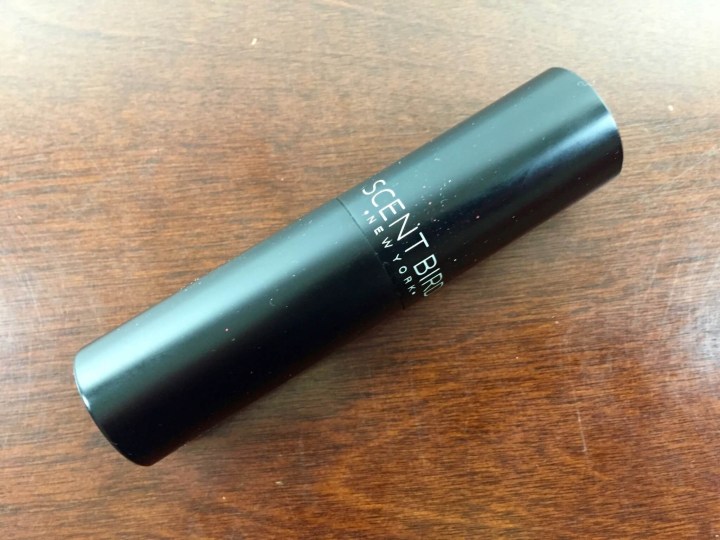 Your first month will include a little cologne vial case and velvet holder.  The case looks nice and is great for protecting your cologne when tossed in a gym bag or dopp kit.  You just twist it to spray.
Scentbird decants the cologne from the manufacturer's bottle to a little glass vial with a 8 ml sprayer.  The colognes are 100% authentic, but the repackaging and single-month portioning saves you a ton on the price over the full bottle.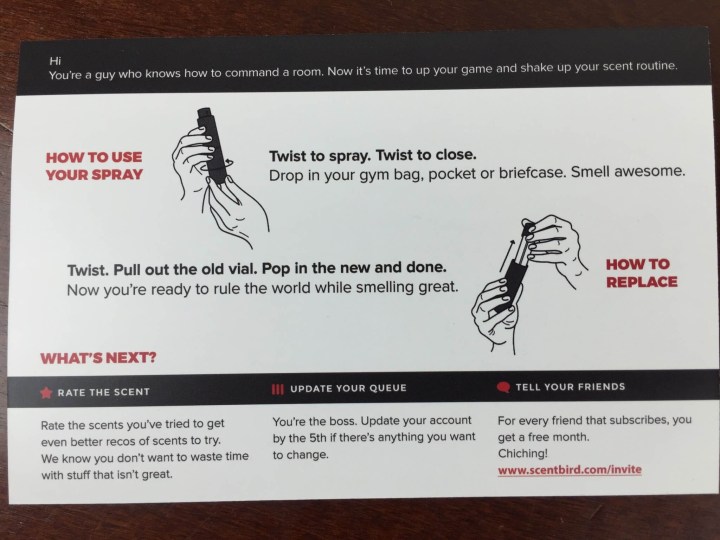 A card comes with the vial demonstrating use.  Unlike in the women's subscription, the Men's instructions do not leverage a lipstick case analogy to describe the function of the sprayer.
A card teases next month's featured scent… (MALIN + GOETZ) Bergamot! This is a unisex scent.
Calvin Klein Eternity Aqua for Men EDT:  This is a scent that is commercially popular, but doesn't really speak to me.  It opens with a citrus blend, lots of greenness, and some watery cucumber notes.  It then becomes more floral, adding lavender and plum to the accord.  Finally, it develops a sweet woodiness.  It is at once green, aquatic, woody, and sweet.  Particularly when first applied, it has a piercing quality — to me this is a hallmark of CK and some of the fragrances from design houses — It announces itself as a perfume.  While this quality may aid the sillage and appeal to some, it literally makes me sneeze, and it makes it more difficult to appreciate the underlying notes.  Over time, the fragrance mellows, and the piercing quality largely yields to some previously hidden spicy notes, becoming more palatable.   I'm glad I tried this one through Scentbird and not by purchasing a full size container.
I like that I can queue up the fragrances that interest me, and I can preview the composition and profile of each to see if it matches my tastes.  Each bottle has a ton of fragrance, and they are the real deal from the best designers, so you can try their newer offerings or revisit popular classics. FYI – there is no gender divide with this subscription – ladies can add men's fragrances and vice versa, and you can share if you'd like, or get a second subscription if you find it impossible.
Visit ScentBird Men to subscribe or find out more.  Get your second month free when you use this link!