Level Up is a monthly subscription from Loot Crate with exclusive geek and gamer premium wearable accessories themed along with the current Loot Crate theme. You can purchase Level Up separately from Loot Crate – and the wearable items (the shirts/hats/etc) are available in ladies' sizes, but not the socks. The complete spoilers for April are shown in this review! Be sure to see the Level Up Reviews for reviews of each subscription!
There are now four options:
Socks: 2 pairs of themed socks for $9.99
Shirt: 1 shirt for $8.99
Loot for Her: 1 or 2 fashion accessories for lady looters (hairbow, cosmetics, jewelry) for $14.99
Wearable: 1 wearable item like a premium shirt or hat for $14.99
You can also bundle the wearable + socks for $20.99 or the Ladies' accessories and shirt for $19.99! See our Level Up reviews for photos of the other subscriptions!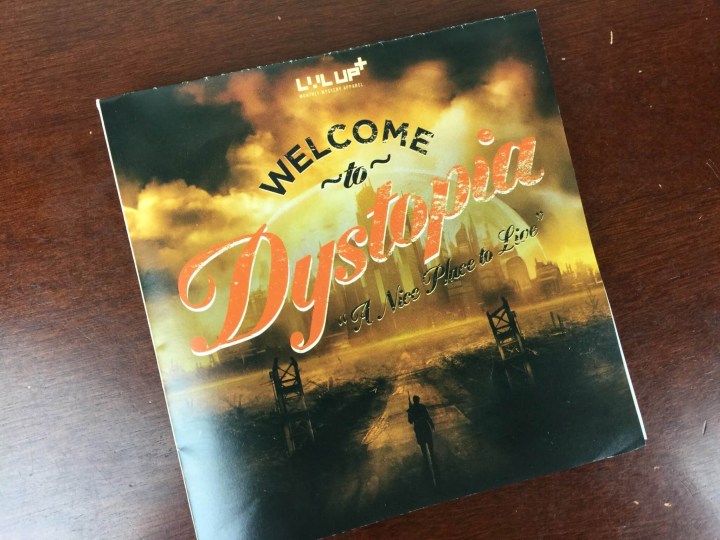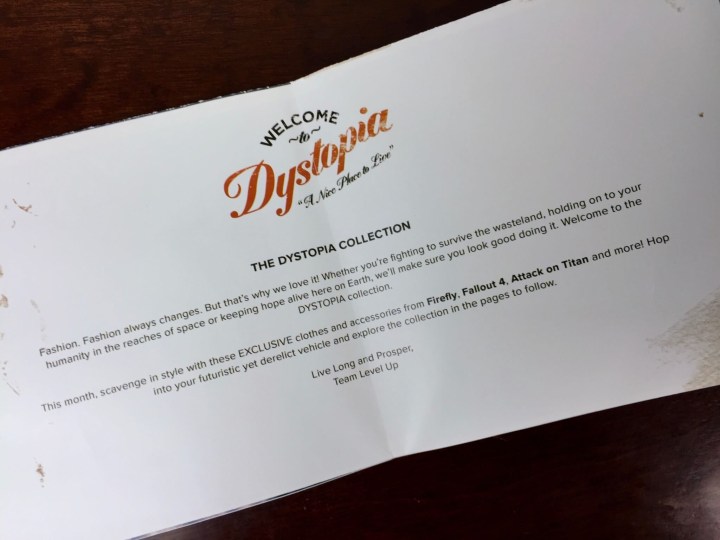 Level Up comes with an entire booklet showing every item for the month. The Loot Crate theme for June was Dystopia!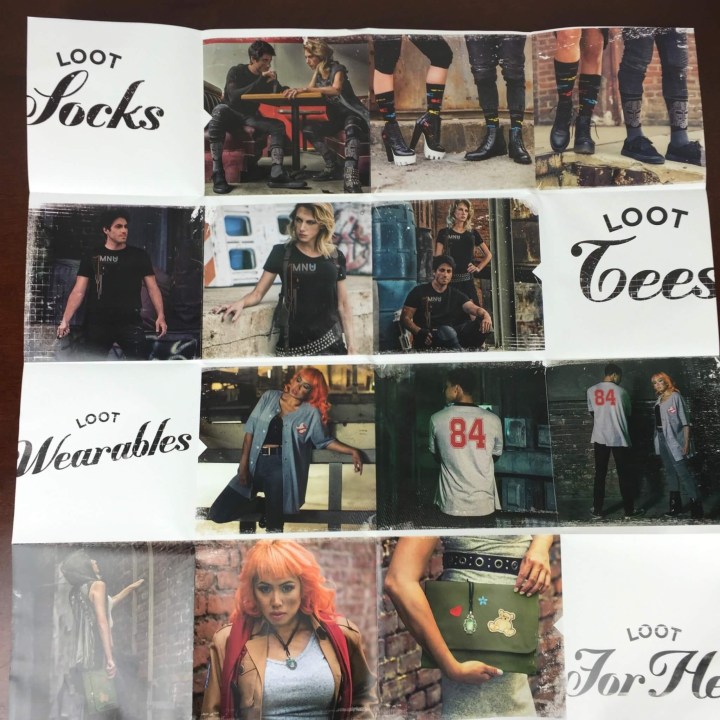 Level Up invites subscribers to unlock this month's quest in the new "Experience" part of their website. This is quite a bit for them to take on, and stuff like the magazine hasn't been updated yet.
All the geekery this month!
A closer look at this month's Loot for Her.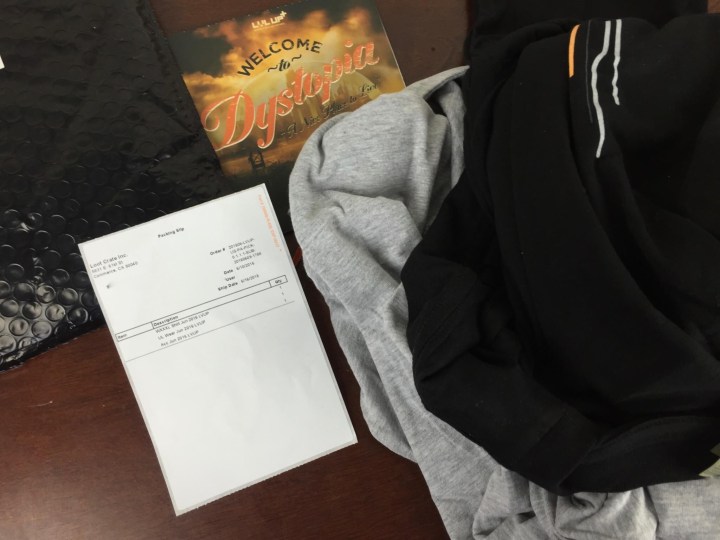 Everything in the Loot For Her + Shirt Women's Bundle. I get the wearable but you can see our review of it here. Do you notice something is missing?
No Loot for Her. They didn't include either item. They have promised to send them to me. Yay.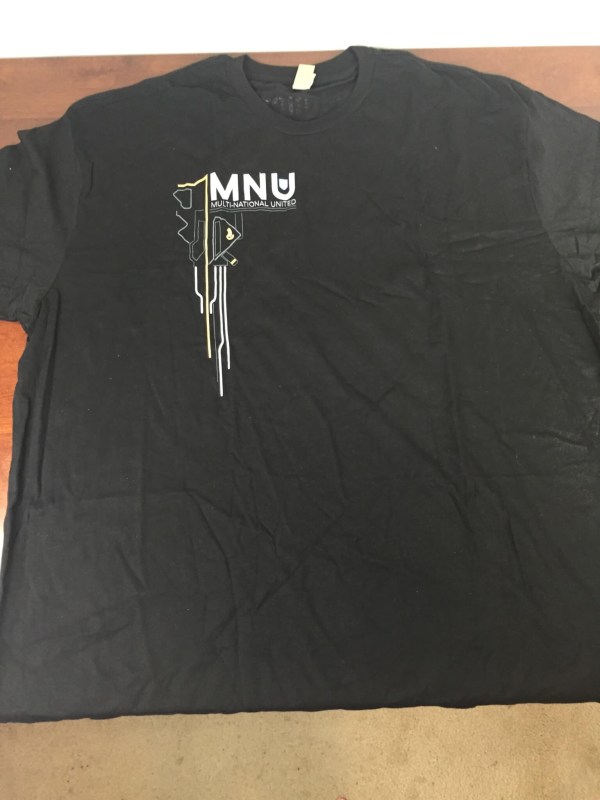 Loot Tees Exclusive District 9 Multi-National United T-Shirt: I never show the carpet. But I had to, because this shirt is so big it actually extended past my review table.
The shirt is SEVEN INCHES longer than last mo th and TWELVE INCHES wider. (I put white things under the top shirt so you can see the size difference). Loot Crate needs to get their shit together over the sizing of these clothes. (Oh yeah my women's XL wearable – came in men's/unisex XL. Good thing my husband likes it!).
FYI – the last time this happened we assumed that we just got a men's shirt, but they switched for that month to a manufacturer with the proper sizing. Had I switched my shirt size my battlecat shirt would have been too small. I am at a total loss why they can't figure out this size difference is NOT OKAY.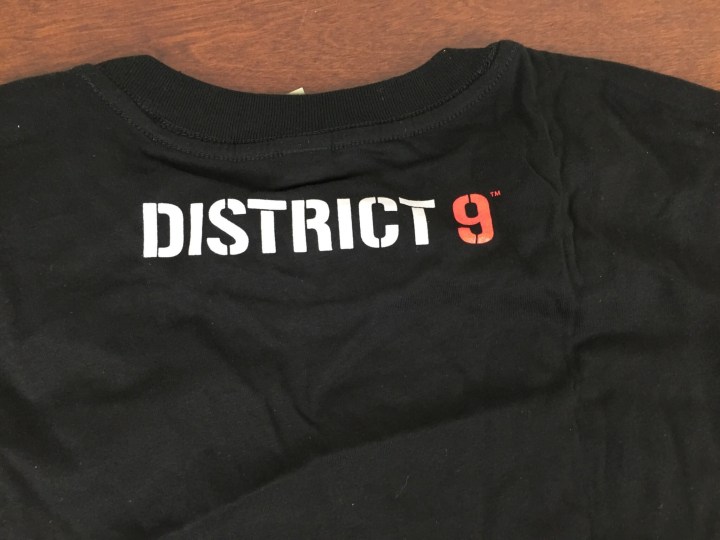 It says District 9 on the back. And it's huge. It's huge even on my husband. This is a big shirt!
This month was a total fail for me (Dystopia levels!?) but my husband made out like a bandit. I am hoping next month will be better (and I like the July theme a lot better too!).
Visit Level Up at Loot Crate if you'd like to subscribe or find out more. Save 15% on Loot Wear subscriptions when you use this link and coupon code HELLOSUBSCRIPTION15. [Does not apply to Wizardry Wear] Get $3 off your first month with coupon code SAVE3. [Not valid on Undies]
The Subscription
: 
Level Up from Loot Crate
The Description
: Level Up is a set of four premium apparel subscriptions from Loot Crate. Themed along with the regular monthly crate, get socks, a shirt, ladies' accessories, or a premium wearable item.
The Price
: Starts at $8.99 per month