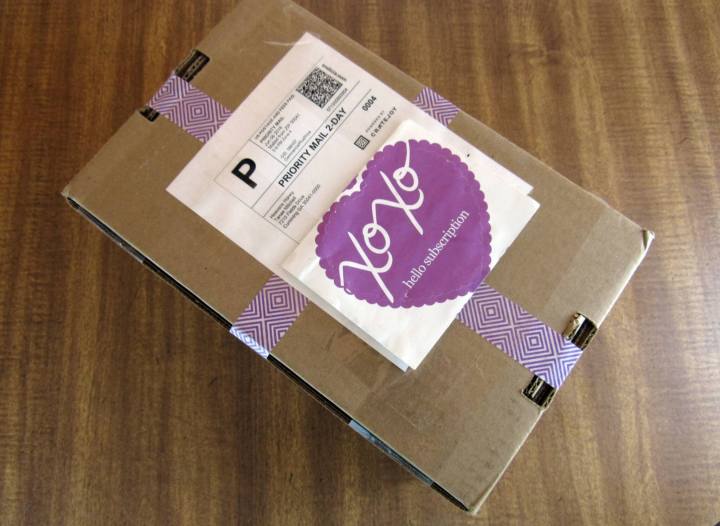 Heaven's Honey is a fairly new subscription box that features one artisan body care brand a month. The products will be all natural, chemical-free, and cruelty-free. 5-8 products will be showcased each month. As Heaven's Honey explains, " Examples of natural body care items that can be featured are body butters, soaps, lotion, face scrubs, face moisturizers, deodorant, toothpaste, body scrubs, face parfaits, eye creams or parfaits, body wash, bath bombs etc." All items will be chemical, toxin, phthalates, sulfate, pesticide, herbicide and gmo-free. Time to indulge in luxurious, natural body care products!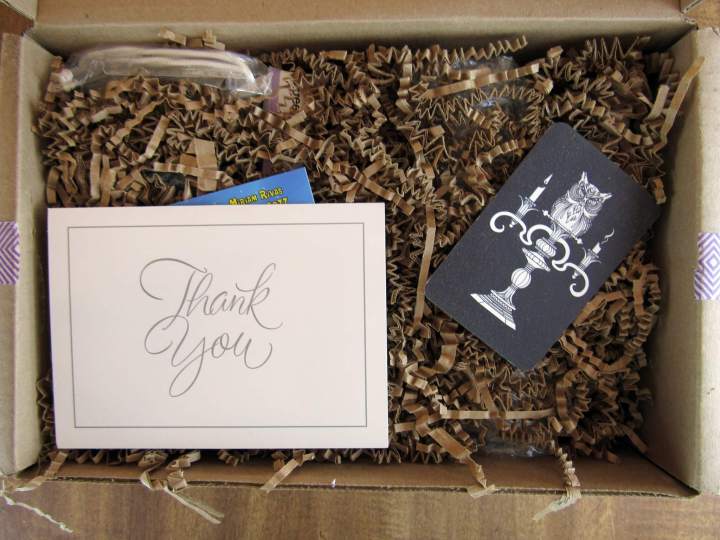 Everything arrived intact and was protected by squiggles, paper, and bubble wrap.
There are two featured product lines in the June 2016 Heaven's Honey Box. It looks like we will be enjoying bath and facial items this month!
Daffodil Gems Soap is made in small batches in Los Angeles, California. It has no synthetic or chemicals additives. Miriam, the owner, is a one woman show who also makes gorgeous soaps for special events.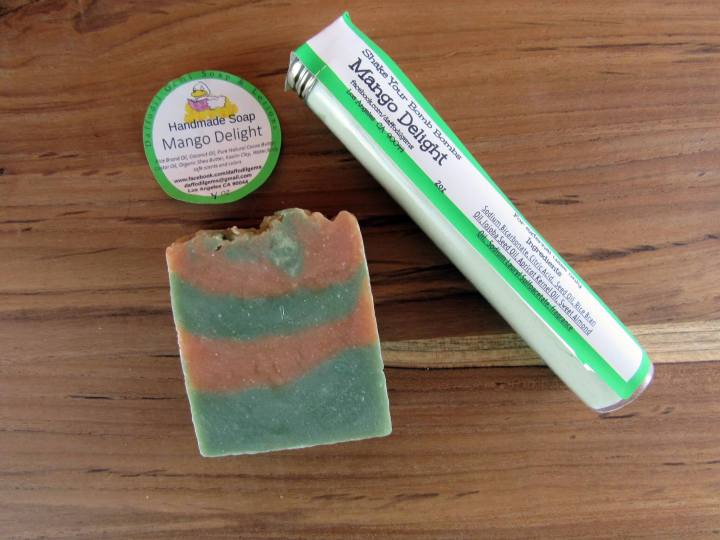 The Handmade Soap Mango Delight (4oz, $6.50) with the swirls. The soap is moisturizing due to the cocoa butter and organic shea butter in it. The soap reminds me of summer with it slightly berry scent. The scent is mango, raspberry and lemon curd blended together.  I love the name, Shake Your Bombs Bombs! The Mango Delight Shake Your Bomb Bombs (2 oz, $3.50-$7.00?) is filled to the tippy top with wonderful Bath Bomb Bombs goodness. It is in a plastic container with an easy to remove cap. It smells as good as the Mango Delight soap. Tap a little bit into your bath and enjoy.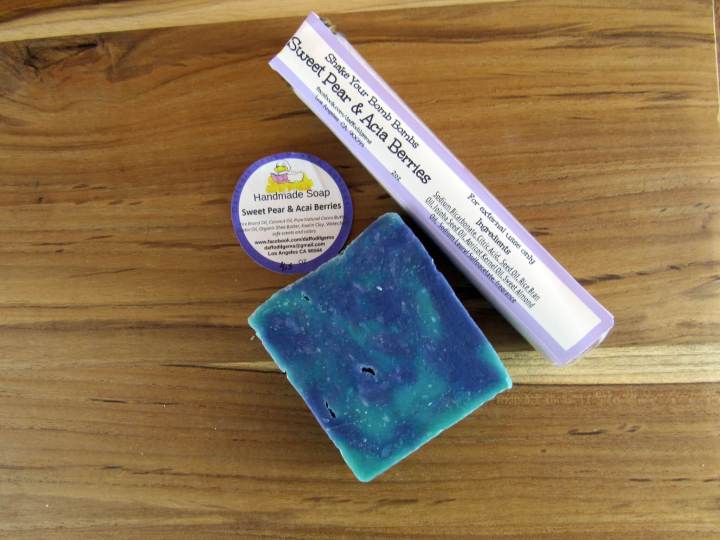 The Sweet Pear & Acai Berries Handmade Soap  (4.5 oz, $6.50) has a distinct pear scent. It lathered up quickly and felt moisturizing. Both soaps have rice brand oil as the first ingredient which also marks the first time I have seen it as a soap ingredient. Coconut oil is the second ingredient. I love the soap colors! The Sweet Pear & Acai Berries Shake Your Bonb Bombs (2 oz, $3.50-$7.00?) is filled all the way to the top and is packaged in a plastic tube. The lavender color is pretty.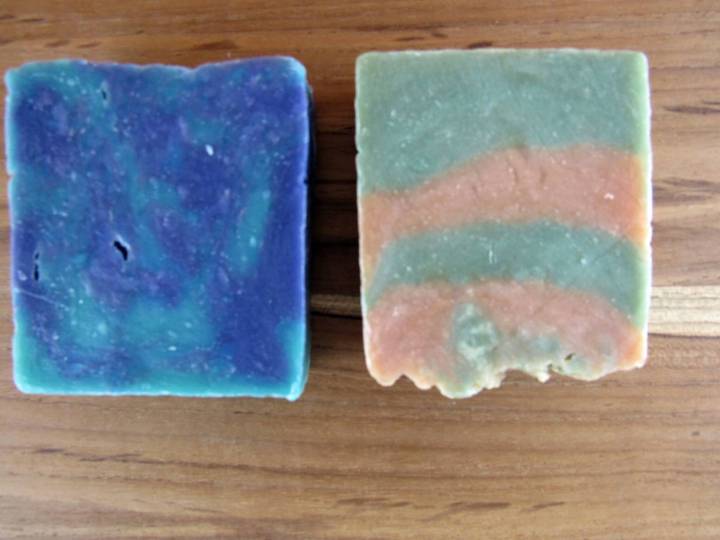 One more look at the soaps. I had to guess at the soap price because there was no weight listed on the website. I am glad it is listed on the soap packages that I received because I hate guessing at the weight! The artisan makes beautiful soaps for special occasions. I love the intricate flower soaps.
I also had to guess at the price for the Shake Your Bomb Bombs. They are labeled as 2 ounces. The ones on the website are not labeled which means I do not know if the price is for 2 ounces, 4 ounces, etc. I do detest in guessing at artisan prices because there are variables that influence the price being charged that larger companies do not experience. I do not want to assign the wrong value to someone's work by accident. This can be rectified by including an information card with prices!
The Mesh Soap Saver Bag (appx $1.50) is an excellent inclusion and one that I wish was included in more subscription boxes.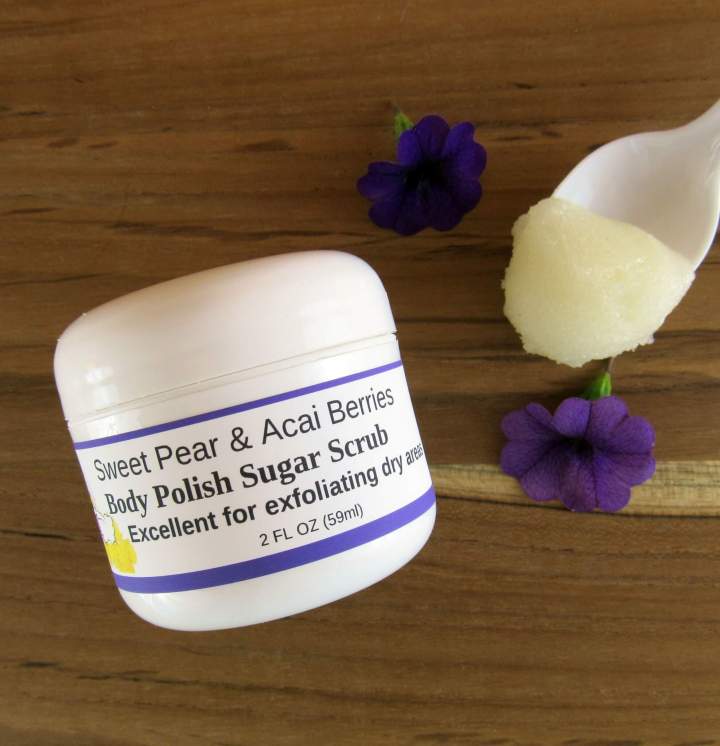 The Sweet Pear & Acai Berries Body Polish Sugar Scrub (2 oz, $10.00) has a juicy pear scent to it. It is moisturizing and melts onto my skin. A couple of ingredients that caught my eye were the Extra Virgin Olive oil and raw shea butter. This type of scrub is my favorite. It has lots of oils that soak into the skin.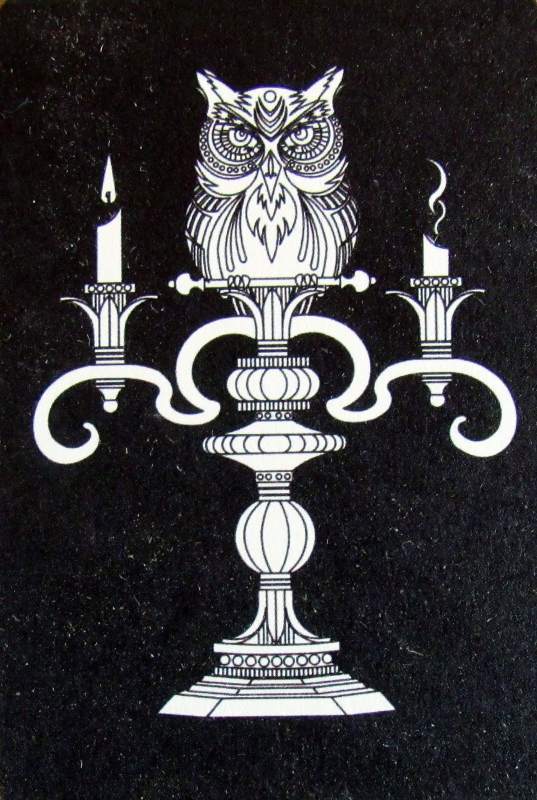 Noctua-Diem's business card made me curious about the company. It is a certified cruelty-free, nighttime holistic skin care company. It is made in small batches in Queen, NY. John Vega, the owner, is a Licensed Massage Therapist and Certified Natural Health Professional. He created the line based on the concept that our skin restores itself at night. Sounds good to me! All items came in a glass bottle.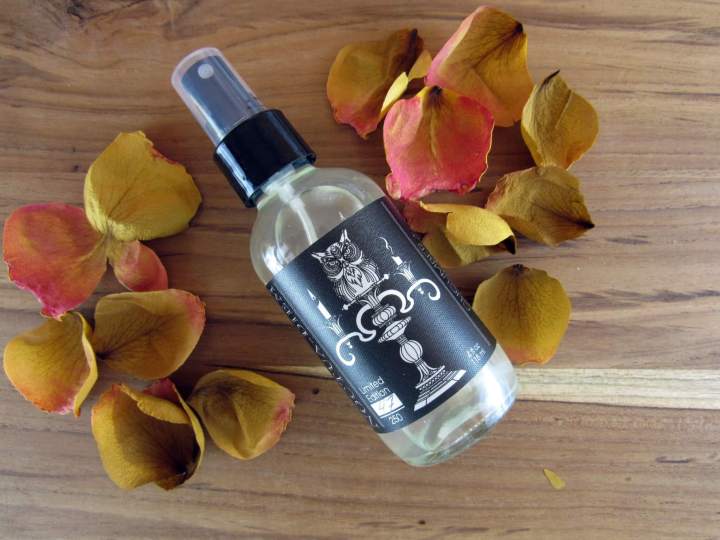 I am packing the Cucumber & Aloe Vera Face Mist (4oz, $20.00) with me on our vacation. It has a delightful spa scent and feels refreshing on the skin. It will soothe the skin after being out in the sun. I based the price on other face mists.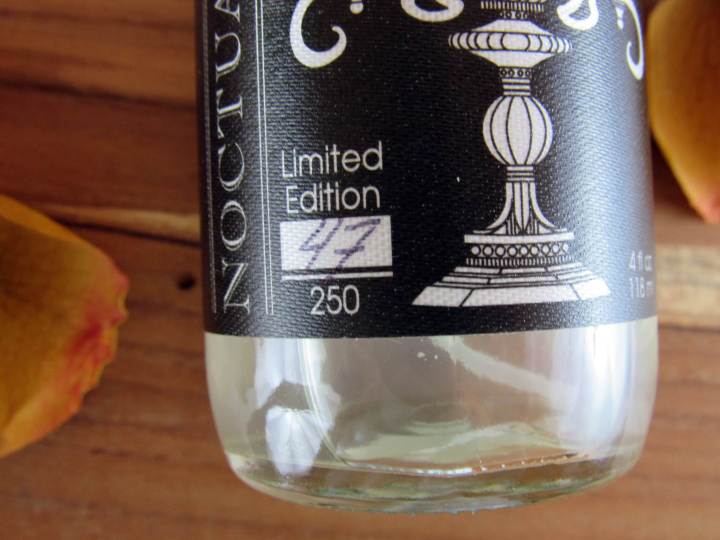 I think this is the first time I received a numbered limited edition beauty item. I like how it fits in with the label. It's easy to use. Mist on the face to tone or refresh. It can also be used on the body to soothe.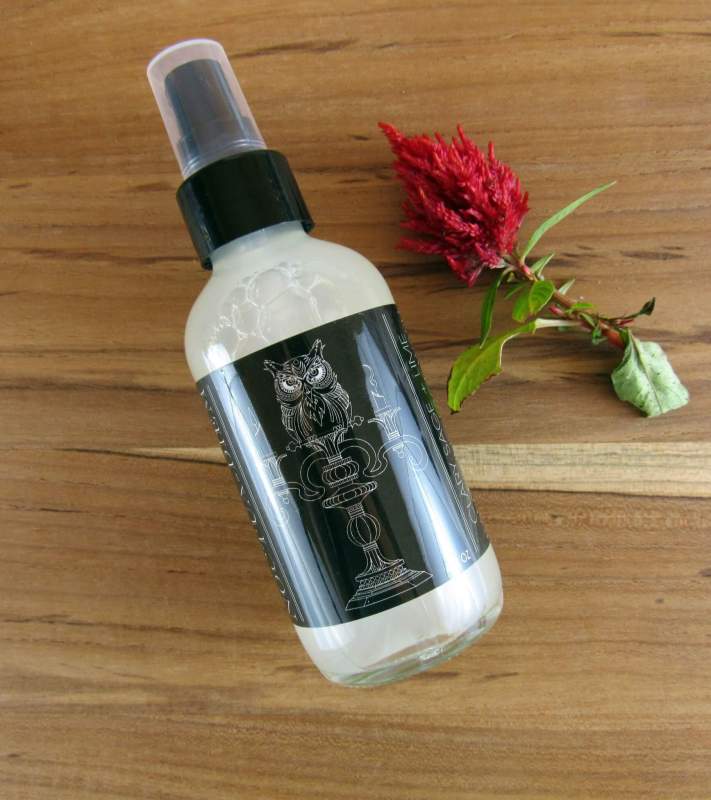 The Clary Sage & Lime Balancing Face Wash (4 oz, $20.00) made my skin feel clean and refreshing. I can't explain it. It feels as though every pore is clean. Clary Sage is a great anti-inflammatory oil. Lime helps clean and purify the skin. I am torn on the face wash. It is excellent for acne sufferers. Lime oil on the face is generally a rosacea no-no. I am going to give it a try for a week and see what happens.
I tried the Geranium + Palmarosa Balancing Serum (1 oz, $20.00) on my face and ended up wiping it off because of the floral scent. It does smell like geraniums!  I do use it on my neck, decolletage, and the back of my hands because it has anti-aging properties. The oil feels rich and luxurious.
Heaven's Honey offered an amazing variety of items in the June box. I love exploring new body and skincare products. Daffodil Gems and Noctua Diem are two wonderful small companies that love what they are doing and making excellent products. I will be using everything and have my fingers crossed that the facial wash works out for me. I calculated the value to be over $90.00 which is amazing for a subscription box featuring artisan companies.  Overall, the variety is great, the ingredients are excellent,  and the selection reflects upon Heaven's Honey mission of wanting to provide an array of natural body products!
What did you think of Heaven's Honey? Save 15% on your first box with coupon code HELLOSUBSCRIPTION.
Visit Heaven's Honey Box to subscribe or find out more!
The Subscription
:
Heaven's Honey Box
The Description
: Heaven's Honey is a luxury subscription service that delivers an enticing package of natural body care products. Discover a wide variety of Artisan companies who offer quality products and uncover the benefits these products provide.Every month subscribers receive 5-8 quality, full/value size natural body care products. 1-2 Artisan companies will be featured every month and will create a package that they feel our subscribers will love. All products will be toxin and chemical free the way your body prefers it.
The Price
: $49.95 per month