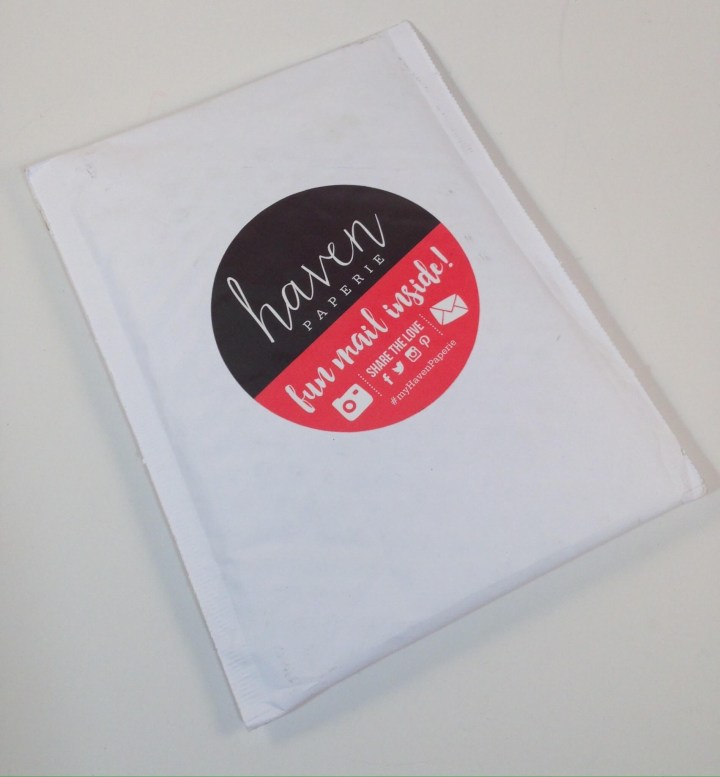 Haven Paperie is a monthly stationery subscription that sends 3-5 cards a month plus the stamps and envelopes needed to send those cards. It is $18 a month and includes shipping. The purpose behind the subscription is to help you connect personally to those you love and to help revive letter writing as a form of communication. Sure, everyone loves getting emails and texts from friends but there is something extra special about reaching into your mailbox and seeing a hand-lettered note from someone you love!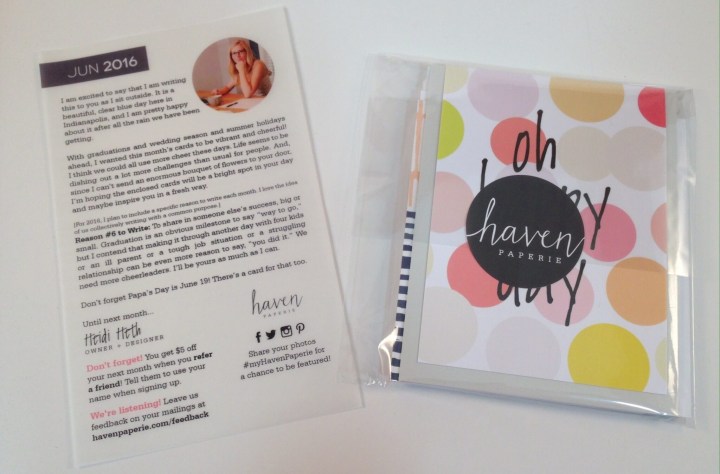 Haven Paperie prints new, original designs each month and makes enough for that month's subscribers so expect to receive your first package the month following your new subscription. They also have an Etsy shop so if you fall for a particular design you may be able to buy it online (they are also available in a select few shops; the list of shops carrying the cards is available in their FAQS).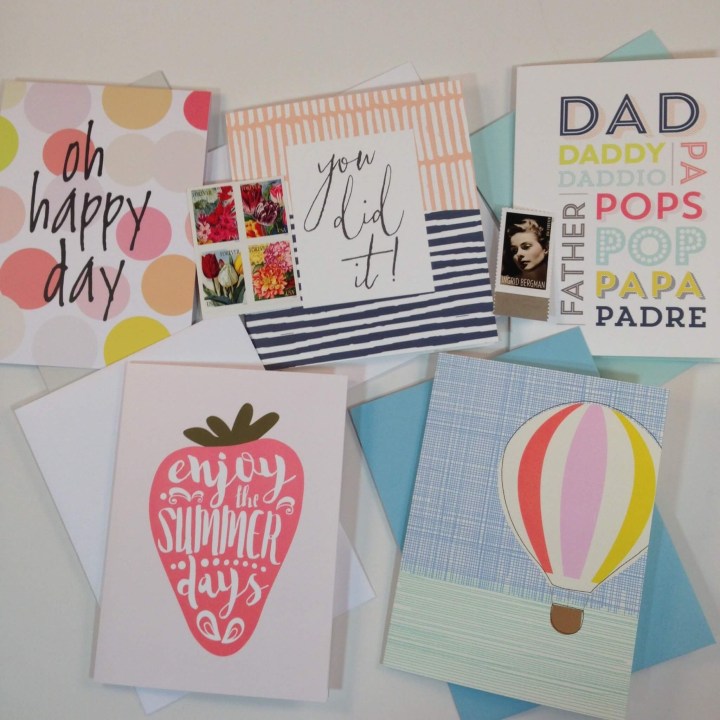 Everything in the padded envelope. The cards created for June were especially cheerful and vibrant due to all of the celebrations that take place during the month, sort of like a bouquet of cards rather than flowers.
I am on month 2 of a 2 month gift subscription. Gift subscriptions are available in 2, 3, 6, or 12 month terms.
Heidi Heth, the owner and designer of Haven Paperie, included a note with the inspiration behind the cards for the month and even provided a reason to write for the month. For June, she suggested sharing in someone else's success, either big or small. She encourages us to be each other's cheerleaders!
Oh Happy Day Card ($4.50) I love all occasion cards that can be used for multiple situations. Includes light grey envelope. Blank inside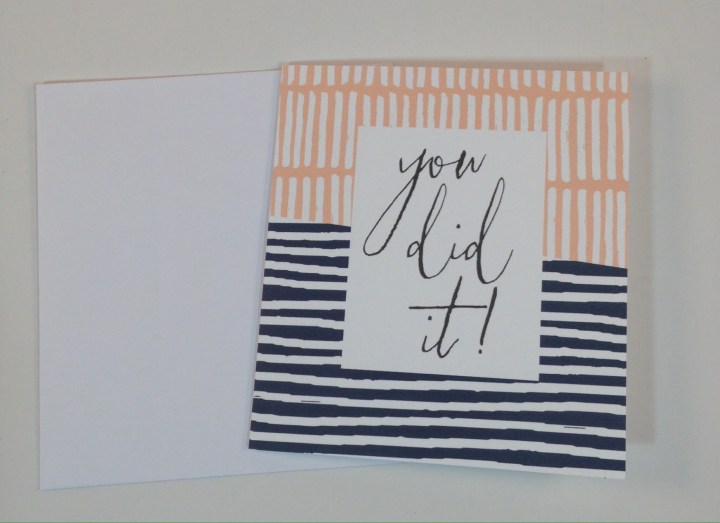 You Did It! Card ($4.50) Perfect for a graduate of any age, or in celebration of any milestone. Includes white envelope. Blank inside.
Dad Card ($4.50) Send this one for Father's Day or to a new dad. Includes pale blue envelope. Blank inside.
Enjoy the Summer Days Card ($4.50) I plan on sending this bright card to my mom just to say I am thinking of her! Includes white envelope. Blank inside.
Hot Air Balloon Card ($4.50) Pretty card to send for any occasion, perhaps to someone far away or someone about to set off on or return from a trip. Includes pale blue envelope. Blank inside.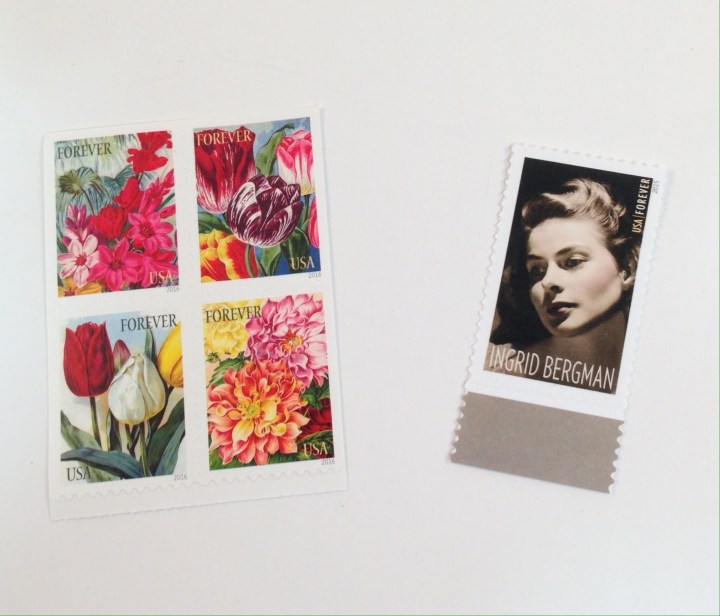 US Postage Stamps in Botanical Art and Ingrid Bergman ($2.35) Finally, there were 5 stamps that are pretty and add a special touch to the cards. I usually buy my stamps at the grocery store and they usually only carry the ones with the flag so this is an extra dose of beauty that I wouldn't have thought of myself.
I really enjoyed this month's Haven Paperie box! I never have any greeting cards around so this makes it very convenient to dash off a note or thank you when the mood hits.  The stamps also add a special touch to this sub. As for the quality, these cards are made of textured or smooth cardstock and are durable and high-quality. The envelopes are equally well-made. This is a nice way to remind yourself to keep in touch with friends or family!
Note: These items are not currently in the Etsy shop so prices are approximate but this month's shipment was worth around $25.
What do you think of this subscription?
Visit Haven Paperie to subscribe or find out more!
The Subscription
:
Haven Paperie
The Description
: Haven Paperie is a monthly stationery subscription service delivering designer cards to letter writers, stationery lovers, and paper enthusiasts. Each month receive 3-5 cars delivered right to your door.
The Price
: $18.00 per month