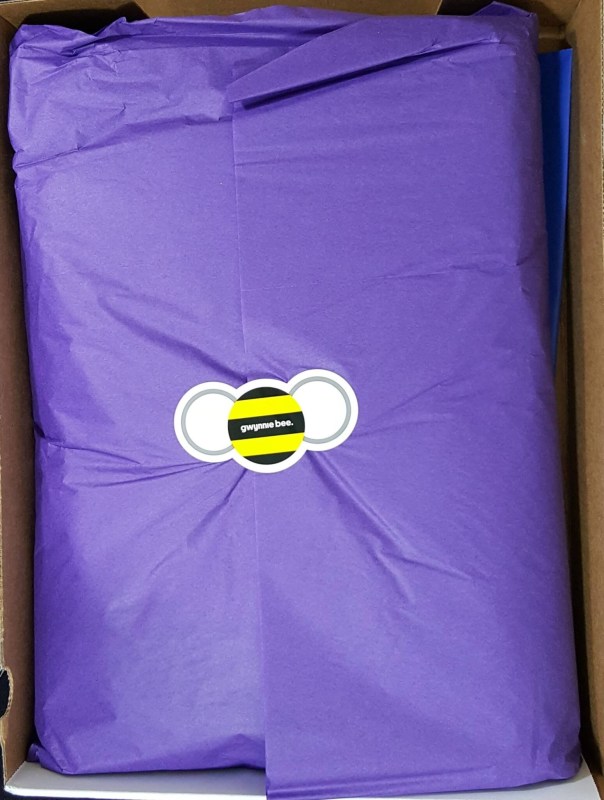 Gwynnie Bee is a clothing rental subscription service for sizes 10-32.   To start, browse through the numerous apparel pieces and add items to your closet.  After you've selected 25+ items, Gwynnie Bee will send you the first three that are available. There is also a feature that lets you prioritize items, so you can have some control over which items are more likely to arrive.  Wear for as long as you like, and then return the pieces to get more!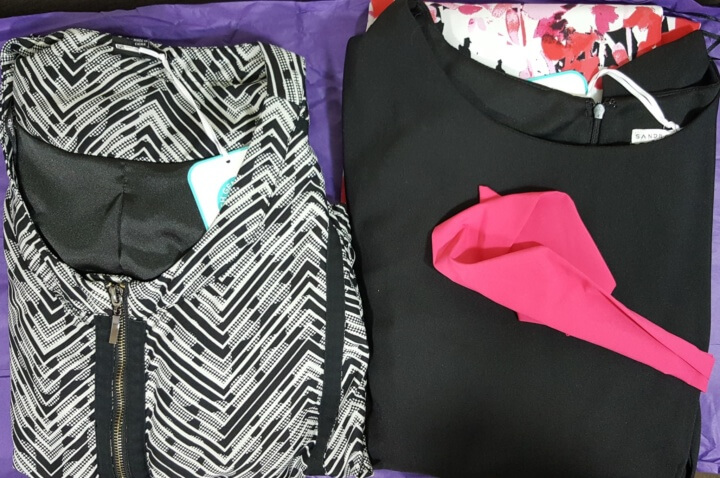 My pieces came in separate orders because I returned the items from my last order at different times.  Remember, I get to have three pieces of clothing at a time.  I missed taking a picture of the 3rd item I unpacked.
Sandra Darren Black & Pink Floral Dress with Sash (cost to buy $37.00):  Structured with princess seams, this crepe fit-and-flare dress with boat neck and cap sleeves, has slight stretch, a self-tie sash, and concealed back zip.
On the Gwynnie Bee site, this looked more coral than bright pink.  Anyway, this dress had a 4-heart rating, but the reviews were really mixed.  I liked the pattern, so I thought I'd give it a try despite some of the reviews I read.  Um, still not sure about this dress.  It wasn't horrible, but it wasn't WOW either.  I think this would look better on someone with a smaller bust (like the model pictured) because then the sash would fall closer to the waistline.  This looked more like an empire dress on me.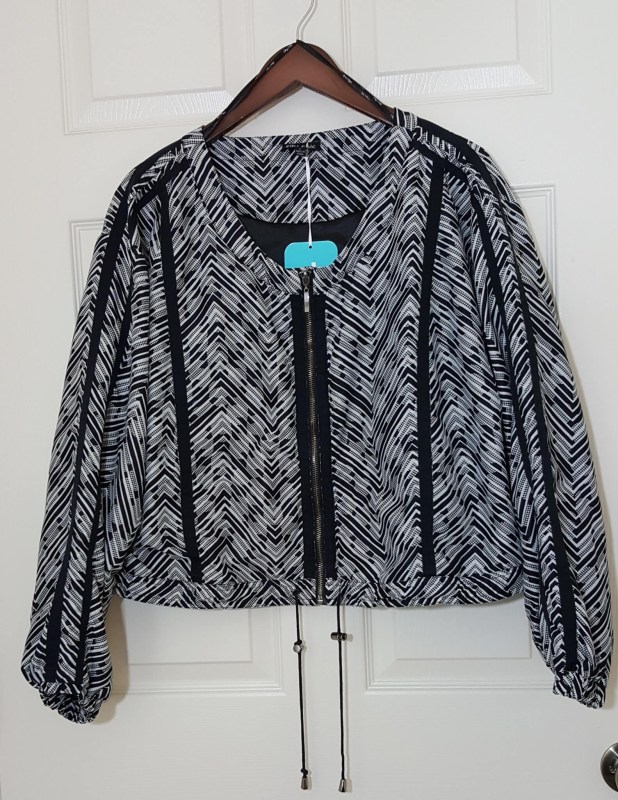 City Chic Tribal Print Bomber Jacket (cost to buy $19.00):  The ideal transitional layer, this jacket is made from a mid-weight blend and has a cute cropped fit. It's finished with an allover monochrome print, contrast color-block trim, and a waist-cinching drawing hem.
I really liked the pattern on this jacket and thought it would be good for early spring/fall because it was lighter.  On the model, this looks edgy and slightly fitted.  In reality, it wasn't fitted.  I totally got late a late 80's vibe when I put this on.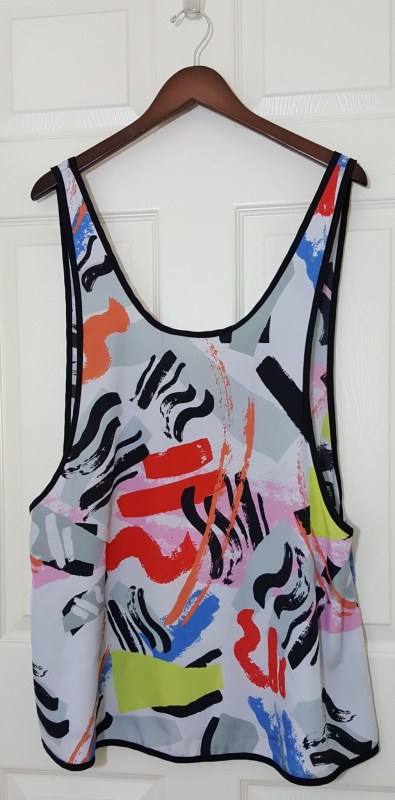 City Chic Paint Pop Top (cost to buy $13.50):  In easy, breezy chiffon, this top lends an artsy twist to weekend wear. Fashioned with of-the-moment dropped armholes and scoop back, this abstract print top features a built-in stretchy liner, making it a lovely balance of edgy yet conservative.
With the ever increasing temperatures here in Florida, this was on my list of items to be expedited.  As you can see, I did not get the "built-in stretchy liner" to wear with this. It looked like an apron and felt like one too.  I really should have paid closer attention to the reviews on this top.  Several subscribers mentioned that they didn't get the liner and noted poor fit with this top.
And here's how the pieces looked on me.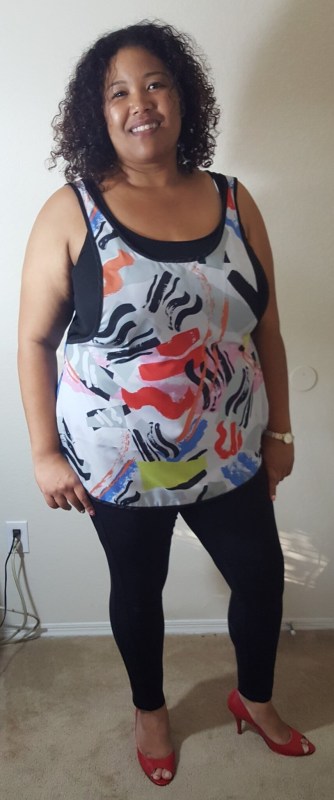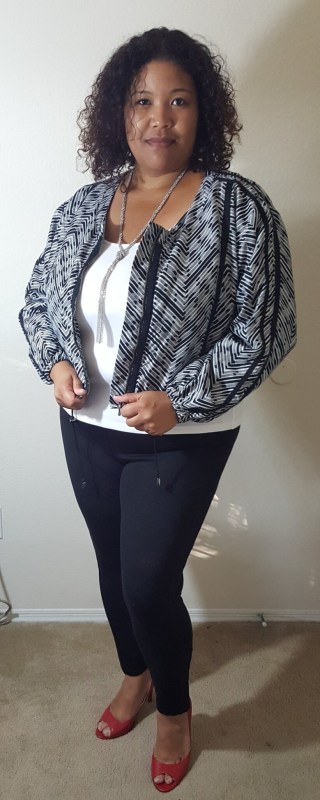 Well, I have no one to be frustrated at but myself for this month's selections.  But that's the great thing about Gwynnie Bee.  I can try out as much as I want each month (3 pieces at a time) without getting buyers' remorse.  So, if something doesn't work out, send it back and try again.  Forget having to go a store and deal with a return.  Although, I will start reading more reviews going forward.  Kind of ironic, isn't it – a reviewer who didn't read the reviews.  LOL!
Currently when you sign up for Gwynnie Bee you can get your first month for FREE, (no code needed, just use the link) which is an awesome way to just try it out and see if you love it.
Visit Gwynnie Bee to subscribe or find out more!
The Subscription
:
Gwynnie Bee
The Description
: Plus size clothing subscription rental service. Unlimited exchanges, free shipping & returns. Hot brands for curvy ladies sizes 10-32! Because this is a rental service, this is not quite a plus-size Stitch Fix. However, you can purchase the items you love, usually at a significant discount. We recommend trying it out for a month!
The Price
: $49.00 per month
The Coupon
: Currently when you
sign up for Gwynnie Bee you can get your first month for FREE
, (no coupon code needed!)
A couple things to remember (besides free laundry!):
you can mark your shipment as outgoing so your items ship out faster
you can purchase items that you love at huge discounts
use the community at Gwynnie Bee to help you select the best items for your body and the right size for that garment.
All the garments are inspected and I've never really had an issue with anything I've received in terms of condition.
 It's also worth a mention that the clothes are higher end clothes, so they all have better construction and fabric than what you might normally purchase for yourself.
The plans are as follows:

1 item/ $49 per month
2 items/ $69 per month
3 items/$95 per month
5 items/$139 per month
7 items/$179 per month
10 items/$199 per month