Groovy Lab In a Box is a hands-on, STEM education box for kids 8+.  Each Groovy Lab box comes with everything your child needs "to learn about and do hands-on science, technology, engineering, and mathematics (STEM) experiments."  Each box focuses on a particular topic and includes a handbook with a "design" challenge and a series of experiments through which to explore the topic.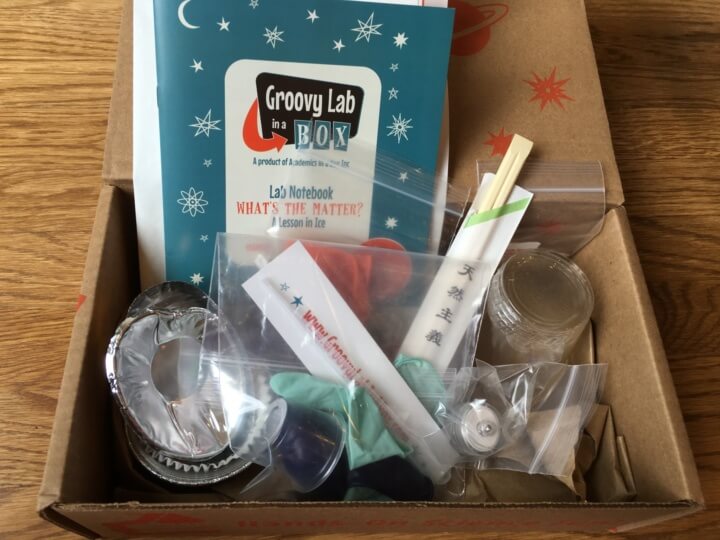 This month, the topic is "What's the Matter? A Lesson In Ice." The Lab Notebook provides some background information and all of the activities.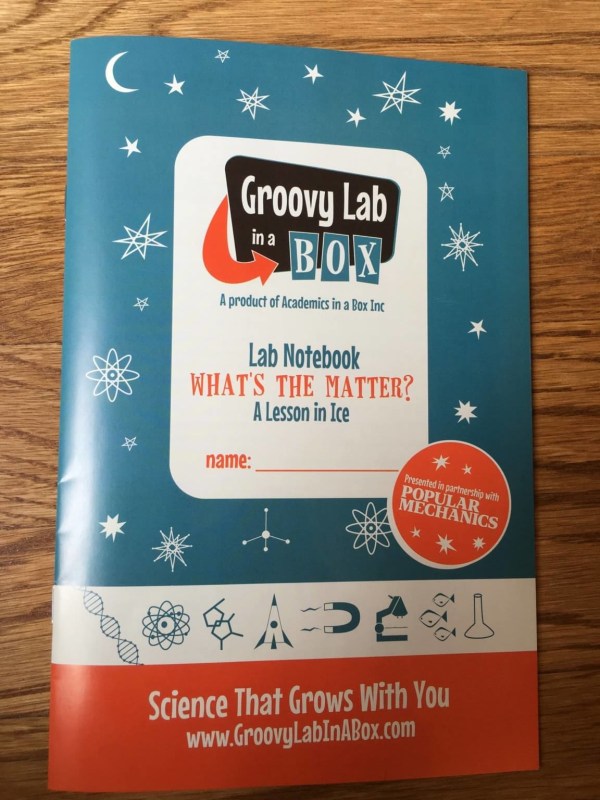 Each month's lessons stem (get it?) from an "Engineering Design Challenge," with a reminder how the design process works (design, build, test, redesign, repeat).  This month's challenge is to build an ice lantern.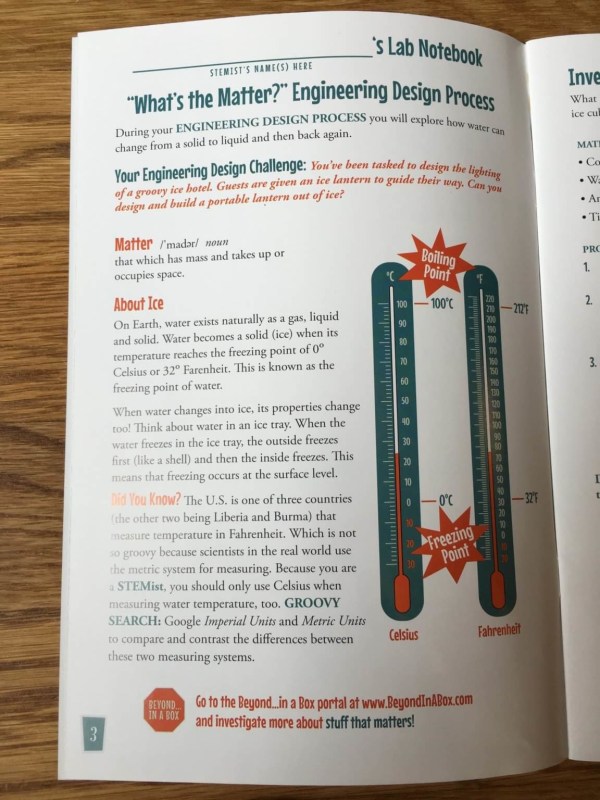 The background reading portion of the handbook is pretty short, as most of the focus is on the hands-on investigation.  It includes useful scientific reminders, like to use metric units for measurement.  The text of the handbook is crisp, age appropriate, and well-edited.  It does seem to be trying a little too hard with the "Groovy" theme–it's not just a ruler, it's a "Groovy Ruler!"  This has the potential to make kids eye-roll the whole thing.
There is a series of experiments in the guide, and each experiment should take about 45 minutes.  The entire box is supposed to take 8-12 hours to complete.
The experiments are well-designed to teach a particular principle, and they do a good job of leading the experimenter to discover the concepts on her own without spoon-feeding it.  Some of the experiments, however, have a lot of lead-in time without a ton of payoff.  For example, the ablation/slicing experiment below had pages and pages of steps, including an overly complicated and unnecessary re-engineering of the box into an experiment table.  This has the potential to frustrate.
The handbook culminates with a revisiting of the Engineering Design Challenge.  One thing I really like about the challenge is that each of the prior activities has given kids a piece of knowledge or tool for completing the challenge.  For instance, the ice lantern could be built using molds, the salt-melting technique, ablation, and ice-dyeing.  BUT this isn't just told to the kids.  They actually have to do some brainstorming and planning to come up with their solution to the challenge.  It also helpfully reminds kids that failure is a natural and necessary part of the design process.  This is a life lesson and a key to STEM.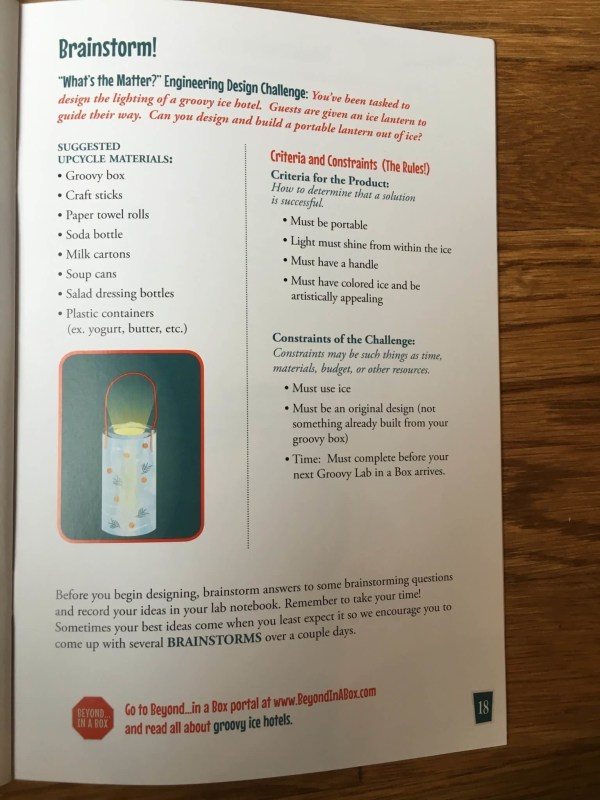 In sum, this is solid STEM box.  It is not the "fill an afternoon" kind of box that you can hand your kid and expect them to do on their own, unless you have a super-motivated child.  It would be a terrific addition to a homeschooling curriculum–you could spend a week doing the activities in this box as the science unit, and culminate with the design challenge.  There is an online portal that has extended activities and more information about the topic, which some kids will really dig into.  At slightly more than $35 a box, this is not cheap, but is a reasonably good value for a thorough investigation of a scientific topic.
Visit Groovy Lab In a Box to subscribe or find out more! Save 20% on your first box! Use coupon code GROOVYNOW20.
The Subscription
:
Groovy Lab In a Box
The Description
: Hands on science fun delivered to your door each month. Receive boxes full of everything you need to learn about and do hands on science, technology, engineering, and mathematics (STEM) experiments for ages 8+.
The Price
: $27.00