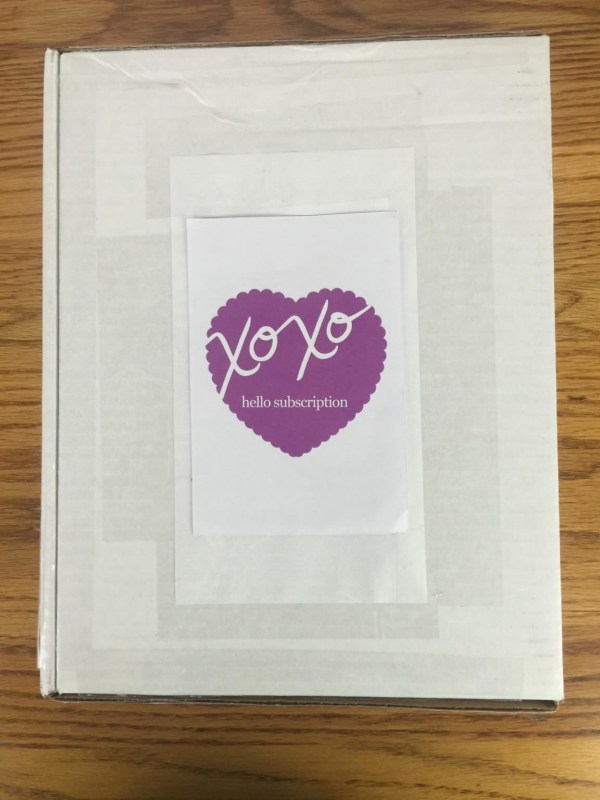 GiftLit is a subscription box service that brings you the best and most-sought books every quarter – and their subscriptions are perfect for gifting. GiftLit has tons of subscriptions available with books from multiple genre & interests, which make it perfect for book lovers of all ages.
GiftLit offers several subscription options – this is the Fierce Reads collection, which features the best new YA books and includes some pretty awesome swag!  Prices start at a 3 month subscription for $59.95.
Want the hottest and best Young Adult Books delivered each month to your door? Then you're going to love this collection. These books are just published hardcovers and the very best of the Young Adult Genre. They are Bold; they are Fiery; they are Fierce. But wait! There's more. Included with this subscription box are some amazing collectibles, perfect for the avid book lover. Shipped with your gift card you'll get a stockpile of treasures including signed book plates, posters, lip gloss and more! But the treasures in our stash are limited, so order soon for the best selection. And as with all GiftLit subscriptions, you can substitute any book in the collection for another title.
The box arrived at my door, but it was so light I couldn't imagine it would actually have a book inside. It didn't contain books but tons of cool promotional stuff.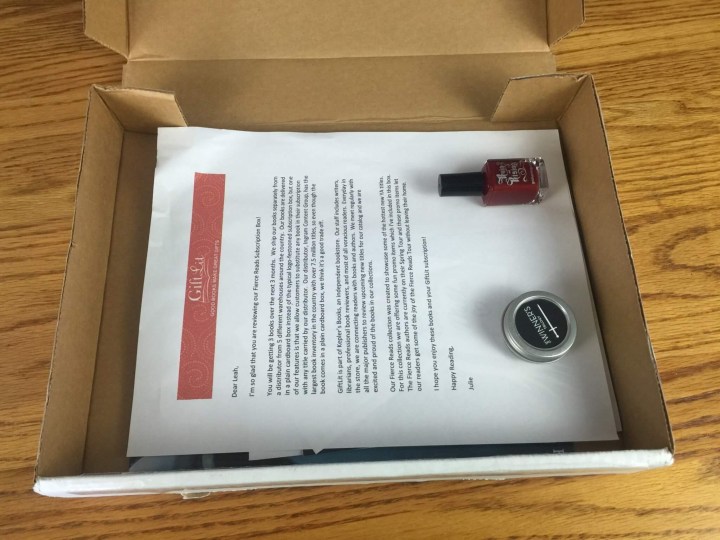 It didn't look like much but wait for it….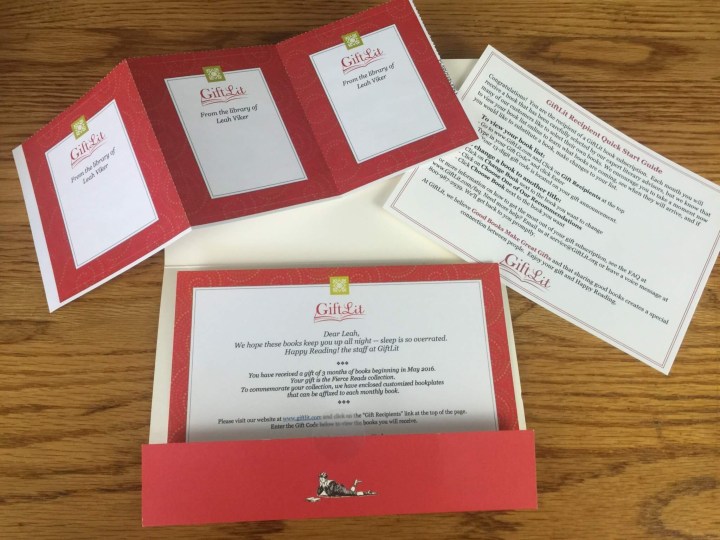 My personalized gift code (not pictured, after all it's mine), professional stickers stating that the books I adhere them to are mine with enough room that if I wanted to lend them out everyone who reads each book could sign it too. The book reader in me loves the idea of this kind of being a rite of passage for generations to come.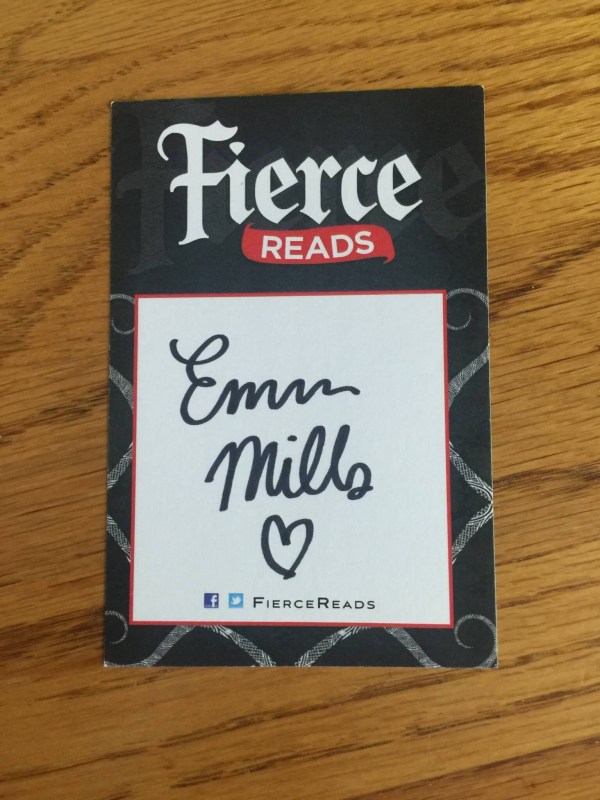 Fierce Reads social media card signed by author Emma Mills. Not only a cool reminder to stay connected via Facebook and Twitter but autographed stuff that I didn't wait in line for is always amazing.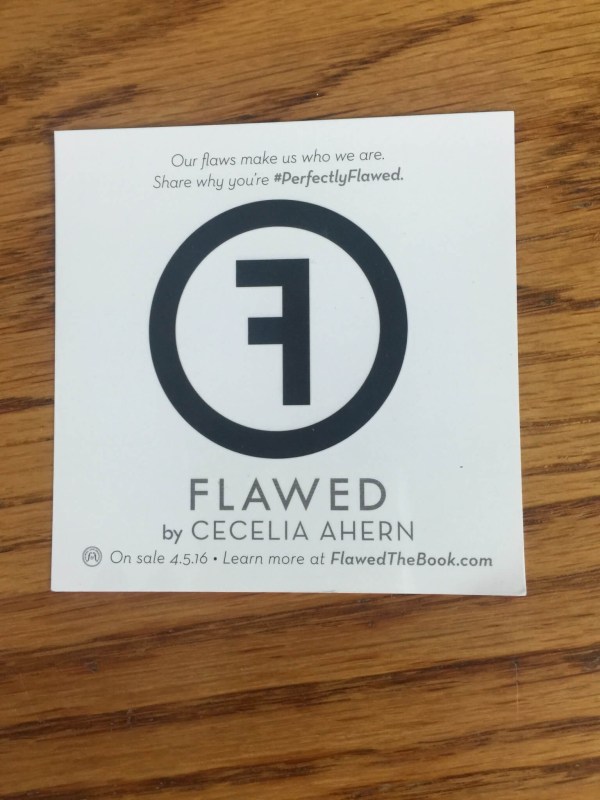 A Flawed tattoo inspired by author Cecelia Ahern. I love that the idea behind this is to share how you are flawed because no one is perfect. I'd wear it but I'm too chicken to let anyone know what makes me less than perfect.
Autographed sticker from Leigh Bardugo, author of Six of Crows. Unfortunately if it hadn't been for the Fiercereads.com website I still would not know what the signature said or what it was supposed to promote.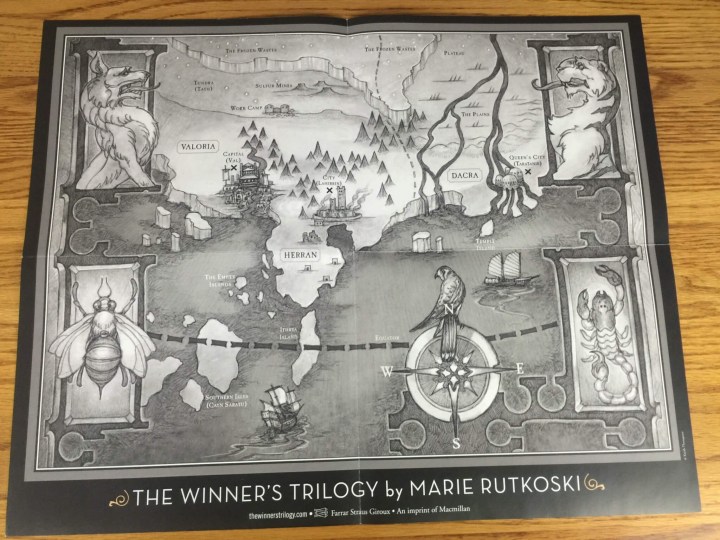 A map from the Winner's Trilogy by Marie Rutkoski. I've been looking into this series and can't wait to read it. Prison camps, spies and duels makes me think Princess Bride for young adults.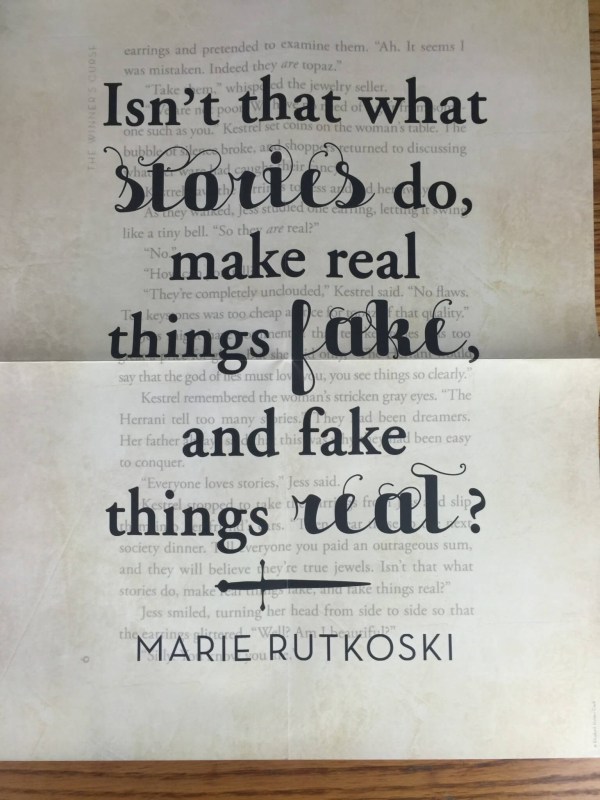 I love the quote from author Marie Rutkoski on the opposite side of the poster. I read to bring me out of the real world and this quote really spoke to me.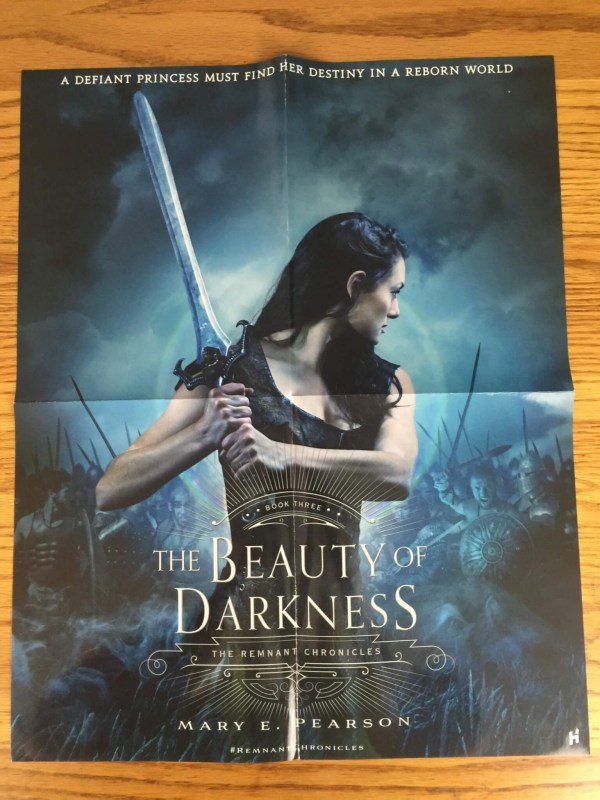 I was super excited thinking this was a poster of Wonder Woman, but its actually the cover of the third book in The Remnant Chronicles by Mary E. Pearson.  This poster alone makes me want to read the series, I love strong women characters.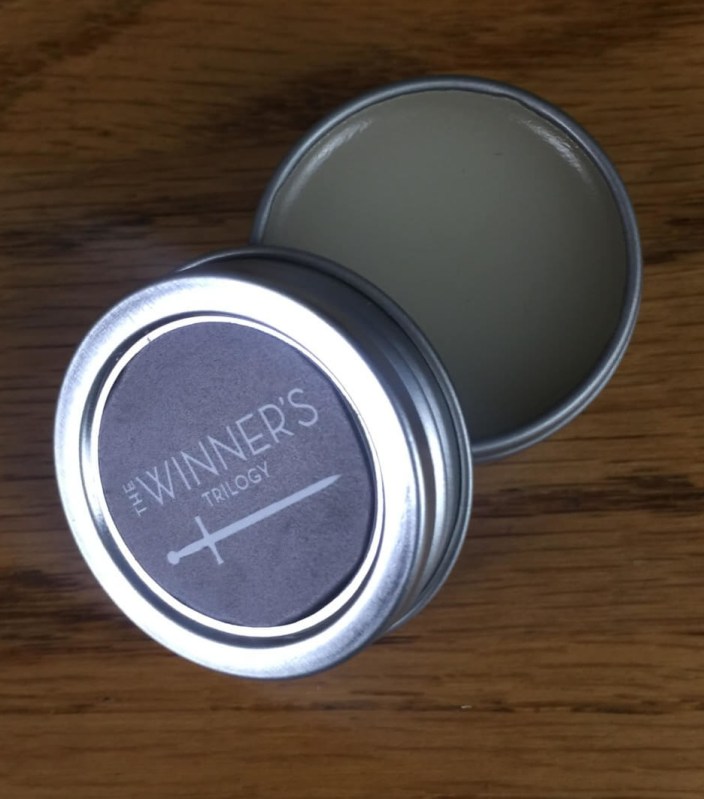 Lip balm from The Winners Trilogy in a trendy metal tin. Originally I thought this was great lip balm but I have been using it over the past few days and it actually has stared to dry my lips. On the plus side it has a very pleasant scent.
Nail Polish! I love nail polish and this color is amazing. it's a blood red, not fire engine red and it was super easy to work with. One coat was nice but two coats really made it pop. This might be my new power color and that alone makes me want to check out Grishtrilogy.com.
All of these amazing promotional items without having to stand in line to get them or autographs, this is a fans dream come true. I'm so excited for the three books that are coming my way.
The moment I've been waiting for since the promotional box arrived has finally come, GiftLit is here. The box itself is boring but so much better when you open it.
It's beautifully wrapped with a personalized gift tag. It's like Christmas!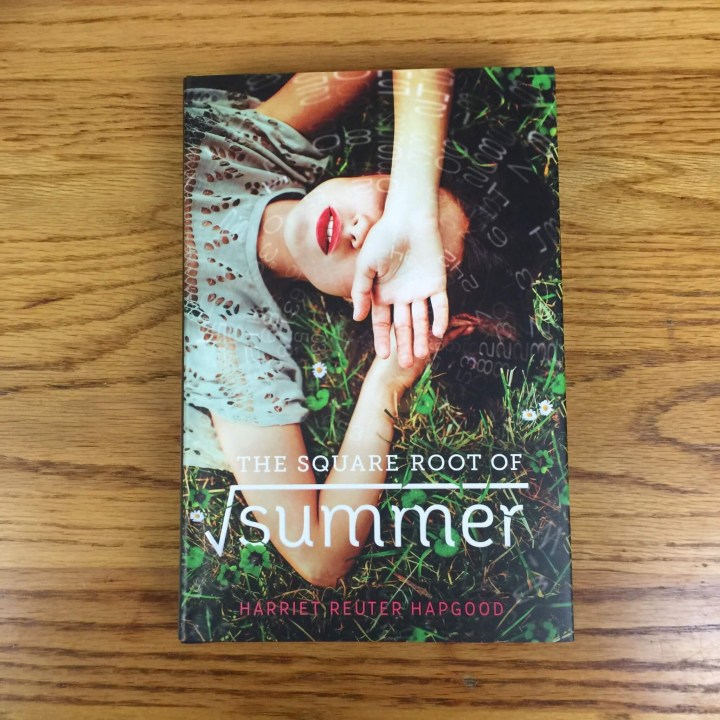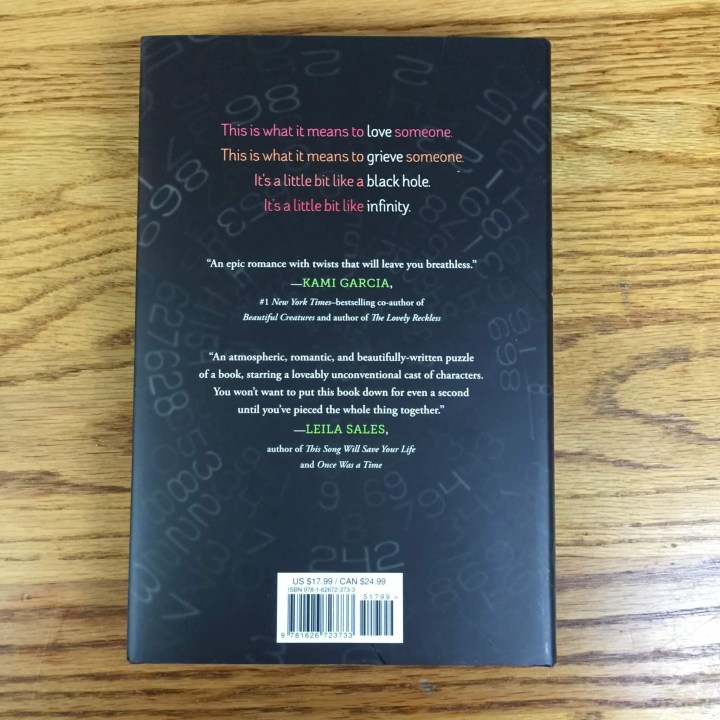 The Square Root of Summer by Harriet Reuter Hapgood
This is what it means to love someone. This is what it means to grieve someone. It's a little bit like a black hole. It's a little bit like infinity.

Gottie H. Oppenheimer is losing time. Literally. When the fabric of the universe around her seaside town begins to fray, she's hurtled through wormholes to her past:

To last summer, when her grandfather Grey died. To the afternoon she fell in love with Jason, who wouldn't even hold her hand at the funeral. To the day her best friend Thomas moved away and left her behind with a scar on her hand and a black hole in her memory.

Although Grey is still gone, Jason and Thomas are back, and Gottie's past, present, and future are about to collide―and someone's heart is about to be broken.

With time travel, quantum physics, and sweeping romance, The Square Root of Summer is an exponentially enthralling story about love, loss, and trying to figure it all out, from stunning debut YA voice, Harriet Reuter Hapgood.
I'm so excited to read this with my daughter as a way of keeping her mind fresh between summer and a new school year. My favorite books as a young adult were about love and life lessons. From the reviews of the book I've read I'm in for a real emotional treat.
Visit GiftLit to subscribe or find out more!
The Subscription
:
GiftLit
The Description
: 3, 6, & 9 month-long monthly book subscriptions. Subscriptions available over multiple genres & interests for women, men, kids, teens, and babies.
The Price
: $50.00 per quarter