Gable Lane Crates is a monthly subscription box dedicated to make your home decor shopping easier. If your decor veers towards rustic, cottage, farmhouse, urban or vintage, you'll definitely enjoy opening this box every month.
The subscription is a little hard to grasp – here's how it works:
Gable Lane pre-announces the box themes. There are two every month, plus special edition boxes.
Sign up for one crate during the announced sale period, or a three box series. (If you can stand it, I recommend waiting for spoilers because if you buy in advance all you have is the name of the box to go on).
Your box will ship during the month you bought it for.
There are two sizes of box –  $49.95 per month for the original and $89.95 for the exclusive. You'll get a box filled with home accessories and decor to liven up the rooms of your house.
This box is a Girl's Bedroom Box and was a one time limited edition (non-subscription) box. The price was $49.95 + $6 shipping.
Everything in the Girls' Bedroom box!
Bows and Burlap Handmade Hashtag Throw Pillow Case ($19.95) This came packed in the burlap sack (above) and was one of the spoiler items for the box. My 7.5 year old daughter showed extreme interest in hashtag items the other week at Michael's, so this item sucked us right in! It's cute and fun and she loves it.
Creative Co-Op 6″ Laser Cut MDF Box ($23.99):  Love the detail on this box lid and it will be perfect for collecting all the bits and bobs my daughter seems to gather. She's like a crow, always picking up something shiny!
I do wish that the box had a ribbon or whatever to stop it from folding all the way back (a tether?).
Creative Co-Op 50 LED Lights in 200″ Copper Wire ($18.75) We were super excited about these, because they'll match perfectly to the lanterns we just made in Doodle Crate!
Primitives by Kathy "Smile" Mug (~$15) This mug is GIANT! Like seriously really really big. If it wasn't super girly my husband would steal it for coffee, but I think we're safe from his evil grasp. Clearly for kids they're going to use it to store something in? I really wished it had been a vase or something else, because I don't think coffee mugs are the most practical thing for kids.
The design however is super cute. Children still recognize cameras too!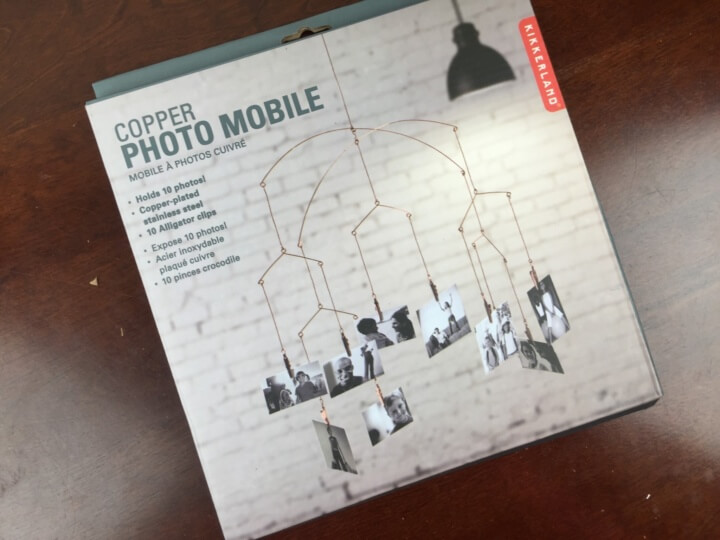 Kikkerland Copper Photo Mobile ($10) I'm going to be honest, I got really crabby when I saw this item – it looks like a giant pain in the butt. Not only do I have to collect actual photographs to use it, but I have to figure out where to hang it. It would be a good excuse to check out the timeshel photo printing subscription, but I'm not so sure this is staying in my house although I do love the copper color.
The value of this box was about $88, which is pretty good, but I wasn't totally wowed by it, although I think my daughter would say best box ever. See our review of the boy's bedroom crate here. This box could have been easily labeled kids – imaginative box and the boys' could have been kids – adventurous box. But good to know for the future, neither box was super gendered!
What did you think of the Gable Lane Crates Girls' Bedroom Box?
Visit Gable Lane Crates to subscribe or find out more!
The Subscription
:
Gable Lane Crates
The Description
: Gable Lane Crates are the new way to shop for home decor. We bring you trending home accessories for a different room in your home, delivered once a month.If your style pulls from a farmhouse, rustic, cottage, vintage or an urban styled home, you're sure to love the contents of our crates. The element of surprise is part of the fun!
The Price
: $49.95 per month