Gable Lane Crates is a monthly subscription box dedicated to make your home decor shopping easier. If your decor veers towards rustic, cottage, farmhouse, urban or vintage, you'll definitely enjoy opening this box every month.
The subscription is a little hard to grasp – here's how it works:
Gable Lane pre-announces the box themes. There are two every month, plus special edition boxes.
Sign up for one crate during the announced sale period, or a three box series. (If you can stand it, I recommend waiting for spoilers because if you buy in advance all you have is the name of the box to go on).
Your box will ship during the month you bought it for.
There are two sizes of box –  $49.95 per month for the original and $89.95 for the exclusive. You'll get a box filled with home accessories and decor to liven up the rooms of your house.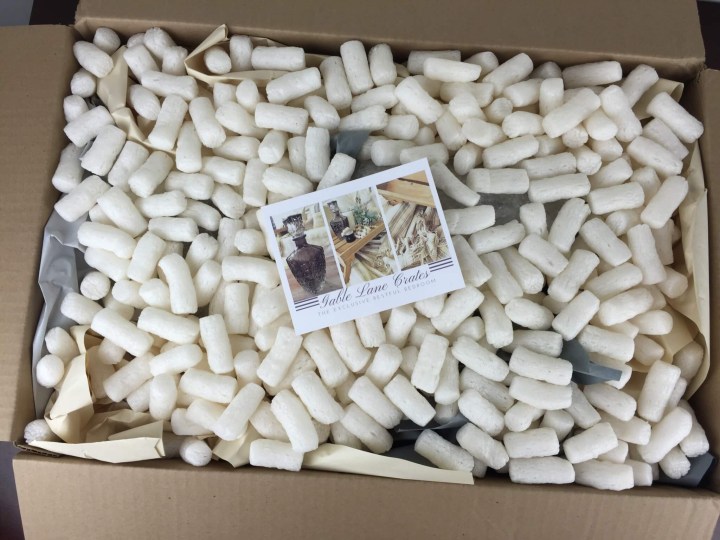 This box is a Exclusive Restful Bedroom Crate and was a one time limited edition (non-subscription) box. The price was $89.95 + shipping.
This box was VERY VERY big.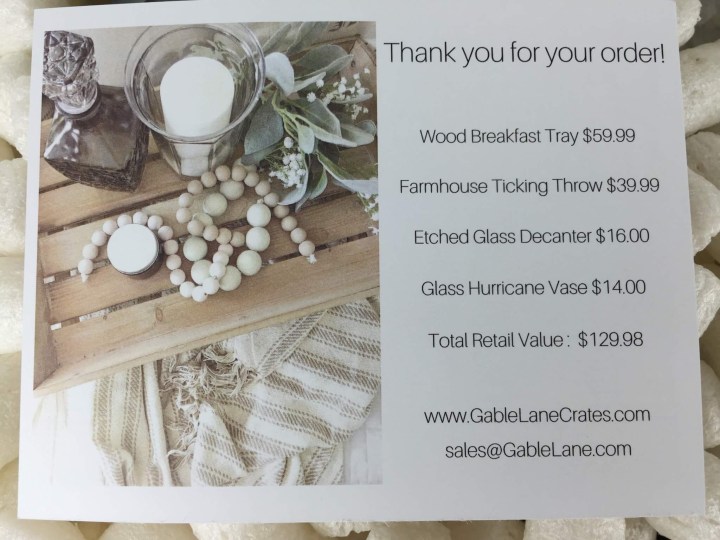 The information card shows a list of all the items included, as well as their prices.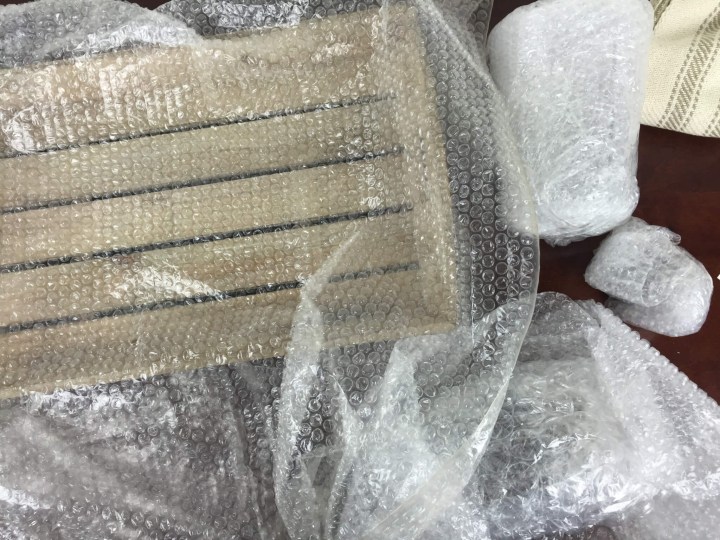 The items are well-protected by bubble wraps.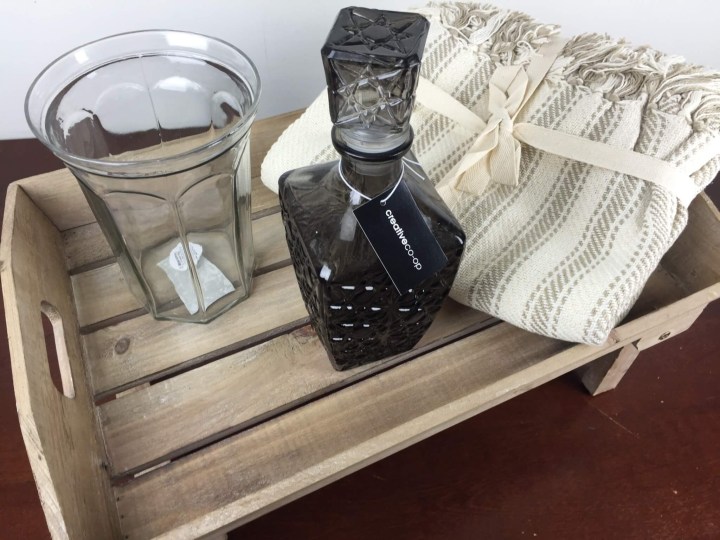 Everything in the Restful Retreat box!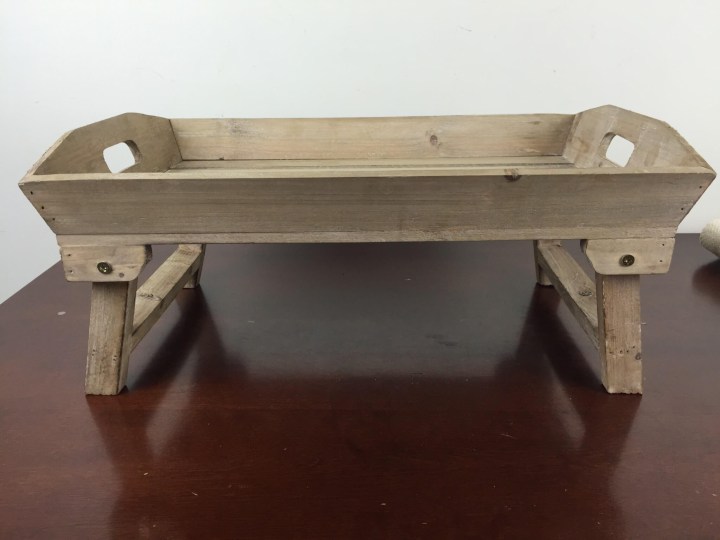 Wood Breakfast Tray ($59.99) A rustic-y wooden tray. For me there's not much more to say about it! I would never dream of paying this price for this tray. It's also not tall enough to put over your lap. So I guess you're supposed to lounge in bed with this next to you. That's totally not my thing. When my eyes pop open I'm up and out of bed! So this piece didn't work for me, which is unfortunate, because it's the highest value thing in the box. The thing it does have going for it is the actual surface of the tray – it's a LARGE tray, which is great, because when you do get a tray in a box, they're usually quite small. The dimensions are 22″ x 13″ 8.25″.
Creative Co-Op Etched Glass Decanter ($16) This, I love! More of this please! We need more home decor subscription boxes in general and I hope this subscription will do more varied and unique themes besides just farmhouse rustic (yes, I know it's a farmhouse box). This is perfect in my purple & grey deco bedroom.
Glass Hurricane Vase ($14)  So with these hurricane vases the idea is to stick things in it for display, right? You can stick a candle in it or fill it with fun treasures. A nice little tall addition – I love tall things in subscription boxes because you'll often get a small dish of some sort!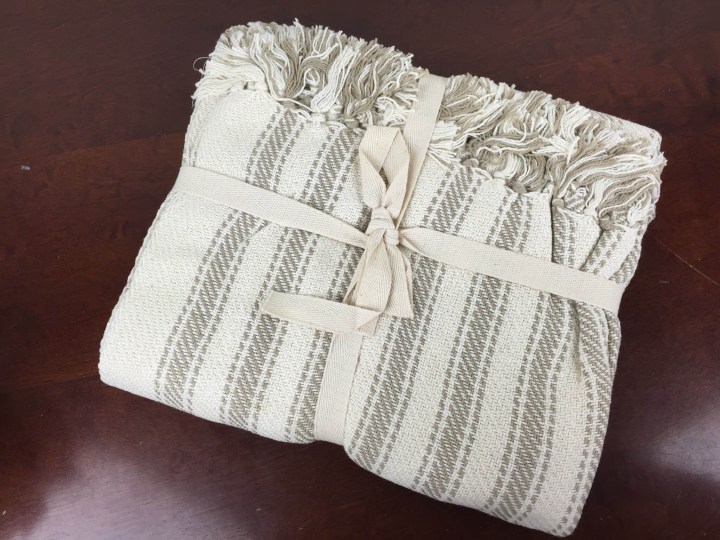 Park Designs Farmhouse Ticking Throw ($39.99) The color of the decanter and the blanket don't match, which I found a little odd. It's a nice cotton throw – 50×60 inches, but may shrink in the wash.
Tassels are always fun.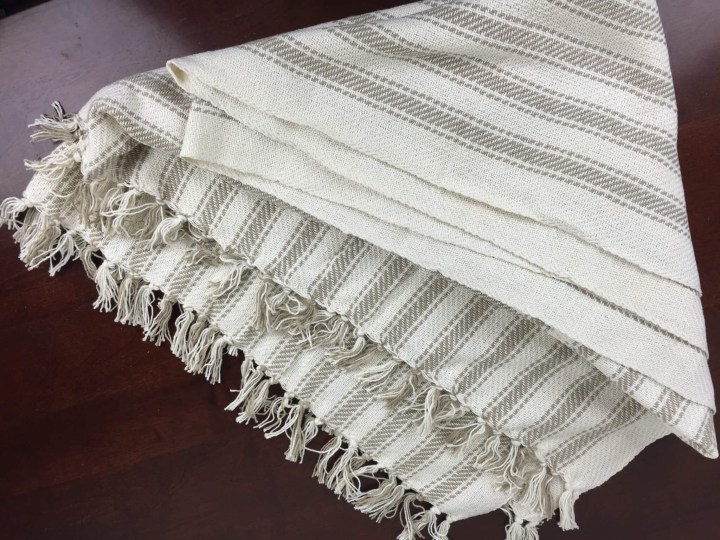 This will cozy up your farmhouse couch, whether its stark white or a golden tan leather.
I loved the decanter in this month's box but I wasn't too crazy about anything else. I do really like this subscription but I think in the future I'll just buy individual boxes if I like the spoilers. Sometimes I've found myself liking the original (smaller) box better – I greatly preferred the tray in the original box.
Have you tried Gable Lane Crates? What did you think of this month's box?
Visit Gable Lane Crates to subscribe or find out more!
The Subscription
:
Gable Lane Crates
The Description
: Gable Lane Crates are the new way to shop for home decor. We bring you trending home accessories for a different room in your home, delivered once a month.If your style pulls from a farmhouse, rustic, cottage, vintage or an urban styled home, you're sure to love the contents of our crates. The element of surprise is part of the fun!
The Price
: $49.95 per month