Espionage Cosmetics now has their own bi-monthly subscription box! If you've ever received nerdy, fandom-themed nail wraps in a LootCrate or any geeky box, chances are they're from Espionage. The BOOM!Box delivers a box of goodies for nerdy and geeky manicures, makeup, and other fun things every other month. They now also have a monthly subscription just for nail wraps.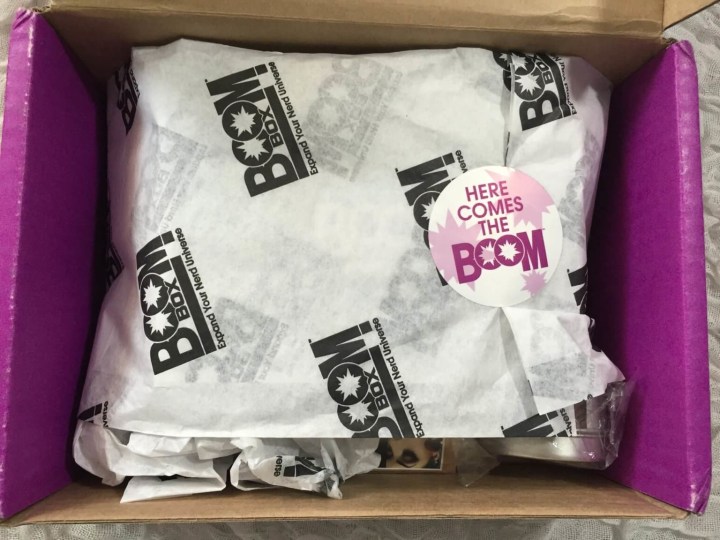 Everything is printed with the logo and looks great!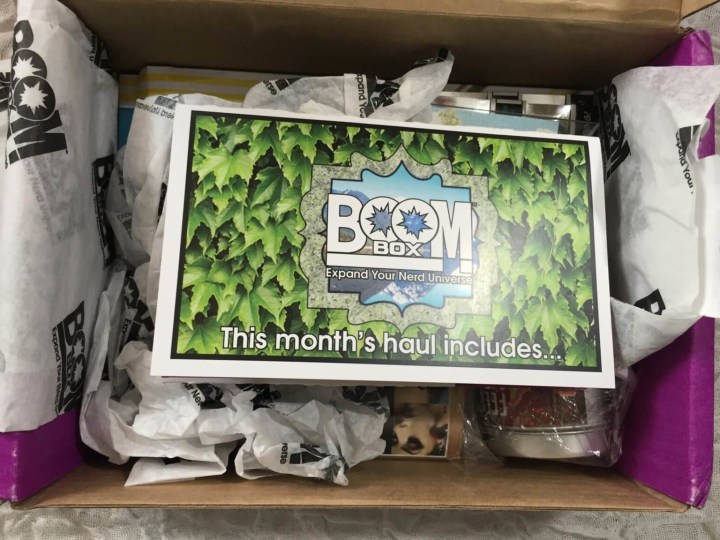 First look at this month's Nature theme!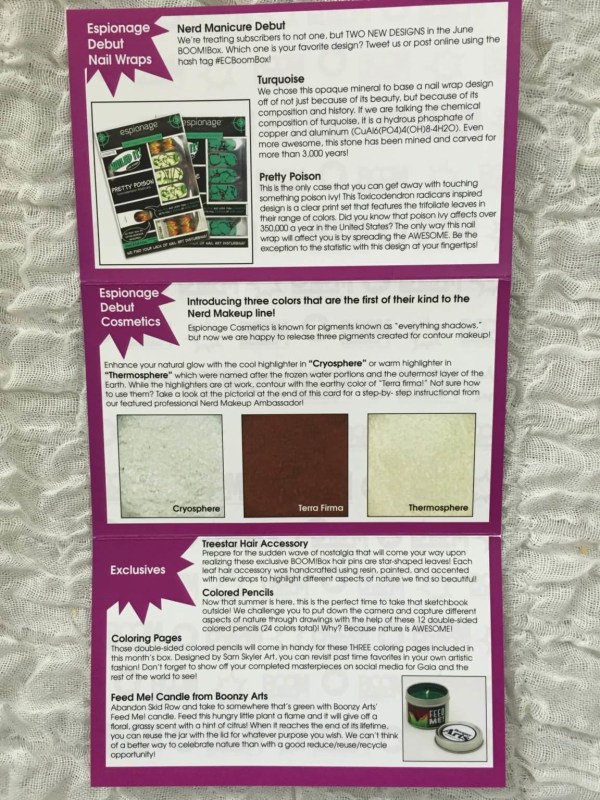 The info card is a tri-fold breakdown of everything included, and the reverse also has a makeup tutorial and information about the subscription.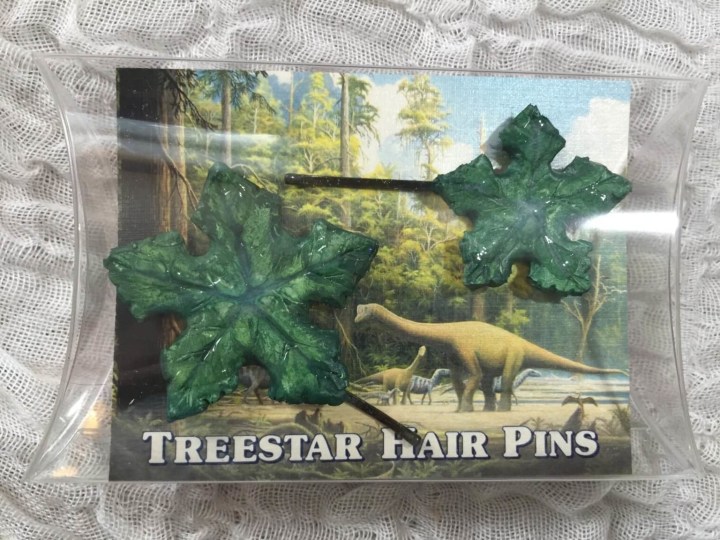 Treestar Hair Pins These scream Lord of the Rings to me (they look like something an elf would wear!) and I love them. There are clear dew drop accents on the leaves, and they've got a nice weight to them without being too heavy to wear.
The nail wraps! They come with a branded nail file to help trim/shape the edges. They aren't listed for sale on the shop yet but they are usually $10-12 each.
Pretty Poison These have a clear base with colour and foil accents on the top. I don't like these as much, mostly because they have a clear base and only a partial design, which means I'd have to paint my nails beforehand… and usually if I'm putting on wraps it's because I'm too lazy to paint!
Turquoise On the other hand, I love these! Full coverage, foil accents, and that colour is just gorgeous! The detail in both of these designs is really amazing, it's hard to capture in photos.
Colouring Sheets We've got the BB logo, a scene from Ferngully: The Last Rainforest (who else loves that movie?) and Captain Planet! As a 90's kid, these made me so happy!
Colouring Pencils These are double sided, so you get 24 colours altogether. I can't wait to colour!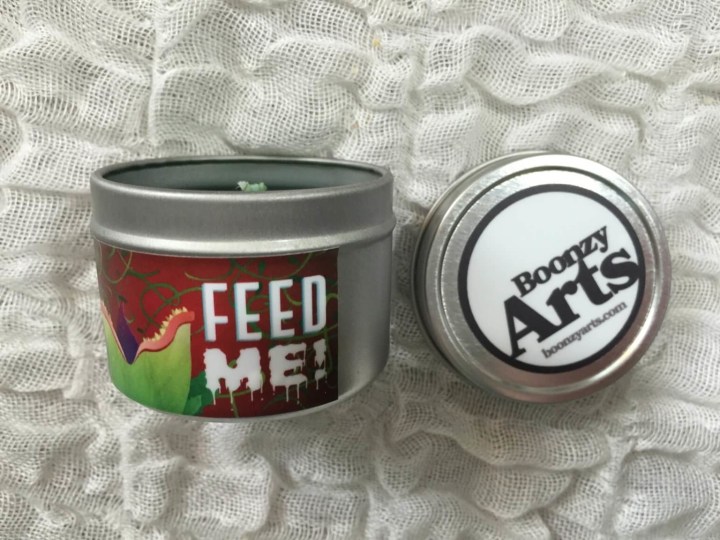 Feed Me Candle This is by Boonzy Arts and has a very bright, grassy green scene with a hint of something floral.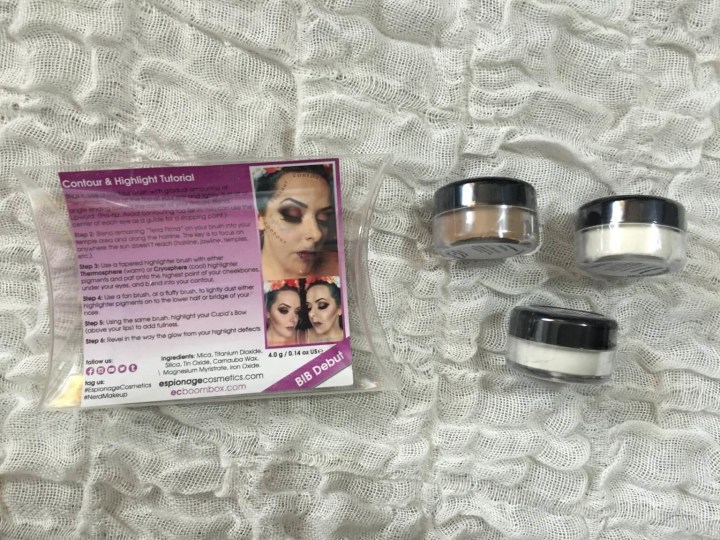 Contour and Highlighting Set This is a set of powders meant for the face for highlighting and contouring. I am derpy enough with this technique as it is, and making it a loose powder is just asking for a hard time. I've been using them mixed with my moisturiser for a highlighting (or slightly bronzed) effect with success.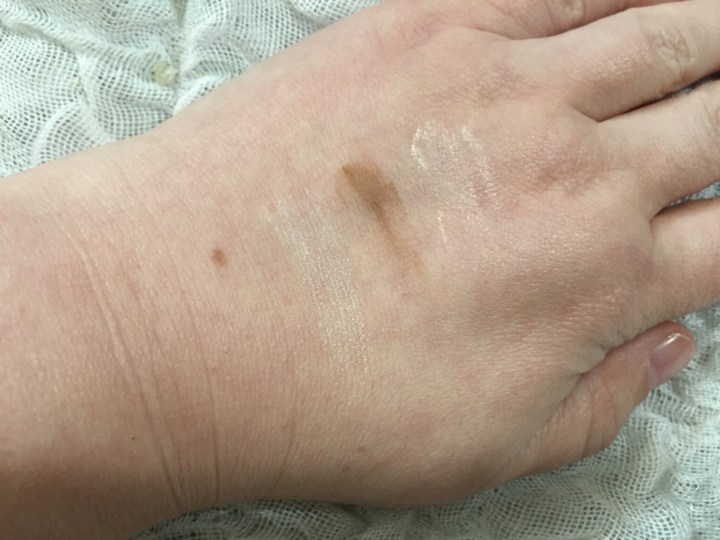 Thermosphere (warm highlighter), Terra Firma, Cryosphere (cool highlighter).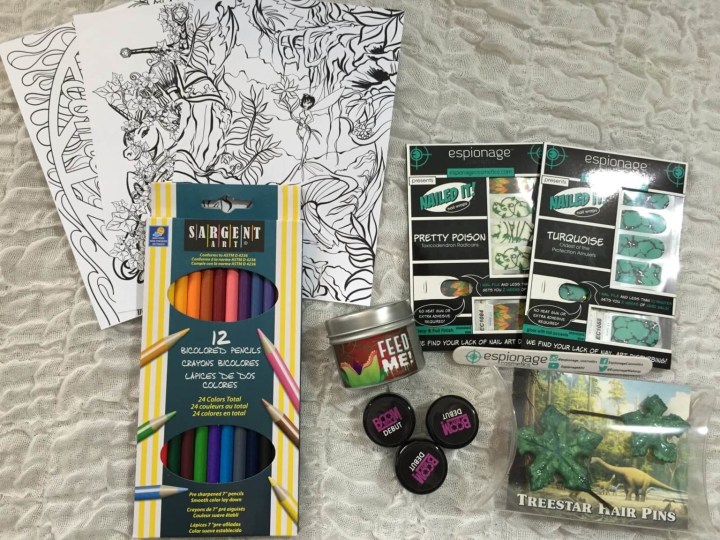 My second Boom Box was pretty awesome — I loved the theme even if I didn't love both nail wraps this month. This is really a fun box for anyone who's nerdy or into pop culture or fandom. FYI – this box has sold out in advance each time.
Visit BOOM!Box by Espionage Cosmetics to subscribe or find out more! Save $5 on your first box! Use coupon code  HELLO5BOOM.
The Subscription
:
BOOM!Box by Espionage Cosmetics
The Description
: There will be one BRAND NEW "Nailed It!" nail wrap design in each EC BOOM!box. Beyond that, everything else is a magical mystery! Scarves, beanies, makeup, jewelry, games, books, who knows! We're here to expand your nerd universe one delivery at a time!
The Price
: $36.25 every other month