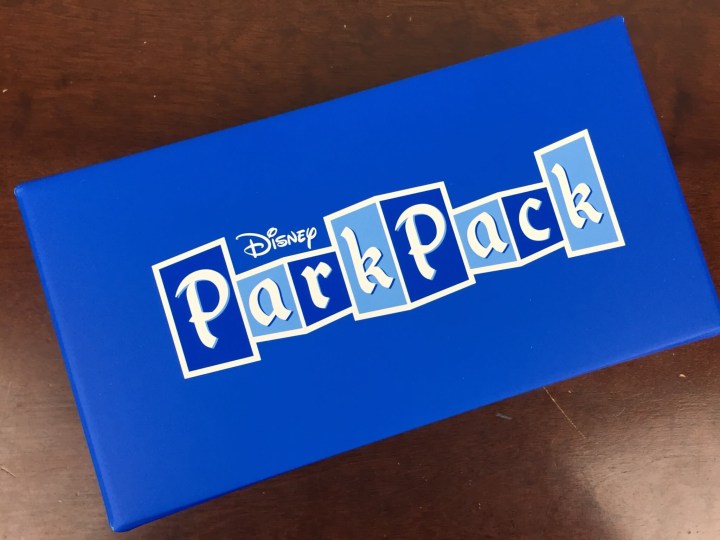 Disney Park Pack: Pin Trading Edition is a monthly mystery pack from the Disney Store.  Every month in this subscription you'll receive three official Disney pins – 2 open edition (released to subscribers before they're made available to the public) plus a totally exclusive limited edition pin. The limited edition pin has a run of 500 each and there are 4 variations of the pin.
FYI – Disney has started expanding the Park Pack – first there was the Disneyland Memorabilia Limited Edition Park Pack!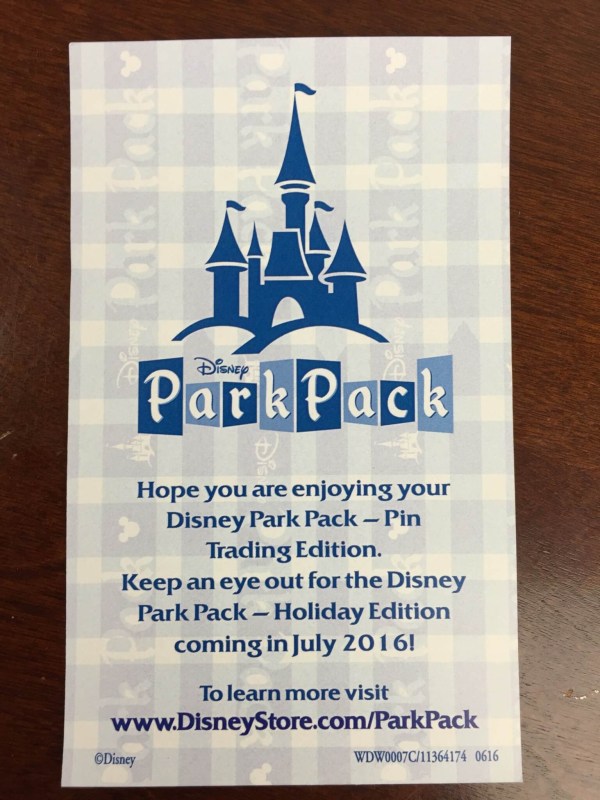 This box included a notice that Disney Park Pack is releasing a new Limited Edition in July – the Disney Park Pack – Holiday Edition! (Not up yet, but keep checking back!)
FYI – check out more details on the Disney Holiday Park Pack here.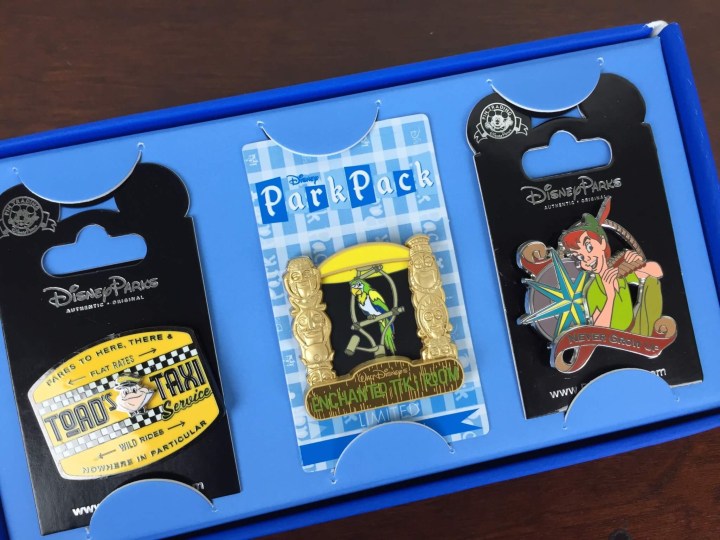 Here are the Park Pack pins for June!
Disney Pins are the perfect souvenir – small, not too expensive, and fun to collect.  There's no information card for this box, and just like every other month, I wish they'd include a curator's note – maybe with names for these pins!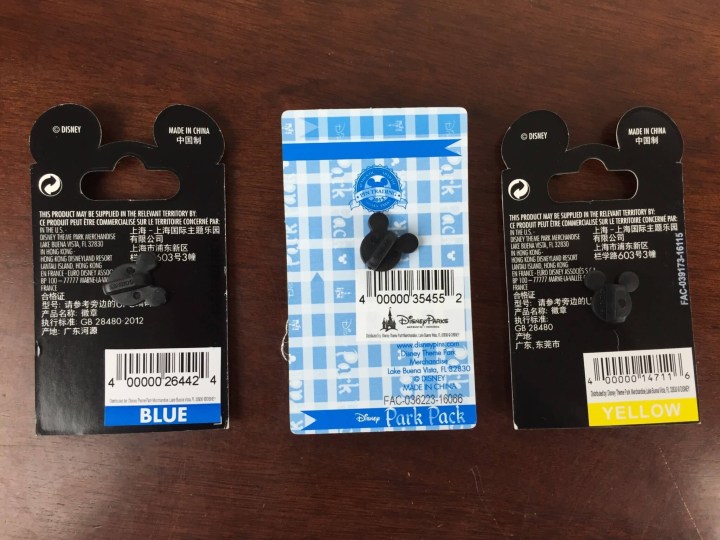 The backs of the pin cards show the prices (via the color coding) for the open editions, but not the exclusive limited edition pin, because it won't be sold anywhere else. All pins include the Mickey pin-backs!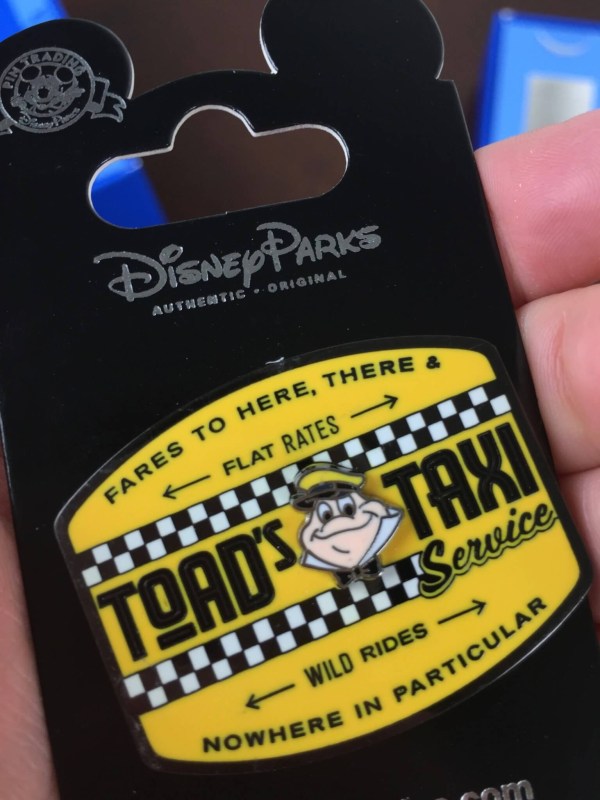 Toad's Taxi Service Pin: Well, last month was my favorite box, but clearly this has to be the best pin ever! Mr. Toad is a separate piece attached to the top and I just love this retro throwback piece. They could have sent anything Mr. Toad and I would have been happy.
If you're a Disney World person like me…  Wheeee!

Michael! I love the super shiny gold totems, the layering, and this is overall a super hefty pin (also the brushed gold made it extremely difficult to photograph!).
The variations on this pin surprised me. I thought for sure the dark background would be a "fade-in" variation like we've seen in other previous boxes, but the bird was different! This one is Pierre! The four birds are the Masters of Ceremonies in the Tiki Room attraction!

José!

Fritz!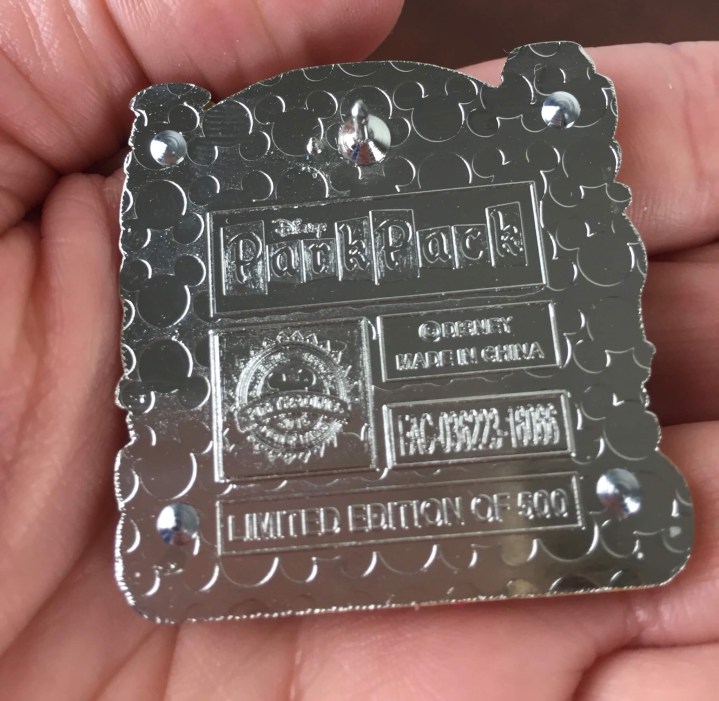 There is only one post on this pin – they changed to one post on these framed pins in March. The back is clearly marked with the run of the limited edition – 500.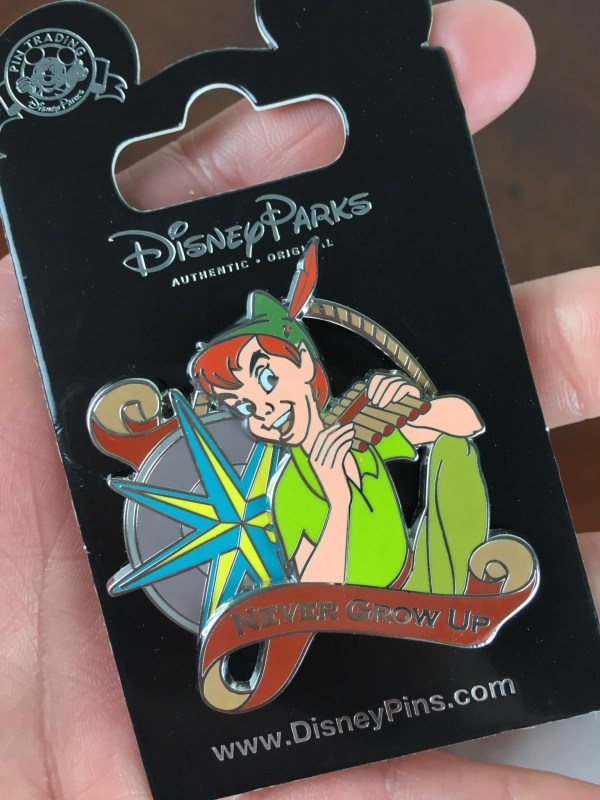 Peter Pan Never Grow Up: This is a super cute pin with another classic Fantasyland attraction!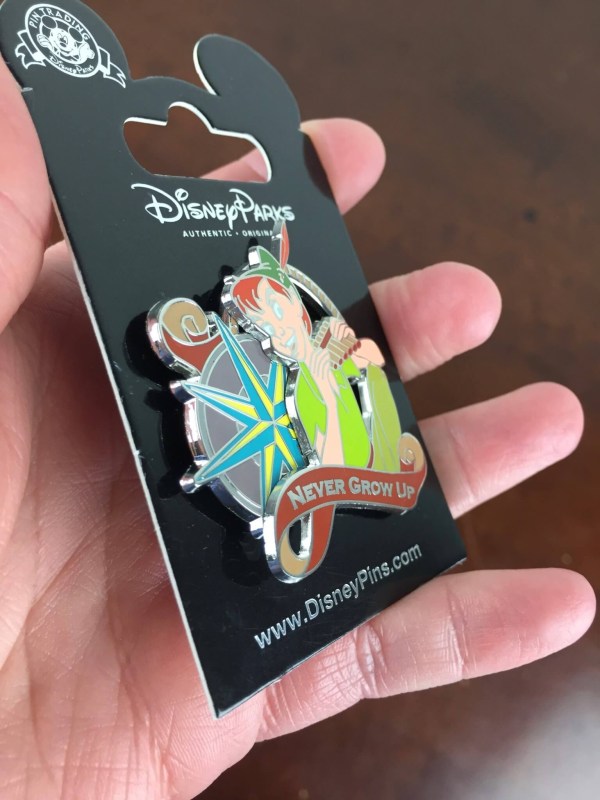 I was surprised to see that this was a layered pin too.
Which pin was your favorite this month? I loved all of them and this was my second favorite box ever but Mr. Toad was the clear favorite!
FYI – if you check out with your Disney Visa and spend $50 you'll save 10% on your order with coupon code DRVCMEMBER. I am sure it only applies to the first order of the subscription, but if you do have the card, it works on any Disney Store purchase.
Visit the Disney Park Pack: Pin Trading Edition landing page to find out more. It's currently sold out, but we'll post when subscriptions are open again.
The Subscription
:
Disney Park Pack: Pin Trading Edition
The Description
: Disney Park Pack is a monthly mystery box with 3 official Disney pins. Pins are collectible and tradeable! Every box features two open edition pins and one limited edition pin with a run of 500. Now a monthly subscription!
The Price
: $39.95 – Save $5 per month on an annual subscription! (looks like this option is currently sold out)
Some general info about Disney Pins & Trading:
Prices: Green ($6.95) Red & Silver ($8.95) Blue ($10.95) Yellow ($12.95) Pink ($14.95) Lavender ($16.95). Special ones cost more.
Cast Members with green lanyards may only trade with kids ages 3 to 12. You can trade up to two pins per day with any trading Cast Member.
You don't have to trade your pins, you can just collect them.
You can only trade real Disney pins, and they all bear a copyright notice on the back.
Don't buy nice pins to trade, buy lots of pins on eBay from a reputable seller.
Are you a pin trader? Share your advice in the comments!