The Cate & Chloe VIP program is a jewelry subscription box delivered to your front door once a month. Each box contains on point and on trend Cate & Chloe pieces!  Boxes are customizable and always come with extra goodies to keep our VIPs extra happy.  To ensure that you get pieces tailored to your style, Cate & Chloe have a VIP Style Quiz  to gauge your tastes.  Choose between 3 subscription options starting at $19.99 – The Starter Package (1 item), Double the Fun (2 items), and Full VIP Status (3 items).  The cost per box drops with extended subscription terms, so the longer the subscription, the more you can save!
Quick look at the VIP Style Quiz.  You choose your favorite metals, colors, and looks to help stylists choose pieces that suit your personal style.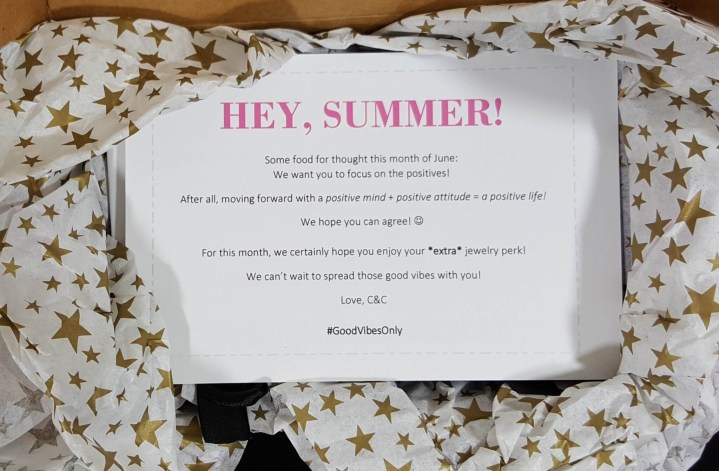 I opened the box to find a personalized information card.  This month, C & C gave me an extra jewelry perk!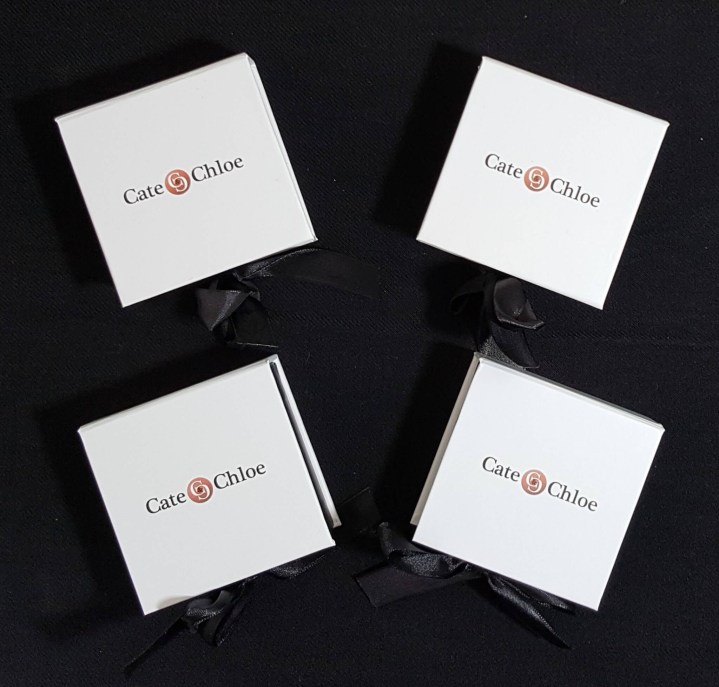 I love that each piece arrived in its own gift box.  If you decide to gift anything, this makes the piece feel more special.  Everyone loves opening a jewelry box.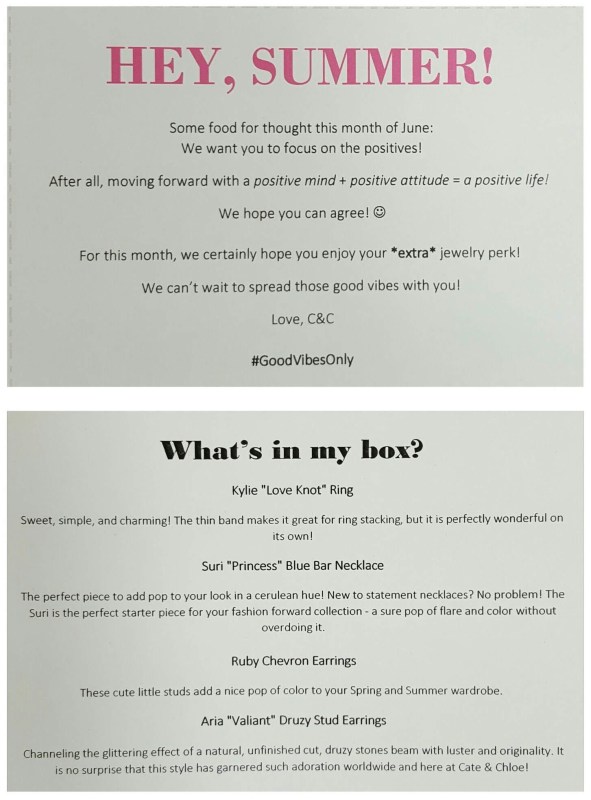 The information card lists each item and provides a brief description or styling tip for the piece.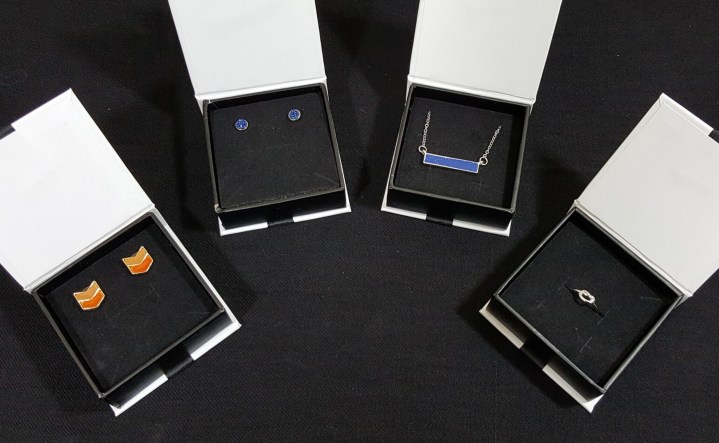 And here are my lovelies!
Kylie "Love Knot" Ring ($59.00): Sweet, simple, and charming!  The thin band makes it great for ring stacking, but it is perfectly wonderful on it's own!
Symbolic of love and tenacity, this would make a very special gift for a best friend, girlfriend, wife, or the famously adored, "Thank you for helping me tie the knot" bridesmaid gift!  This ring is also available in gold.  I really liked this ring, but my fingers were too big.  The largest size available from Cate & Chloe is an 8, and I wear a 9.  However, it fit my sister just fine, as you'll see below.  This became a "thank you for taking pictures" ring.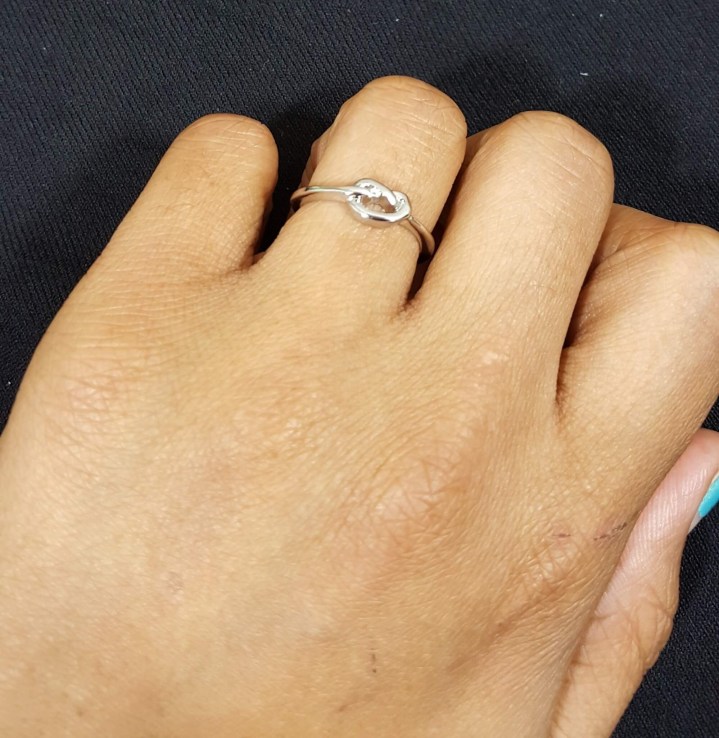 Ruby Chevron Earrings ($55.00): These cute little studs add a nice pop of color to your Spring and Summer wardrobe.
These are 1/2 inch in length.  The C & C description states that these are red and orange enamel, but they look like peach and orange to me.  Either way, this color is on target for the warmer months.  I don't have much jewelry in this color palette, but I do have quite a few pieces of clothing that match these.  It makes me happy to have more accessories that coordinate.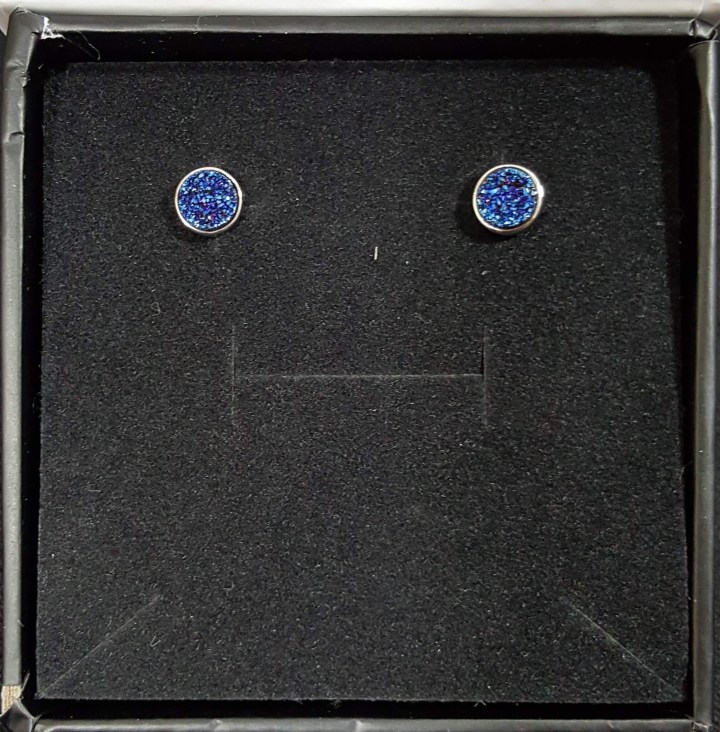 Aria "Valiant" Druzy Stud Earrings ($128.00):  Channeling the glittering effect of a natural, unfinished cut, druzy stones beam with luster and originality. It is no surprise that this style has garnered such adoration worldwide and here at Cate & Chloe!
The picture is slightly washed out, but these are a vibrant royal blue.  The studs measure 6mm in diameter.  I received the sapphire with 18k white gold plating, but these are also available in either peach or expresso with 18k gold plating.  I am so glad that I got these as earrings.  I adore the sparkle of druzy pieces but am terrible about snagging my clothing when the stones are on rings or necklaces.
Suri "Princess" Blue Bar Necklace (?):  The perfect piece to add a pop to your look in a cerulean hue!  New to statement necklaces?  No problem!  The Suri is the perfect starter piece for your fashion forward collection – a sure pop of flare and color without overdoing it.
I could not find this piece anywhere on the C & C site or the web.  I wanted to like this necklace, but the glittered enamel made this feel too young for me.  This went home with my 14 year old niece, who also is the model below.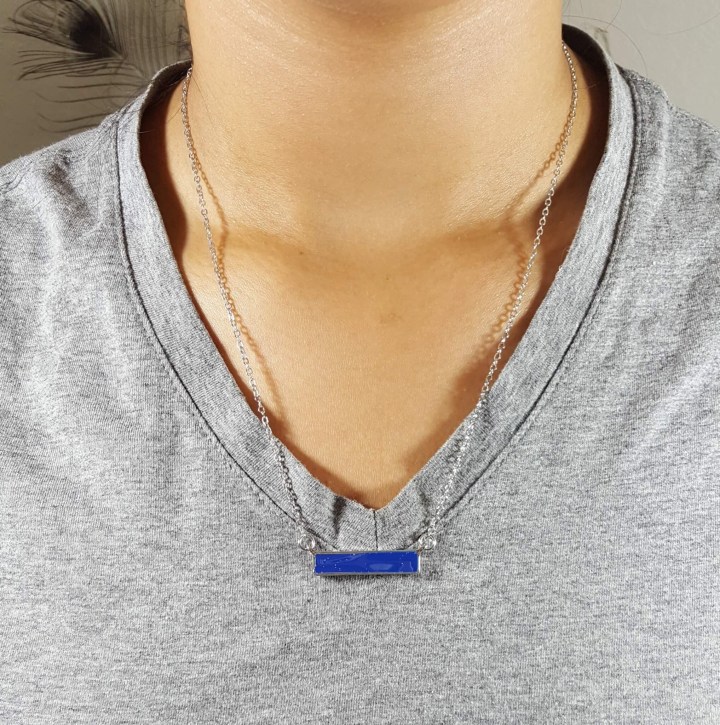 I didn't have a value for the Suri necklace, but the rest of the box had a value of $242.  This is more than the cost of a 6 month Cate & Chloe VIP subscription!  I like the selections in this month's box but was disappointed that two items didn't work for me.  Also, some of the retails seem a bit inflated.  Take for example the Aria Druzy Studs (most of the similar style earrings that I've found are just under $100).  However, if you factor in the personalized curation and convenience of home delivery, the retails are justified.  Hopefully, I'll get to keep all of the pieces in my next box, to the disappointment of my family.  LOL!  FYI – you can request any item from the Cate & Chloe shop in your box and if they have it in stock, they'll put it in.
Check out the Cate & Chloe VIP box and let me know your thoughts.
Visit Cate & Chloe VIP to subscribe or find out more!
The Subscription
:
Cate & Chloe VIP
The Description
: Jewelry of the month club. Get 3 of Cate & Chloe's most popular pieces in the mail monthly (a $200 value!)
The Price
: $39.99 per month