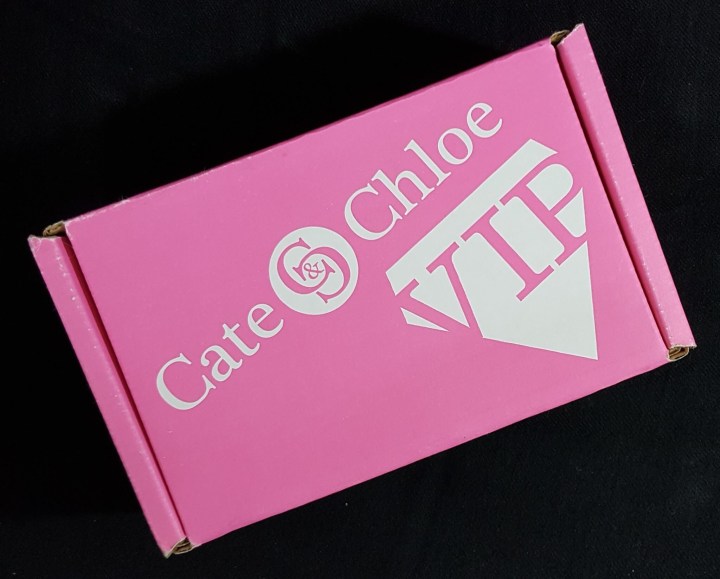 The Cate & Chloe VIP program is a jewelry subscription box delivered to your front door once a month. Each box contains on point and on trend Cate & Chloe pieces!  Boxes are customizable and always come with extra goodies to keep our VIPs extra happy.  To ensure that you get pieces tailored to your style, Cate & Chloe have a VIP Style Quiz  to gauge your tastes.  Choose between 3 subscription options starting at $19.99 – The Starter Package (1 item), Double the Fun (2 items), and Full VIP Status (3 items).  The cost per box drops with extended subscription terms, so the longer the subscription, the more you can save!
20% off the Starter Package for a month to month subscription. Use coupon code  HELLOJULYVIP20. Expires 07-05-2016
Quick look at the VIP Style Quiz.  You choose your favorite metals, colors, and looks to help stylists choose pieces that suit your personal style.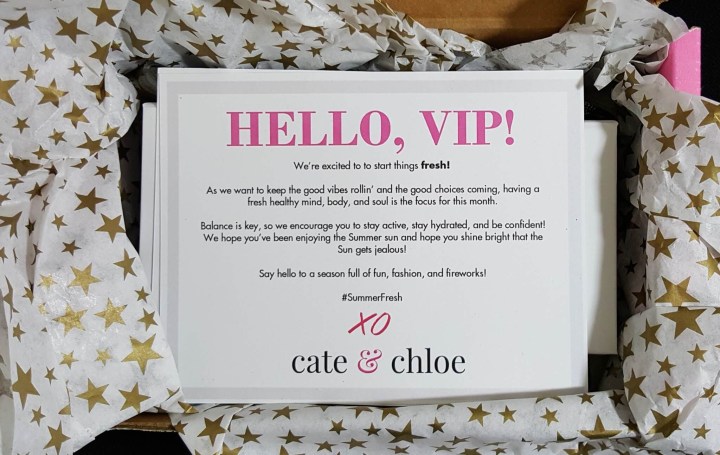 First look in and there's a note to explain the inspiration for this month.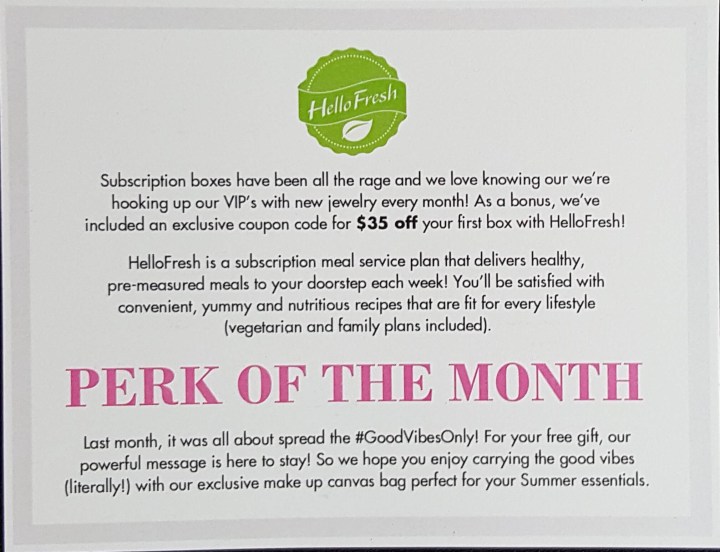 This month Cate & Chloe partnered with Hello Fresh to provide subscribers with a bonus exclusive coupon for $35 off their first box.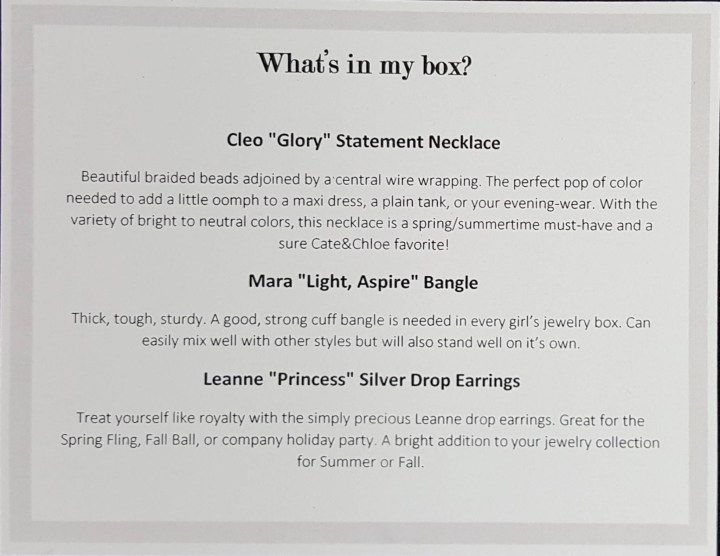 The information card lists each item and provides a brief description or styling tip for the piece.
And here are my lovelies!  I love that each piece arrived in its own gift box.  If you decide to gift anything, this makes the piece feel more special.  Everyone loves opening a jewelry box.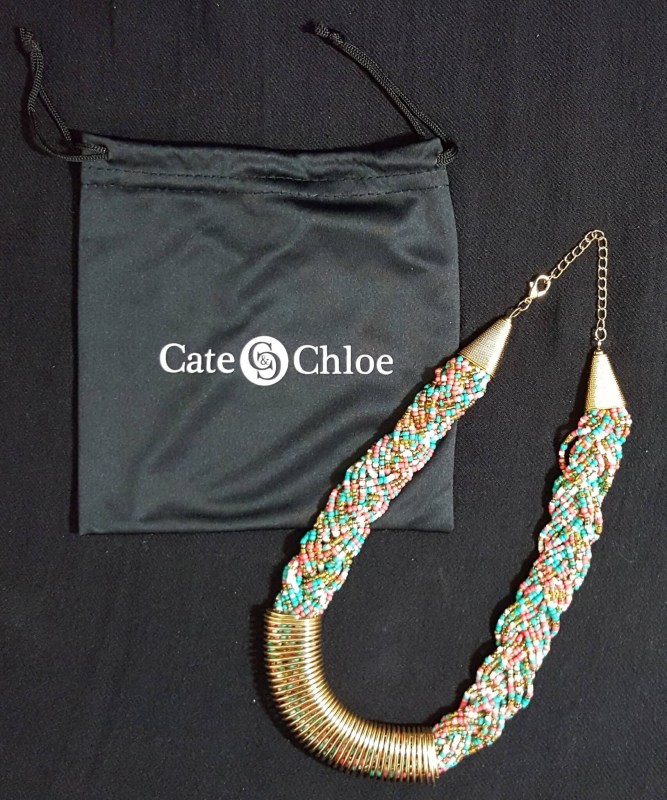 Cleo "Glory" Statement Necklace ($59.00):  Beautiful braided beads adjoined by a central wire wrapping.   The perfect pop of color needed to add a little oomph to a maxi dress, a plain tank, or your evening-wear.
I received the multi-colored necklace, but this also comes in white, bronze, and teal.  I love the mix of bright summery colors – teal, coral, white, and gold.  The metalwork provides an interesting focal point that gives the necklace some additional pizazz.  The necklace is 18.5″ long and includes a 3″ extender.  It measures 1″ wide.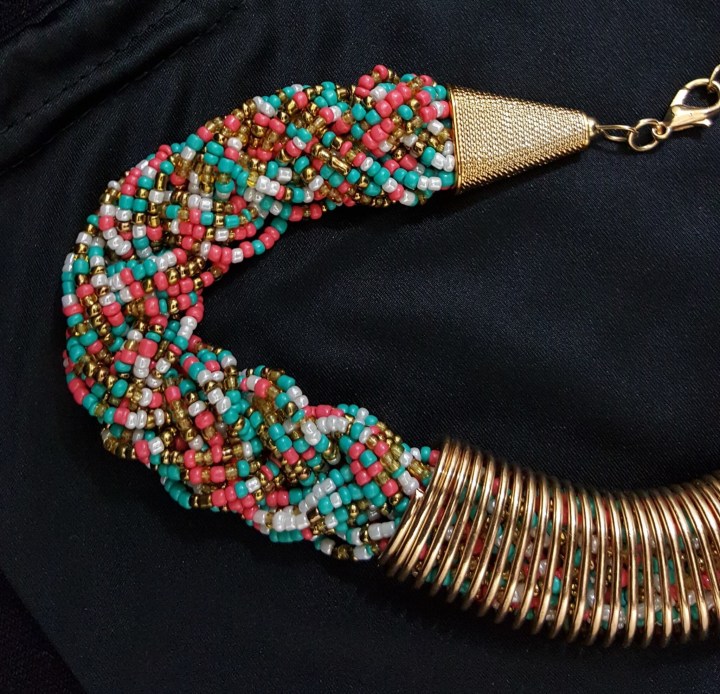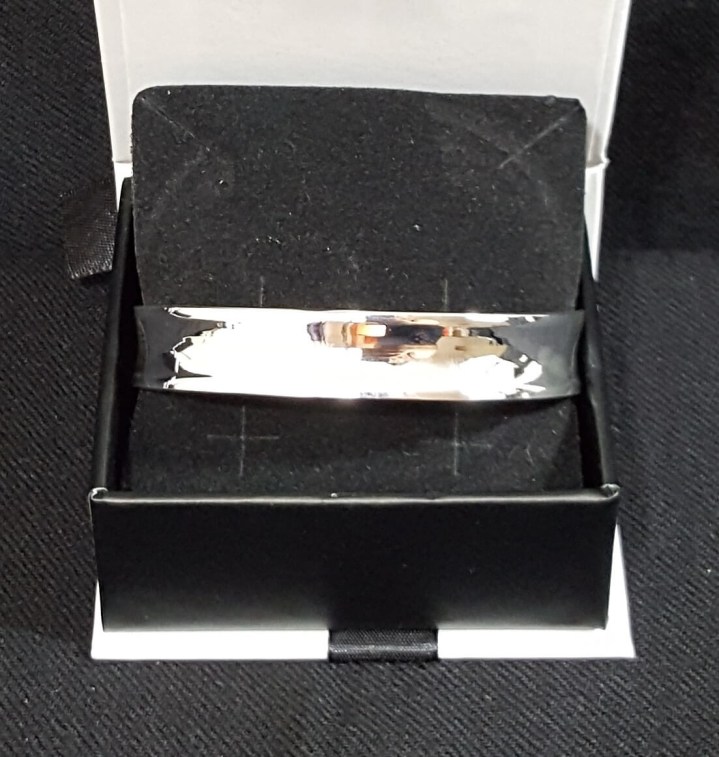 Mara "Light, Aspire" Bangle ($99.00):  Thick, tough, and sturdy.  A good, strong cuff bangle is needed in every girl's jewelry box. Can easily mix well with other styles but will also stand well on it's own.
This is a simple, yet elegant silver plated cuff.  I prefer a cuff bracelet because I can adjust it to fit my wrists.  This will work with so many of the pieces I already own.  I received the 1.2 cm width (2.7 cm also available).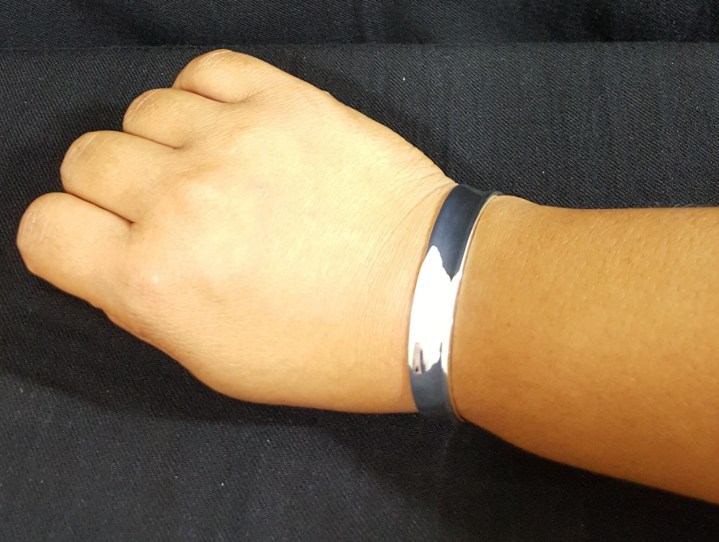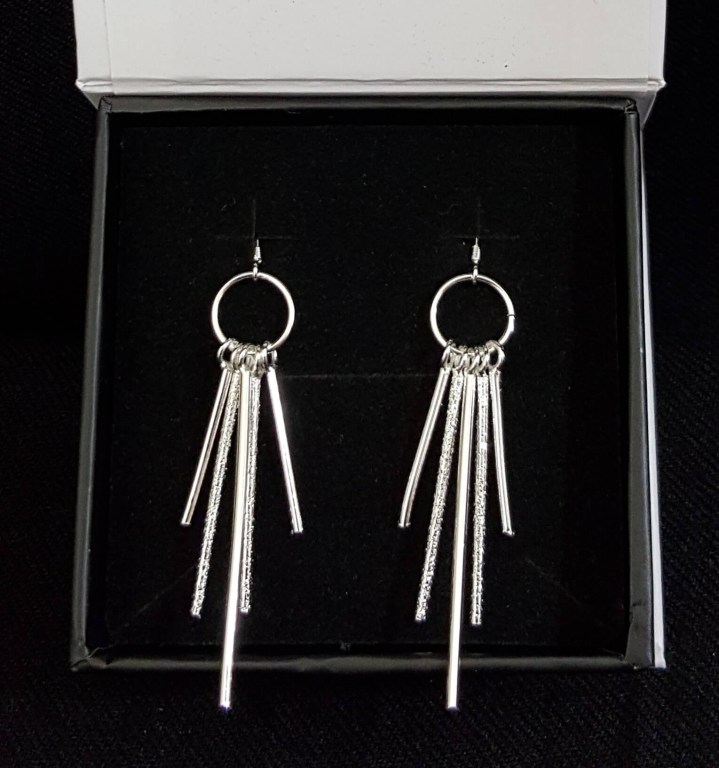 Leanne "Princess" Silver Drop Earrings ($99.00):  Treat yourself like royalty with the simply precious Leanne drop earrings. Great for the Spring Fling, Fall Ball, or company holiday party. A bright addition to your jewelry collection for Summer or Fall.
How much fun are these earrings!?!  I love the mix of the shimmery textured surface and the smooth polished rods.  These are a silver plated dangle earring that can be dressed up or down.
Perk of the Month:  To continue the theme of spreading #GoodVibesOnly, Cate & Chloe included this canvas makeup bag that is perfect for carrying your summer essentials.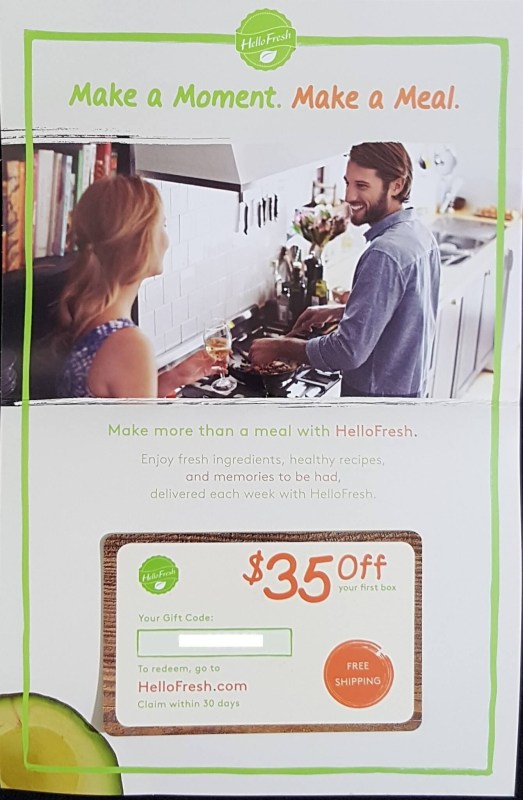 And here's my Hello Fresh coupon. Here's 2 for you!
$50 Discount on your First two Boxes! Use coupon code  HF50SUMMER andUse this link to subscribe. Valid for new customers only. Classic, Veggie or Family Box. Expires 07-31-2016

Take $40 off your first box. Use coupon code  7UT7K8.
The jewelry pieces for this month had a combined value of $257 dollars.  If you add in the discount for Hello Fresh and value for the makeup bag (~$5), that brings the total to almost $300!  I was extremely happy that I didn't have to gift any of this month's selections to my family because I loved them all and they fit/were age appropriate.  Don't forget, you can request any item from the Cate & Chloe shop in your box and if they have it in stock, they'll put it in.
Have you tried out Cate & Chloe VIP box? Let me know your thoughts!
Visit Cate & Chloe VIP to subscribe or find out more!
The Subscription
:
Cate & Chloe VIP
The Description
: Jewelry of the month club. Get 3 of Cate & Chloe's most popular pieces in the mail monthly (a $200 value!)
The Price
: $39.99 per month