BullyMake Box is the monthly box for power chewers! No plush toys in this subscription! Each box comes with 5-6 toys and teats for your dog. Have more than one dog? Add an extra toy for an additional $9.00 a month. Be sure to fill out the additional information section when checking out. There are four options for allergies including a toy only box. Also, select the weight of your dog which starts at 10 pounds and continues with 10 pound increments to 200 pounds.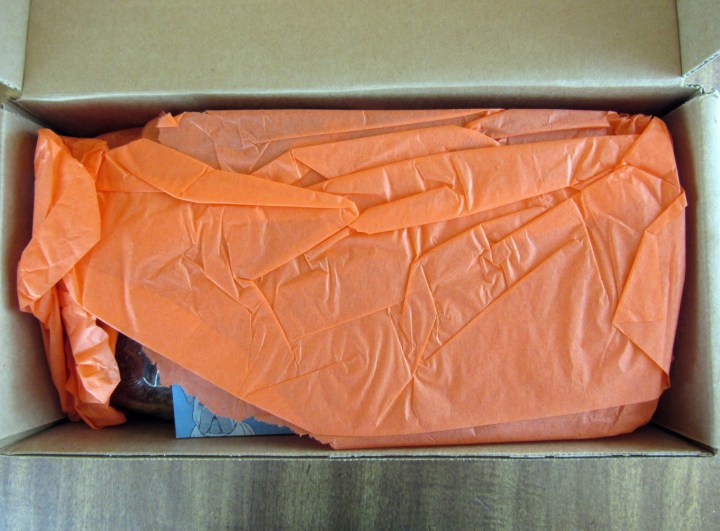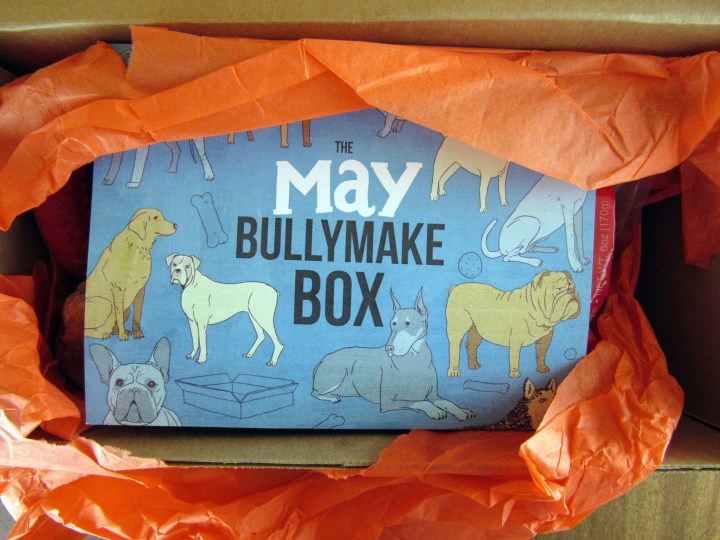 I can't see much yet from the box. I knew it had to be great items because the dogs were waiting for their treats.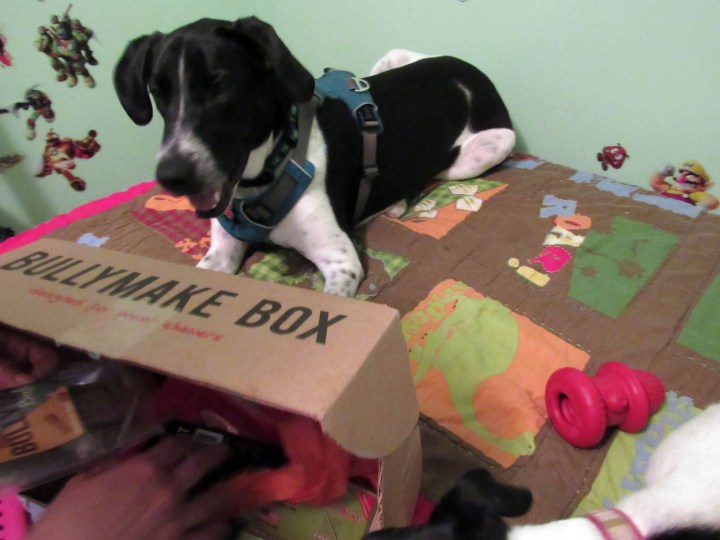 I had two black and white dogs that were trying to stick their noses in this box. They wanted me to hurry up and look at the items.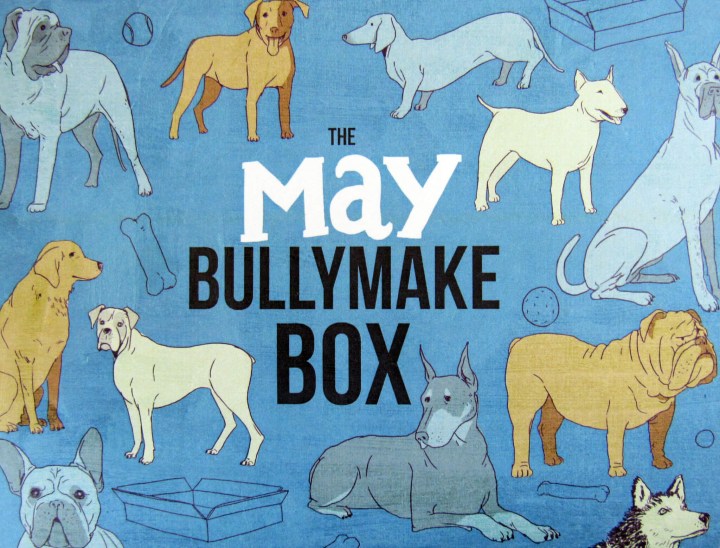 The May and June box were sent to a different address. Bullymake was contacted after the May box arrived at the wrong address. They agreed to reship the May box and change the address in the system to the correct address. The June box was also sent to the incorrect reviewer too. Unfortunately they haven't responded to any of our recent inquiries.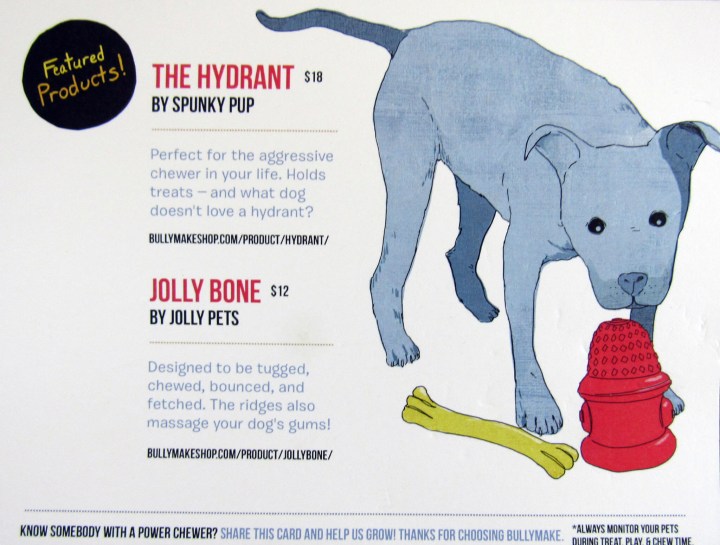 We have two fun toys that are the featured products. Odie loves to sniff fire hydrants and mailboxes. Why? He needs to sniff every single one on his walks.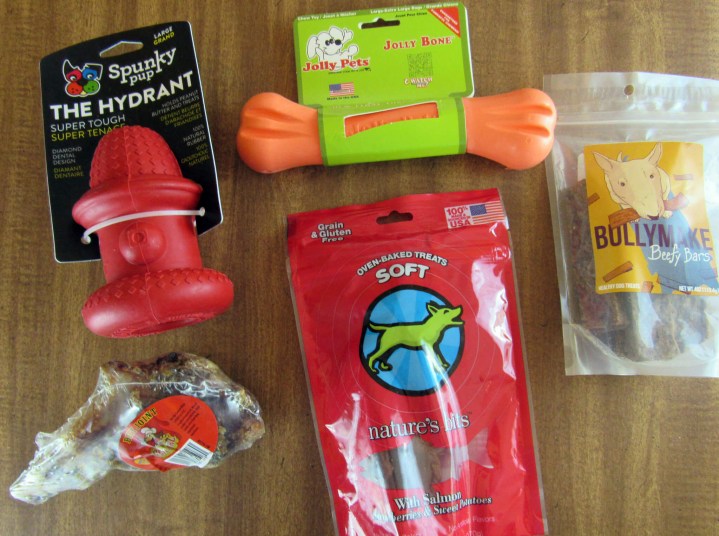 The May items are perfect! The box items were selected with Odie, our Borader, in mind. He is half Border Collie and half Labrador Retriever. He also destroys all dog toys including the expensive durable dog toys that I buy for him. Odie's weight is in the 50-60 pound range. Bella, our Mini Rat Terrier, will also join in on the fun when appropriate.
Watch your doggy be full of jolly while playing with the Jolly Bone ($8.21). We received the large-extra large size which is perfect for Odie. Both he and Bella chewed on it for a little bit using the toy to massage their gums. It's a great toy for water play, fetching, tugging, and chewing. Odie approves! It is made in the USA.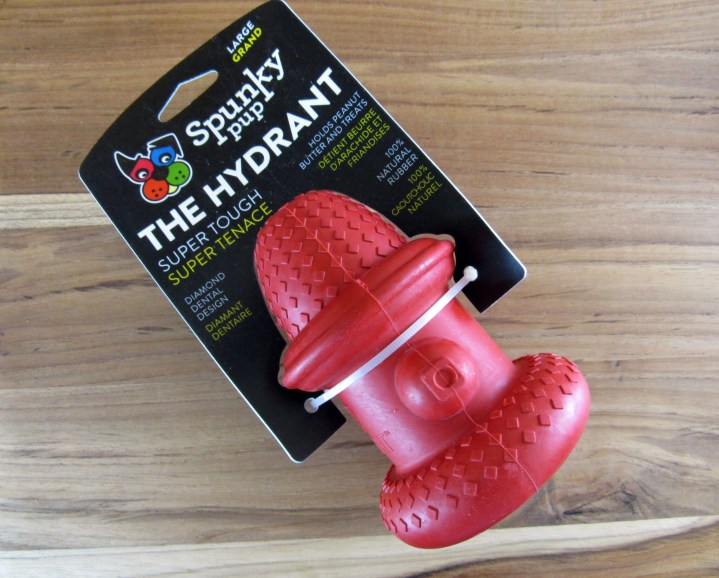 The Hydrant by Spunk Pup Size Large ($11.99) is a super tough toy that also hides treats and peanut butter inside the toy. There is a small hole on top and a large hole on the bottom which prevents tongues from becoming stuck in the toy.  Odie and Bella both loved this toy. It is made out of 100% natural rubber and promotes healthy gums. Odie and Bella loved it! It's dishwasher safe and made in China.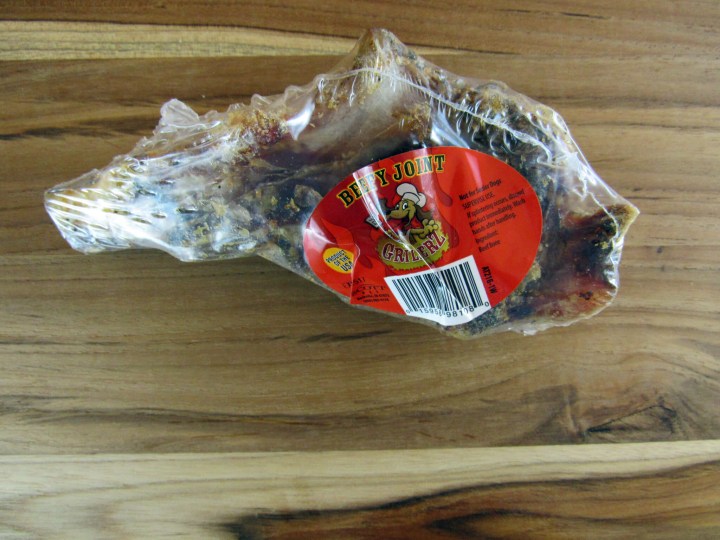 I couldn't find and exact match on the Grillerz Beefy Joint (appx $5.00+). It is a large-size beef bone joint that Odie chewed on for a while. Bella and Daisy finished it up later. It is made in the USA.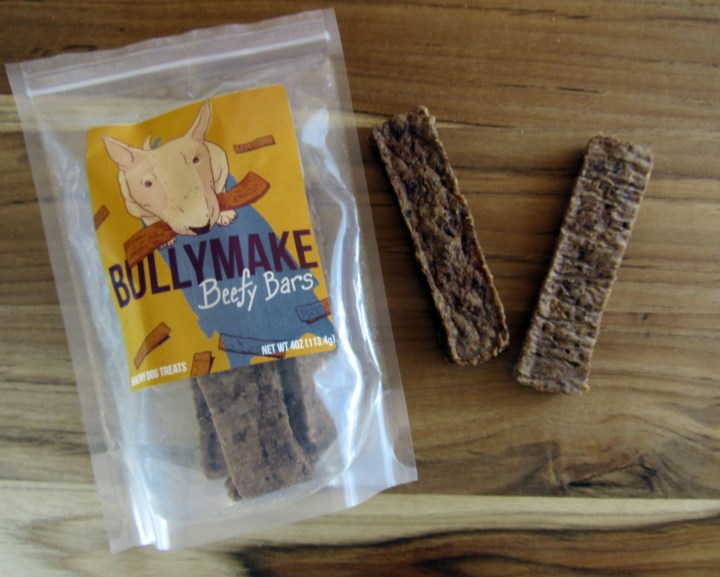 I did check the Bullymake Shop to see if the Made in the USA Bullymake Beefy Bars (4 oz, appx $5.00-$7.00?) are in stock. I based my guess of the price on similar treats that I have bought Bella. The first ingredient is beef! All three dogs loved the soft treats. We also broke up a couple of  bars and put them in the hydrant for picture time!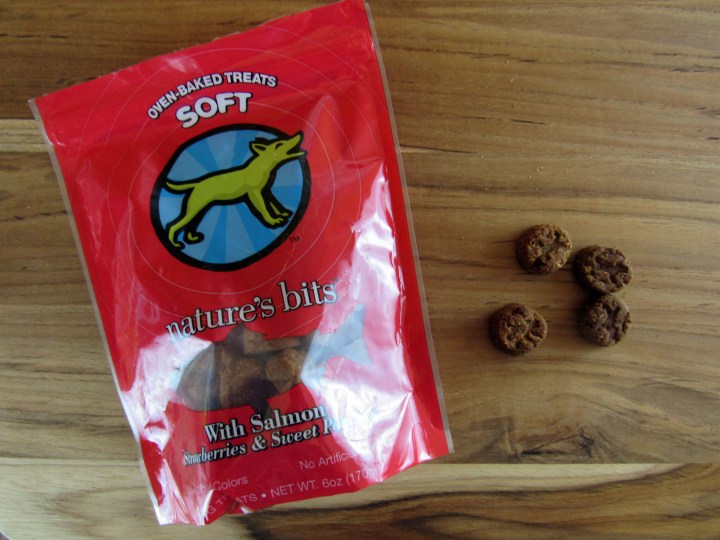 Bella and Odie loved the  Oven-Baked Treats Soft Nature's Bits with Salmon, Strawberries & Sweet Potatoes (5 oz, $9.89). The cats loved them too. The treats have no artificial colors or flavors, and Salmon is the first ingredient. I placed a few treats in the fire hydrant which Odie is eating right by feet as I type up the review.
The dogs are on an old pet comforter in the photos. Odie is the large dog and is half Border Collie and half Labrador Retriever. Our neighbor gave him to us when he was around a year old because he was too much for them to handle. Bella is a 12 lb Mini Rat Terrier. Do not be fooled by her small size.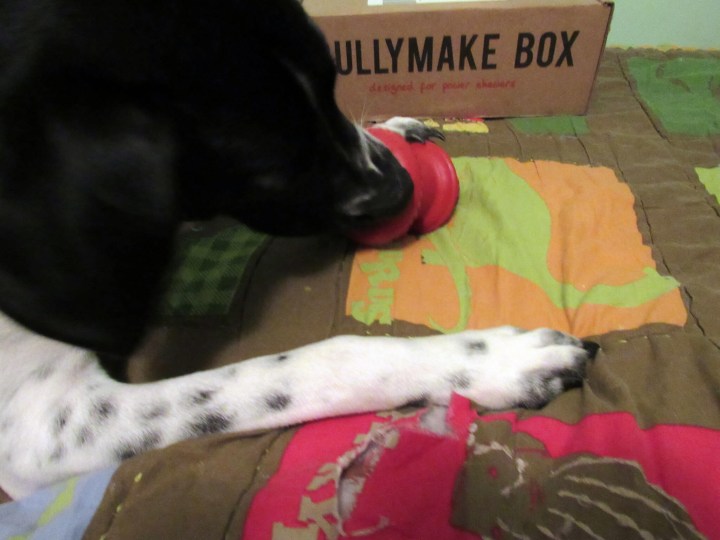 Odie is hard at work eating treats. He's a happy doggy.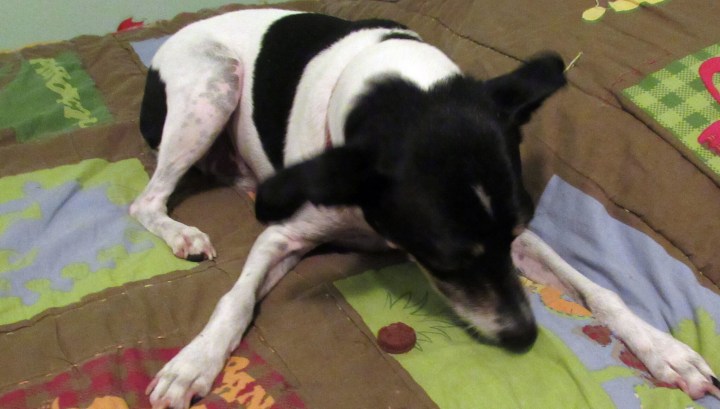 Bella is comical with her ears. They are expressive and move around depending on her mood. She looks like an airplane ready to take flight. She is enjoying the Nature's Bits with Salmon, Strawberries, & Sweet Potatoes treats.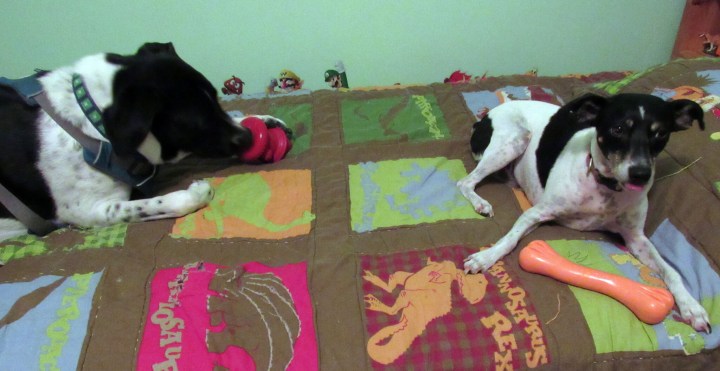 I have a few neighbors that still believe that Odie is the mother of Bella. Bella is the OG of the dogs and is the oldest. She was chewing on the bone but has her eyes on the hydrant.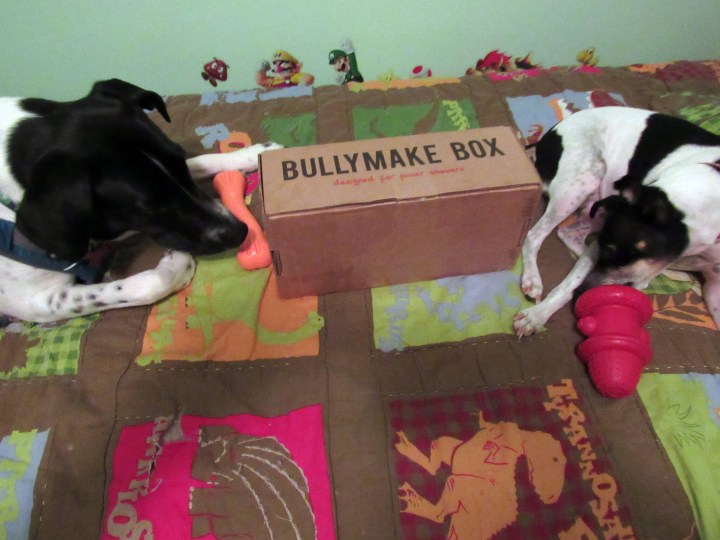 Check out Bella's ears! She knows she is eating the best treats! It's Odie's turn with the bone.
Bella and Odie loved their BullyMake Box. The fire hydrant was a big hit, and the bone felt good on their gums. The treats are yummy with no fillers. I am pleased with the quality of the toys and treats. They understand my need for durable toys and treats for their chewing needs. It's a fantastic box for heavy chewers that accommodates allergies and is weight specific.
What do you think about Bully Make? Save $5 on any plan with code Bullymake5.
Visit Bully Make to subscribe or find out more!
The Subscription
:
Bully Make
The Description
: Bully Make is the only subscription company that focuses on heavy chewers! We deliver toys and treats based on your dog's weight. You get hand selected perfection in every Bullymake Box.
The Price
: $39.00 per month