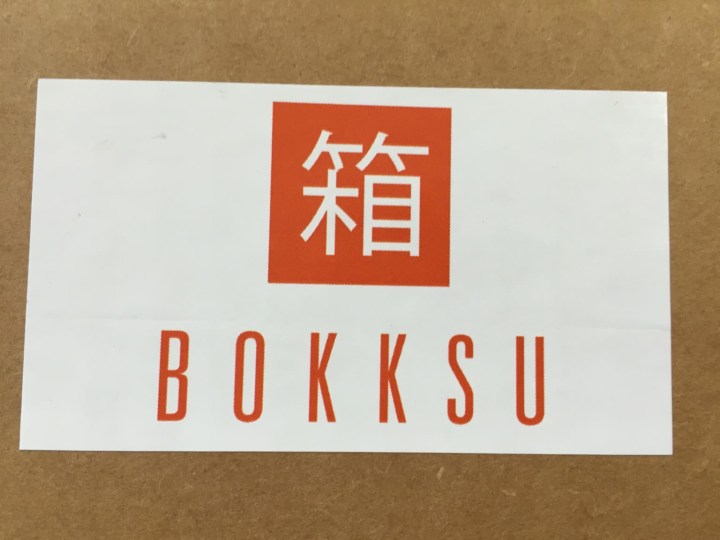 Bokksu is a premium snack box that features authentic Japanese snacks, as well as a tea pairing to go with it.
You can tell the care that Bokksu takes into sending their orange boxes of awesome — the box is protected with air packets to prevent it from shifting in transit.
I'm so excited to be reviewing Bokksu for the first time! This box is completely new to me, but when someone says 'Japanese snack box, with style!' I jump at the opportunity to review it. Bokksu only currently ships within the US, but when they reached out to us for a review, they generously agreed to send me June's box. Not just that, they expressed it as there are some perishable goodies in here best enjoyed fresh! Thank you so much to Bokksu for making this happen — I'm so excited to jump in! Look for shipping to Canada soon!
The outer box is made of a thin but sturdy cardboard, and it's glossy and sleek!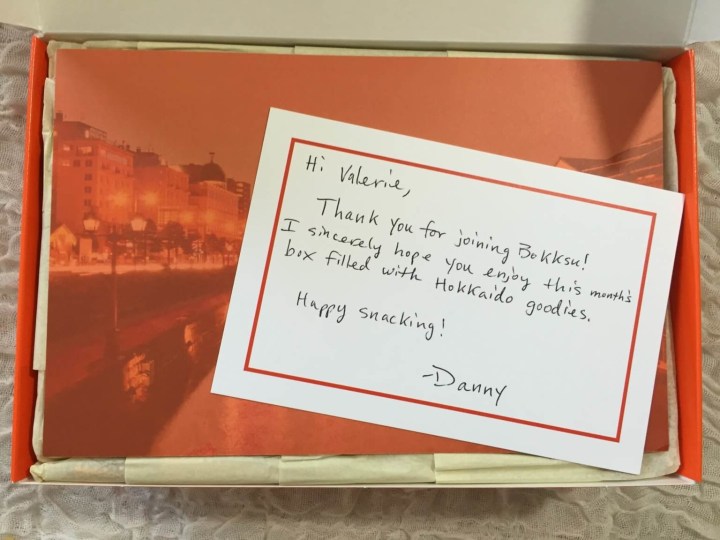 Danny included a lovely note to me, which made me smile! Spoiler alert: June's theme is Hokkaido!
I love the imagery on the product card — I can't say for sure, but I'd guess that the city featured is Hokkaido, and if so, I'm looking forward to seeing different photos each month!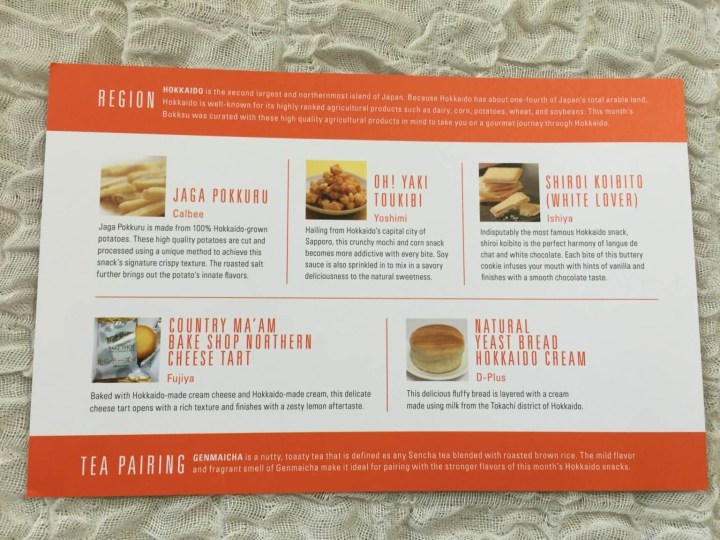 The product card is laid out well, with information on the month's region! This month is Hokkaido — it's in the Northern part of Japan, and there's an abundance of farmland and agricultural activity. Hokkaido makes some of the best chocolate, in my opinion, thanks to the high quality of their cream and dairy products.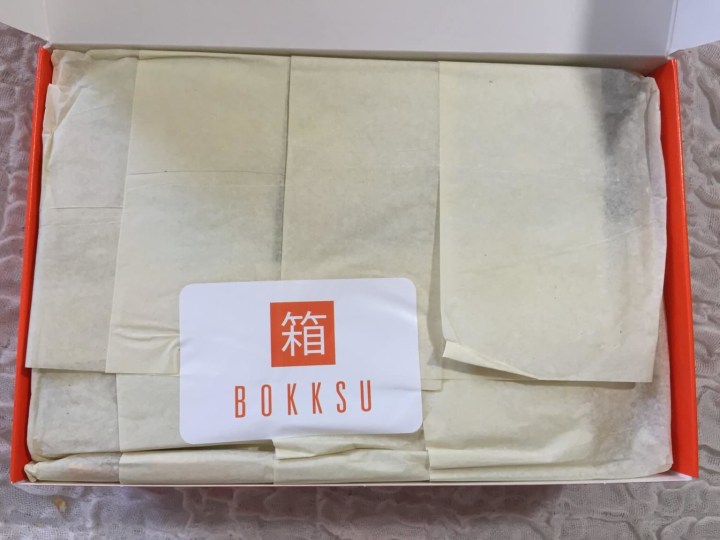 More tissue underneath… I love how coordinated everything is from the stickers to the tissue to the colouring on the information card.
I was so happy to see duplicates of everything! I share my Japanese snack boxes with a coworker of mine, and with boxes like this, I have enough to sample, photograph, and still have something to take in to have him try. (Also, I knew there was going to be bread because we sneaked a look at the product card when I picked it up from the post office, and I apologised because I wasn't going to share — but Bokksu included two! Do I need to tell him that, though??? Moral dilemma…)
Everything laid out! We were sent a total of six different treats (including the tea) but there are multiples of each.
Natural Yeast Bread Hokkaido Cream Japanese bread (pan) is the fluffiest, softest bread you will ever eat. Here in Vancouver, on Robson Street, we have a huge konbini (convenience store!) that has an entire rack of Japanese bread. Some are flavoured with chocolate or vanilla, some are filled with cream or red bean paste. These are made with Hokkaido cream in the dough, which lends a sweet creamy flavour to the soft bread. I was really happy to see a familiar treat front and center… and I will reluctantly share the other one.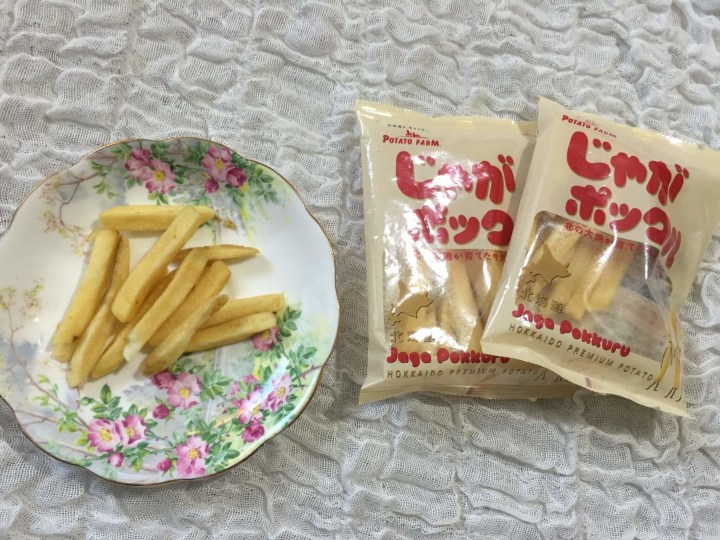 Jaga Pokkuru These look like french fries, but they taste more like a traditional chip — only they have the peel still on so they retain more of that earthy potato flavour! These are made of 100% Hokkaido grown potatoes, and are lightly salted. They are addicting. I have no idea how long those other two bags are going to last.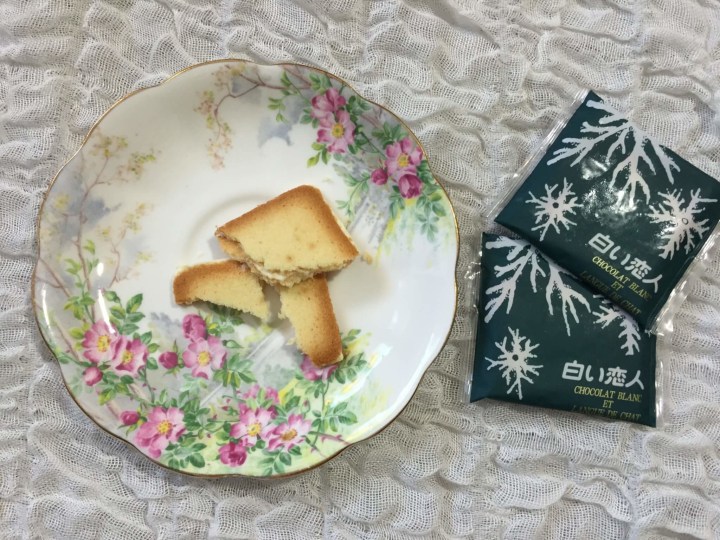 Shiroi Koibito These little cookies translate to 'White Lover' and are absolutely delicious. The two butter cookies are very thin and the white chocolate sandwiched between them is amazing. These are the most famous Hokkaido snack and I can see why — they are definitely my favourite item in the box!
Oh! Yaki Toukibi Okay, I lied, I think these are my favourite item — or maybe it's a tie? This is a mixture of mochi and corn, baked and puffed to crunchy perfection. There is a soy sauce flavouring added, and it's the perfect mixture of salty and sweet. It's addicting — once you've started you can't stop. The corn kernels are not super hard and crunchy (I hate that!) but soft and light.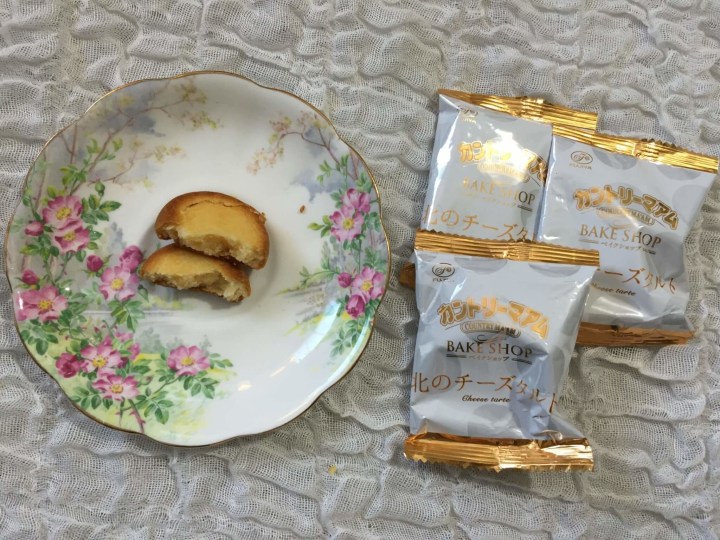 Country Ma'am Northern Cheese Tart These small cheese tarts pack a powerful lemon flavour mixed with the rich cream cheese. I was a bit hesitant to try this because I'm not a huge fan of cream cheese, but it was actually really good! The cheese taste is more of a cream flavour, and pairs nicely with the lemon.
Genmai Cha Green Tea I'm not a huge green tea fan, but I thought this was a pretty nice blend. I have a tea kettle that will adjust for types of tea, as green tea should never be made with boiling hot water, which makes it easier to make. It paired well with the sweetness of the treats.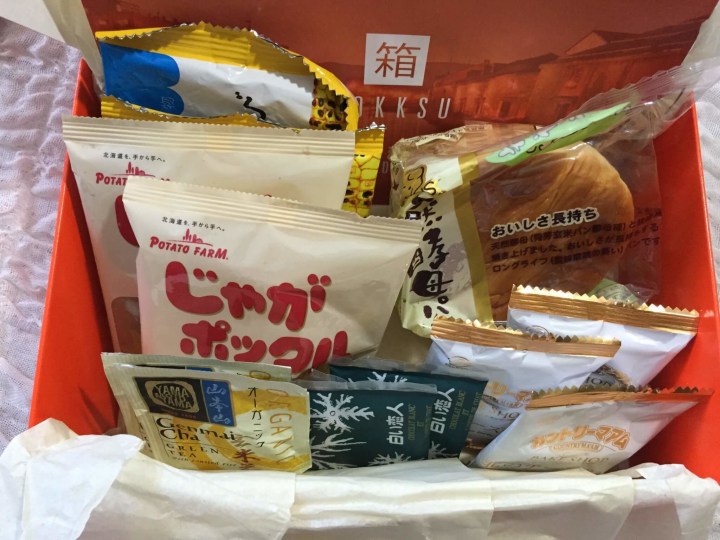 In my time here at Hello Subscription I have had the chance to review many, many Japanese snack and candy boxes. And there's only so much umaibo and pocky a girl can eat this close to bikini season. But every once in a while, a box pops up that's something special, that has that extra ~*~sparkle.~*~ (or, in Japanese, kirakira!) After unboxing Bokksu (which literally means Box!) I can safely say it's right up there. The selection of snacks and the high quality curation was amazing– I love Japanese candy as much as anyone, but the chance to sample the treats and delicacies they actually enjoy in Japan is often more rare. These are snacks you're not going to find easily, and they are all fantastically curated.
Visit Bokksu to subscribe or find out more! Save 10% on your first box! Use coupon code  HELLO.
The Subscription
:
Bokksu
The Description
: Bokksu is a Japanese subscription box for people to discover authentic snacks and teas from all over Japan. Every box contains 13-15 premium snacks sourced from Japan, a tea pairing that complements that month's flavors, and a Tasting Guide that explains each item's story. We meticulously craft each month's assortment to include only the best snacks and teas.
The Price
: $39.00 per month