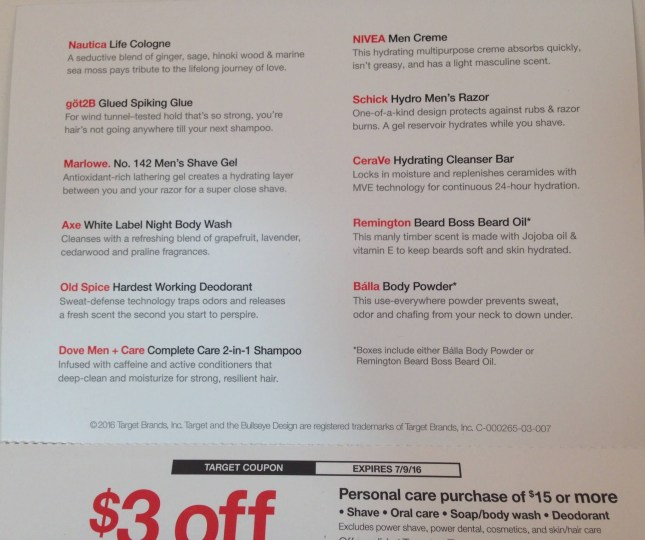 Blueberry Cove Beads is a monthly bead subscription service. Each month, you'll receive between 9 and 13 different items. It can be a mix of loose beads, bead strings, findings and pendants. You can share your creation on their social media for the chance to win a free box. Boxes are $22 per month plus $5 shipping in the US & Canada and their website features projects you can create with your beads.
Inside the box, there's always a nice black satin pouch with a postcard showing the theme of the month.
Each month has a different theme. This month's theme was Cowboy Country. So I was expecting a lot of browns and fun charms.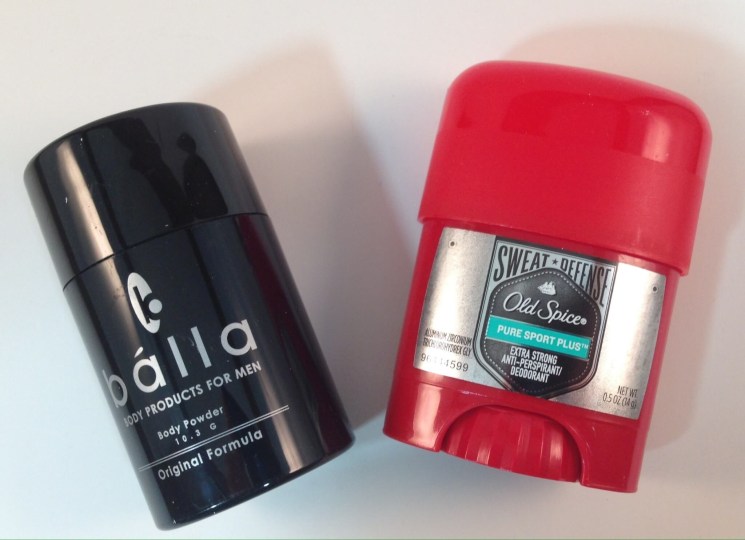 There is no info about the content of the box. Instead, we get a card explaining the challenge (optional) for the month. We can share our creation on their social media to enter a draw for a free box. Also, it's really neat to see what everyone else creates with the same set of beads! This month's challenge is to create a bracelet with a Western feel!
This box has a lot of brown, and turquoise! We also go full silver coloured charms and even a bit of cord.
Two bead strands. 5 mm round orange dyed gemstones and 3 mm synthetic turquoise beads. The orange beads have a tiny darker veins, and they would go well as an accent for the turquoise beads. The blue beads are synthetic, but very pretty and smooth. They would be nice on a bracelet with leather.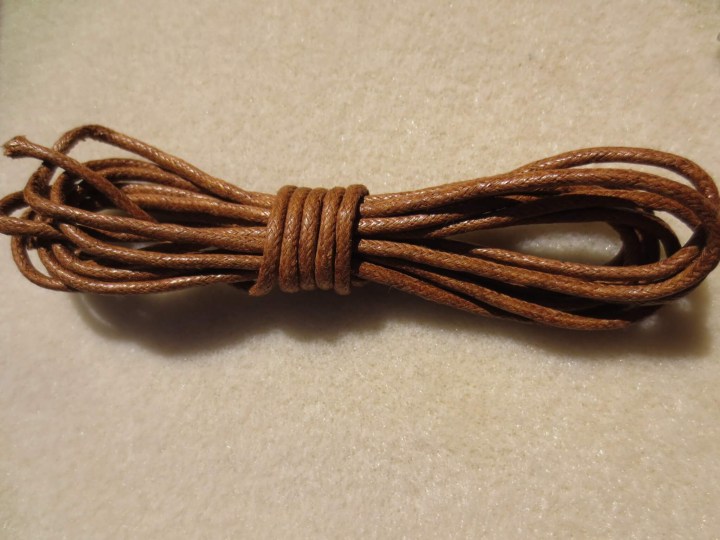 About 10 metres of brown 2 mm cotton cord. This would be perfect to make a bracelet for the challenge. Or a simple necklace with heavy beads at both end. The cord is quite thick, so not all the beads could be strung on it.
Two pyrite drop beads, 18 mm long. Those would be perfect at the end of a cord as they are quite heavy, but the hole is quite small for the cord given with the box. This could be fixed either by drilling a bigger hole or by using a headpin and then attaching the loop to the cord.
Six brown ceramic beads, 16 mm long. They have a very pretty rich brown colour. Even though they are not as heavy as the hematite beads, they could also be use as a weight at the end of a length of cord. The holes are bigger and with a bit of work, the piece of cord provided in this box could fit.
Silver coloured beads. Two antiqued flower pendants (26 mm), 15 round beads with a heart drawing (6 mm) and 10 star beads (12 mm). The pendants are very pretty, thick enough to be use as charms on a bracelet, or for a simple necklace. The round beads have a very pretty of a heart inside a flower on both sides. These could be used as an accent with the turquoise beads or as little charms. The stars are drilled from top to bottom, so they could be strung on a necklace or used as little pendants.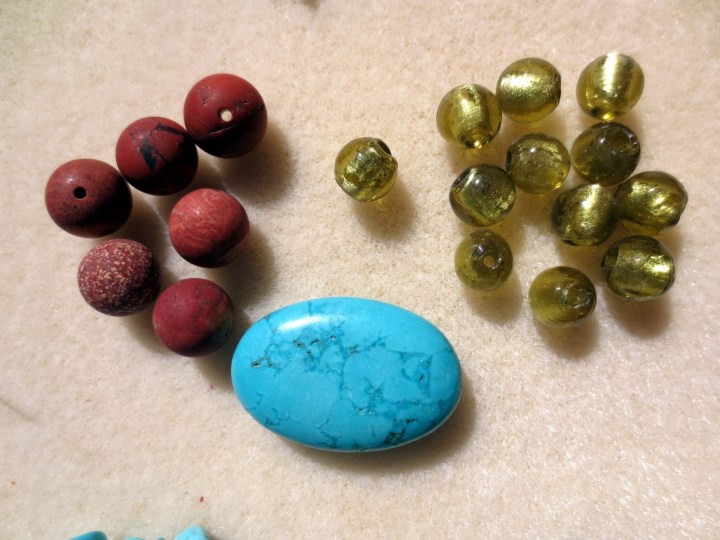 Six red jasper beads, 10 mm. Each one has a unique pattern and the colour reminds me of terracotta.
12 yellow foiled glass round beads, 8 mm. The holes are not perfectly shaped, but the colour is gorgeous. It's a nice yellow greenish colour and the foil layer gives it quite a nice shine. Strung on a necklace, it would give it a nice brightness without too much bling. They are very pretty.
3 0mm long turquoise dyed howlite focal. It is drilled top to bottom on the longer side and it could be use as a focal on a necklace or on a bracelet, or as a pendant.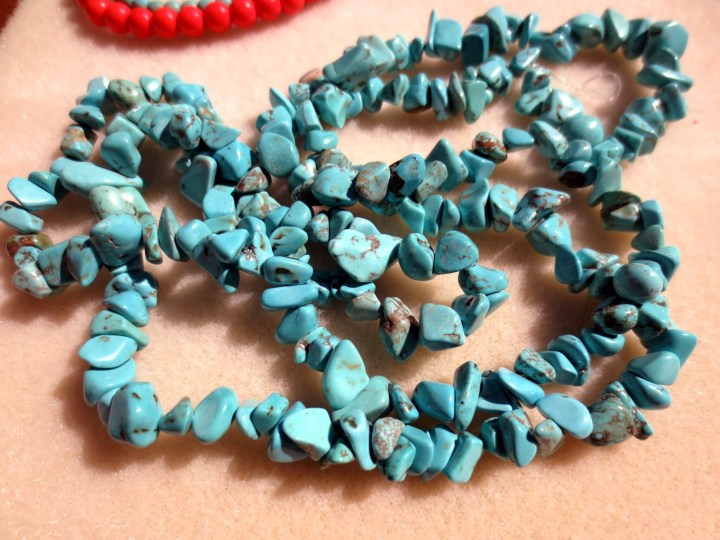 Synthetic turquoise chips. The strand is about 32″ long and the beads are medium size. Turquoise always reminds me of summer, beaches and sun. They could be use in a multi-layered necklace with the round silver beads for a light, elegant and fun piece of jewelry to wear on hot days. They could also be strung on elastic cord for stackable bracelets.
As soon as I saw the piece of brown cotton cord, I wanted to try making a wrap bracelet. They are very popular and they are fun to wear in the summer for a boho feel.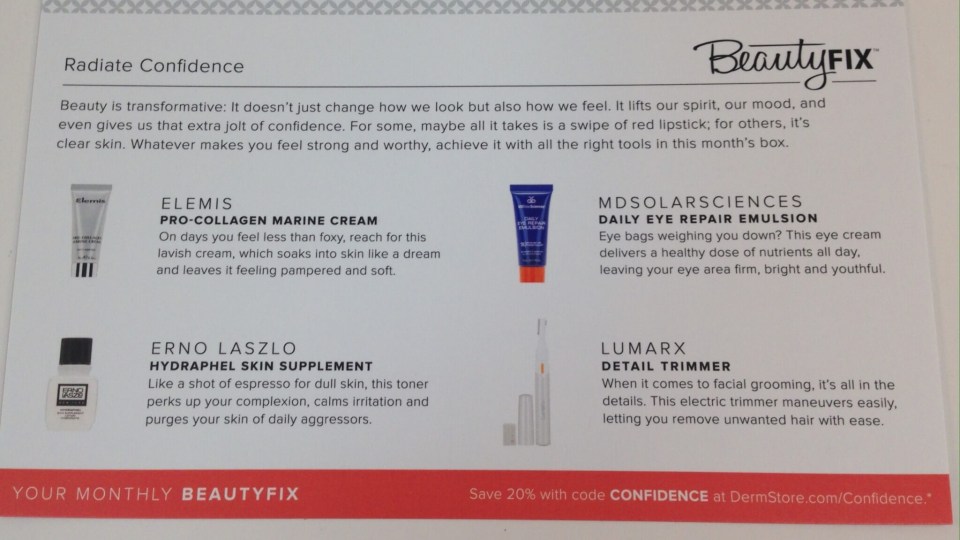 I used the synthetic turquoise beads for the outside row, the orange dyed gemstone mixed with the silver beads for the middle row, two brown ceramic beads instead of a button to close it. I used two to make it an adjustable bracelet. The only thing I've added to this box to make the bracelet was the black nymo thread and some glue. It was my first time making that type of bracelet, so I'm very happy with how it turned out. And I have a summer dress with exactly those colours on it, so that's a win!
I really enjoyed this month's box. Lots of beads, nice colours that worked nice together and fit the season, and a piece of cotton cord to get the creative juice flowing!
What did you think of this month's Blueberry Cove Beads?
Visit Blueberry Cove Beads to subscribe or find out more!
The Subscription
:
Blueberry Cove Beads
The Description
: A monthly bead subscription box. Each box will contain between 9-13 items such as loose beads, bead strings, findings, pendants and more.
The Price
: $27.00 per month