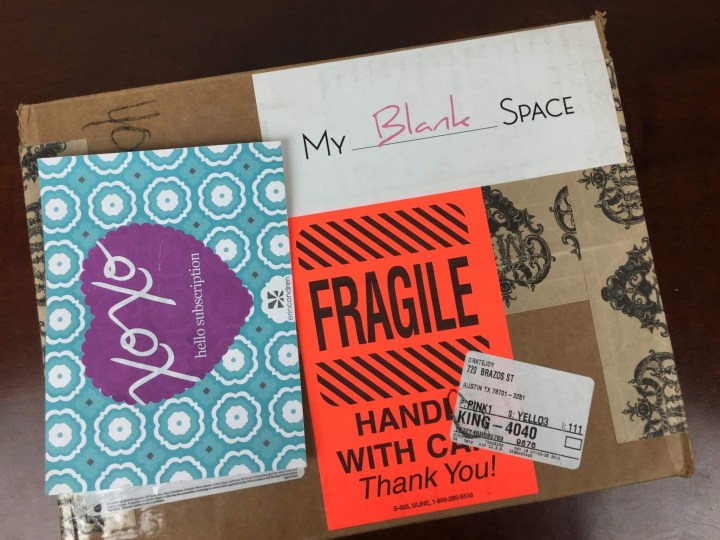 My BLANK Space is a monthly subscription box to decorate your, well, blank space. The subscription costs $20.00 per month, and you can select from three box options (Candle Club, Glam Gift Club or Art Club) each month. My BLANK Space is a great way to refresh your room's old look, or try different themes every month.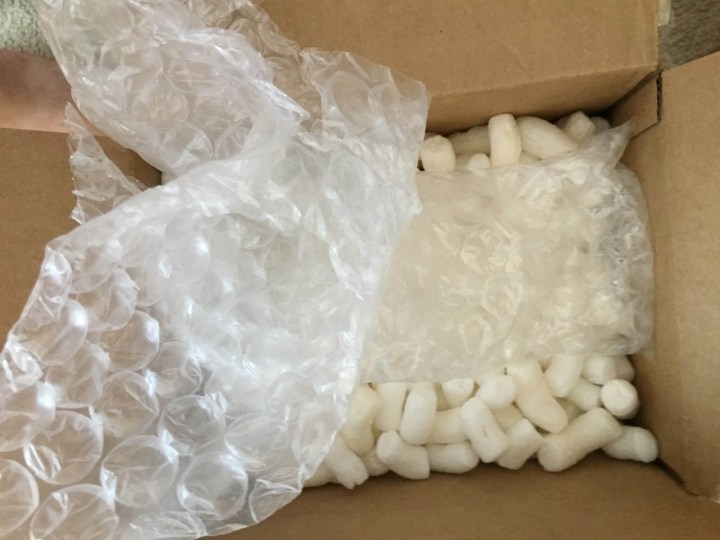 The items are secured inside by biodegradable packing peanuts and bubble wraps.
Everything in my box! I received the Candle Club box. NOTE: I was unable to contact this subscription (we received no response) regarding whether this box was the box subscribers receive, or if subscribers receive only one candle.
I totally love the metallic logo on the front of the candle! I think this particular design keeps it from being too modern/stark.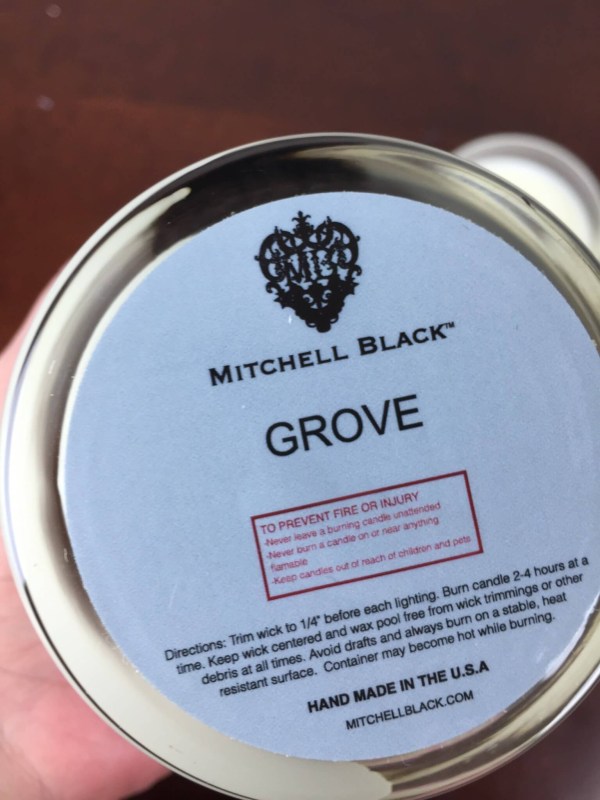 Mitchell Black Grove Candle ($45 each – 10 oz) All three candles were the same scent and there was no information card to clue me in about why the scent was chosen for this month, how I might use three giant same-scented candles to their best effect, etc.
The candle itself is a massive 80 hour burn and made in the US! The scent was described on the website as mostly citrus with a bit of cedar and I can't say it smelled like that at all to me. It smells like tea! I am not very good at describing and identifying mysterious scents so I asked my husband.
Described as a blast of citrus with a hint of evergreen. To me it smells like indistinguishable citrus — not quite lemon or orange but definitely not something distinct like grapefruit. Def a light piney scent to but also non distinct, somewhat like earl grey.
There you have it, our scent expert says tea.
You really can't complain about the value of this box! These candles actually sell for $45 each and I got three. Unfortunately we couldn't tell you if this candle subscription comes with 3 candles or not. Let us know if you have any insight.
Visit My BLANK Space to subscribe or find out more!
The Subscription
:
My BLANK Space
The Description
: Experts in the joy of fine living bring you three great subscription clubs to refresh your space, your way… Choose the Candle Club, Glam Gift Club or Art Club and say hello to my___BLANK___space. Different luxury brand sponsors will fill your box and turn your "BLANK" space into… your _ZEN_ your _COZY_ your _TRIPPY_ your _BLANK_ space.
The Price
: $20.00 per month