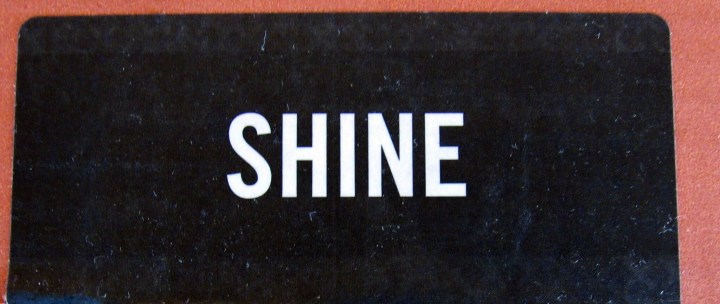 Bespoke Post is the number one box that my 17-year-old son wants me to send him when he goes to college in the fall of 2017.  Bespoke Post is a men's lifestyle subscription box. Each month, you'll get to choose from one of the limited-edition boxes filled with an array of products built around a central, unique theme. There are usually two or three new boxes to choose from every month in addition to a selection of past boxes. One of the great things about this subscription is that you can skip the month if you're not interested in it.
For a limited time use code LIMITED25 to save 25% on your first box!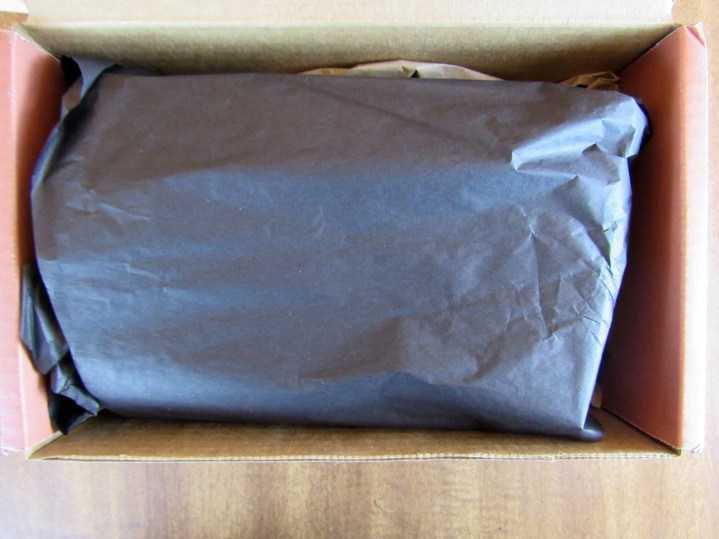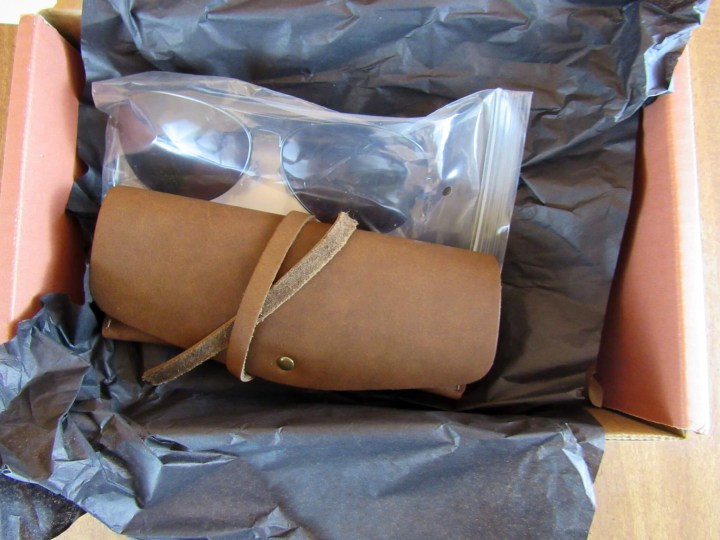 A good pair of shades should be in every guy's everyday carry once the weather breaks.

Grab them before you head out the door and they'll help keep you cool and collected from ball games to barbecues to the beachfront. And in addition to the style boost, a quality pair of sunglasses is one of the best ways to protect yourself from the summer sun. The lenses block UV rays from hitting your face, helping to keep under-eye aging at bay.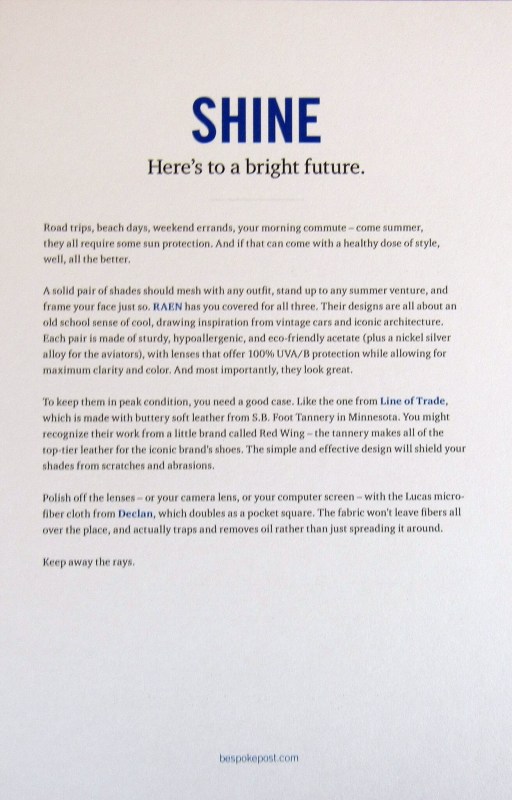 The front side of the information card provided information on Shine. The back side has hair tips.
T, age 17, was excited when the Bespoke Post Shine box showed up. He did have to wait a few days for the sun to come out to enjoy his new sunnies.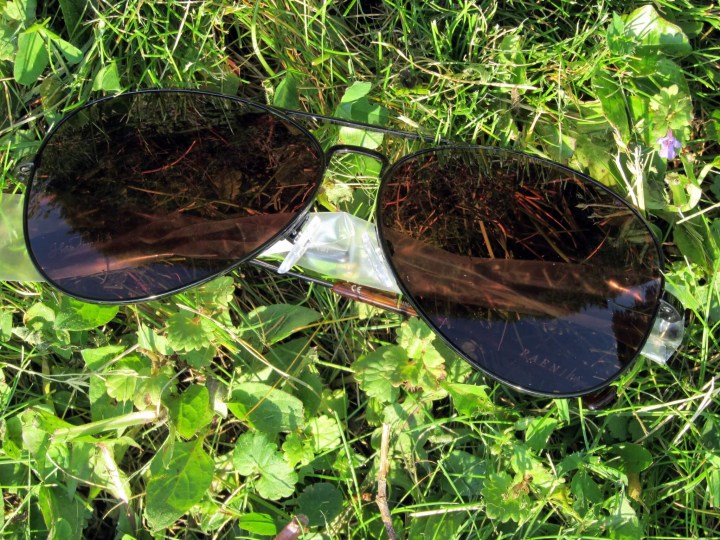 There are three different sunglasses to chose from. T gravitated to the aviator style Hopson RAEN Sunglasses ($21.20 at Nordstrom Rack, originally $106.00) immediately. Bespoke Post describes the pair as
An iconic, military-inspired sunglass shape with an especially masculine vibe. The oblique teardrop lenses look good on most anyone, and are fitted onto a lightweight nickel-silver alloy frame with all the cool of Maverick and Goose.
This time marks the first time that I have found a Bespoke Post item significantly marked down. The Hopson RAEN sunglasses were released in 2013 which surprised me. I calculated the value of the box to be $68.20 using the prices that I found. On the one hand, T loves the items that he received. They are of excellent quality. On the other hand, sunglasses from 2013 does not meet the expectation that I have of Bespoke Post. I've decided in the future that I will make my selection in the first couple of days and then research my choice to determine if it is worth ordering. I hope that this is an anomaly for Bespoke Post. I have chosen not to contact Bespoke Post about the box because T is happy with his items and wishes to keep them.
What was your May selection? Tell us below!
For a limited time use code LIMITED25 to save 25% on your first box!
Visit Bespoke Post to sign up or to find out more or to subscribe!
The Subscription
: 
Bespoke Post
The Description
: Curated theme box for men. Each luxury box delivers items centering around one central theme. Past boxes have included complete shoe care for professional men, unique accessories, bar mixology, tequila tasting, charcuterie entertaining, and more.
The Price
: $45 per month