BBQ Treat is a monthly box of BBQ stuff for the ultimate Pitmaster in your family. The box is but together by true BBQ judges so you know you are getting good stuff.  I live in NC and we know our BBQ so this is a great box for my family.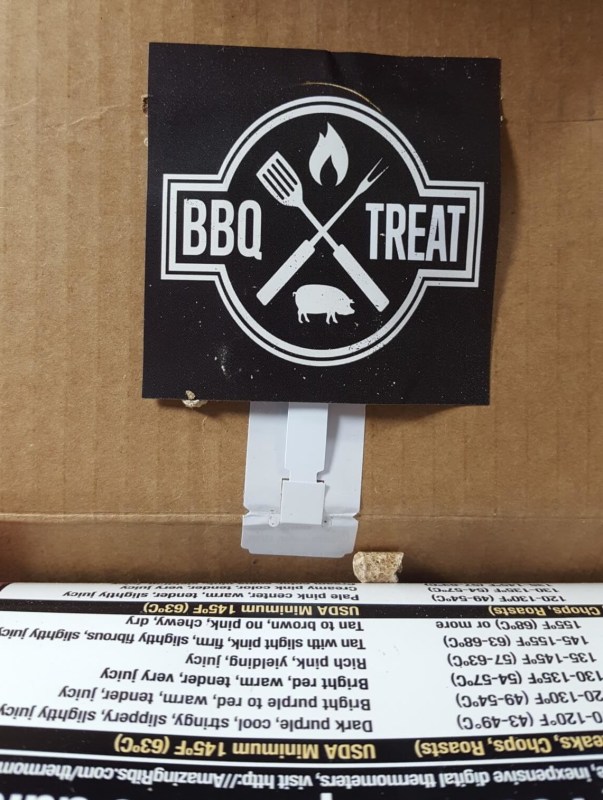 When I first opened the box I didn't even get to do a full first look since I couldn't get past the music. The box was playing the Rocky theme for me as I opened the box up. It played for a long time and my boys think that its so cool. They didn't really know what I was talking about but when I showed them they were even more excited.
https://youtu.be/I33u_EHLI3w&rel=0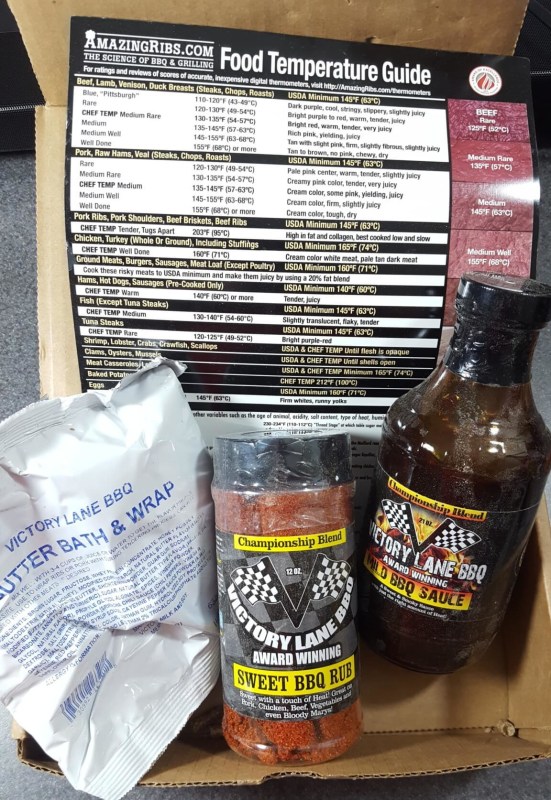 Everything in the June box.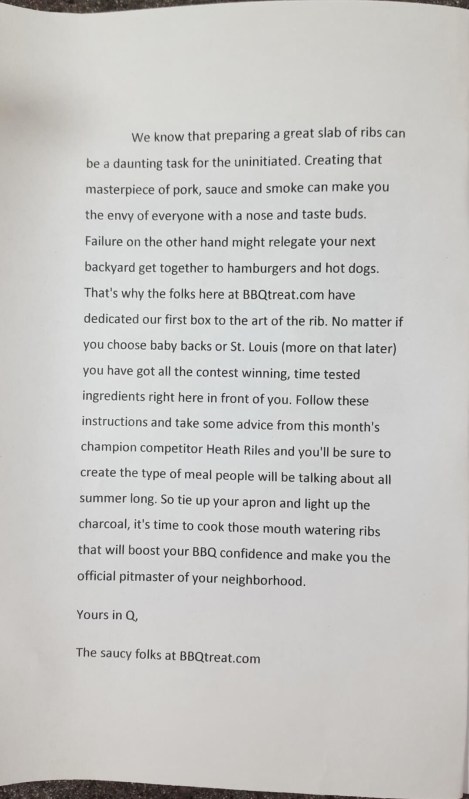 The box didn't come with an information card on the products but it came with a pamphlet that started with a note from the guys and then included info on what to look for in ribs, preparation, and then some hints and tricks. All the secrets are in here!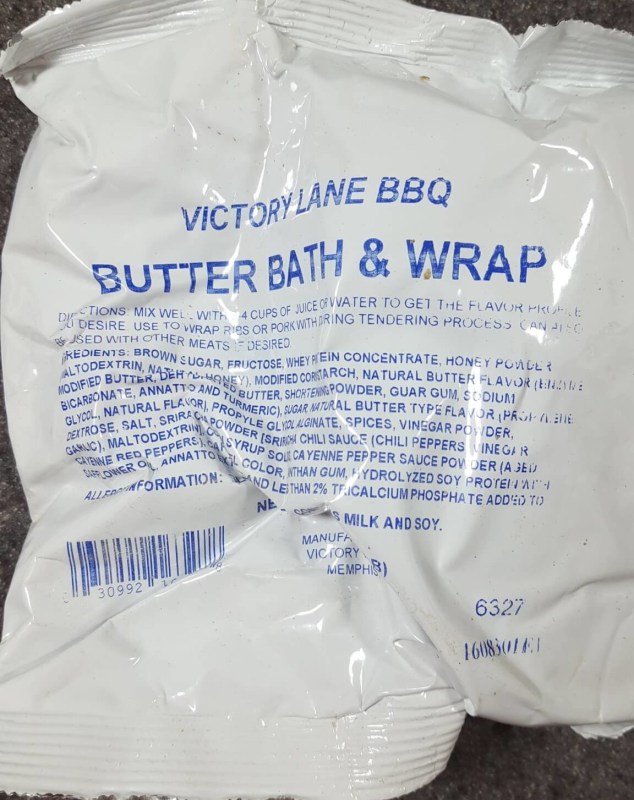 Victory Lane BBQ Butter Bath & Wrap ($13.99) – This is a mix of butter, brown sugar, honey and a special blend of spices! Use to wrap your ribs or pork for a great flavor.
Victory Lane BBQ Mild BBQ Sauce ($7.00) – A Memphis style sauce that is sweet and tangy. This has a little smoke and a little kick and has won over 50 1st place trophies!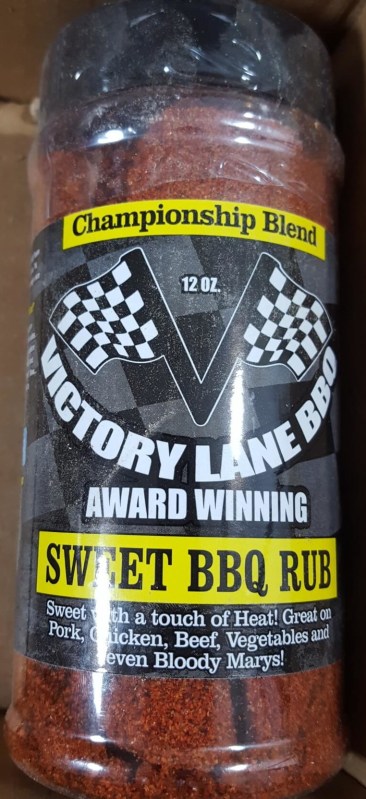 Victory Lane BBQ Sweet BBQ Rub ($12.99) – This rub is sweet with a touch of heat. I love a kick with my BBQ so I can't wait for us to try this one. I love the idea to put it on Bloody Marys or popcorn!
Wood BBQ pellets – Loose in the bottom of my box were some wooden BBQ pellets.  These will burn and add flavor to your food through the smoke. I thought this was a fun packaging idea!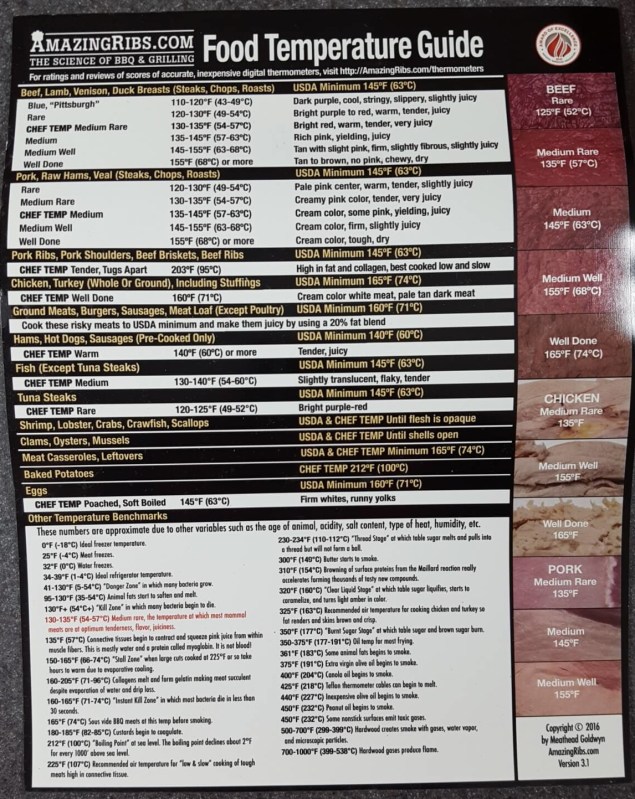 AmazingRibs.com Food Temperature Guide ($5.99) – This is a huge magnet and has tons of great ready to know info for cooking. We're not sure who Meathead Goldwyn is, but he sure knows his meat!
This is a really great BBQ box.  The weather has been great around here recently and we've been grilling out a lot.  For the first box they did a good job. I would love to see some information on the products in the info booklet but I was able to find them online pretty easy.  I also really enjoyed the full size of the products so they will be able to make a good size piece of meat and with 3 guys in my house we need lots of meat. I'm excited to get some ribs going!
What do you think of BBQ Treat?
Visit BBQ Treat to subscribe or find out more!
The Subscription
:
BBQ Treat
The Description
: A monthly BBQ subscription service featuring one pitmaster, one theme, once a month. Brings only the best in BBQ to the backyarder every month. Tips, tricks and their award winning products to turn any backyarder in t=o a pro. How do we know what works – we're competition BBQ Judges (Yes its' a real thing).
The Price
: $19.99 per month