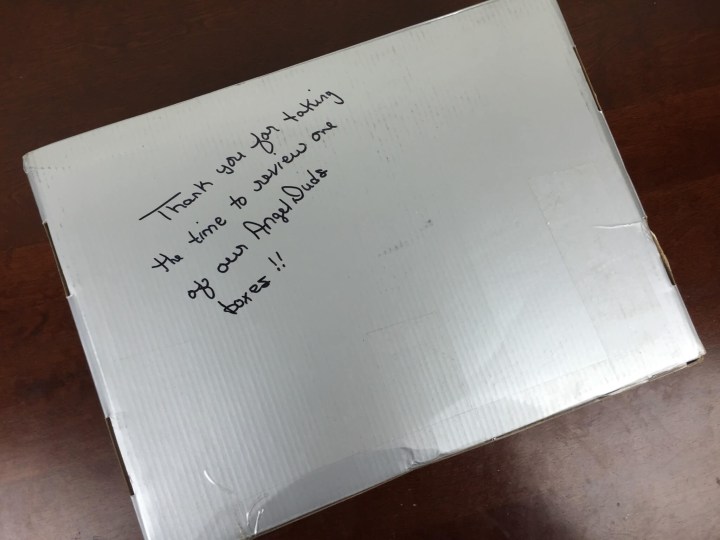 Angel Duds is a new kids' clothing subscription service that brings fashionable clothes for your little angel every month. The subscription costs $44.00 per month, or get a one-time box to see if the service is right for you! They currently offer  sizes 5T through 14 for boys and girls.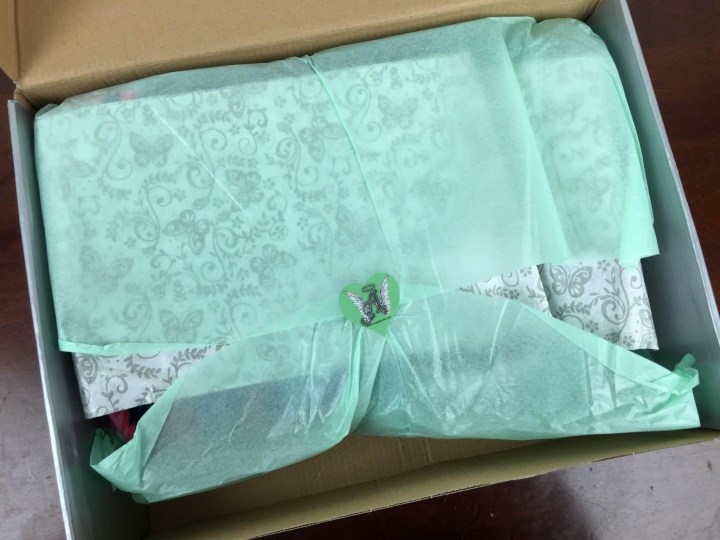 The items are neatly wrapped in a sheer light blue paper.
The information sheet provides a list of all the item inside the box. I'm not sure if everyone receives a letter or if I did for review purposes.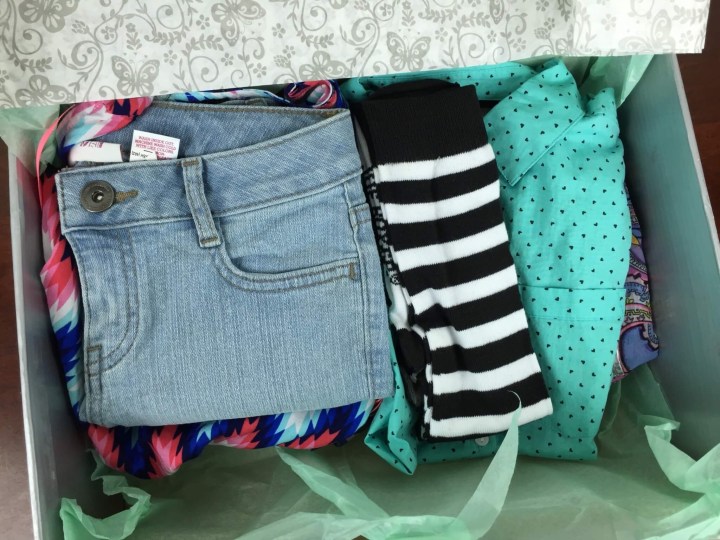 Everything looks so colorful upon unboxing!
All the fun outfits for our daughter this month!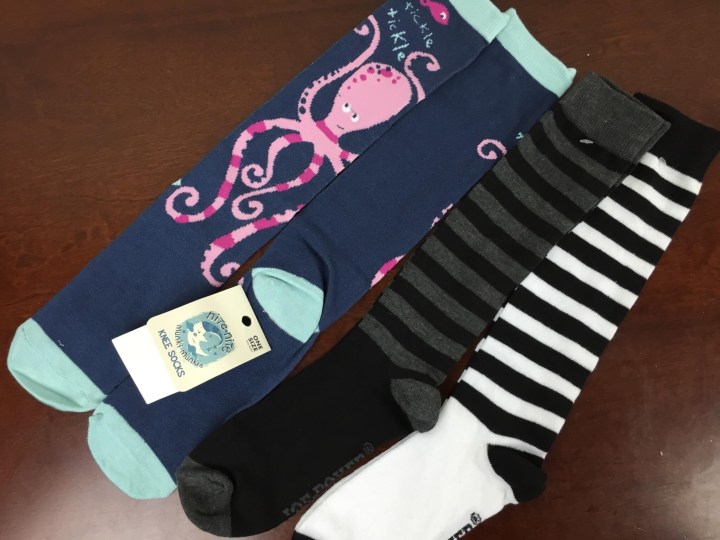 Nite Nite Munki Knee-High Socks
Joe Boxer Black & Gray Knee-High Socks
Joe Boxer Black & White Knee-High Socks
My daughter is in prime fun socks age, and she was super excited about both pairs! The first is a "tickle tickle" Octopus print, and the second two pairs are Joe Boxer striped socks that can be mixed and matched!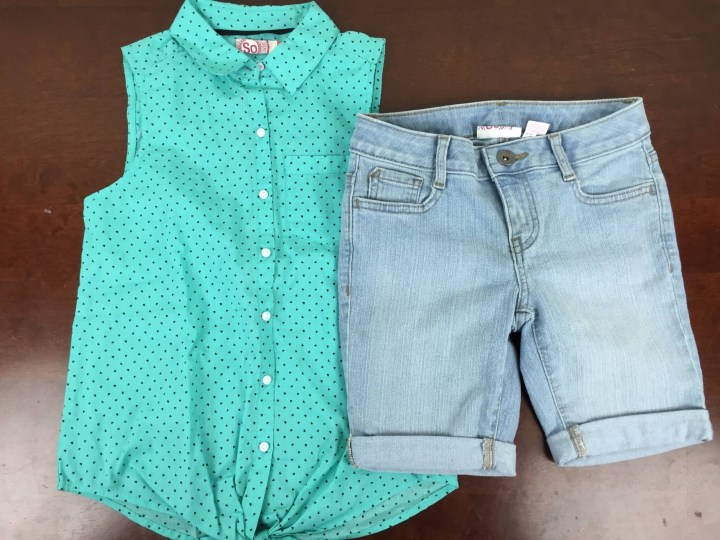 S0 Green Button Up Summer Shirt: A fun sleeveless button down with a green and blue swiss dot print! It ties at the waist.
S0 Denim Shorts With Adjustable Waist: I love the modest length of these shorts. My daughter doesn't like wearing really short shorts, unless they're under her clothes, so these turned out to be perfect for her.
What a cute outfit! I think this is one of the most adorable outfits we've ever received in a subscription! She loved it, I thought the fit was perfect, smiles all around! Perfect for play time!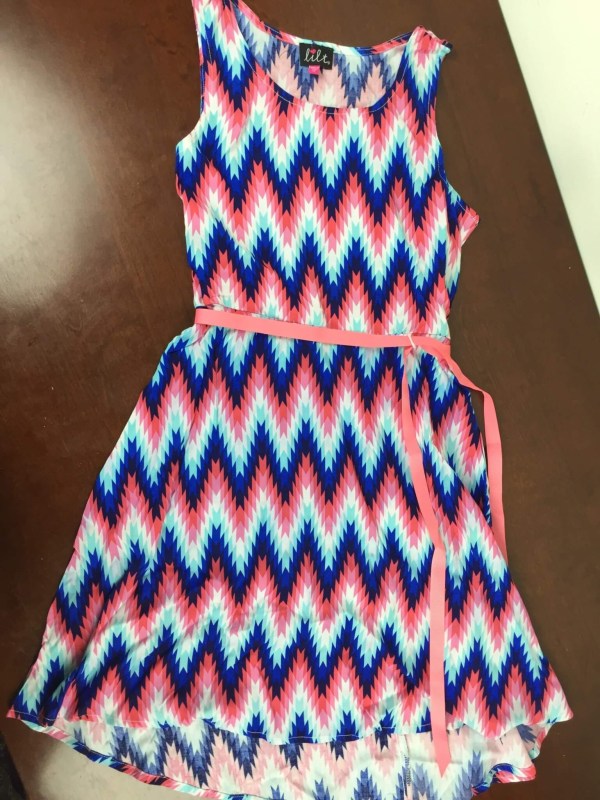 Lilt Pink Dress: I love the pattern on this dress – a chevron print with a neat tribal twist! The dress is sleeveless with a high-low hem and a cute sash!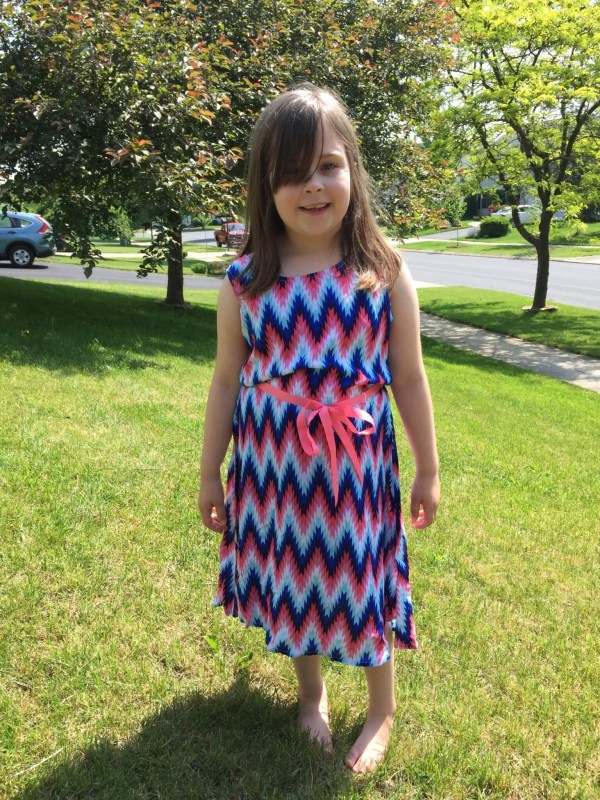 This is another win! She's super happy with it and so am I! More smiles, and great for summer (which doesn't get very hot here) – sleeveless but enough fabric to keep her from getting cold.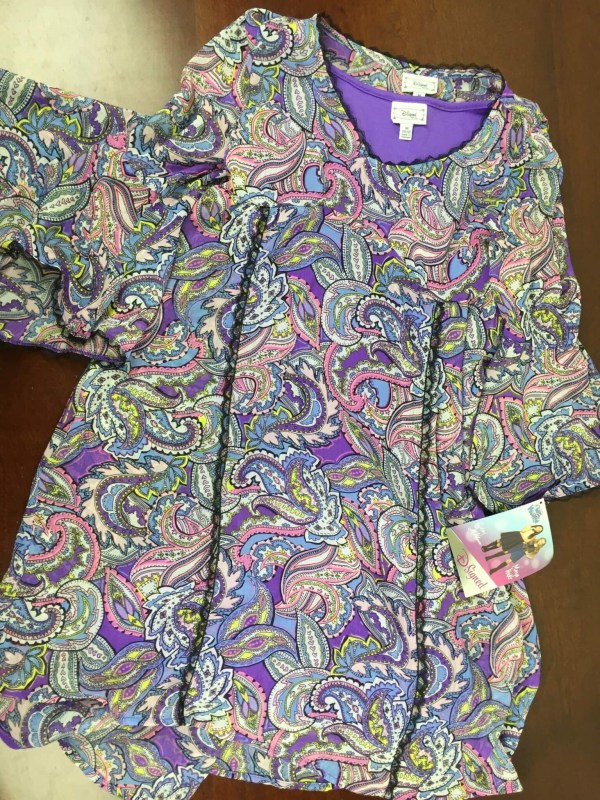 D-Signed (Inspired from Disney's Girl Meets World) Two-Piece Summer Dress: My daughter loves dresses so we were excited to see 2 dresses in the box!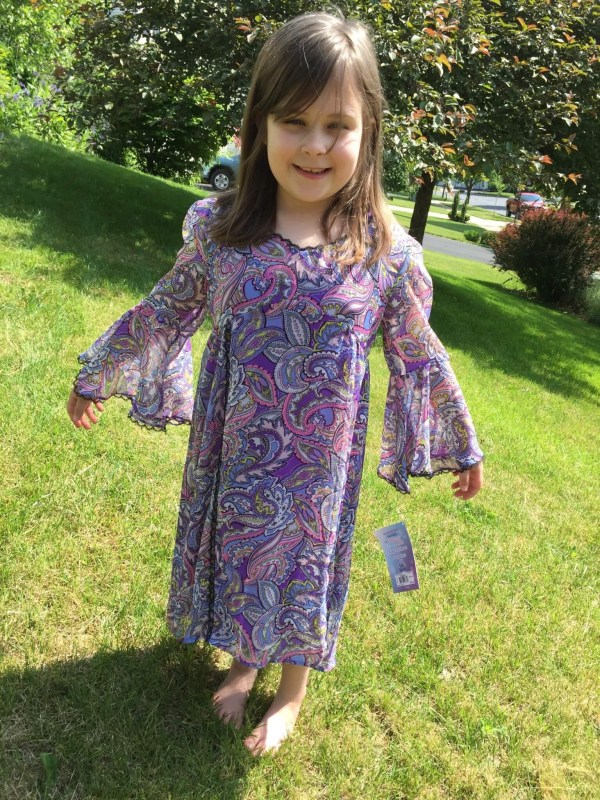 My daugher loved this one! It might be a little grown up for her right now though (she wears a bit of a larger size and I think the dress might be intended for a girl a little older with the bodice design – but note that I didn't give her age when I provided the info for the review!). It's super cute and sure to be a hit for just about everyone! Good to know – you can specify your likes/dislikes when you check out too! She happily flapped around in this dress and loved the colors. Mom loved the two layer design!
I was super pleased with this box and impressed with the fun clothes. It was a great value and getting clothes in the mail automatically is totally the easiest way to shop! Three great outfits & 3 fun pairs of socks equals a win for this kid! I asked her which was her favorite, and she said all of them!
What do you think about Angel Duds?
Visit Angel Duds to subscribe or find out more!
The Subscription
:
Angel Duds
The Description
: An on-line kids' clothing subscription service. You can order a monthly subscription to have a box of clothes delivered for your little angel each month, or we also offer a one-time box so you can check us out. Your little angels will be thrilled to get their very own subscription box in the mail.
The Price
: $44.00 per month