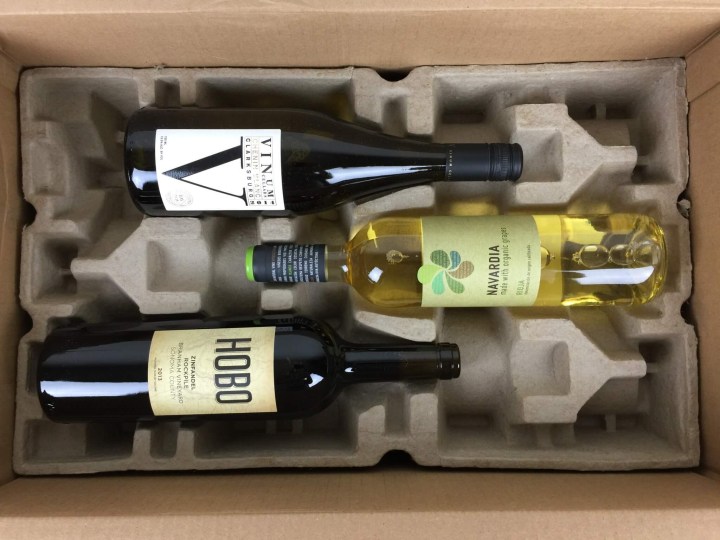 Wine Awesomeness is a wine club that's like a subscription box  – great wines are thoughtfully curated around a cool theme.  Every month you'll get themed, wine-fueled adventure complete with 3 (or 6!) excellent wines and "The Back Label" mini-mag! You can choose reds, whites, or mixed — we've been getting the mixed since we switched to the six bottle box.  One of the things that we like about this subscription is that they include rosé in with the whites, so this increasing popular category does not get ignored.
You'll get 3 (or 6, depending on your choice) wines every month or every quarter, depending on how often you'd like to receive it. The 3 bottle box costs $45, and the 6 bottle box is $75.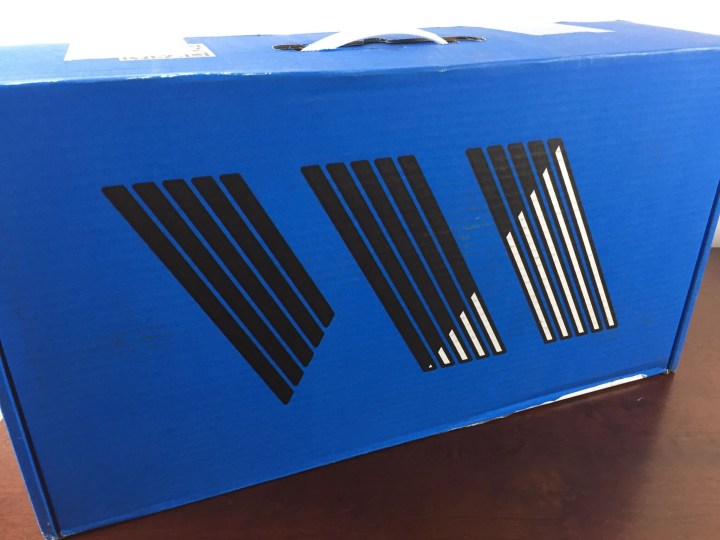 The six bottle box doesn't ship in the rad Wine Awesomeness boxes.  Guess that's where the savings are!  When you get a 3 bottle box this is what the box looks like – it's really neat!
The theme this month is "Pizza Box."  Every month you don't just get 3 "really good" bottles of wine (for a great price, I might add), you get 3 really good bottles curated around a specific theme along with an introduction to the theme, very readable educational materials about all the grapes in this region or the theme, and page by page introductions to each wine.  The book is a great tool to help you intelligently explore the world of wine out there.
This is such a great, accessible mini-mag.  This is my favorite wine subscription because of the theme and the magazine (and the great wine!).  The mini-mag is full of cool stuff — great detail on the wines, recipes, and even several articles on the theme and its relation to wine culture.
The mission of this month's theme is to remind us that beer isn't the only adult beverage that pairs splendidly with pizza.
Another article explores the incredible popular and variety of pizza, as well as explaining the "Verified Neapolitan" pizza certification.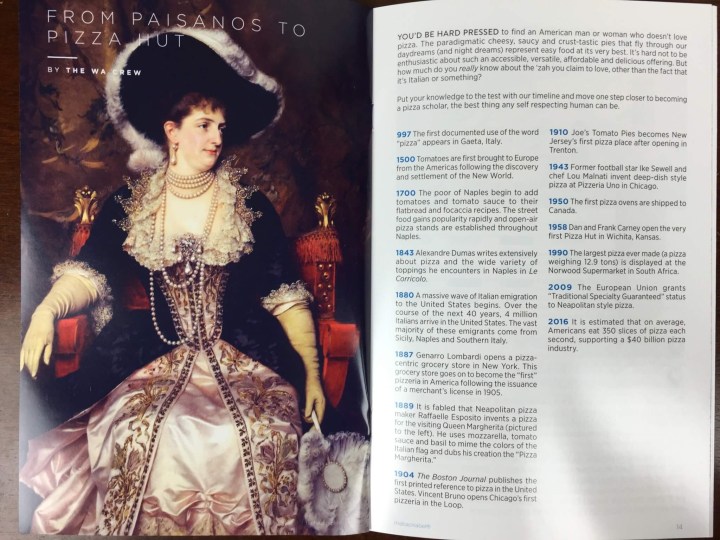 This timeline traces the history of pizza from it's first mention in 997 to it's current status as a $40 billion a year industry in the U.S.
Each wine has its own information page including the following:
Wine Name
Grape
Location
What you should do while drinking this wine (many tongue in cheek)
What to eat with the wine
What to listen to while you drink the wine
A cool chart showing a visual on the Acid, Body, Tannin, and Fruit of the wine (this is new!)
Wine Bouquet
Tasting Notes
Description
The recipes appear facing the wines, which you can make to eat with, or use to guide your selections.  We are simple folk, so we usually pick the recipe that is closest to what we're already eating and grab the corresponding bottle!  This month, the recipes were curated by Paulie Gee's and Emmett's, two NYC pizzerias.
I think the booklet really cements the value proposition of the subscription.  You are already getting good to great wines — some of which may never otherwise grace the shelves of any store in your county — for the very reasonable price of $15 or $12.50/bottle (depending on whether you get the 3 or 6 a month and excluding shipping).  With the booklet, you are also learning a great deal about these wines, the conditions of their production, and wine culture in general.  It's super informational, and it helps you learn about wine in a really low key way.  Short of taking a sommelier course, this is one of the best (and certainly most enjoyable, relaxed, and non-pretentious) ways to increase you knowledge and appreciation of wine.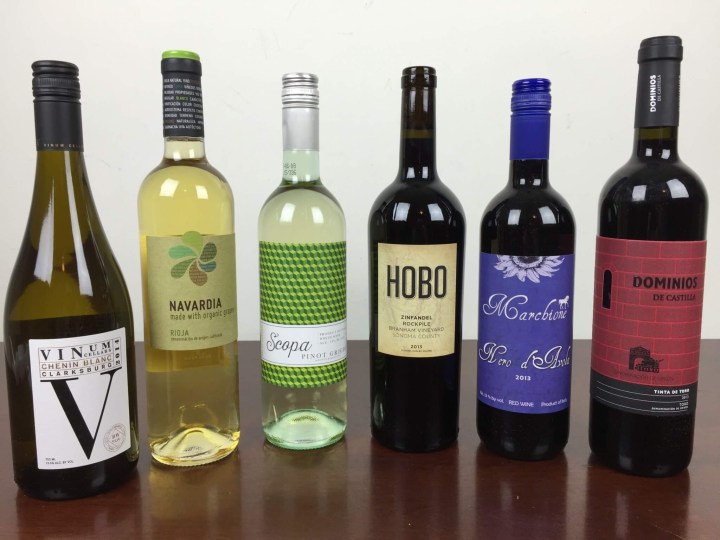 Oh look, it's all the wines that come in my 6-bottle box!  I love the way the collection of bottles nearly always comprises labels (and presumedly winemakers) that include the old-fashioned, the irreverent, the modern, and the quaint, all in the same box.
May Wine Awesomeness: Whites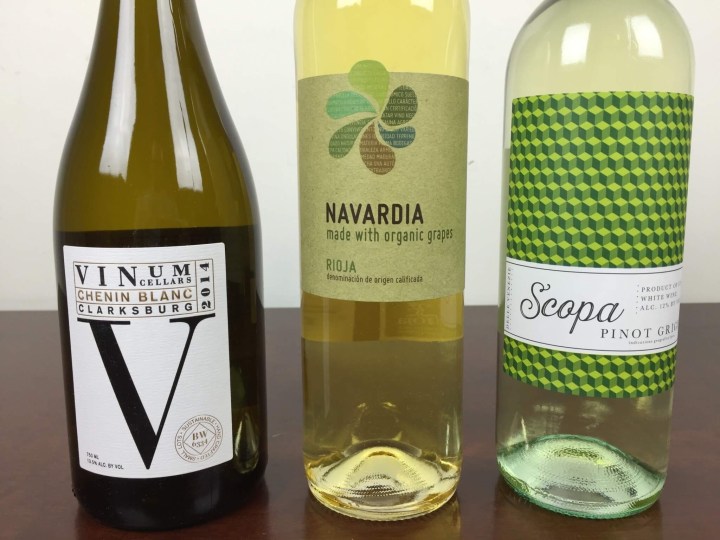 Vinum Cellars "V" Chenin Blanc 2014:  This wine has a surprisingly full mouth feel and is loaded with "yellow" flavor notes, including pear, golden apple, beeswax, caramel, and butter.  An unctuous body and fruity palate is underpinned with a bold acidity.
Navardia Rioja Blanco 2013:  A blend of equal parts Sauvignon Blanc and Garnacha Blanca, each grown in Eastern Spain.  Light and delicate, the blend has much tamer aromatics than is often associated with a Sauvignon Blanc, and it is replete with bright and sunny citrus notes.
Scopa Pinot Grigio 2015:  Tropical fruit and floral notes complement the slightly bitter finish and daring minerality of this 100% Pinot Grigio.  Well balanced and fresh, this pairs pleasantly with all manner of food.
May Wine Awesomeness: Reds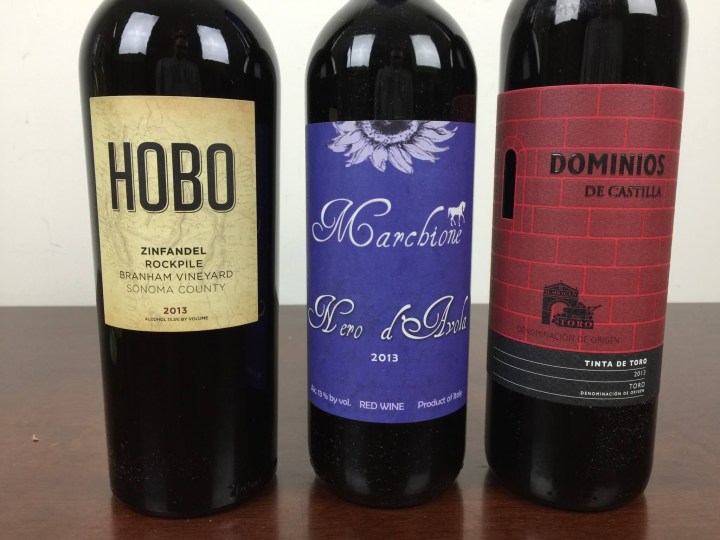 Hobo "Rockpile" Zinfandel 2013:  Full bodied with some soft tannins, this very bold blend adds a splash of Sirah to a Zinfandel base.  French oak and red berries and fennel add interest to the full body and strong presence.
Marchione Nero D'Avola 2013:  This Sicilian wine was meant to be enjoyed with olives, artichoke hearts, and pickled produce.  The high acidity pairs with a briney complexion that begs to be served with Mediterranean fare.  Tart black currant creates a rich base of flavor under the salty facade.
Dominios De Castilla Tinta De Toro 2013:  This intense blend of Tinta de Toro and Garnacha has deep flavor, a full body, and high tannin and acidity.  The result is a wine that stands up to the heartiest dish.  Though some interesting spicy notes can be found, the main thrust is a powerful blackberry note that is well anchored with oaky tannin and a palpable tartness.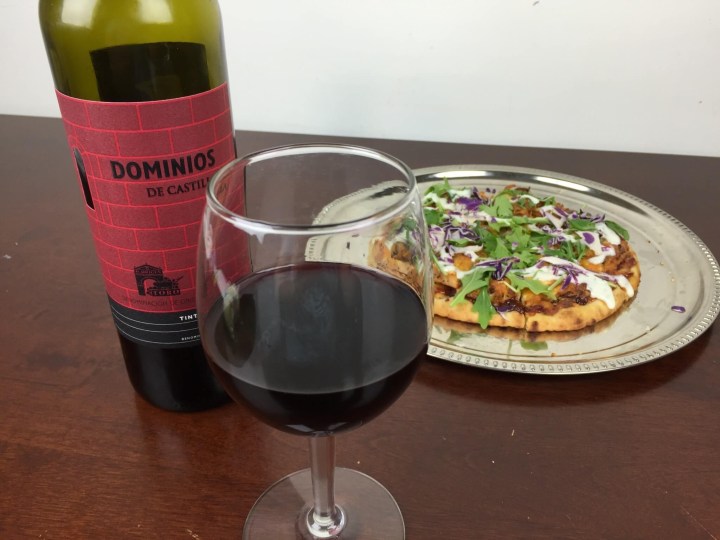 We simply had try a pairing of our own.  We poured some Dominios de Castilla with some Woodfired Barbecue Chicken Pizza.  The pairing notes suggested that the wine would complement smoky meats, so we picked it as our BBQ chicken companion.  It was a very enjoyable pairing — the big berry flavors stood up to the pizza, but the wine had a nice dry, slightly oaky character that knocked down the sweetness of the sauce.
Bonus!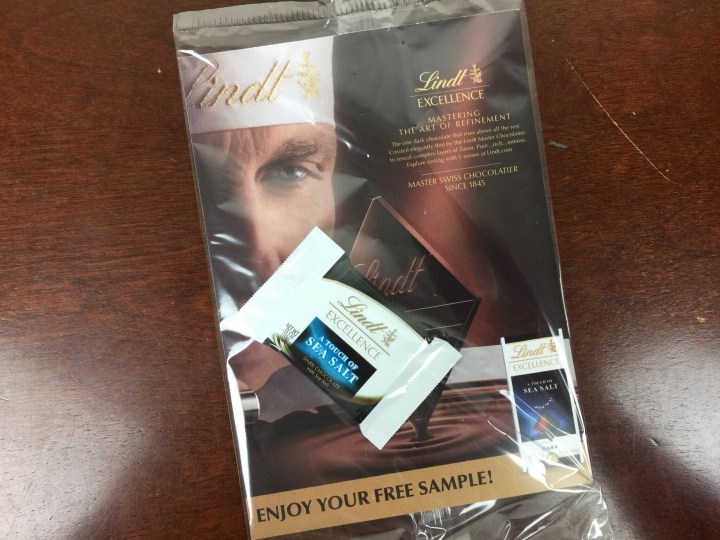 Lindt Excellence A Touch of Sea Salt Bar Sample:  This was included as a little something extra.  Though the theme this month was pizza pairings, the reds are also fine candidates for sipping with chocolate.
This month's theme was lots of fun — and actually quite practical.  We tend to think of pairing wine with a really fancy French or Italian meal, but what's a better occasion for sipping a beautiful red than a laid back pizza night?  Even more than usual, the recipes were central to the curation of this edition — as pairing well with food was the theme.  I knew the red wines would go well with most pizzas, but the guest chefs (and by extension, the curators) did a great job of supplying some recipes that paired well with the three white wines in the box — pizzas with some tart, sweet, and salty accents to complement the acidity and fruit of the whites.  The white wines themselves were not very sweet, so they cut nicely into the fatty and hearty pizza.  Most months are themed around a wine-making region (either political or geographic), but the occasional off-beat theme is an enjoyable change of pace.
What did you think of this month's Wine Awesomeness theme? You can get your first month (3 bottles) free, just pay $22.50 shipping and handling – click here to activate the offer – no code necessary!
Visit Wine Awesomeness to find out more or to subscribe.
The Subscription
:
Wine Awesomeness
The Description
: Get 3 or 6 bottles of red, white, or mixed, curated monthly. WA membership comes with tasting notes, recipes, and music suggestions. Awesomeness!
The Price
: $45 per month
The Coupon
: Get $10 off your first club 6-pack box!
Use this link
and coupon code
YAY10
to get the deal.
Ships to
: All states except Alaska, Hawaii, South Dakota, and Utah. Yep, this wine club ships to Pennsylvania.