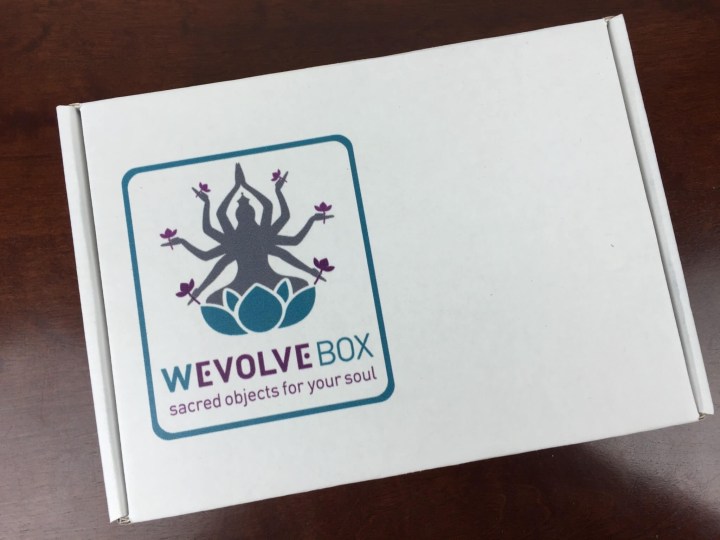 WEvolve Box is a bi-monthly subscription box of spiritual sacred objects from mystical cultures around the world. Items include meditation tools, figurines, chakra cleansing and activating items, crystals, and more, all to help you deepen your spiritual practice.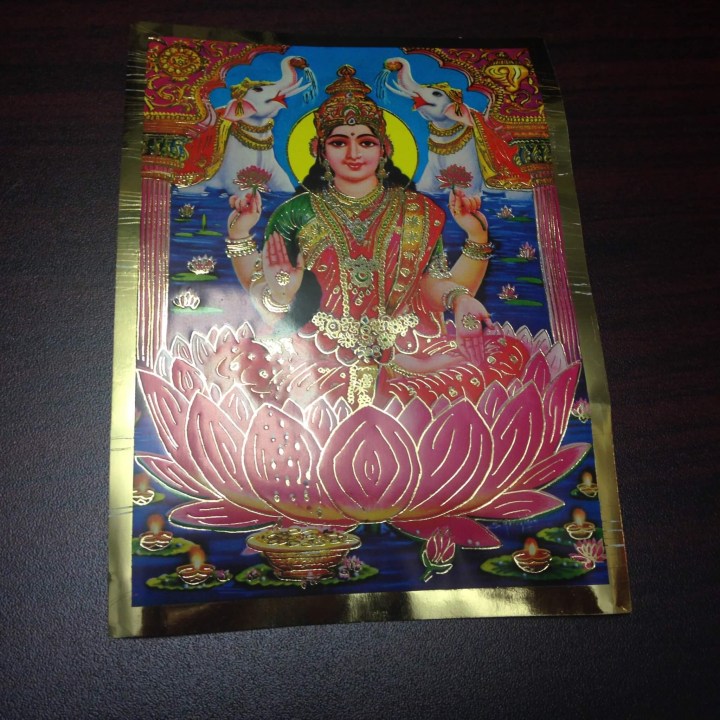 Very cool Laksmi/Laxmi information card, that I will keep!  he is the Hindu Goddess of abundance, self-realization and true wealth.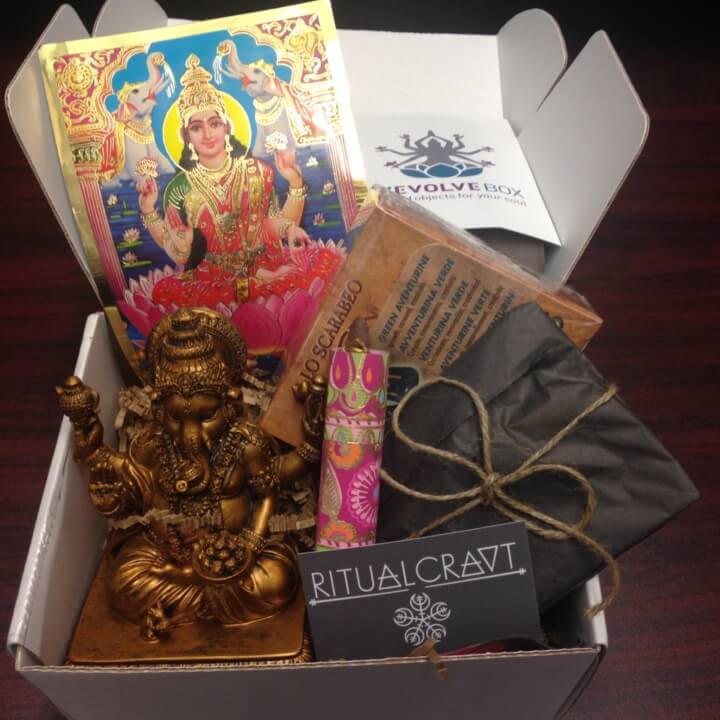 All the items in the box.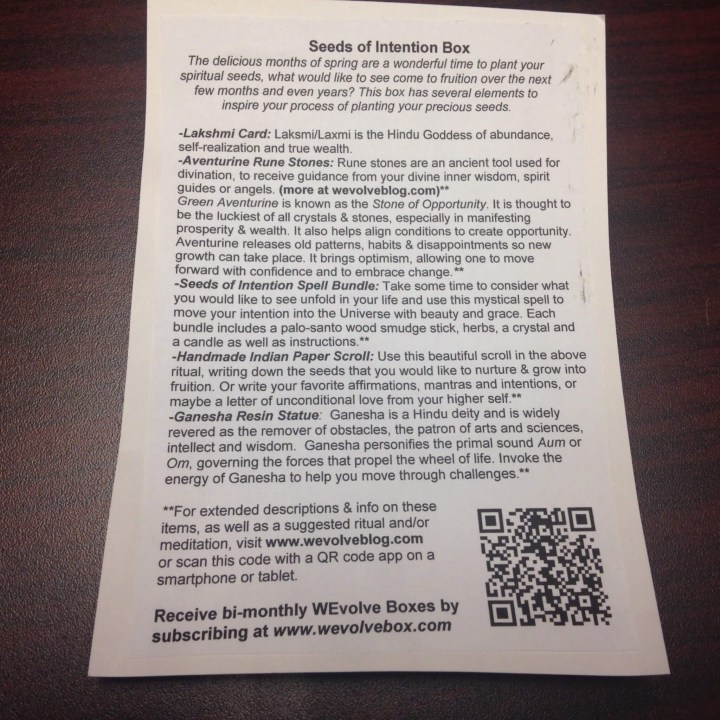 Each box is accompanied with a meditation along with information that describes each item, the spiritual significance of each item, and ideas and suggestions on how to incorporate them into your spiritual practice. This is the Seeds of Intention Box, curated to help inspire the process of planting spiritual seeds so they can come to fruition the next few months or years.
Aventurine Rune Stones: Rune stones are an ancient tool used to receive guidance from your spirit guides or angels and from your divine inner wisdom.  The Green Aventurine,  is said to be the Stone of Opportunity, the luckiest stone or crystal used in manifesting prosperity and wealth.  It aids in releasing old patterns in order to bring optimism so you can move ahead with confidence and embrace change.
Seeds of Intention Spell Bundle:  This mystical spell can be used to manifest your intentions.  The bundle includes a palo santo wood smudge stick, herbs, a crystal and a candle.
Handmade Indian Paper Scroll: This scroll can be used in writing down the seeds of intention, affirmations, mantras or a letter of unconditional love from your higher self and can be used with the aforementioned ritual.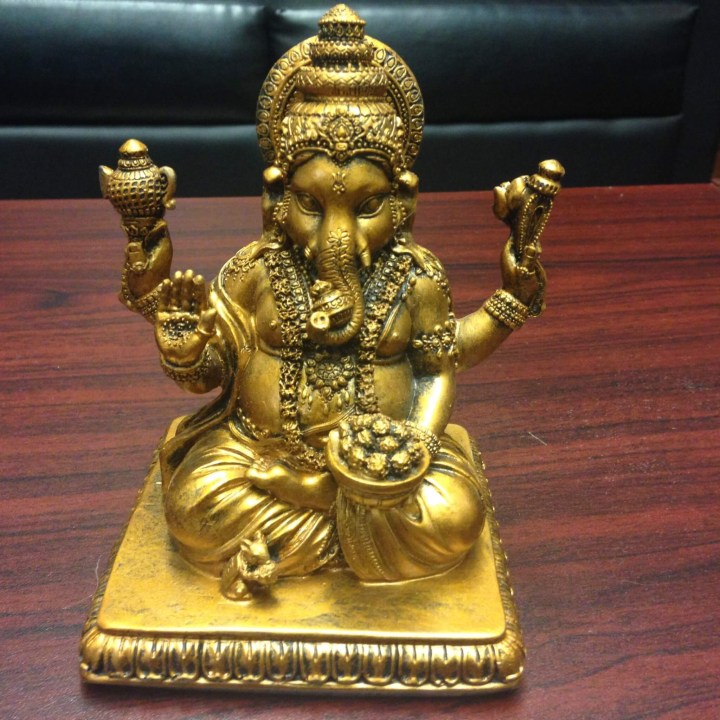 Ganesha Resin Statue: Ganesha is the Hindu deity who helps remove obstacles and is also patron of the arts and sciences, intellect and wisdom.  Ganesha is one of my favorites.  I bring him to every show and he sits on my prayer table.  He personifies the primal sound Aum (Om).
This is a pretty cool box.  Setting intentions is important and Spring is the perfect time to do so.  When I saw the beautiful Ganesha in the box, he put an immediate smile on my face.  All of the items are tied perfectly with the theme of the box.  I am looking forward to working with the runes as well and setting my intentions this Spring.  You can check out all of the additional information on the WEvolve Box site that went along with the information on the card (hit subscribe now, then find the blog to see it).
Visit WEvolve Box to subscribe or find out more! Save 10% on your first box! Use coupon code HELLOSOUL.
The Subscription
:
WEvolve Box
The Description
: WEvolve Box is a bi-monthly subscription box divinely designed to inspire awareness and remind you of your infinite nature. Every-other month you will receive 4-7 mystical and sacred objects to encourage mindfulness and a deeper connection with the Divine. Items include
Meditation
tools, chimes, prayer beads & singing bowls, Symbols, talismans, & oracles, Natural body products, figures of Goddesses, Buddhas and other Divine beings, Crystals with properties for healing and manifestation, Adornment for your body temple, Incense, sage, resins.
The Price
: $49.95 every other month