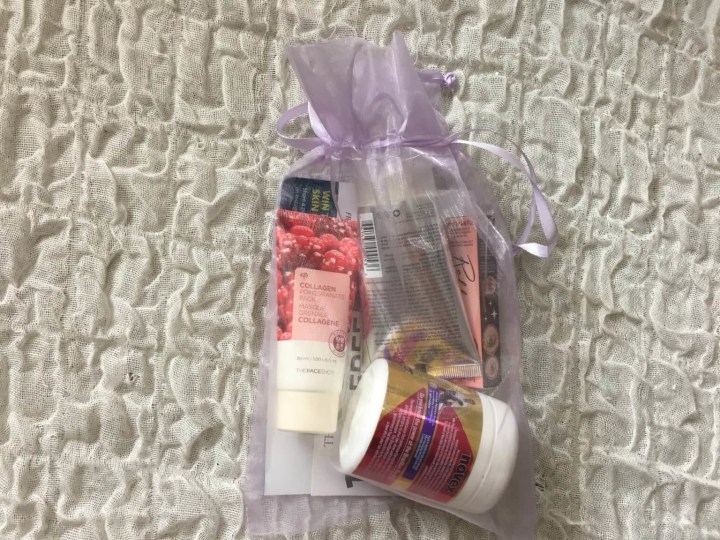 Topbox is one of Canada's oldest beauty subscription boxes. I had been subscribed to it about two years ago, as it was one of the first around and the price point was great. There was actually a waiting list for it, and I remember how happy I was to get off of it after a few months. With Birchbox Canada no longer in business and the weak Canadian dollar making Ipsy just not worth it anymore, I've gone back to Topbox!
This month's package shipped with the LE RachLoves box, so the package was huge and not in the standard purple Topbox mailer.
Topbox has an interesting customisation option. At the end of the month you are able to make your wishlist requests for the following month's box. There's the standard Topbox (4-5 samples) or you can choose a Privé box. Privé boxes are either a brand-specific collaboration (such as Benefit Cosmetics) or an upgrade to a more deluxe line. Some Privé boxes will only contain one or two items — they're very clear when this is the case. Your wishlist doesn't guarantee you a Privé box if you ask for one. You will also be asked whether you would like your goodies in the traditional Topbox tube or an organza bag. I pick the bag because I reuse them!
This month I requested a Make Up Forever Privé box, but I didn't receive it — it happens. It's a bit of a gamble and a surprise.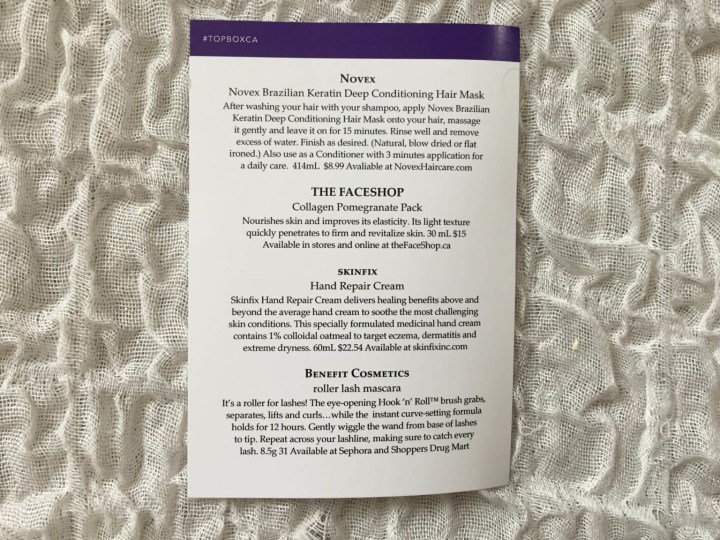 The product card.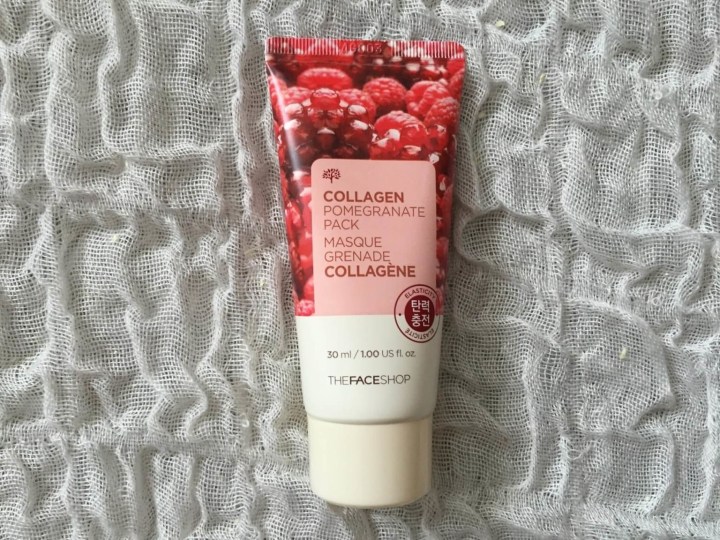 TheFaceShop Collagen Pomegranate Pack (Travel Size) This is a mask pack with collagen, which has lots of good benefits to your skin. It smells lightly fruity. This is a sleeping pack, which means you put it on before bed and don't wash it off — your skin needs hydration when you're asleep, so that's why these are so effective.
Skinfix Hand Repair Cream: I'm giving this one to my mom — she had wrist surgery recently and wearing a brace on it is making her skin so itchy and irritated. I think this will work well for her dry skin.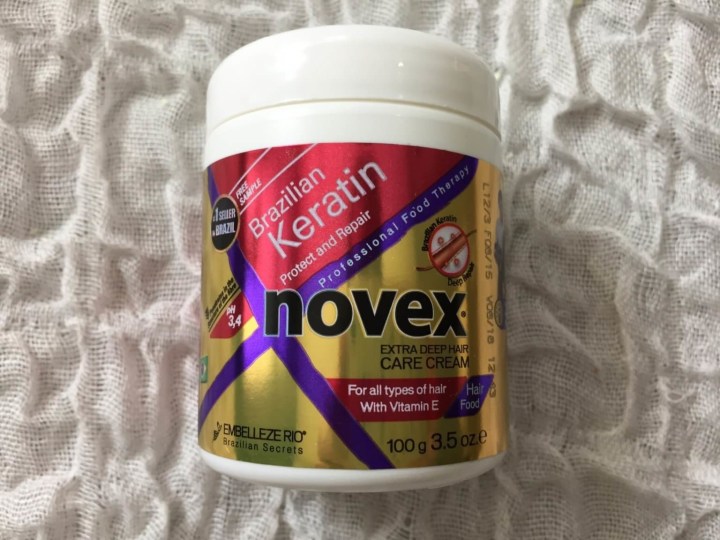 Novex Brazilian Karatin Extra Deep Hair Care Cream: This is a very generous sample! It smells nice and is a deep hair repair treatment. Novex is apparently the #1 bestseller in Brazil, so I'm looking forward to trying this.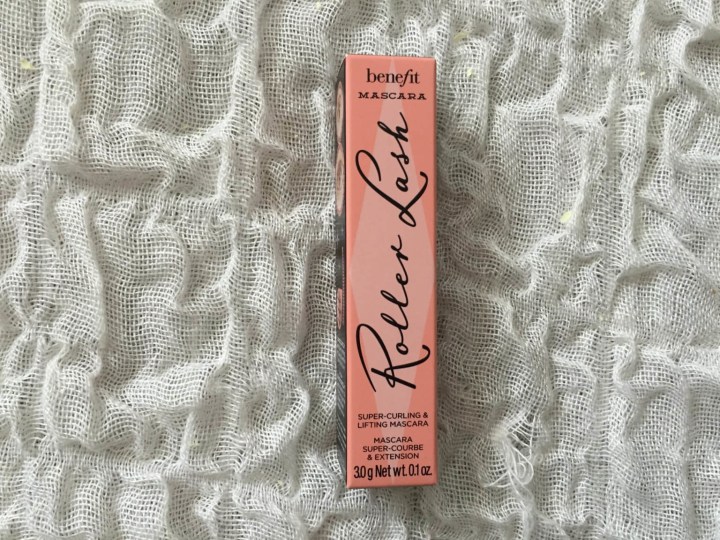 Benefit Roller Lash: I personally really dislike this mascara, so it will be gifted. Always good to see mascara samples in boxes though; I can never seem to get through an entire fullsize tube.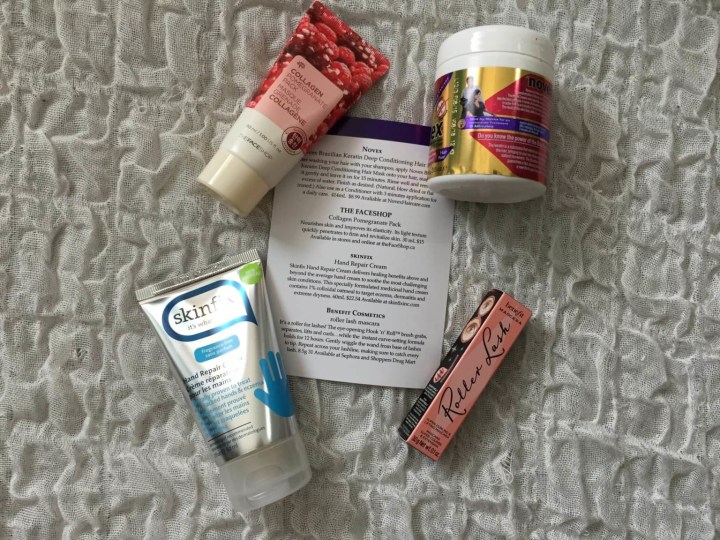 Topbox was pretty solid this month — only one of the items was a miss for me, and I'm sure I can find a new home for it. There was something for hair, for skin, and for makeup, so I like how well-rounded the box is again this month.
What did you get in your Topbox this month?
Visit Topbox to subscribe or find out more!
The Subscription
:
Topbox
The Description
: Get 4 generous helpings of premium delight each and every month! This is a *Canadian* subscription box and they do not ship to the US.
The Price
: $12.00 per month