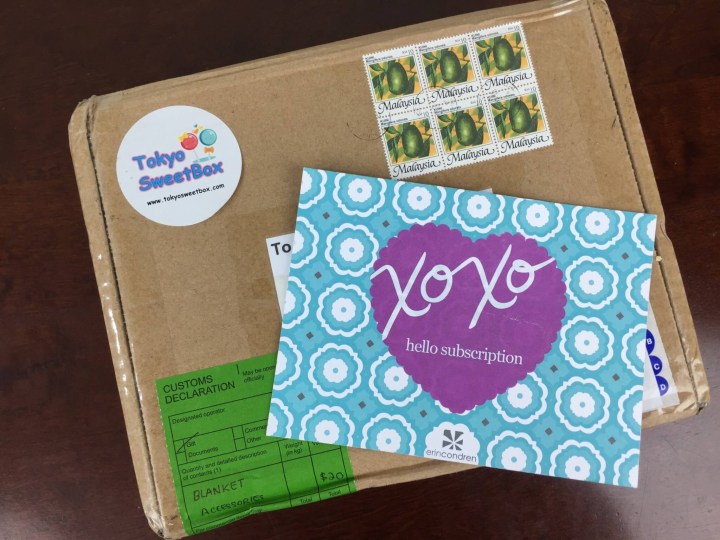 TokyoSweetBox is a monthly box that brings the best of everything cute and sweet from Japan. I think the cost of the box varies depending on what's in it – and it's not a subscription! You must purchase each month. Boxes will contain 12-16 Japanese goodies and treats like chocolates, snacks, candies, stationery, Gashapon, and other items that are difficult to find outside Japan.
The theme for this month's box is Disney Tsum Tsum. Next month will be a Pokemon Premium Box.  This box isn't by subscription, you just buy the ones you want.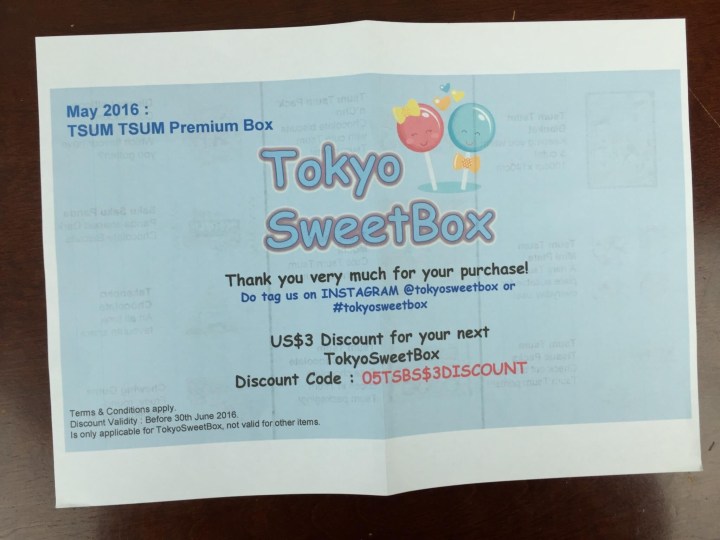 A discount code is printed at the bottom of the welcome sheet but here's a $5 one! Use coupon TSBS$5DISC to save $5 on your next box!
The back of the sheet shows the list of all the items included in the box.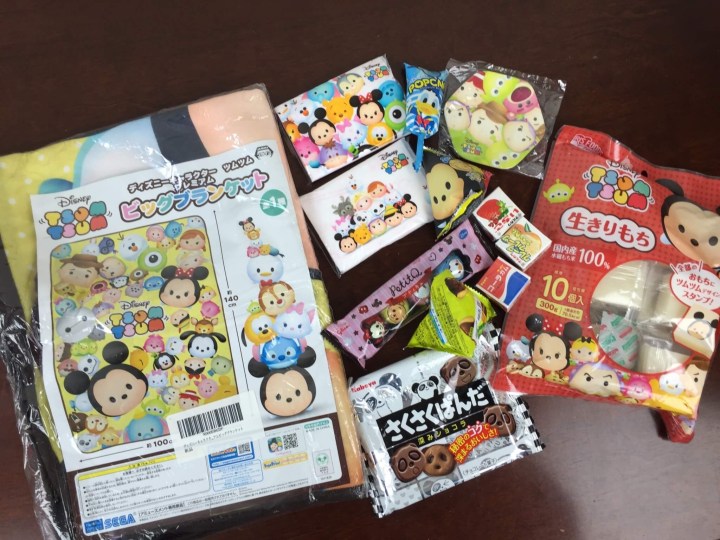 All the fun items inside my May TokyoSweetBox! I am a Tsum Tsum addict and so are my kids so I obviously purchased this box as soon as I saw it.
Saku Saku Panda Dark Chocolate Biscuits: Yummy! I just ate some of the regular ones of these (vanilla flavored biscuit) so I am saving this treat!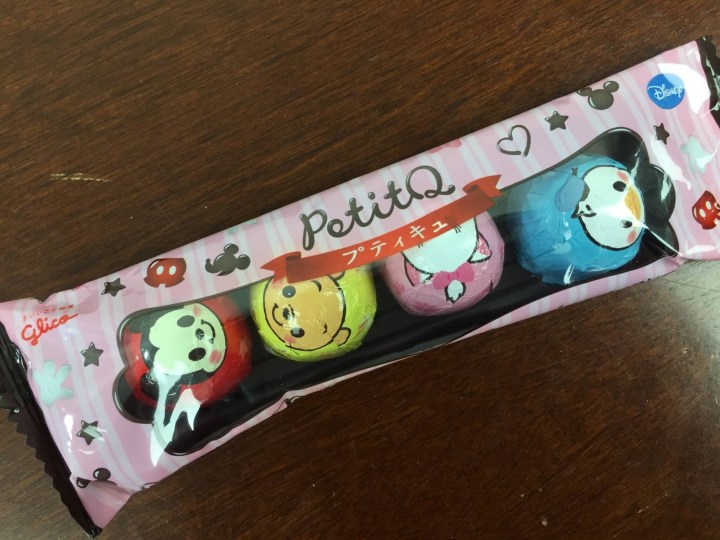 Glico Disney Tsum Tsum Petit Q Choco: So cute and perfect for this box! I am jealous of all the adorable and high quality treats that exist in other countries. But as always, happy that we can have them sent here.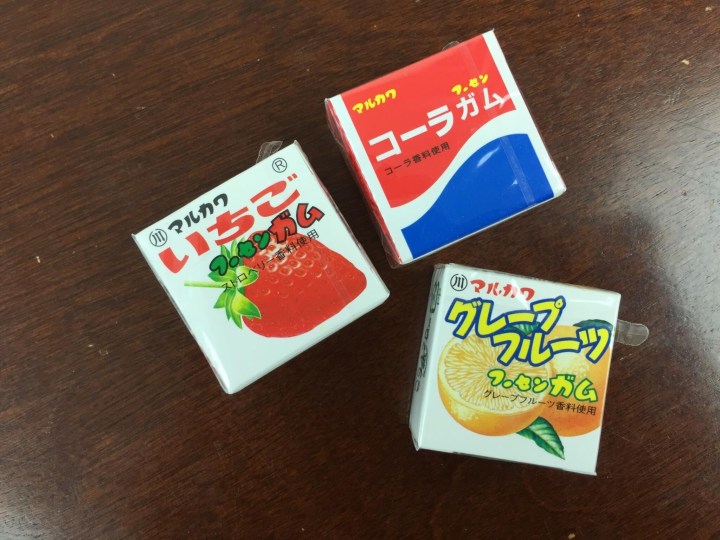 Assorted Fruity Chewing Gums
Disney Tsum Tsum Tissue Packs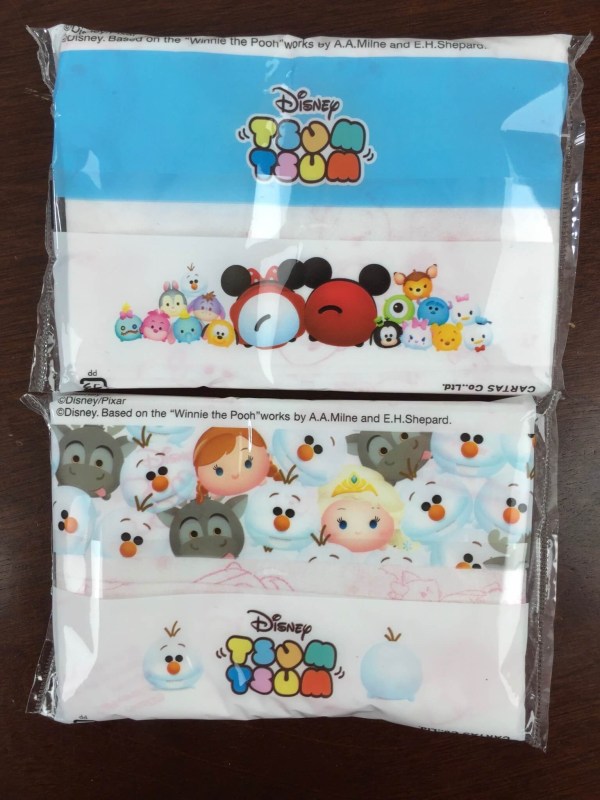 So cute! This box ships from Malaysia. I will note that in many SE Asian countries people carry around tissue packs to use as napkins, and having cute tissues is kind of a thing.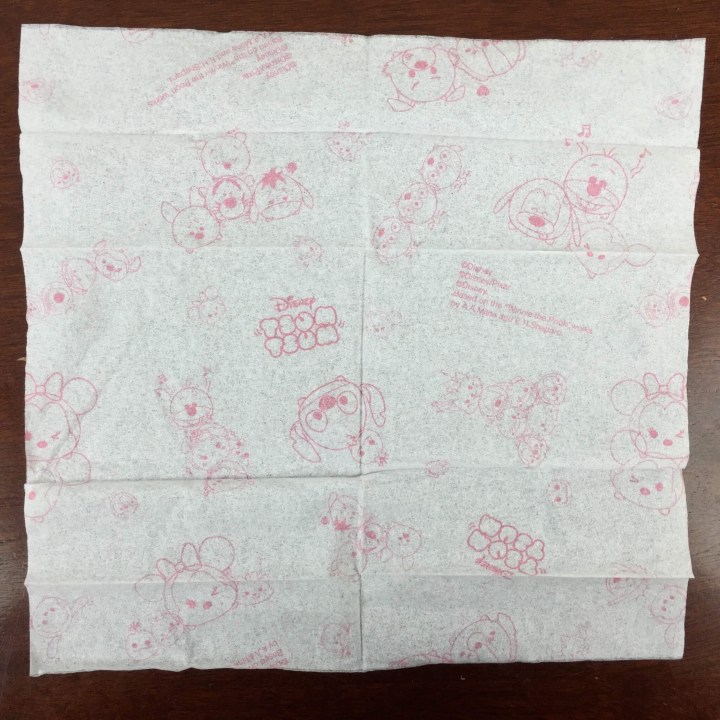 This was a sturdy and soft (and tsum-dorable) tissue which is good – you use them as a napkin!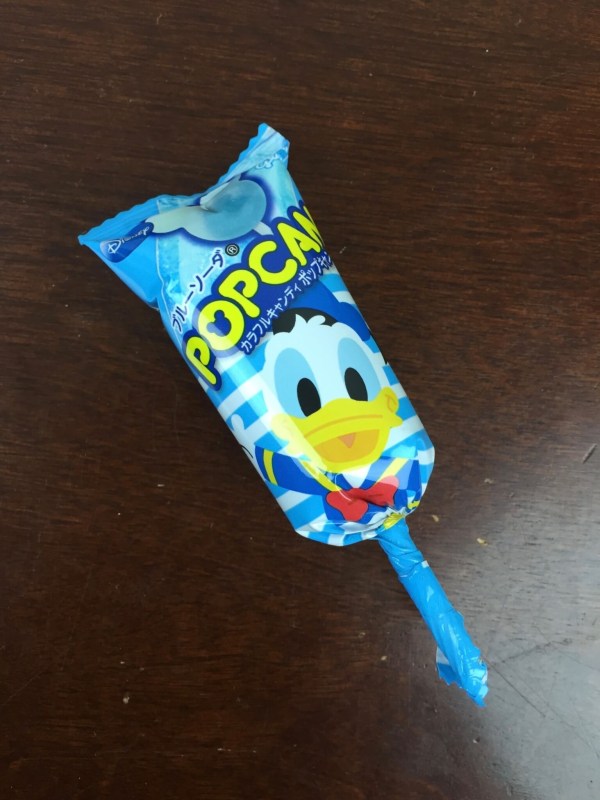 Disney PopCan Lollipop!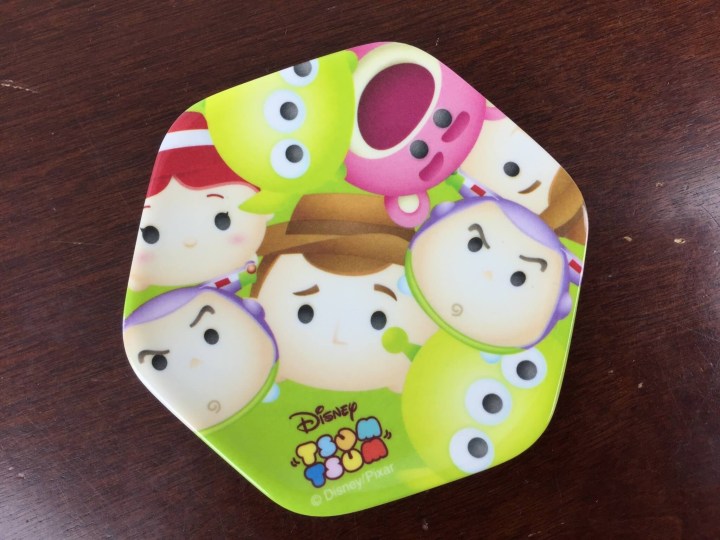 Disney Tsum Tsum Toy Story 3 Mini Plate! Super sweet!
Disney Tsum Tsum Mochi: The information card says simply to bake them. I wish I had some instructions on that!
UPDATE: I received this adorable email from the box owner:
Hi Brandy,

I see that you are having some trouble on how to consume the mochi. 

You will need to bake it in the oven for 6-10mins until it soften up and is slight brown.

The Japanese normally eats it with Shoyu cook with sugar. You can Google for the recipe for Mochi Dango. 

You can also sprinkle some bits of seaweed on it. 🙂

Hope the above helps~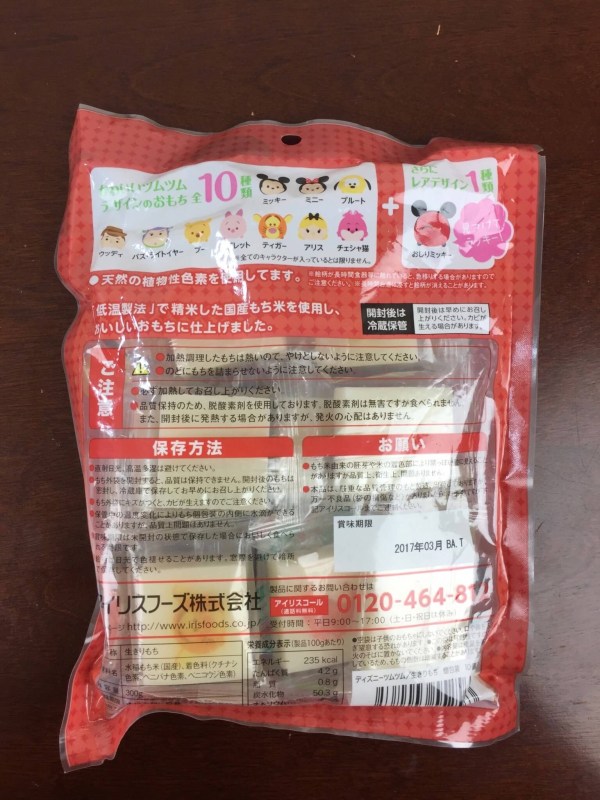 My understanding of the back of the package is that I should get a Mickey Tsum Tsum butt – but I could be wrong. I didn't get one.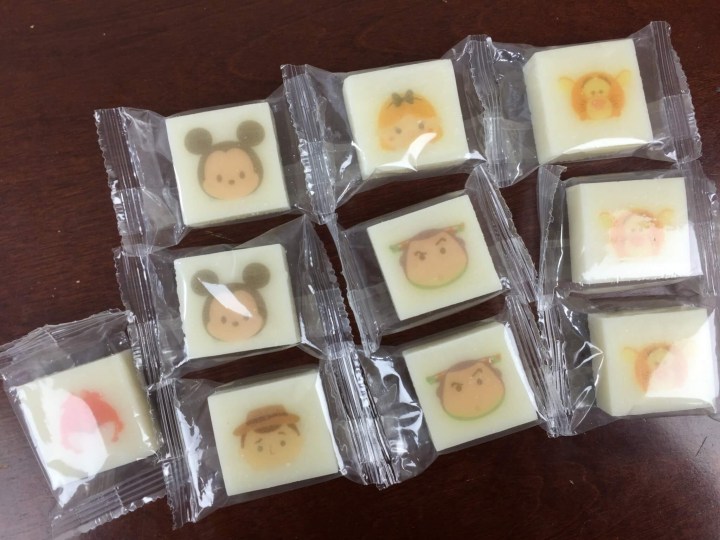 I will look up how to prepare the Mochi!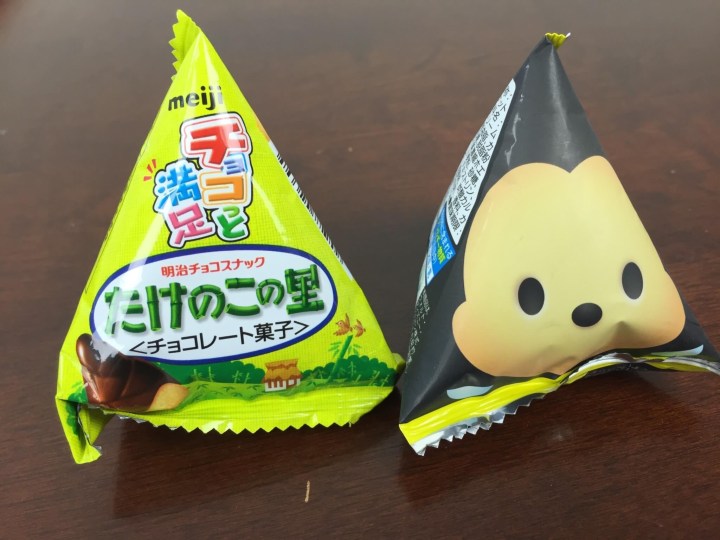 Taenoko Chocolate: The packages and the goodies are super cute.
Disney Tsum Tsum Blanket: This was a spoiler item and made the box so worth it!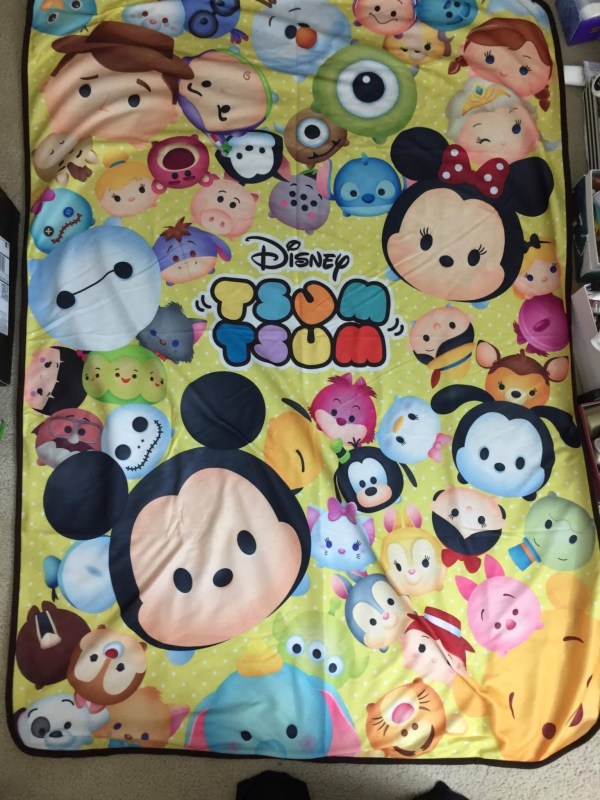 It's a thin but very large blanket and took up all available floor space in my office. I love it! It's great for the car or just as a light summer blanket. I found it only one place online – for $50!
I loved this box! Even if I wasn't a Tsum Tsum freak I thought it was well curated and really fun. I do wish for mochi directions, which I didn't really find. Can anyone help?
Have you tried TokyoSweetBox yet? Would you like to see a review of the Pokémon box?
Visit TokyoSweetBox to subscribe or find out more!
The Subscription
:
TokyoSweetBox
The Description
: Each TokyoSweetBox would includes 12 ~ 16 Japanese Snacks, Chocolates, Candies, Stationaries, Accessories & Gashapon, which are diffcult or impossible to find outside of Japan. It's the BEST of everything from Japan all in ONE BOX!!!
The Price
: $36.00 per month