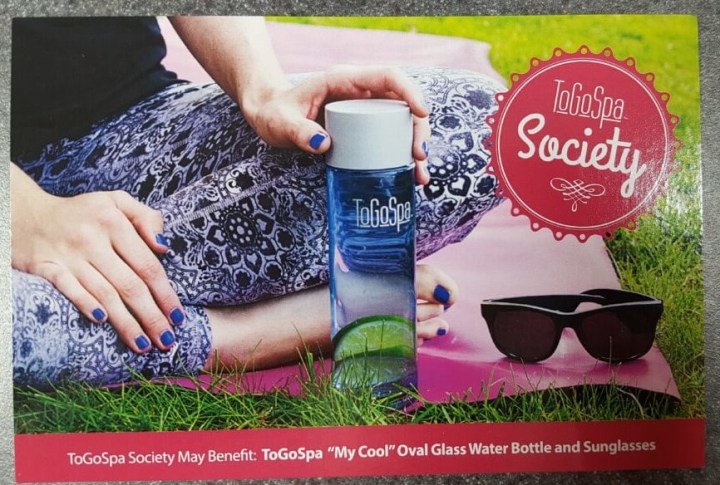 ToGoSpa Society is a monthly replenishment and surprise subscription by ToGoSpa.  With ToGoSpa Society you'll get either 6 ($25), 12 ($40), or 30 pairs ($64) of Eyes by ToGoSpa plus The Benefit, a monthly surprise from ToGoSpa or their selected brand. The Benefit is always valued at $20-$50 and is a high quality spa item.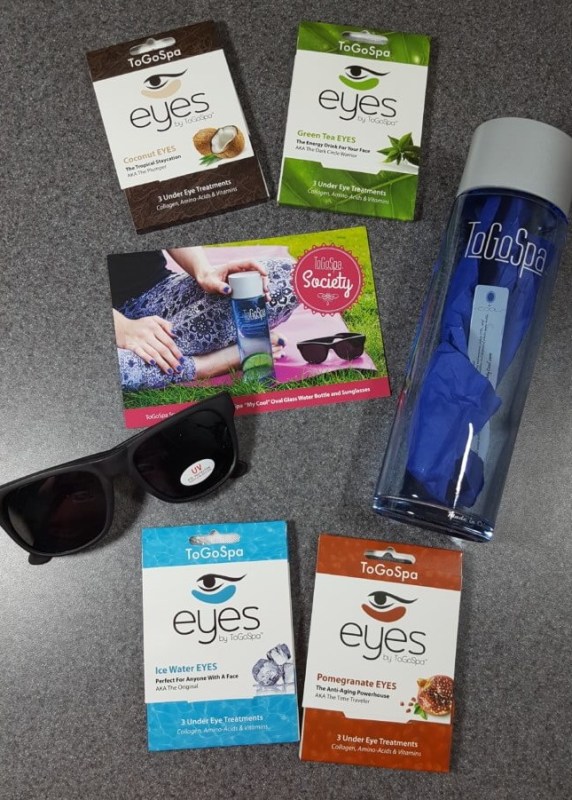 I got the Standard box this month which includes 4 packs of eyes and the benefit.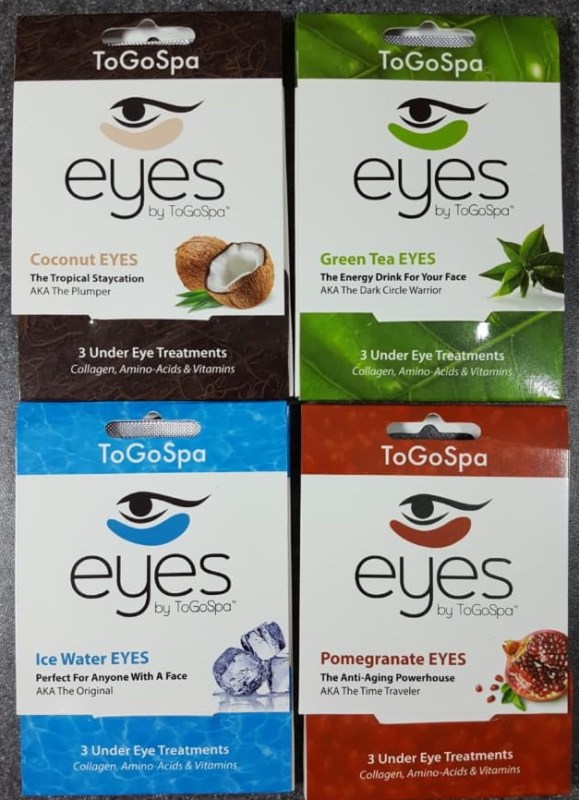 I received 4 different types of Eyes by ToGoSpa: one pack each of Coconut, Green Tea, Ice Water, and Pomegranate.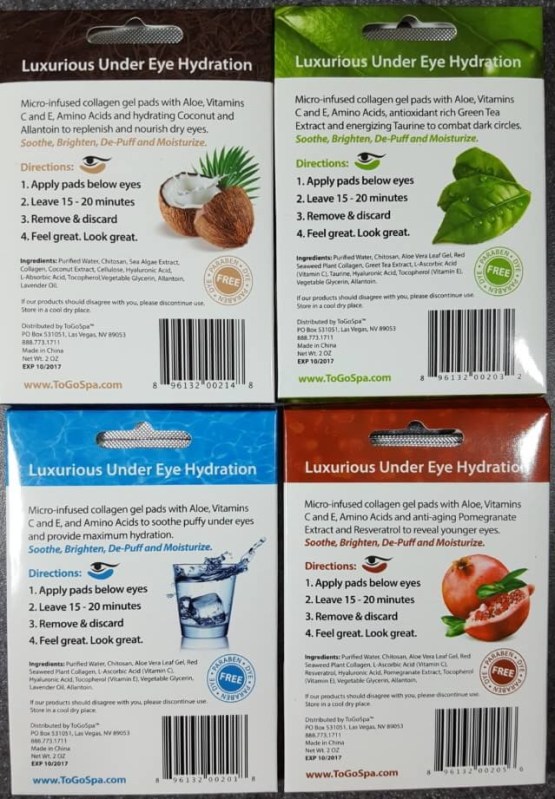 These are super hydrating and are activated by your body temp! EYES are collagen gel pads with Hyaluronic Acid, Vitamins C & E, and nutrients. Each different type has a different composition to provide different benefits. The Coconut nourishes dry eyes, the Green Tea combats dark circles, the Ice Water helps to soothe puffy under eyes and provide maximum hydration, and the Pomegranate help reveal younger eyes.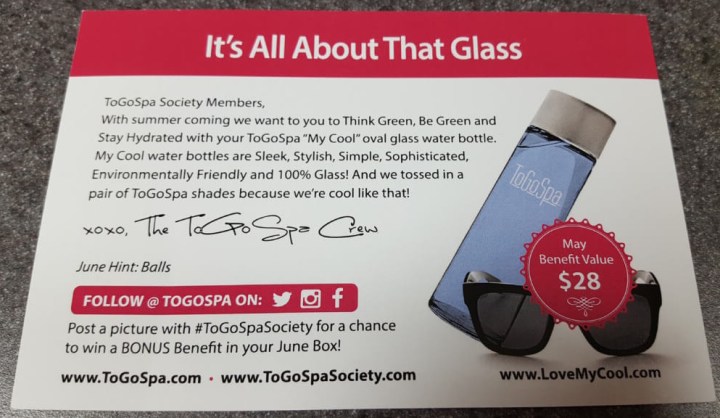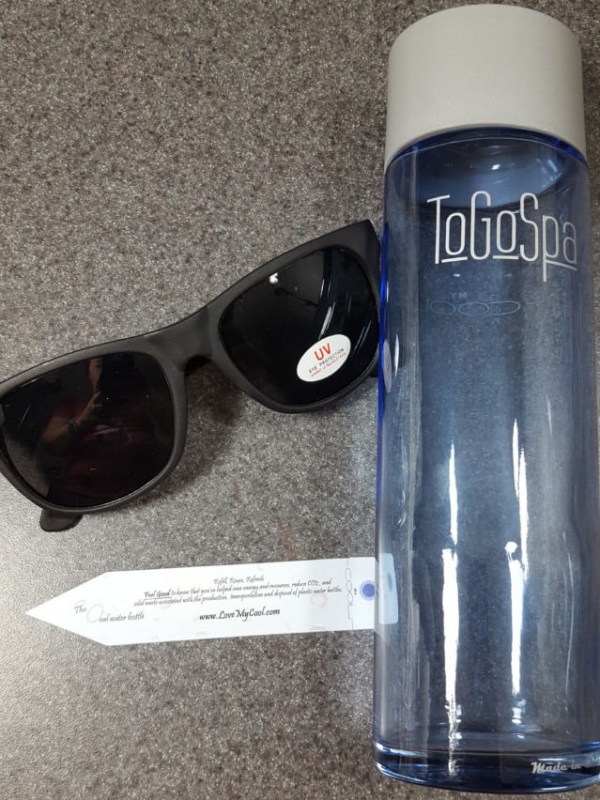 The benefit this month is are the glass oval water bottle and some ToGoSpa Shades. This water bottle is really heavy and totally fun being the oval shape.  I don't know the real reason for the oval but it does seem easier to hold when I was playing around with it so once I get it washed up I'm going to give it a go.
I'm again loving these ToGoSpa boxes and the eye patches.  As with last month I have my girlfriends over this weekend for scrapbooking and we will be giving these a go. They are so nice and make my eyes feel great.
Have you tried out ToGoSpa Society yet? Save 15% with coupon code hello15.
Visit ToGoSpa Society to find out more or to subscribe!
The Subscription
:
ToGoSpa Society
The Description
: The ToGoSpa Society membership offers huge discounts on Eyes and Face by ToGoSpa and in addition each month members receive The Benefit! The Benefit is a FULL size product we love and want to share free with our members.
The Price
: Mini: $25 for 6 EYES plus the benefit, Standard: $27.50 for 12 pair of EYES + The Benefit, Combo: $50 for 6 pair of EYES + 3 Face + The Benefit, High Society: $99 for 24 Eyes, 6 Face, and The Benefit