Taste Japan is a monthly subscription box that delivers delicious Japanese snacks right to your door step. The subscription costs $22.00 per month, and you'll get 8-10 hand-picked sweet and savory treats straight from Japan.
Taste Japan is one of the many monthly Japanese snack subs out there, and this is my first time giving them a try. I was really excited to recognize some snacks I've always wanted to try when I opened May's box — let's dive right in!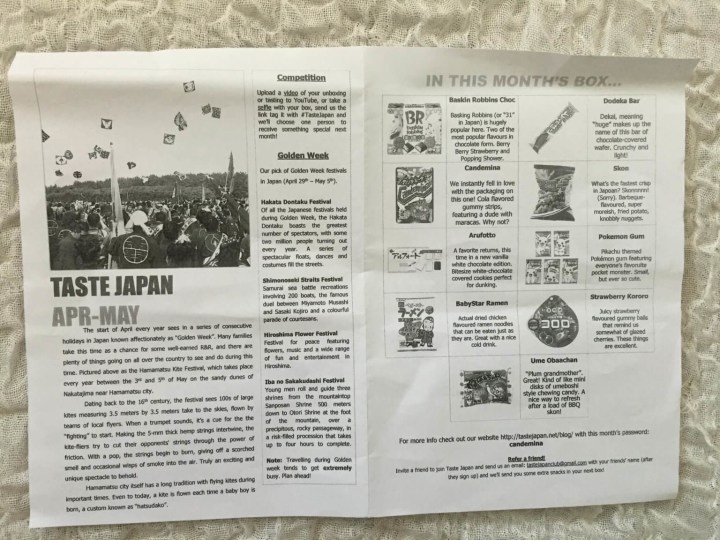 The information sheet includes information about the spring festivals in Japan, as well as information about the included snacks. They have a blog that has further details on the items as well.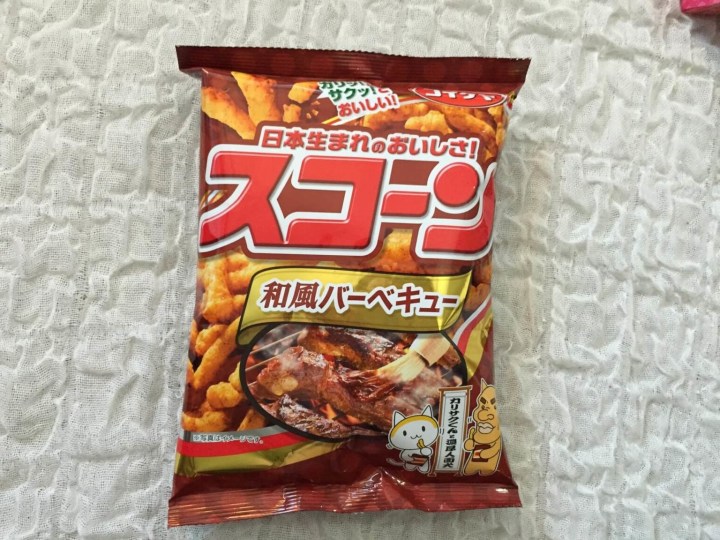 BBQ Skon: Oh my god, these are amazing. They're hard, crunchy puffed snacks (like the crunchy Cheetos) but barbeque flavoured — the flavour reminds me more of a beef ramen seasoning than our more Western BBQ flavour. These were so delicious I ate the bag in minutes. I need more. Skon is retro in terms of how long it's been around as one of the most popular Japanese snacks.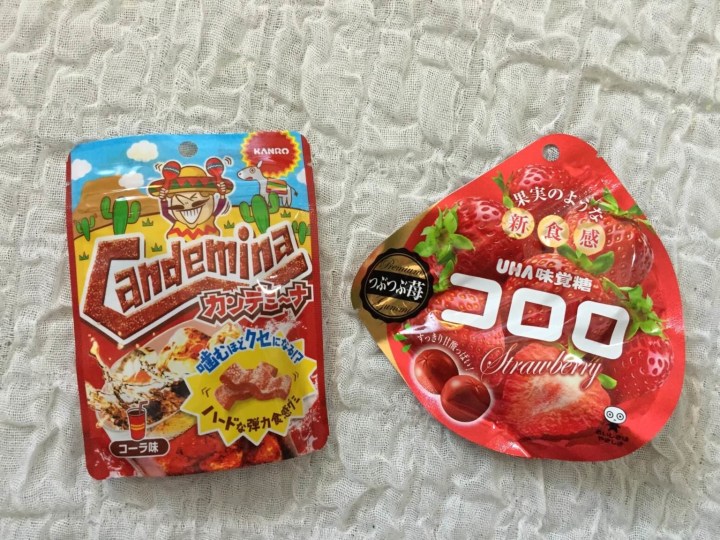 Candemina: Cola-flavoured gummies that remind me a lot of our coke bottle candies, but these are chewier/harder. They're covered in sugar as well.
Kororo Strawberry Gummies: I gave these to my friend Mitch, who often helps me sample and review my Japan snack boxes. These are a gummy with a thinner 'skin' on the outside holding the delicious strawberry goo on the inside.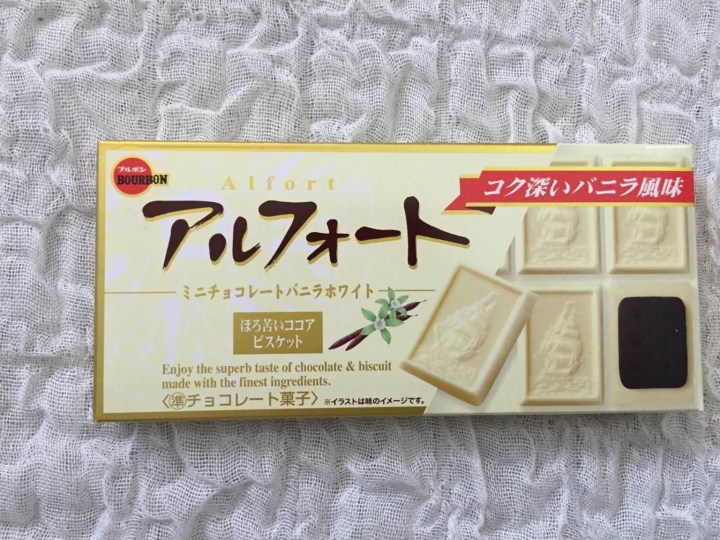 Arufotto Chocolates: These are almost too pretty to eat — they have art of a ship on the front. The dark cookie is chocolate flavoured and tasted like an Oreo, and they have a white chocolate on the other side. I thought these are nice, not too sweet even though I'm not a huge fan of white chocolate.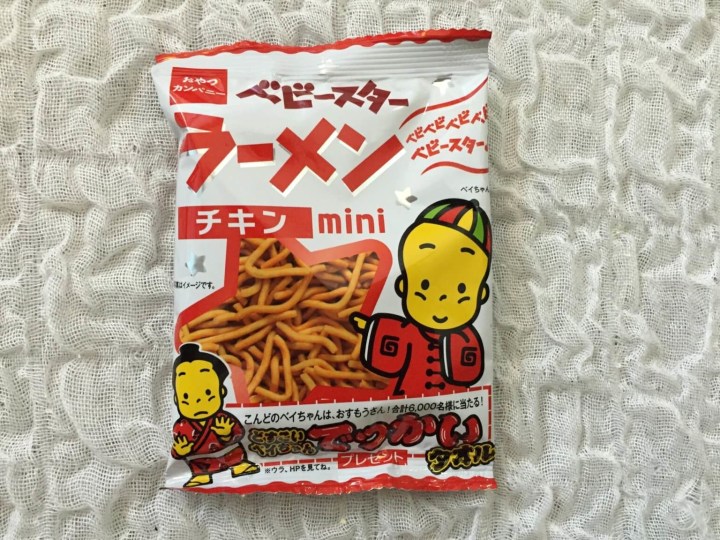 BabyStar Ramen: I didn't really enjoy these — maybe it was the strong chicken flavouring? I'm not sure. This is basically just dry flavoured ramen. It does bring back memories of how we ate ramen back in school — smash up the package, pour in the seasoning, and eat it right out of the bag!
Ume Obaachan: Umeboshi are dried plums, and these candies taste pretty accurate! They're a bit sour but I liked them. (Obaachan means grandma or grannie in Japanese.)
Pokemon Gum: It's been a while since I brought Pokemon goodies to my boss' kids, so they'll have to fight over this one! This piece of fruity gum has Pikachu on the wrapper.
Baskin Robbins Chocolate: BR is super popular over in Japan! I've had these chocolates before; there are two kinds — one is a berry flavour and the other has pop rocks in it!
I mentioned the subscriber area earlier – you will get access to it with your box, and it comes with extended information on each snack! For this one it had extended information on the evolution of Baskin Robbins into 31, as its commonly called in Japan! There was more information on every snack in the box!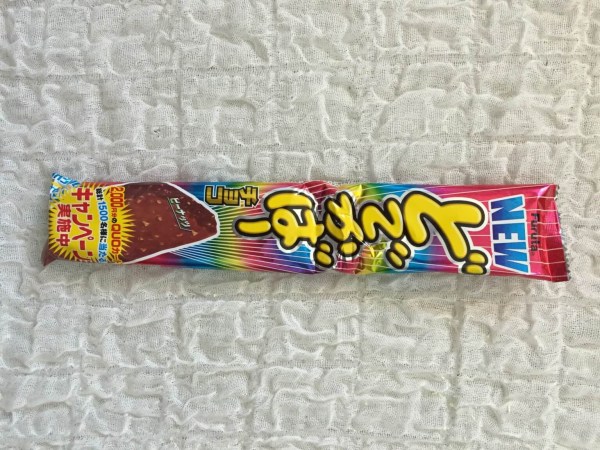 Dodeka Bar: This chocolate treat is so big, they had to fold/break it in half to fit inside the box! It's a corn wafer inside with chocolate on the outside. Honestly, I didn't really like this too much — the corn flavour didn't go well with the chocolate, which was a bit weakly flavoured. I ate half and gave the other half to a friend to try, and she agreed with me.
Taste Japan's May box introduced some new treats to me, and I enjoyed sampling everything even if I didn't love everything. I've tried so many snack boxes that I really like trying a new one, so this was a lot of fun!
Visit Taste Japan to subscribe or find out more!
The Subscription
:
Taste Japan
The Description
: A monthly box of mouthwatering Japanese treats delivered to your doorstep for only £15/month! Each box is filled with 8-10 hand-picked items straight from Japan. A mix of sweet and savoury items accompanied by an information flyer that includes a password to gain access to our site to learn about the snacks and Japanese culture.
The Price
: $22.00 per month