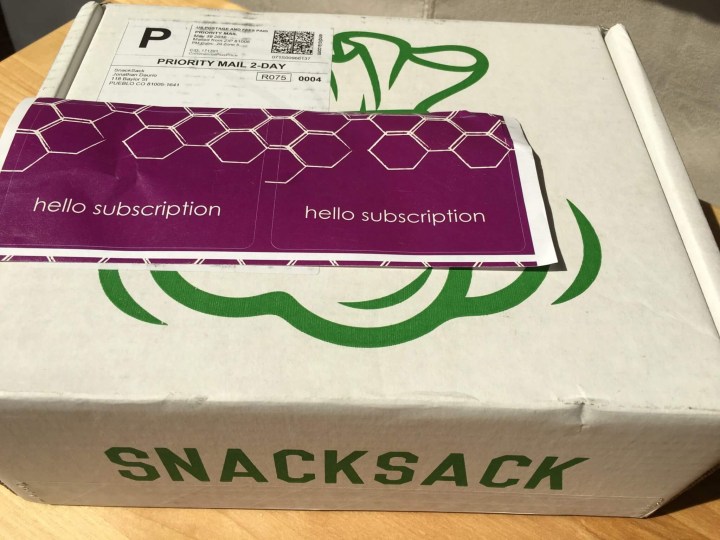 Snack Sack is a monthly subscription service that sends boxes filled to the brim with a combination of organic, non-GMO, gluten-free, all-natural, vegan and fair-trade snacks to your door every month!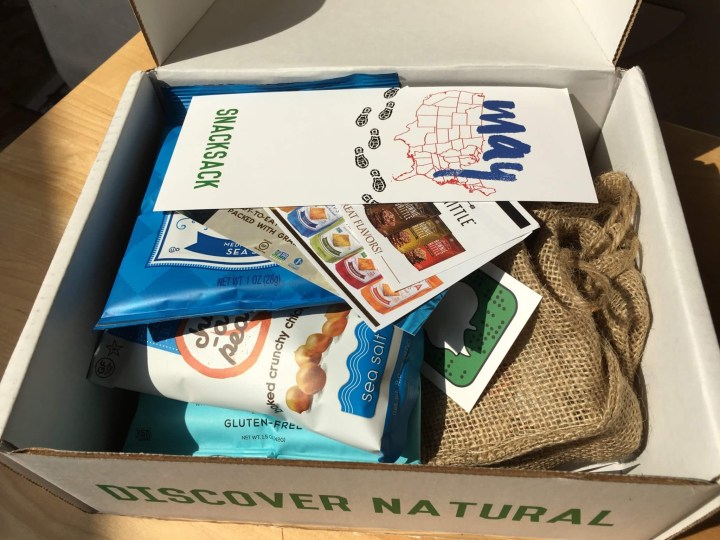 The first thing I noticed when I opened the box is that the burlap sack is back! Woo hoo! After I collected myself, I took a peek around–the snacks looked delicious too!
I love how, in addition to the plethora of snacks, the box includes coupons toward your next purchase.
Each month the box arrives with a list of its contents. I love how easy Snack Sack makes it to identify the gluten free, vegan and non-GMO snacks!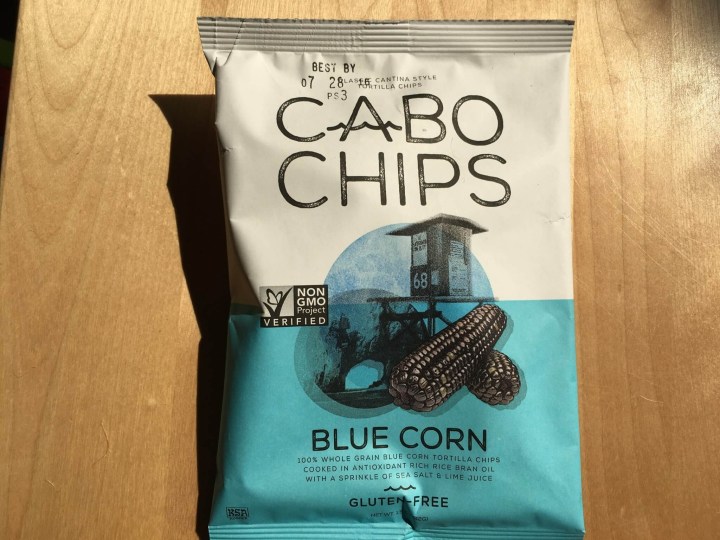 The Blue Corn Cabo Chips (12 for $15, or roughly $1.25) were delicious! Crunchy, salty and earthy, I plan to make some guacamole tomorrow to enjoy with the rest of these!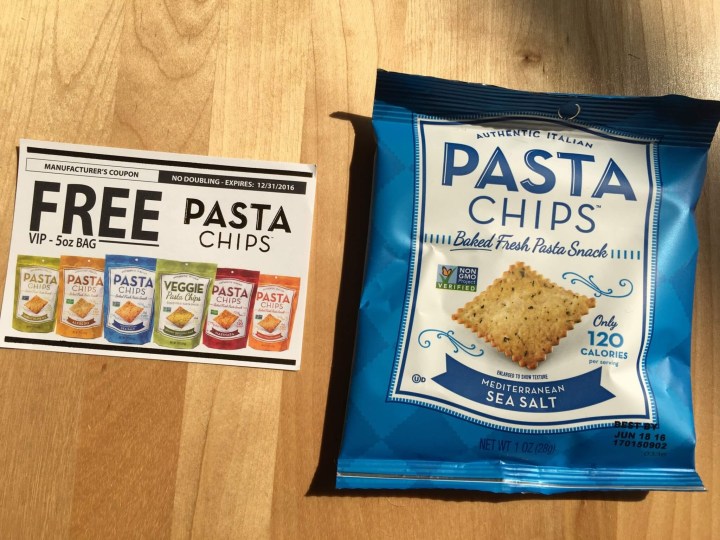 These Pasta Chips (roughly $2.97 for a 5 oz bag; I can't locate a 1 oz bag for sale online) are very crispy. They have a slight earthy bitterness to them which lingers long after they go down. They contain 20% less fat than pita chips and are flavored with Mediterranean sea salt. While not bad, I'd prefer pita chips in all their higher fat glory.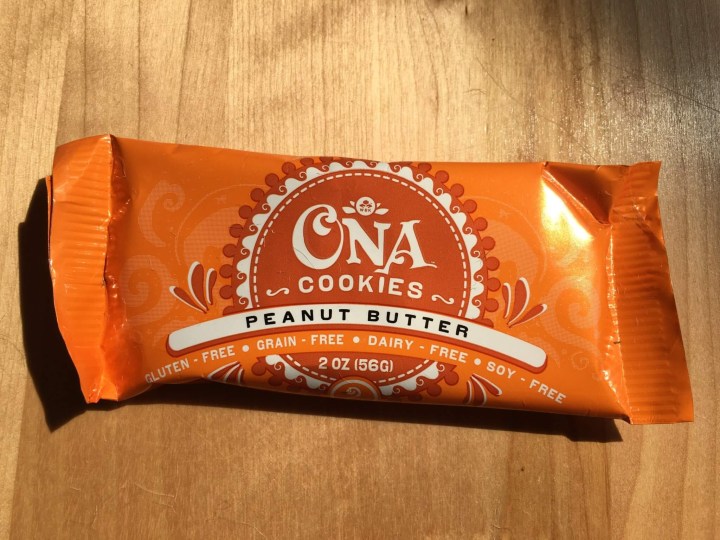 Ona Peanut Butter Cookies are a sweet, chewy treat ($2.99)! After trying their maple pecan cookies in this box a couple of months ago, I was excited to try another variety! Made with peanut butter chips and having a discernible coconut flavor, my son and I gobbled these down.
I was a little nervous trying this raspberry coconut oatmeal fruit squeeze by Munk Pack (6 for $14.99 or roughly $2.50 each). These days, anything in a squeeze bottle screams baby food to me. Boy was I mistaken! This was great! The tartness of the raspberry really made this a win for me. I also liked the added textural interest of the coconut.
Barney Butter's crunchy almond butter (6 for $3.60 or $0.60 each) was deliciously sweet and crunchy. It would make an ideal trail snack or would be a great addition to an ABJ.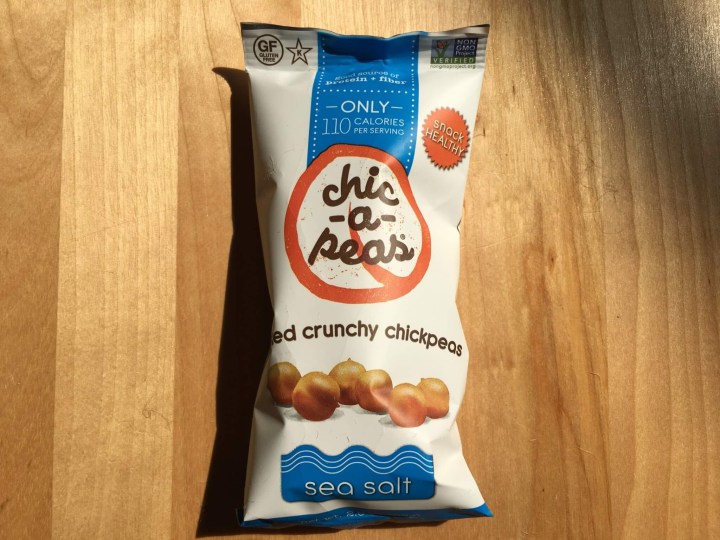 These Sea Salt Chic a Peas ($2.29) were slightly crunchy and somewhat drying when eaten. They tasted a bit plain. Drink with a bottle of water handy.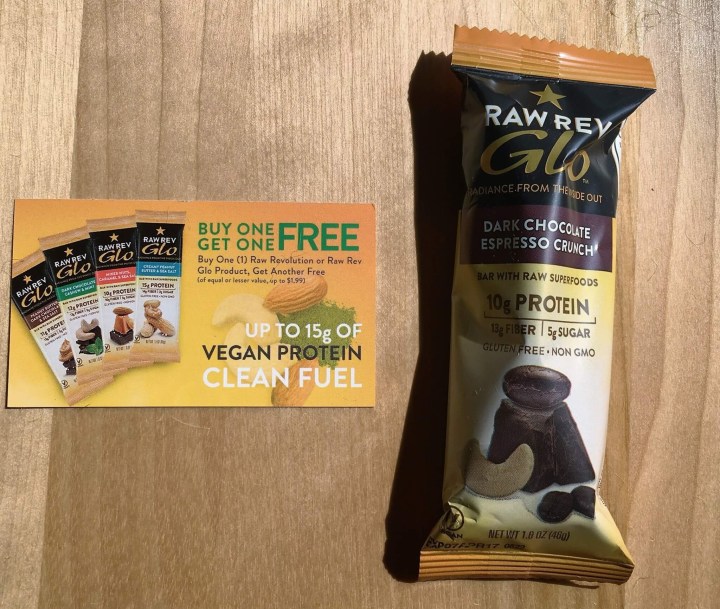 This Dark Chocolate Espresso Crunch Raw Rey Glo Bar ($1.99) has the consistency of a Powerbar and contains intact whole espresso beans. Eat early in the day.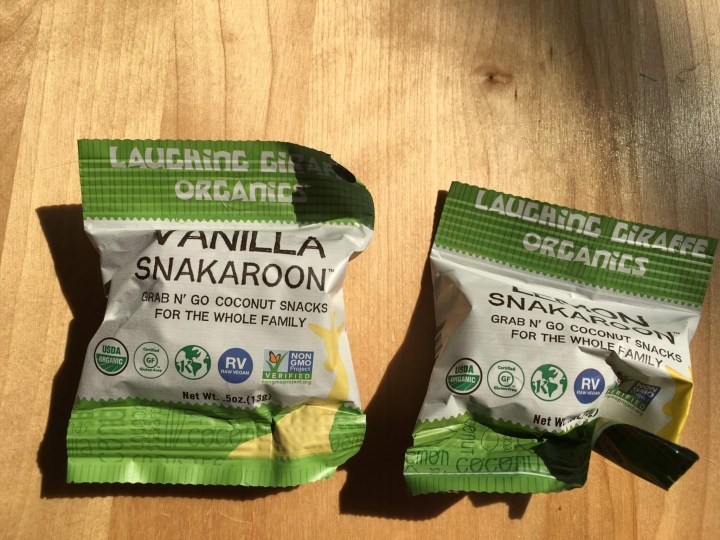 The Lemon Snakaroon by Laughing Giraffe Organics  (22 for $12.99 or about $0.59 each) is so good! It has the consistency one would expect of a coconut macaroon, but it's flavored with lemon, salt and cardamom. Yum!
The Vanilla Snakaroon (22 for $12.99 or about $0.59 each) is much sweeter. Made with coconuts and almonds, it is heavily flavored with organic vanilla extract. Eating it makes me fantasize that I'm on a cruise drinking a pina colada. It's delicious.
These frü-licious fruit and cream smoothies in strawberry and banana (20 for $6.29) are imported from Italy. They taste like watery fake fruit juice. They are extremely sweet.
So here's where I tell you I totally messed up! These were meant to be frozen. Before opening them, I read the package, and there was no mention of serving them frozen (or even chilled!). According to their website, though, you're supposed to freeze them for three hours before consuming. Oops. My guess is these would make much better frozen pops.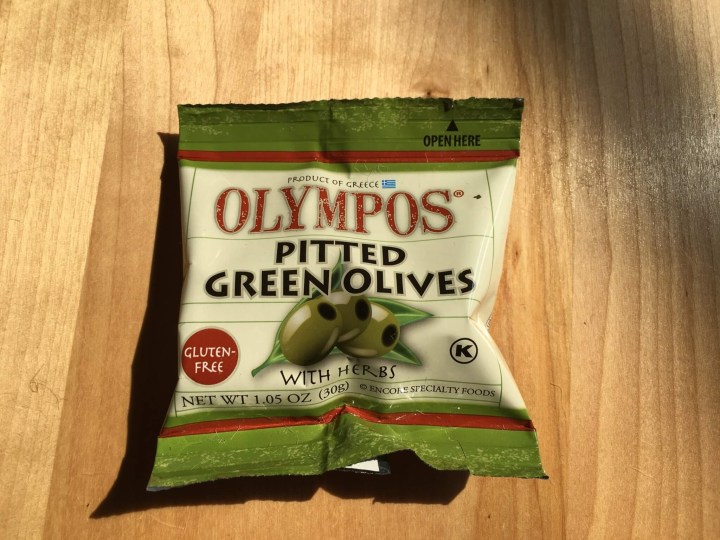 These Olympos Pitted Green Olives (10 for $11.99 or roughly $1.20 each) were good (and I'm not a fan of olives)! The vinegar and herbs add a lot of flavor, and the convenience of the package can't be beat. I'm thinking about giving some of these to my sister as a small birthday present (I already gave her her main gift!).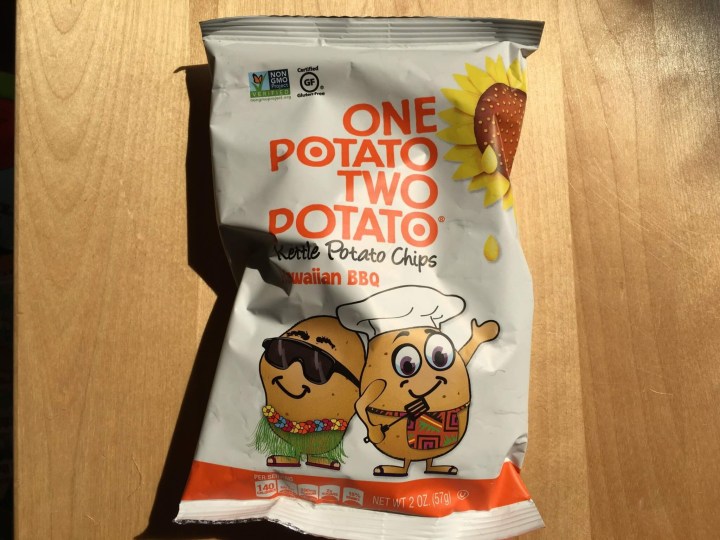 These One Potato Two Potato Hawaiian BBQ Kettle Potato Chips (24 for $23.76 or $0.99 each) are delicious! They tasted just like the BBQ flavored-chips of my youth, but crunchier. Yum!
I enjoy receiving knickknacks from my subscription boxes.
I was delighted to see a coupon for last month's oh-so-good brownie brittle in my box!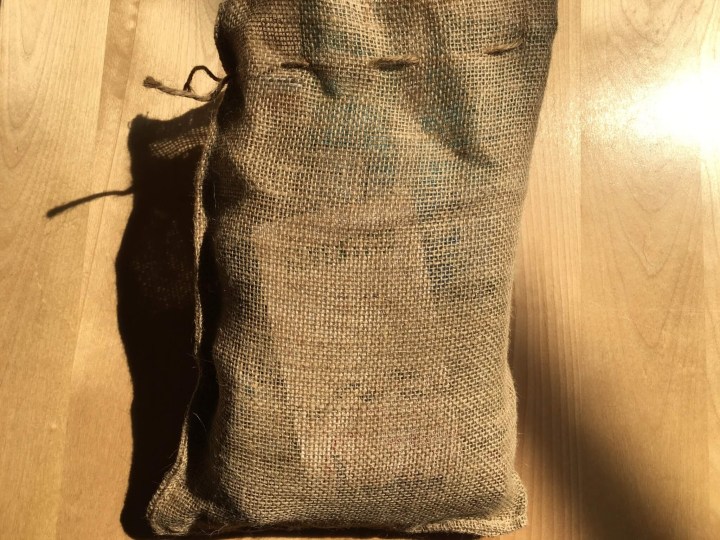 I was able to fit all of this month's snacks inside the included burlap sack. I love these sacks! After they help keep my review-writing organized, I use them to collect my kids' toys.
I loved how Snack Sack delivered a ton of relatively healthy snacks, yet each one was substantially different from the other. Some would be perfect for lunchboxes, others for treks, and still others for lounging around the house. Some were extremely sweet; others were tart. Some were soft, and others were crunchy. Some were made of fruits and vegetables, and others were principally nuts. In short, whatever your snack persuasion, Snack Sack would deliver. We can't wait to see what they send us next month!
Have you tried Snack Sack yet? Get 15% off the entire lifetime of your subscription! Use coupon code HELLO15.
Visit SnackSack to subscribe or find out more!
The Subscription
:
SnackSack
The Description
: Monthly surprise delivery of delicious all-natural & organic snack foods. We curate a delicious assortment of gluten-free, non-gmo, & vegan goodies. Sent from beautiful Colorado directly to your doorstep.
The Price
: $23.00 per month