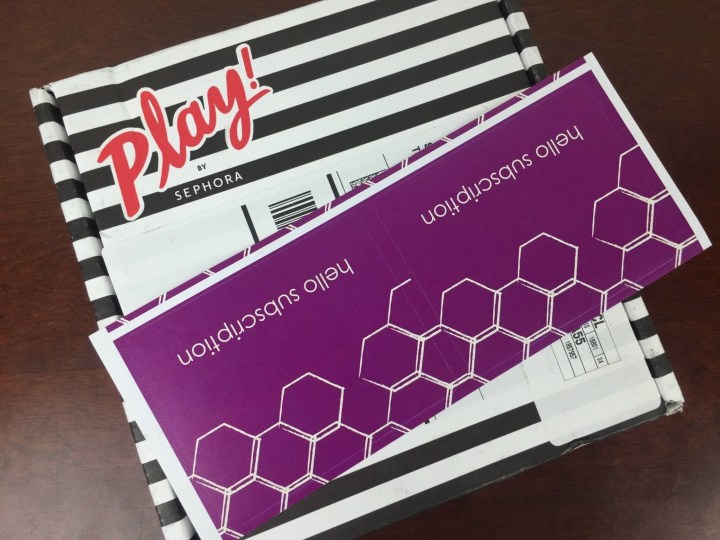 Play! by Sephora is a monthly subscription box that brings only the best and exclusive Sephora beauty and makeup samples. The subscription costs $10.00 per month, and you'll get 5 deluxe beauty products, playlists, a fragrance bonus item, plus coupons you can use when you visit in-store.
I am SO excited to finally be off the waitlist for this subscription! FYI – I really have no idea why I got off! I live in the middle of nowhere and we have no Sephora.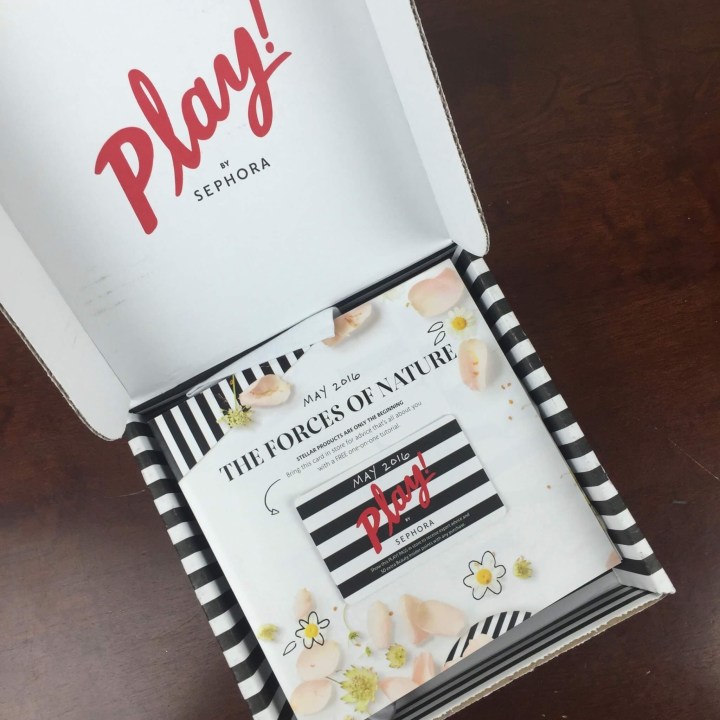 The theme for this month's box is The Forces of Nature. "Stellar products are only the beginning!"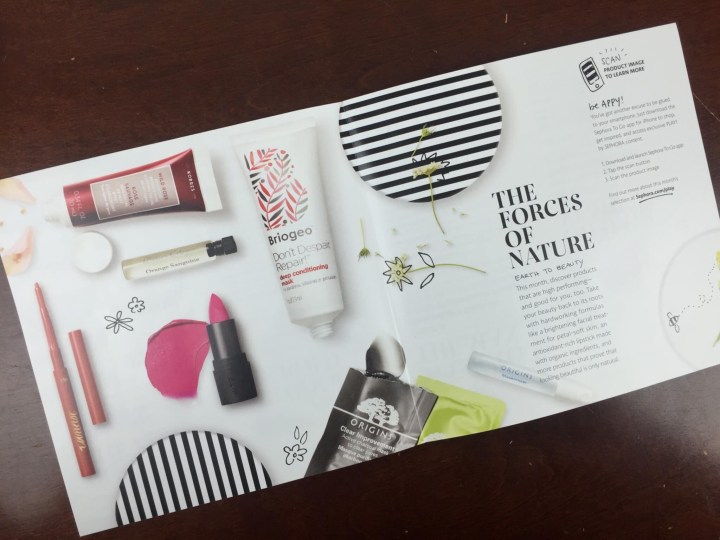 Earth to Beauty: This month, discover products that are high performing — and good for you, too. Take your beauty back to its roots with hardworking formulas like a brightening facial treatment for petal-soft skin, an antioxidant-rich lipstick made with organic ingredients, and more products that prove that looking beautiful is only natural.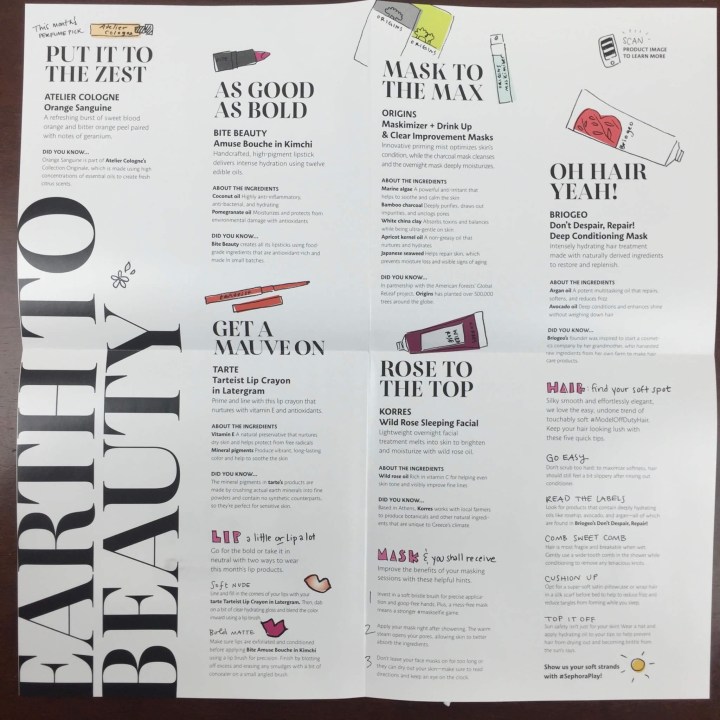 This fold out postershows a list of all the items included in this box plus beauty trivia and tips. You can access all of the information and also watch the videos right on the Sephora site. Here's the May information!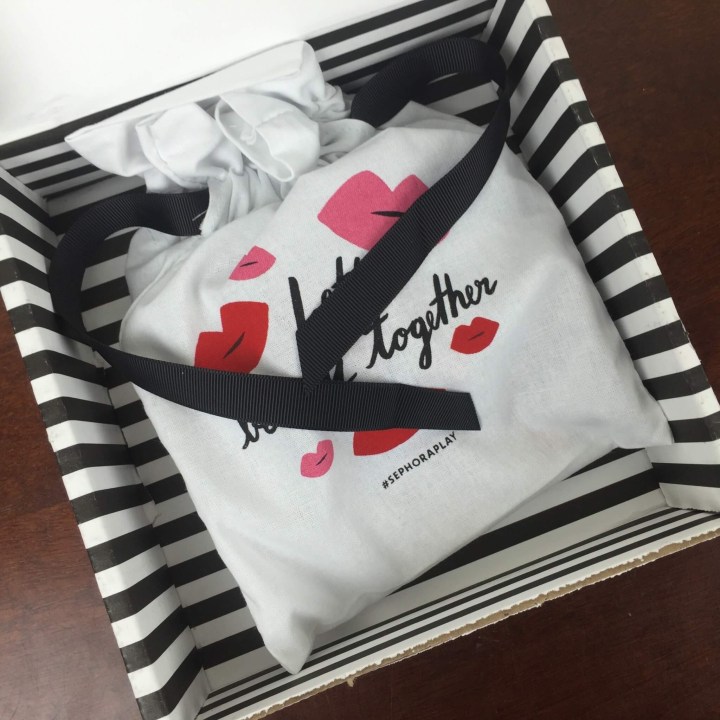 The items are placed inside a bag inside the box to keep everything secure. Love that there's a reusable bag!
Along with opening the box to more subscribers, Sephora changed the box a little bit – the booklet is now a poster and the box is no longer lidded. I really like the bag so I'm happy with the changes!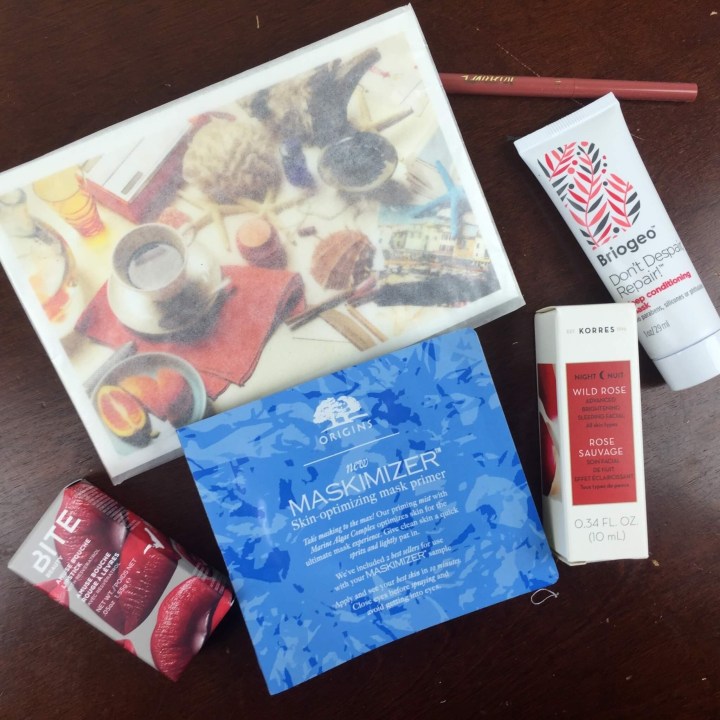 All the goodies in my May box!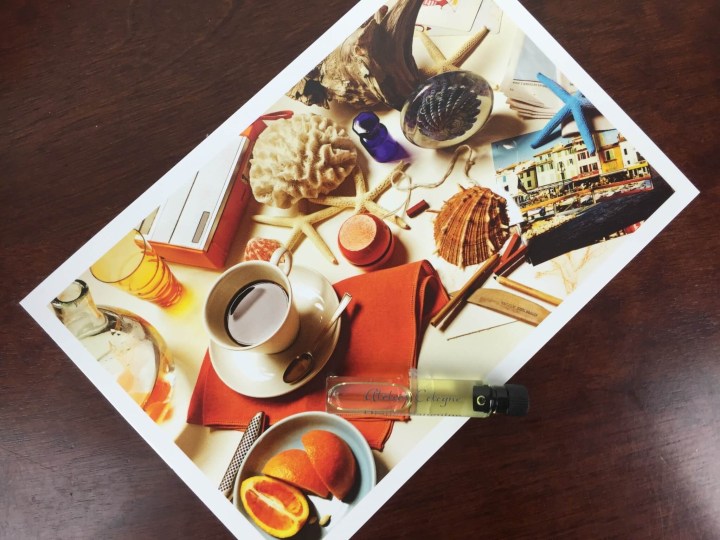 Atelier Cologne Orange Sanguine ($1 Well the vial is vile, but Sephora does it right by making the fragrance sample a bonus item, so I have no complaints! It's also nice and full. This fragrance includes notes of Blood Orange, Bitter Orange, Jasmine, Geranium, Amber Woods, Tonka Beans, Sandalwood. This is a gender neutral brand (if anything it's more masculine) and I'm pretty sure my husband will snag it – Atelier is one of his faves. This scent was selected for the box because it uses essential oils for the fragrance!
Tarte Tarteist Lip Crayon in Latergram ($1.8) Swatch below of this 2-in-1 primer and liner! It's creamy and very pigmented. I was happy with the color, which seemed to work really well with my natural lip color! It uses vitamin E to naturally preserve the pencil and because it's tarte, is colored with natural pigments! Warning on this one – I considered extending it all the way to see how much product you get but… you can't screw it back in! It clicks up and doesn't go back down.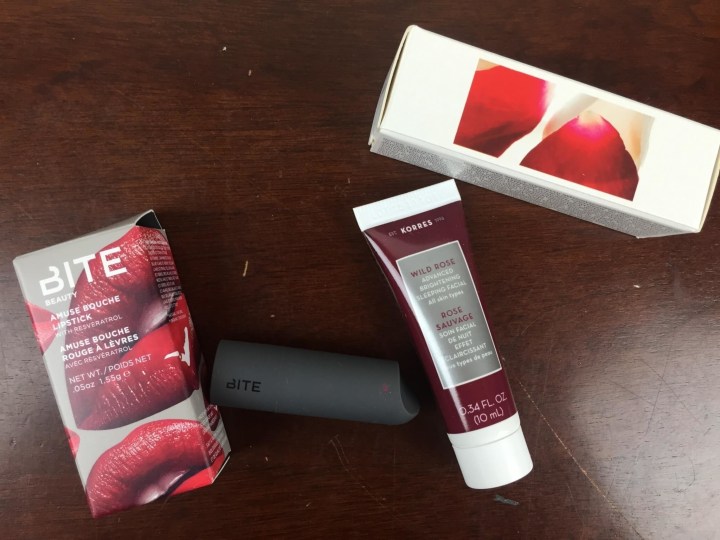 Bite Beauty Amuse Bouche in Kimchi ($8.67)  Come to mommy! I love Bite! This lipstick is BRIGHT but looked ok on me when I tried it. It's really super pigmented and creamy and uses coconut and pomegranate oils to hydrate and moisturize. I love that Bite uses food-grade ingredients.
Korres Wild Rose Sleeping Facial ($12.67) I totally expected this to be an oil or a gel, but it's more like a cream. The rose scent isn't too overpowering – the night mask relies on wild rose oil "boosted with Super C" to retexture skin and reduce unevenness. I have dry skin so it didn't really melt in, and now I feel like I smell like soap a bit. I'll use it, but not a re-buy for me.
The poster had a diagram how to achieve a bold lip with the lipstick (use a lip brush – and reinforced in the video too) plus how to achieve a soft nude look with the crayon.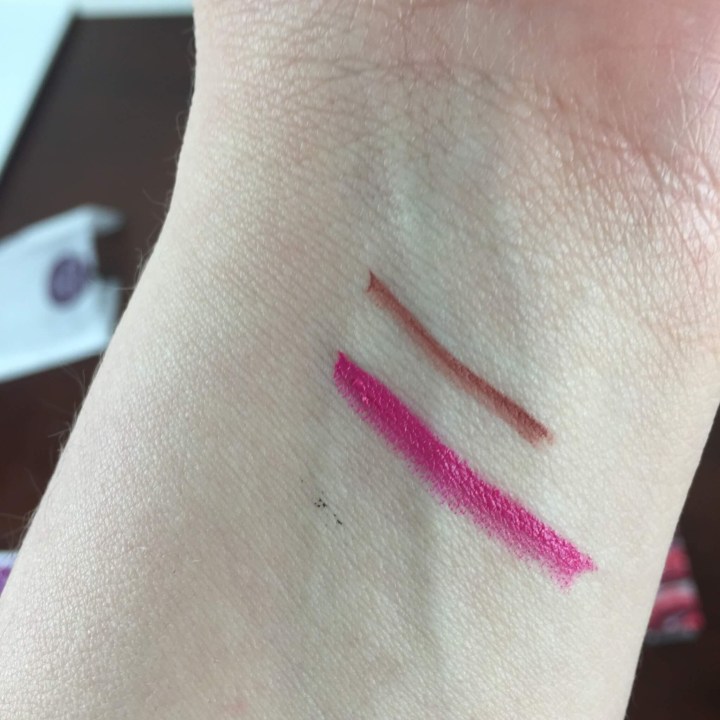 Here are the swatches of the lip crayon and lipstick!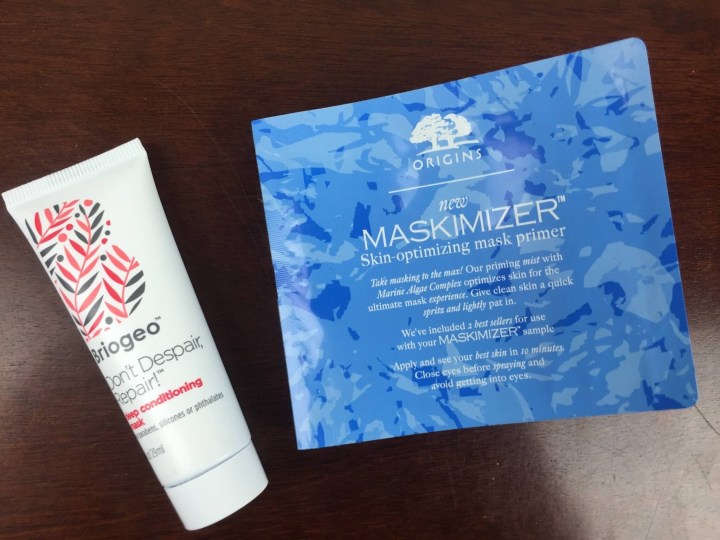 Briogeo Don't Despair, Repair! Deep Conditioning Mask ($9) This is a pretty frequent box item and it works great for my fine hair. Not everyone loves it but I like it! It uses argan and avocado oils to reduce frizz, which I sometimes have even with my fine hair!
Origins Maskimizer (34¢), Drink Up ($1.18), and Clear Improvement ($1.18) Masks
This Maskimizer set is pretty nifty. You spray on the priming mist to get your skin ready for the mask, and then choose either Clear Improvement – charcoal based to clear pores – or Drink Up Intensive – an overnight hydrating mask. The Maskimizer improves spreadability and rinseability of all masks (except peel-off). It's a little gimmicky but it does sort of do what it promises. Masks were a win for me, especially the overnight mask (but 2 overnight masks in one box is a little odd). It's great to get to sample the products to see if they're right for you.
I think Sephora Play is pretty fabulous. The booklet (and site/app) are replete with helpful useful tips, just like a store associate, but you don't have to go to the store. I know one of the complaints about this box is that you can get these samples at Sephora, but really, I don't have time to go hang out for an hour even if I had one. I think this subscription is an amazing way to recreate the best of Sephora experiences (and you do get a pass for in-store fun too!) without being intimidated, rushed, or anything like that. I will note that I wasn't able to scan the front of my pass with the app to find the nearest location, although that's kind of silly because you can just open the app and find it yourself.
Did you get off the Sephora Play waitlist? What did you think of the box?
Visit Play! by Sephora to subscribe or find out more!
The Subscription
:
Play! by Sephora
The Description
: The monthly Sephora subscription box offers 5 deluxe beauty and makeup samples – some totally exclusive to Sephora, plus coupons for in-store experiences, playlists, and a fragrance bonus item – all in a collectible bag!
The Price
: $10.00 per month