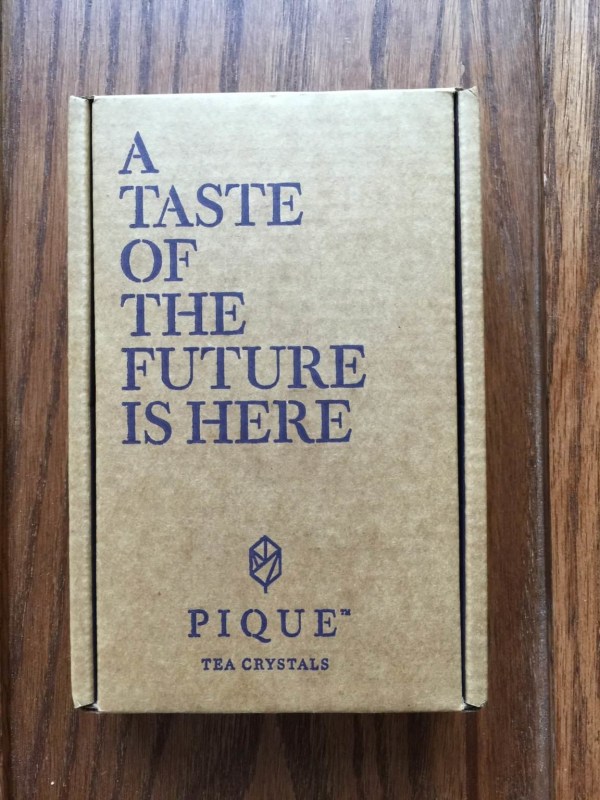 I understand that you don't always have time to brew tea, to let it steep properly, just to enjoy a cup. So the idea of instant tea isn't an anathema to me. There's a time and a place for it. So when I learned about Pique Tea Crystals, I was intrigued (see how I avoided the obvious pun there?!)
You can buy packets of the tea crystals individually via their site, or you can save 20% by signing up for one of their subscription plans, which start at $9.68/mo. for one carton, and go up to $30.89 for four cartons.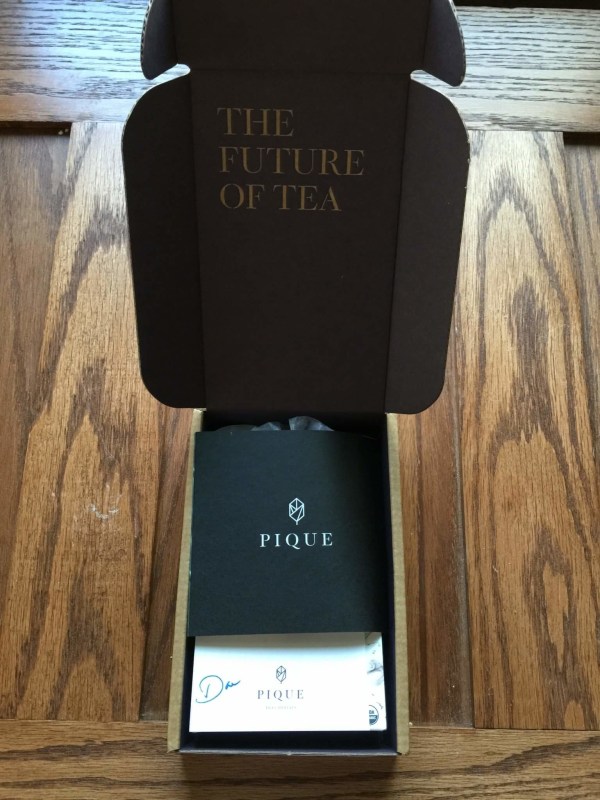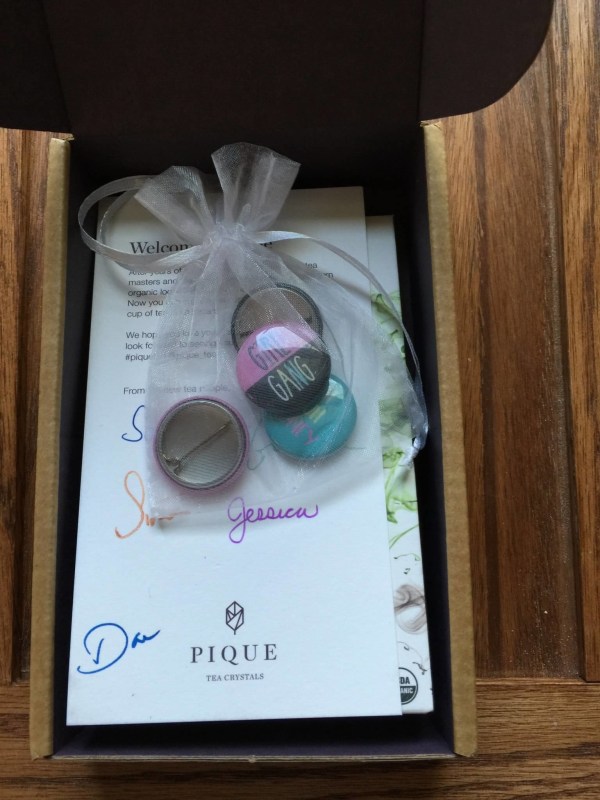 The package is small–no need for a lot of bulk with the tiny packets of tea crystals, but the Pique folks included some nice little promo buttons (my daughter almost immediately absconded with those).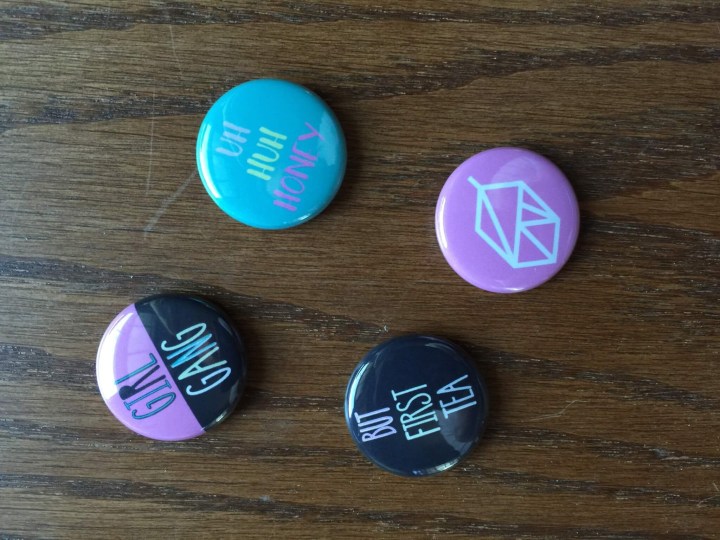 There's also a nice little introduction card from the Pique team, which I liked.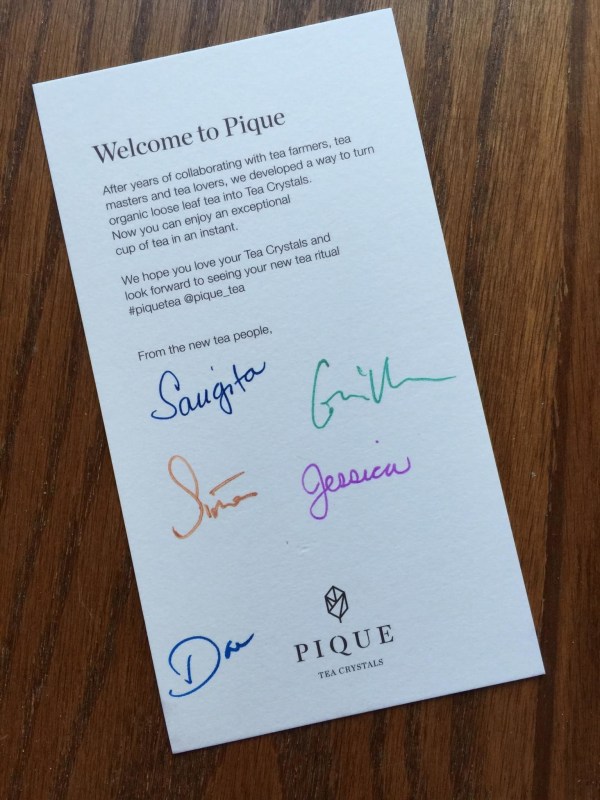 And an almost entirely useless marketing fold-out that tried to sell the idea of instant tea. Including mighty bold statements like, "The Future of Tea" (it's not).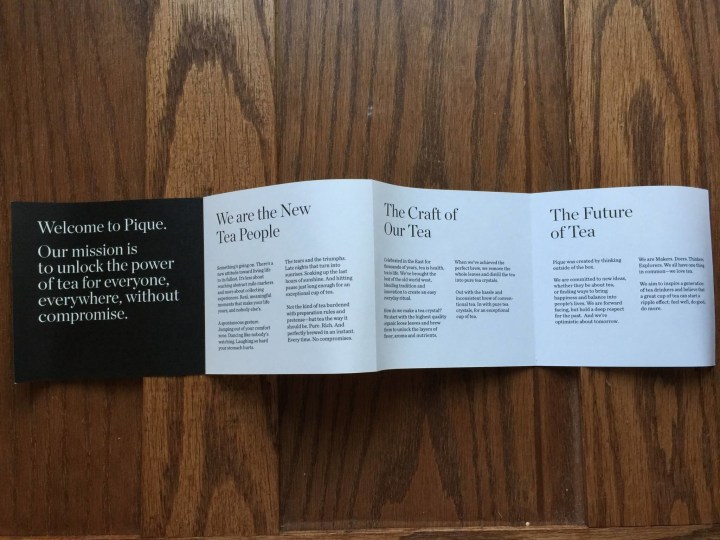 The packets of tea crystals come in a handy cardboard pouch that includes 14 sachets of the tea crystals.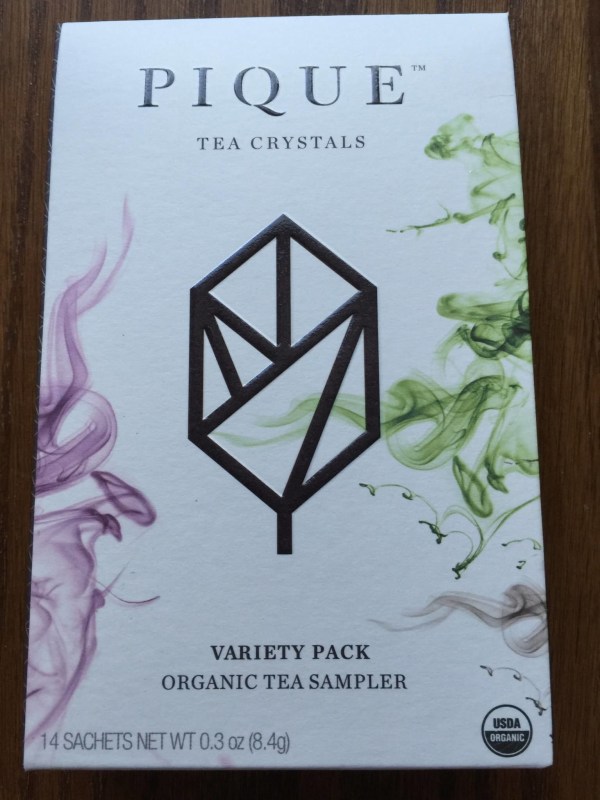 The back of the package has some handy brew instructions, including the proper water temp and amount. Like other tea brewing, it's pretty easy to see the strength of the tea as you're adding the water, so you can vary to your tastes if you like stronger or weaker tea.
Sachets!
The sample flavors included: English Breakfast, Earl Grey, Jasmine, Sencha Green, and Mint Sencha Green.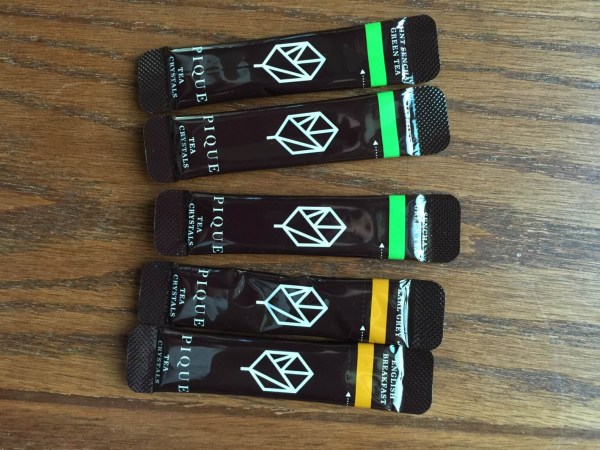 Each sachet contains enough tea crystals for an 8oz. cup of tea. You tear open the sachet, add water, and boom! tea! The crystals themselves are essentially a very fine tea powder.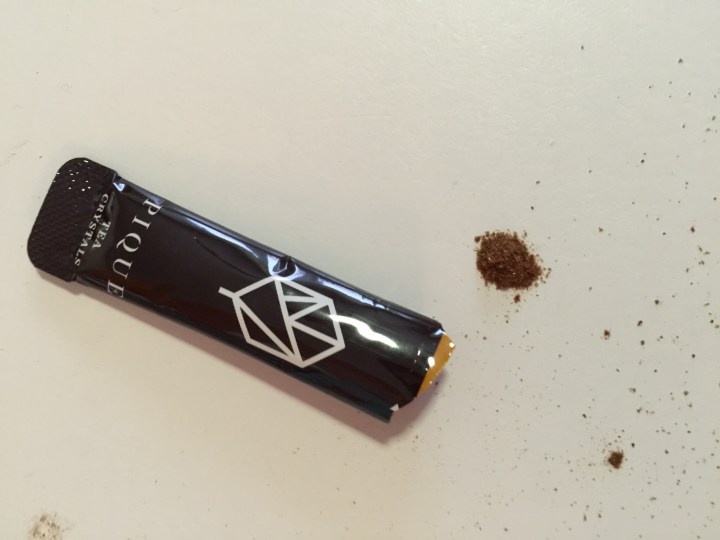 Just add water and you have tea! As you can see, I made this one fairly strong. But in order to be fair, I tasted them with the proper water ratio and temp. But I did try variations, to see how it would hold up–and you can customize the strength with no problem.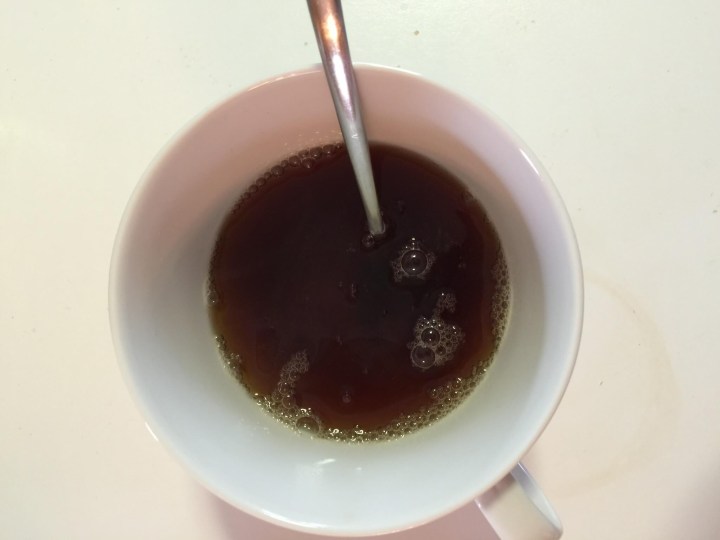 The tea crystals dissolve instantaneously and completely, too. No powder residue at all.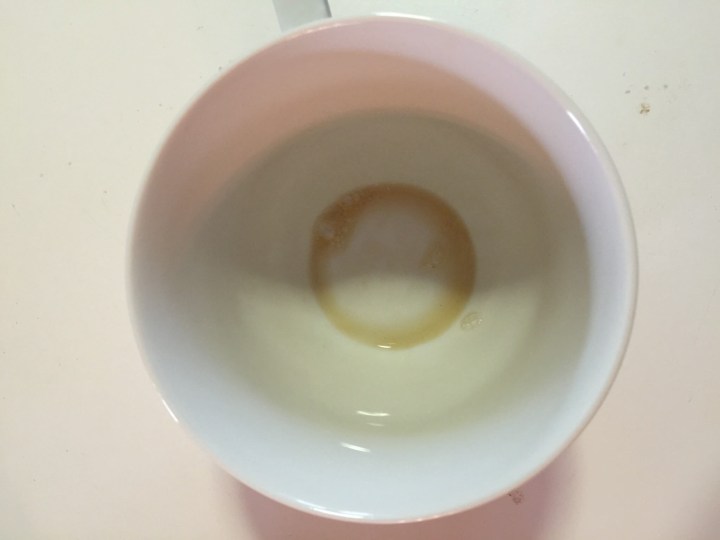 So, how do they taste? Well. A bit all over the place. Here's the rundown:
English Breakfast
Not surprisingly, the Pique English Breakfast tasted like an English Breakfast tea. Very slightly earthy. Lightly tannic. Medium finish. Not as hearty as you might expect from an English Breakfast, but you can control the "brew" to make it a little stronger (like I did above). I think it's comparable to a generic Twinings.
Earl Grey
Distinctly Earl Grey. The Pique had a very mild flavor of bergamot, not as strong as some bagged Earl Greys, but still nice. This was unquestionably my favorite of the samples. It is surprisingly sippable, and I'd keep packets of this around to use in a pinch.
Jasmine
Oh, not good. Not subtle at all–overly floral, almost like chewing petals… to the point of obnoxiousness, and it was accompanied by an overwhelming bitter taste that lasts mid-way into the finish. I was worried I'd used water that was too hot (which can bring out bitterness in green teas) but nope. I tried it again with warmer water, and then with cold. Still bitter. Maybe it's something with my palate, but I did not like this tea at all.
Sencha Green
The Sencha Green was a nice departure from the Jasmine. Nice herbal, vegetal hit at first–subtle, but present. It had a very quick finish (maybe too quick) especially for a green tea, but low astringency. I can't say it would replace my favorite green teas by any stretch, but would be good in a pinch, and is certainly potable.
Mint Sencha Green
This one was just okay. I missed the mint up-front, it just came on with bitterness and some earthiness. But as it finished, there was a pleasant bit of mint. I just would have liked it sooner or stronger. Like the straight up Sencha Green, it was a quick finish, but low astringency, so not bad. I personally would prefer the plain Sencha Green, but your milage my vary.
The final verdict.
Overall, I found the black tea crystals to be much better than the green teas. The complexity of the green teas seems to be blown out, for the most part, and you're left with a very mediocre green tea, or worse. The black teas faired much better. While the English Breakfast was just 'okay', I rather liked the Earl Grey (I'm not the type who wants a super strong bergamot flavor). I'd definitely keep the Earl Grey around in a pinch, and maybe the Sencha Green. But overall, if you are a tea lover, there is no way tea crystals are going to replace traditional leaves. For me, the Pique Tea Crystals are supplemental to leaves, something to have in a pinch, or to take traveling, when you can easily get hot water and a cup.
Save 15% on your entire order! Use coupon code HELLOSUBSCRIPTION15.
Visit Pique Tea to subscribe or find out more!
The Subscription
:
Pique Tea
The Description
: Pique Tea Crystals are the easiest way to enjoy a perfect cup of tea. We take organic loose leaf tea, brew it to perfection and crystallize it. All you have to do is add water and enjoy. Flavors include: Sencha, Mint Sencha, Jasmine, Earl Grey and English Breakfast. Get started by creating your perfect tea plan! Choose 1, 2 or 4 cartons per month.Each carton contains 14 servings
The Price
: $9.68 per month